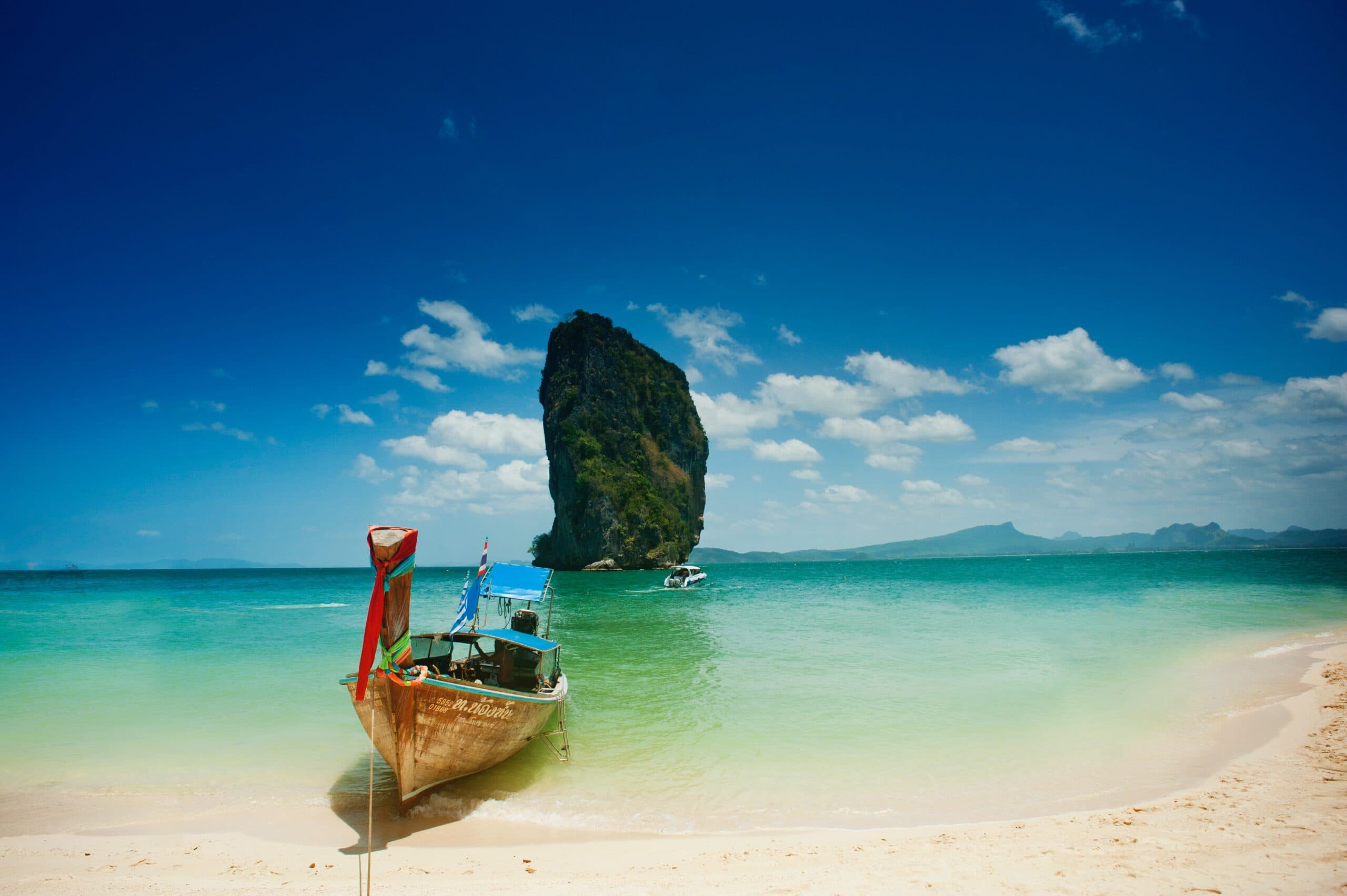 Known as the land of smiles, tourists from all corners of the globe flock Thailand all year round. From its majestic temples to its rich culture, the country always has a lot to offer visitors.
There are many reasons why people go to Thailand.
One such reason is the beaches. During the summer season, thousands of tourists visit Thailand. The lure of its pristine coastline is too much to ignore.
Are you a fan of clear blue waters? How about white sand beaches? When all you want is a backdrop of coconut trees, Thailand is the destination to go to.
Thailand is a country of rich flavors. Depending on which part of the country you are in, you are sure to taste a different flavor every time.
The food in Bangkok and the north are spicy. But these can never be as spicy as the ones in the south.
Bangkok has too much love for the sour and hot broths in their cuisines. But no matter where you're at, Thai dishes are some of the best there is.
Aside from the beaches and its sumptuous food, Thailand has a lot of beautiful sights to offer. Its temples, even in the capital Bangkok, can outshine even the majestic castles of Europe. Its culture is as rich as its food. This provides tourists the perfect balance.
To top it all off, Thailand has one of the friendliest people in the world. It is never called the Land of Smiles for nothing.
In a nutshell, it is the experience that makes Thailand popular among tourists.
Aside from the fact that it is cheap, Thailand has a lot to offer visiting tourists. Believe it or not, with a daily budget of $50 to $100, you can already live by. This is the reason why the country is popular with the backpacking crowd.
It does not matter whether this is your first or your seventh visit. It also does not matter whether you travel cheap or go all out in luxury hotels. Thailand will always have something up its sleeves to make your stay one of the best vacations ever.
These, and more, are reasons why people go to Thailand.
Why is Thailand so popular?
When I surmise about it, there is a multitude of reasons why Thailand is so famous.
If you take a look at the country, it has invested so much in its infrastructure. The investment bore amazing fruits over the years. These infrastructures made locations in Thailand even more accessible. Aside from that, it has also made the country accessible to neighboring countries.
Tourism has ballooned in Thailand over the past few years. I think it has something to do with these infrastructures.
Aside from these, Thailand is special because of its people. The culture is also rich. The environment is awesome.
These, and more, make Thailand hard to resist to tourists.
Thailand's history is rich. Many of its documented accounts go to as far back as 20,000 years ago.
The country is a constitutional monarchy. It is also a Buddhist nation where 95% of Thailand are Buddhists.
Attractions. A lot of its sights are brought about by Buddhism's tight grip on the Thai population. Its temples are intricate, grand, and beautiful. A quick look at any one of these Buddhist temples is enough to leave you in awe.
Festivals. Aside from its temples, Thai people love festivals.
One such festival happens every April Songkran. Imagine a nationwide water fight that lasts way past until midnight. Songkran is Thailand's Buddhist New Year. The water cleanses the spirit, thereby celebrating renewal.
Thailand has lantern festivals every November. It is also on this month that the country holds Loy Krathong and Yi Peng. Floating lotus-shaped baskets are pushed into the rivers.
While the monks meditate, the baskets float. While the monks reflect, the lanterns fly.
Food. Now, this is where everything gets yummy.
Thai cuisine is one of the most delicious and diverse in the world. Aside from that, Thai food is also one of the most affordable.
As I mentioned, you get to have various flavors depending on the region in Thailand you're in. When in Thailand, be adventurous with food.
Try Thailand's tom yum soup. Also, don't forget the stir-fried dishes you find from street food vendors everywhere.
Don't worry. Food in Thailand is super cheap. You can try everything without putting a hole in your pocket.
Accommodations. Thailand has some of the most affordable accommodations in the world.
This is the reason why the country is a good starting spot for backpackers.
The country is teeming with affordable dwellings. It has 3-star hotels and 5-star hotels that are cheaper than anything you would find in the States.
For these types of hotels, expect the cost to be anywhere from $60 to $300. Very affordable, indeed!
Climate. Thailand is popular for its weather. It has scorching summers that pair well with its paradise islands. It has a monsoon season that is ideal for exploring its capital city of Bangkok. The northern cities of Chiang Mai and Chiang Rai are also at their most beautiful during this time of the year.
Markets, the Thai Culture, and Beautiful Smiles. Whoever has not heard of Thailand's floating market? Tourists flock the country, hoping to find cheap trinkets and dresses. These, and a lot more, are otherwise expensive elsewhere.
And finally, Thai people are some of the nicest in the world. They're welcoming and are polite.
One of the things tourists find endearing is the smiles. Their mai pen rai mindset or the never mind thinking, is something that tourists admire the most.
Thailand has a Buddhist upbringing. The Thais make it a point to defy stress from their daily lives. This results in a lifestyle as relaxed and as stress-free as anybody could want it.
These, and more, are reasons why Thailand is so popular with tourists from around the world.
What is so special about Thailand?
Aside from its people, Thailand offers each tourist a wide array of characteristics.
The country can achieve a striking balance between the past and the present. And the country had this done without so much of an effort.
Its capital city, Bangkok, for example, is one of the most developed cities in the country. Despite its development, it can keep its historical architecture. Aside from architecture, life-long traditions are alive and practiced for hundreds of years.
Thailand is unique in many other ways. Its food and its traditions are some of the best there is on earth. Its people are some of the nicest you can ever find.
Beauty, excitement, chaos, freedom, and a lot of adventure all make a vacation in Thailand worth it.
It is also common for tourists to go home and look back with fondness at the excitement that was Thailand.
What is the most famous thing in Thailand?
Thailand is famous for a lot of things. When I say Thailand, what comes to your mind?
Is it a plate of pad thai? Or do you ever imagine white sand beaches when I mentioned Thailand?
There's more to the country than pad thai and paradise islands. Aside from these two, the country takes its massage sessions seriously. Thailand is the country that first thought of Thai massages and gave it to the world. All that stretching provides for a relaxing evening after a night out in town.
Then there's the matter of Buddhist temples. These temples are intricate and regal. At most, they're enchanting and beautiful. These temples give the country a flavor of the past amidst a hectic present.
When it comes to its nightlight, Thailand is a force to reckon. It has as many red-light districts as it has posh nightclubs. The cities of Thailand have everything a country in the West can offer. All these, and more, Thailand brings to you at a much lower price.
And finally, who can ever forget shopping?
Thailand's markets are full of cheap finds that somehow look like they're fab! Enter a market with $100, and you go out with bags of goodies and some change. Believe me, when shopping in Thailand, your $100 can go a long, long way.
What are the 5 interesting facts about Thailand?
The country is famous all over the world for its friendly locals. It has impressive cliffs and paradise island beaches. Aside from these, Thailand is unique in many different ways.
Here, we give you nothing but the surprising oddities of the country we call Thailand.
The Un-colonized

In the Thai language, Thailand is also Prathet Thai. In English, it means the "Land of the Free."

This is amazing, but Thailand is the only country in the region that was never colonized. No nation from the West has set foot and left their influence in Thailand.

The Tale of the Siamese Twins

In 1811, the first recorded Siamese twins were born in Thailand.

The twins grew into adults and even married different women. These two were also sisters.

Since they were Siamese twins, they resigned to the fact that they will always be together. Even after marriage, the twins slept on the same bed with their respective wives.

Each twin and his respective wife even had as much as ten children each. Both twins died in 1874.

One more trivia you have to know.

Thailand's name, in the olden days, was Siam, hence, the Siamese twins.

To Honor the Monkeys

In the province of Lopburi, in November, a festival takes place in honor of monkeys.

During the festival, you will find locals inviting hundreds of monkeys to dine. The locals prepare a buffet of amazing dishes.

And because we know what monkeys eat, food consists of fruits, rice, and greens.

But while the food consists of fruits, there are other unusual entrees into the menu. Once in a while, you would see grilled sausages or ice cream thrown in.

One of the Longest

Take a deep breath. Believe it or not, but Bangkok's ceremonial name is one of the longest there is in the world. Are you ready?

Krungthepmahanakhon Amonrattanakosin Mahintharayutthaya Mahadilokphop Noppharatratchathaniburirom Udomratchaniwetmahasathan Amonphimanawatansathit Sakkathattiyawitsanukamprasit.

Let's settle for its shorter version, shall we?

Home of the Walking Fish

Here's something very interesting. It's called the Cryptotora Thamicola.

In short, it is the blind cavefish that climbs waterfalls. The fish is unique because it uses its two front and back fins to catapult itself up high waterfalls.

And it doesn't end there. This fish also crawls on land like any other animal on earth. Odd, but we tell you, it's true.
Is it safe to go to Thailand?
Anywhere in the world, when you are careless, you will never be safe.
Thailand, in general, is safe. Whether you are a solo traveler or traveling in groups, the country is a haven for tourists.
The country is also safe for women travelers. We know for a fact that Thailand has an abundant sex industry. Despite that, women travelers are most unlikely to feel unsafe when in the country.
One thing you have to keep in mind, though. Wherever you may go, use your common sense.
Thailand is safe.
What country visits Thailand the most?
Thailand is one of the many countries in Southeast Asia that banks on tourism as a major contributor to its GDP.
Over the years, the country has been receiving tourists from around the world with open arms.
But out of the many nationalities that visit the country, which one sends in most visitors?
The country that visits Thailand the most is China.
The Chinese people visit Thailand in millions. From 2016 up until early 2021, millions of Chinese tourists visited the country. In a year, there is an estimate of about 8 to 10 million tourists that visit Thailand.
Coming at a very close second are the Malaysians. In third place is Russia, with South Korea coming in fourth.
How about you?
When do you plan to visit?