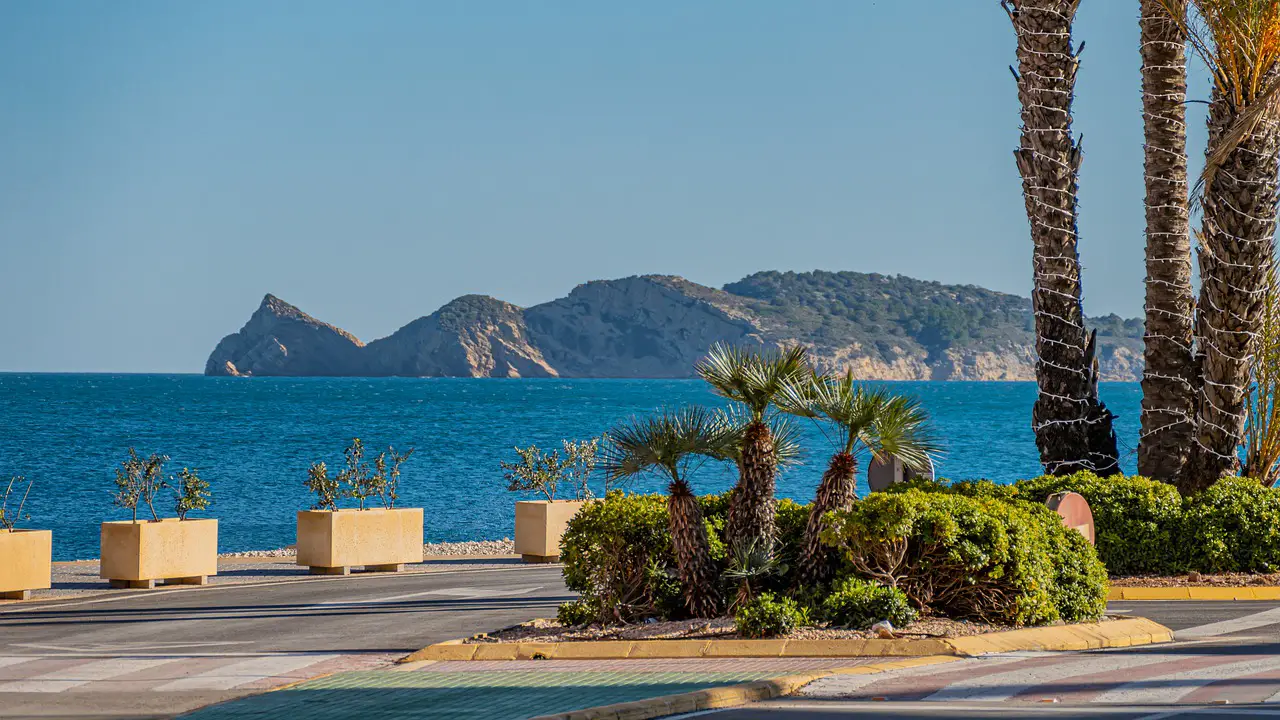 Denia, Moraira, and Javea are coastal resorts in Costa Blanca. Moraira is a low-rise resort, while Denia boasts more of the beach. Javea is very cosmopolitan.
The resorts of Denia, Moraira, and Javea are all famous destinations in Costa Blanca.
But which one should you go to? Are all three worth it? What if pressed for time?
You see, choosing just one is a bit daunting. But let me help you with that.
The thing is, all three are great destinations. But if you want to know a little bit more about each of these resorts, read on to find out.
Javea
Let us start with Javea.
This is a more cosmopolitan resort compared to the two others. It also boasts of having the healthiest climate in the world. Who could ever dispute that? It was the W.H.O. who declared Javea as such.
Javea also gets more sun than any other corner of Spain.
Geographically, Javea sits right in between Alicante and Valencia.
When you aim for self-catering villas and apartments as your accommodations, Javea is the place to be. Plus, tourism is not much here, except for the Brits that flock to the town during holidays.
Tourists may not go to this place that much. But it can certainly give you a high-quality holiday in case you decide to visit.
One of Javea's selling points is its sunrise. The locals call the town "the dawn of Spain." And if you are an early riser, you would come to understand why there is such a fuss on the town's sunrise. Surreal is an understatement.
Javea has three major corners.
One is the old town where you get to walk its narrow streets.
The second corner is the port area. Here, you will find all the luxury yachts your mind could ever take. There are also fishing boats here as well as quaint street cafes.
The third part of Javea is the Arenal beach, where you will find most holidaymakers. Just like the port area, this part also has cafes, restaurants, and all the touristy shops you find in destinations.
When in Javea, make sure to visit the "Montgo."
Locals say this is an elephant turned to stone. Some swear even to see the elephant's eye close. This happens every time the sun goes down.
Beach parties are in the Arenal area. These usually happen around July and August. Outside these two months, Javea is quiet.
Denia
Denia has all the beach vibes out of these three.
It is a small town that is rich when it comes to history and culture.
Gazing at its streets and architecture, you will find evidence of a myriad of cultures that passed through Denia all these years. Some cultures have already moved on. But their influences are here to stay.
Denia had influences on the Romans, Arabs, and the Iberians. The Christians also left their mark in this town.
These days, Denia is more touristy than the previous town. Valencia and Alicante airports service tourists that want to visit.
Most of the tourists that visit Denia are the English and the Germans.
Perhaps it is the town's complete facilities, coupled with its beautiful beaches, that attract tourists. There are banks, restaurants, and brand-name shops in this town.
Also, there is a hospital that services locals and tourists alike.
There is a harbor that has a ferry terminal. The terminal services boats and ferries from other famous destinations like Ibiza and Menorca.
The beach in Denia stretches for more than 20 kilometers.
Aside from its beaches, Denia is the best when it comes to shopping.
The usual gift shops aside, there are also designer brands in town.
In a nutshell, Denia gives you the beaches, the culture, as well as the shopping you could ever crave for.
If these three activities are on top of your list, Denia is undoubtedly the place to go.
Moraira
Moraira is another upmarket destination.
Imagine a town where people care about what they wear.
When visiting Moraira, people exert that effort to dress up, especially during the evenings.
Just like the two other towns, the coast is also just a stone's throw away. The difference, however, is that Moraira has a lot more diving involved than the other two locations.
Moraira, over the years, grew to be a tourist village in Costa Blanca.
This is a low-rise resort. It has a small-town vibe with cozy beaches. Moraira's selling point, however, is its restaurants.
A dinner date out in town is exemplary when in Moraira.
Moraira is famous with the French and the Germans. This is the place to be when they choose a destination for their holidays.
There are coves with quaint little beaches. There are also pine trees that make for a private getaway.
All three – Moraira, Javea, and Denia – are beautiful destinations.
But as I crave balance, a good amount of each destination is in Javea. Personally, Javea is the winning destination out of the three.
You get a beach. You get the luxury of the yachts. And at the same time, you also get to have an Old Town to explore.
Is Javea a good holiday destination?
Aside from a variety of other tourist sites in Javea, it also has crystal blue waters. It is a coastal town that is ideal as a holiday destination. It has beaches, a port, and an old part of town. It also has shops and numerous activities to try.
And speaking of activities to try, here are a few things you should look into when in Javea.
Visit Cabo de la Nao
When you crave an adventure with a balance of relaxation, this is the place to be.
It may be extreme, but both are possible with Cabo de la Nao.
Cabo de la Nao is in the southern part of the bay. It has a hiking trail as well as a beach.
If you want to go hiking, there are about three restaurants to try. That is if you want to hike and eat at the same time.
But once you are at the top, you will get to view the amazing town below. You will have a view of the town as well as the Balearic Islands.
Lounge in Playa Arenal
The word "playa" means beach in Spanish.
When in Spain, you will see a lot of this word everywhere you go. But when in Javea, Playa Arenal is extraordinary.
In my opinion, this is perhaps the best beach ever.
The standards are high when it comes to cleanliness. And when in Playa Arenal, this is quite obvious.
The beach receives millions of visitors. Despite that, the beach remains peaceful and clean. The water is still crystal clear.
Try Water Sports
Whenever there is a beach, there will always be water sports.
In Javea, almost every type of water sport available is here. There is kayaking, canoeing, and sailing. You can also paddleboard as well as try out riding a motorboat.
You can get yourself a guide. Or you can try these things yourself. Just be careful, though.
Explore Cova Tallada
There are many beautiful spots in Javea, but Cova Tallada remains on top.
Now, this may take you a few minutes of walking. But one thing that I can give you is that all that walking is worth it.
You can explore the inside of the cave.
You can also swim, kayak, or even snorkel.
The cave has a rich history. A guide can tell you more about it.
Once inside, you can take a dip, relax, and swim with pleasure.
Indulge at Cabo San Antonio
Finally, Cabo San Antonio should fill your hunger for nature and adventure.
Here, you will never run out of nature reserves, hiking trails, and parks. To summarize, Cabo San Antonio is a nature lover's perfect destination.
At the top, you will get to see Javea in all its splendor. For everyone who has been here, this is the best and the most panoramic view of Javea.
How safe is Javea?
In general, Javea is safe. This is, of course, as long as you take the necessary precautions. There is robbery and petty theft everywhere. Just make sure to use your common sense all the time. You will be safe.
Petty theft is common everywhere.
The same is true even in Javea.
And so, if you are in a public area, make sure to take the usual precautions.
Keep your valuables intact and secure. Lock your room when you are out. And always make sure to research the locations where you can and cannot go by yourself.
Despite these warnings, Javea has enjoyed a low number of crimes over the past few years. It continues to drop year in and year out.
The most common crime is petty theft.
Aside from that, all other major crimes are somehow related to heritage without any violence at all. And these types of crimes should not worry you a bit.
Are Javea and Xabia the same place?
Don't get yourself confused. Javea and Xabia are the same. Xabia is Valencian, while Javea is Spanish.
The resort of Javea in Costa Blanca lies in the eastern part of Spain. This is about an hour's drive from Valencia on one side and Alicante on the other side.
The mountain Montgo Massif overlooks the resort.
Javea has approximately 33,000 residents, half of whom are Spanish.
Because of its beautiful scenery and warm weather, Javea is not just a popular destination during holidays. You will also find people who came to Javea to live.
As mentioned earlier, there are three parts to Javea.
The first part is the Old Town. The second is the Arenal with its pristine, sandy beaches. And the third is the Port where you will find all the luxurious yachts anchored.
The Arenal
The Arenal has shops, restaurants, and everything a tourist can ever crave during holidays.
It also has stalls that sell gifts, from toys to postcards to even jewelry.
What makes the Arenal unique is the absence of high-rise buildings. These buildings are what you find in nearby resorts. But not in Arenal.
The only thing you will find aside from the beach and the shops are apartment blocks. All of these apartment blocks provide you with amazing beach views.
The Old Town
Javea's Old Town sits back a few minutes from the sea.
Walking its narrow streets reminds you of the town's rich history.
There is the Church of Sant Bartomeu you can visit. There is also a covered market that sells the town's freshest produce every day.
A maze of narrow streets surrounds the church. While walking these streets, you will find yourself in awe of all the architecture that displays the Tosca stone.
In these streets, you will find residential houses as well as those turned into small shops. There are also Spanish tapas bars within these narrow alleys.
The Port
This is a short drive away from the Playa de Arenal.
The Port is an active working port. Here, you will be able to watch the catch from the boats every evening.
It is also here that you will find all the amazing yachts and motorboats anchored for a few days.
The Port has many shops and restaurants as well. There are also tapas bars.
This is also where you will find a thriving community of locals. The Port is also a favorite hangout place for ex-pats because it is less busy than the other parts of the town.
You will also find here some cliffside villas that provide you with amazing views. On a clear day, you can easily see the island of Ibiza from one of these villas.
Aside from the villas, a few minutes further are blocks of apartment buildings that remain dwellings of ex-pats and locals alike.
A few more minutes of driving will bring you to another village, Pedreguer. This is a village you may also want to explore. It provides all the beautiful sceneries as well as amazing architecture that adds value to your holiday.
Certainly, Javea is more than just a little town by the coast.
It is a piece of heaven on earth. And it's in Spain!