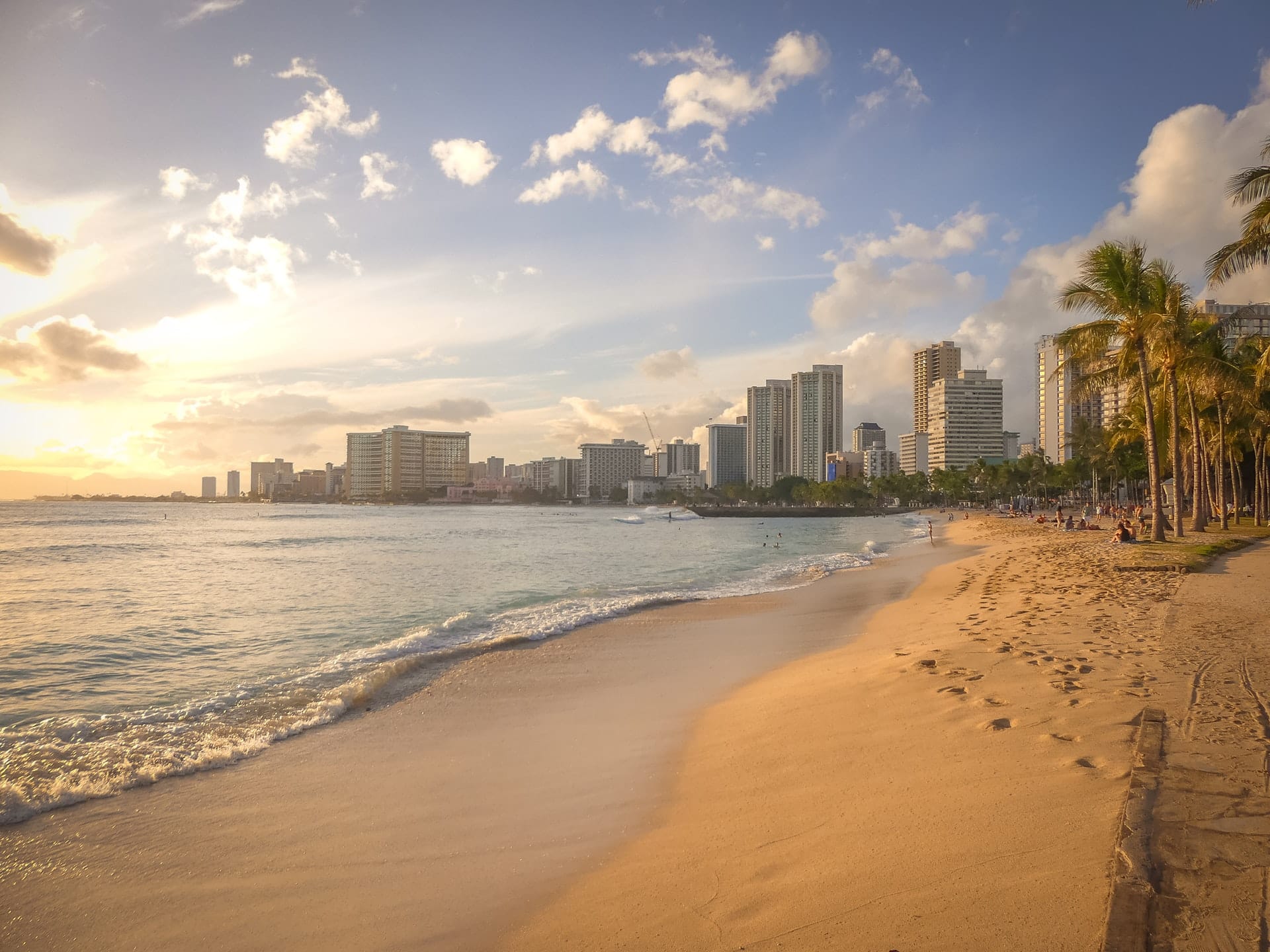 Nothing is more heartwarming than being greeted using a local language in a foreign land.
Visiting Hawaii, where locals welcome you with 'lei' and friendly faces, is comforting. Then, hearing the word 'aloha,' uttered by locals, mark the point that you are indeed in Hawaii.
'Aloha' is a Hawaiian word popularized by many when greeting someone. It is a household term when saying 'hello' and 'goodbye' and often used by people of different races.
It is a term that when you hear, you will think of the tropical island of Hawaii with coconuts and bananas. It will transport you to hot summer and sandy beaches, a truly tropical experience.
The word 'aloha' could not make you think of any other language but Hawaiian. It is a different kind of word yet with layers of meaning and history.
Captain Cook landed in Hawaii in 1778. He discovered that natives had their oral tradition. The Hawaiin language until now, even after in contact with the west, remains to be alive and vibrant.
Many tourists and alike are interested in learning the language. It may be of Austronesian origin, yet some aspects of it make it easier to understand than others.
How do we say it in Hawaii?
What does a particular word mean in Hawaii?
Well, here are essential Hawaiian words prepared to make you appreciate the language more.
So, read on, dig in, and learn some Hawaiian, a unique language in the Pacific.
What does 'mana' mean in Hawaii?
The word 'mana' in Hawaii means power. Hawaiians define it as a life energy that flows through living things. 'Mana' is mostly referred to life energy going around an individual.
Based on the Hawaiian culture, it is spiritual by nature that exists in the universe. The word 'mana' has both Hawaiian and Tahitian origin. These native cultures often use the term 'mana' as spiritual energy. It can be present in places, objects, and persons, as well.
Like how we perceive life, 'mana' can be gained and can be lost depending on an individual's actions. You can get 'mana' when you behave and make the right moves. Yet, you can lose it when you make unwise decisions. Thus, 'mana' can manifest through violence or kindness as well.
What does 'pua' mean in Hawaii?
The word 'pua' is commonly used to refer to a girl's name. It is of Hawaiian origin and widely spoken in the country. It means flower blossom. Others would tell it as a 'beautiful flower,' 'beautiful offspring,' or only' offspring.'
The term is being used around the world, and it is a common name for baby girls. 'Pua' became popularized in the Disney movie 'Moana.' The sidekick of Moana's main character. A pot-belly pet pig and Moana's best friend.
What does 'ohana' mean in Hawaii?
Ohana is a Hawaiian word meaning family. Anyone that is blood-related or adopted can use the term 'ohana.' In Hawaiian native culture, it can extend to an individual's support system. It can either be a nuclear family, extended family, friends, and even close colleagues.
There is a deeper meaning behind the word 'ohana.' It comes from the word 'oha,' meaning taro root. It shows that everyone comes from the same source and compose the family. It encourages bonds among the members of the family. No matter how distant a member is, he will still be recognized as part of the 'ohana.'
What does 'mahalo' mean in Hawaii?
The 'mahalo' is a beautiful Hawaiian word used to express positive feelings. 'Mahalo' can mean a lot of things. You can say thanks, gratitude, admiration, praise, and respect by using the word. It is a Proto-Polynesian word that evolved from 'masalo.'
When the island came into contact with the west, 'masalo' came to be 'mahalo.' Along with 'aloha,' the word 'mahalo' is one of the essential info in the Hawaiian dictionary. It reflects critical Hawaiian values that are continuously practiced today.
What does 'mahu' mean in Hawaii?
The famous Hawaiian culture is inclusive and encompassing. The people have a term for someone who is not a boy nor a girl. The word 'mahu' is a Polynesian word for a third-gendered person. It embraces the idea of being inclusive, where one can choose neither a boy nor a girl.
Before Hawaii made contact with the westerners, 'mahu' were believed to be remarkable. They were respected and were given important roles in Hawaiian society.
Yet, after making contact with the west, the term evolved differently. The once positive word is used pejoratively. It is now used to describe gay men, drag queens, and even transgender.
Yet, some would go back to its original meaning. The same way how native Hawaiians use the word for someone special but somewhat different.
What does 'nani' mean in Hawaii?
Hawaii is a beautiful island in the part of the Pacific. It is surrounded by incredible flora and fauna that people appreciate. It is only expected that natives who are used to living in a paradise-like island have a term for beautiful.
The word 'nani' is a word directly associated with beauty, charming and pretty. It is a popular name for girls. Even other parts of the world would use 'nani' to refer to an aesthetically pleasing person.
What does 'aina' mean in Hawaii?
Aina is a Hawaiian word meaning land. Hawaii is a beautiful land in the Pacific where people's lives are entwined with the island. They often see themselves as the protector of the land and everything it has.
Hawaiians are a highly spiritual group of people who believed in cosmic energy. They understand that protecting and respecting the 'aina' is a path to happiness.
The life of the locals is generally connected to their land. The way they cultivate the land is a way of honouring its creator.
What does 'kokua' mean in Hawaii?
'Kokua' is a word describing great Hawaiian values. Kokua is a term used to define the selfless nature of the Hawaiian people. It means help and assistance. It often represents the willingness of Hawaiians to help one another in times of need.
Visitors often experience the helping nature of the locals on the island. Locals extend 'kokua' to foreign visitors who are lost and need road directions. It is the true nature of Hawaiian to extend help or 'kokua' to visitors.
Hawaiians believe that helpfulness can go a long way. It is a highly esteemed character of people on the island.
What does 'kuleana' mean in Hawaii?
Aside from being helpful, Hawaiians are also a very responsible group of people. They have the term 'kuleana' to refer to responsibility. Indeed, the word has a deeper meaning for the Hawaiians.
They believe that they have 'kuleana' in their family, friends, and society. As workers or as a part of a broader community, they always keep in mind their 'kuleana.' It makes Hawaii a more cohesive and dutiful island.
Kuleana often translates to family affairs, work, and society. When someone values the importance of kuleana, it will reflect on the culture as well.
What does 'shaka' mean in Hawaii?
Hang loose is the popular meaning of the word 'shaka.' In Hawaiian pop culture, 'shaka' is widely used among surfers. It is a friendly gesture where you extend your thumb and the smallest finger. The three fingers are kept curled.
Among surfers on the island, 'shaka' conveys the Hawaiian spirit. It demonstrates friendship, bond, compassion, and solidarity. You will see people around the Hawaiian beach, making this hand sign a simple, friendly gesture.
It permeated among surfers even outside Hawaii. It is also popular in California among surfers and in Brazil. 'Shaka' also spread among triathletes. It is prevalent among jumpers, skydivers, wakeboards, paragliders, among others.
What does 'pono' mean in Hawaii?
An act of righteousness is equally vital among Hawaiians. They value doing good things, and they have a term for it. 'Pono' is a word used to refer to righteousness.
It means that living in righteousness is like living a mindful life. It is a kind of life where you can always determine right versus wrong. You discern a conscious decision making the right thing even confronted with challenges.
Pono also described Hawaiian's need to be morally right. They believe that by doing the right thing, they can achieve happiness. So, a lot of Hawaiians use 'pono' as their moral compass. It is ideal to choose the right thing from the wrong ones.
What does 'hoale' mean in Hawaii?
The word 'hoale' is used as social identification. It refers to individuals who are not native of Hawaii or Polynesians. It can mean foreigners or non-locals.
In the past, 'hoale' was used to identify European immigrants who resided in Hawaii in the 1820s. Hawaiians often use this term to identify themselves from other races. It is highly recognizable, the difference between natives from others. Hawaiians are physically and culturally different from foreign visitors.
Due to colonization, the word 'hoale' gained negative meaning. It became a word used to express contempt for the invaders. They often associated it with missionaries who imposed policies and rules on natives. It evolved from the word 'malihini' or newcomer, with a negative connotation.
What does 'ono' mean in Hawaii?
When describing delicious Hawaiian dishes, 'ono' is the perfect word.
'Ono' in Hawaii means delicious or savoury. It is normally associated with Hawaiin food cooked to be flavorful and good. The word 'ono' can mean sweet as well. It is the most proper way to respond when asked how well the food is. When you answered 'ono; it told that you are satisfied with the food that you eat.
What does koa mean in Hawaii?
When referring to a boy who is brave and strong, 'koa' is often used. The word has layers and layers of meaning. It means fearless, bold, warrior, and courageous. It is used to describe a man's energy that is strong and tough.
Also, it refers to a famous Hawaiian Acaida tree called koa. The tree is strong, sturdy, and tall, often associated with a man's physique.
Language is an essential factor in building a community. It is why a particular group of people is recognized. They develop their oneness and share a common understanding of the world they live in through words. They can build their network and belongingness as well. It is a crucial factor to understand other people and to communicate. It is a part of one's customs and traditions and also evolves.
The Hawaiian language is one of the highly recognizable languages in the world. It is simple, yet it offers different layers of meaning and understanding. It originated from the Polynesian dialect and composes of only 12 letters. It is musical and phonetic.
Thus, it is vital to save and keep the Hawaiian language. It should be practice by the people and must take pride in it. Good thing that the state marked it as one of Hawaii's official languages aside from English. The efforts of saving and preserving it are evident. It is offered at formal institutions like schools and university academic programs.
The Hawaiian language is music to the ears. Locals and foreigners will attest to that. Hearing its melodious words from a native gives you a feeling of appreciation. Practicing, saving, and preserving it is like keeping the 'aloha' spirit alive.