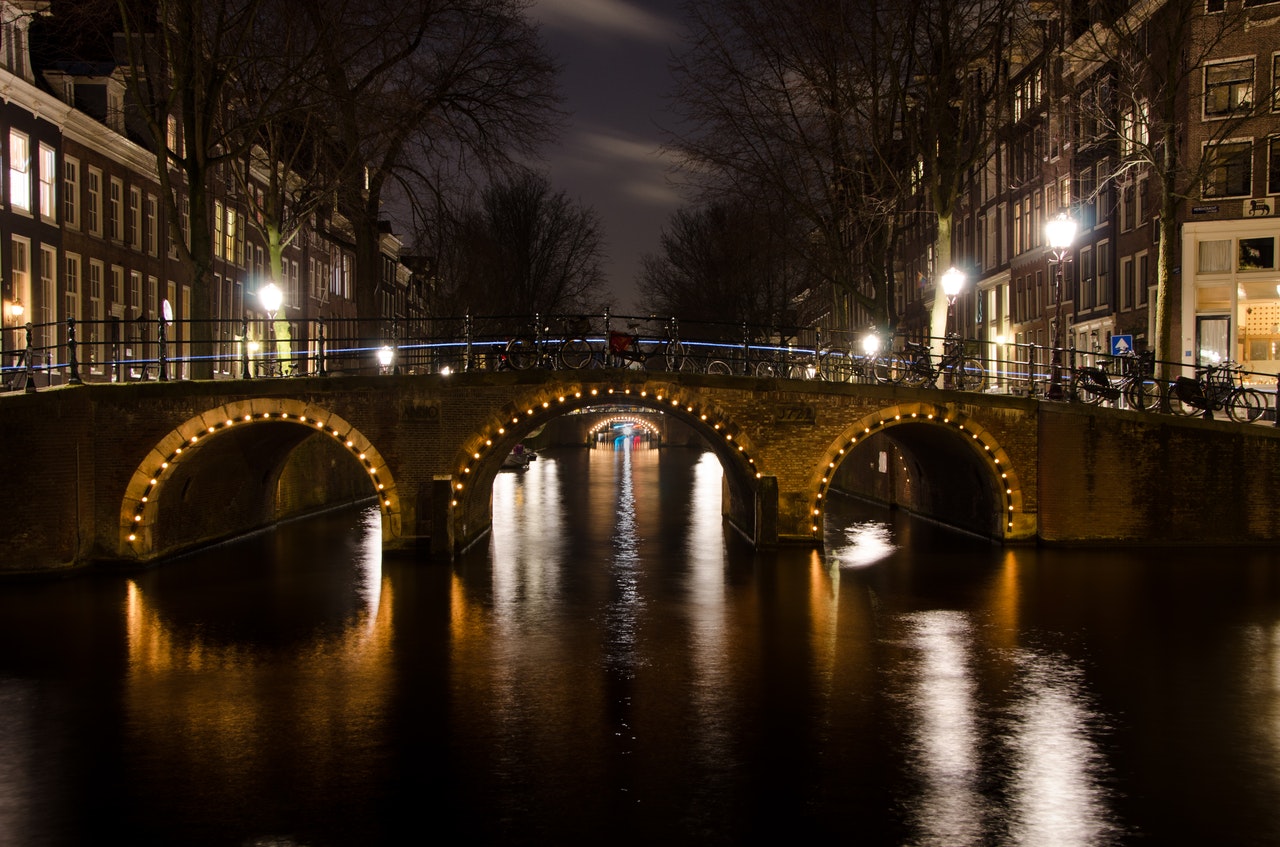 Many travelers ask whether it is safe to travel to Amsterdam. The answer is yes. It is safe for all types of tourists – male or female.
When one talks of Amsterdam, what comes to mind is all that drinking, cannabis, and the red-light district.
But despite all these things Amsterdam is famous for, the question remains. Is it safe?
With the advent of the red-light district, how safe are women travelers here?
We all know that everywhere you go, there will always be some sort of danger lurking around. But Amsterdam is relatively safe. The Netherlands, the country where Amsterdam is, ranks 21st when it comes to the safest countries in the world.
Despite being safe, I'd still give you a rundown on what it is like in Amsterdam. I will also give you all the tips that you need to remain safe while in the city.
Amsterdam – A Safe City for Female Tourists
Tourists are safe in Amsterdam.
Naturally, when in the city, you must exercise all the necessary caution. Just because I call it one of the safest in the world doesn't mean you flaunt all your diamonds when you go out.
The most common petty crime among tourists is pickpocketing. This brings me to say that never flaunt everything you have when you are out and about.
Keep your valuables secured.
Pickpocketing in Amsterdam poses medium risks. But take the necessary precautions, and you'll be safe.
Drug Laws
As you already know by now, cannabis is widely available in the country.
And yes, you can buy them from coffee shops in Amsterdam. Cannabis may be something they allow in the country, but make sure to bring with you less than 5 grams.
If there is one thing that I should clarify, the use of cannabis is not 100% legal. I should stress that it is not permitted. The country just decriminalized its use.
What does this mean for you?
It means that you can buy cannabis anywhere in the country. You can carry them around. But you will be in big trouble if you carry more than 5 grams.
Stick to what is only allowed. You'll be fine.
The Red-Light District
The Netherlands is one of the few countries in the world that considers prostitution legal. Most of the buzz of the red-light district is in Amsterdam.
While prostitution is legal, pimping is not.
And when it comes to safety, the red-light district is not overly dangerous, especially for tourists.
But let me remind you that pickpockets are active in these parts of the city. When visiting the red-light district, it would be wise to keep everything secured.
Also, if you can visit during the day, that would be great.
Terrorism
Is there terrorism in Amsterdam?
Over the years, we have seen news of terrorism in some parts of Europe. And I'm pretty sure you would worry.
But in reality, this should not be something to lose sleep on.
Anything can happen anywhere. Amsterdam is safer than any other European city.
Don't let your fear of terrorism stop you from visiting.
Natural Disasters
The country is mostly below sea level.
And so, when it comes to concerns about the environment, you may think your fears are valid.
With climate change ramping up in the past few years, the country is becoming more and more vulnerable.
But I know the Netherlands will not just go down without putting up a fight.
The Dutch are great creators of one of the most effective water management systems you can see on the planet. There are dikes and surge barriers. And to be honest, they work great.
Flooding used to be a problem in the Netherlands. But you never hear of that here now.
Is it safe for a female to travel solo in Amsterdam?
Amsterdam may be safe for female tourists. But for female solo travelers, is it still safe? The answer is yes. Many solo female travelers visit the city all year round. There is nowhere a solo female traveler can be safer than in Amsterdam.
Females that travel alone have a lot on their plate.
Safety is always a question, especially since some destinations may be more dangerous to females than males.
But in Amsterdam, this will never be an issue.
Of course, whether you are a female or male solo traveler, you must exercise caution. Some examples would be not going into dark alleys at night. Another example is by not going out alone in the dark.
Amsterdam is a safe city.
But just practice the usual precautions, and you will never get into trouble.
Amsterdam and Safety
Amsterdam is a safe city.
But no matter how safe a city is, you always have to be careful.
One example is to lock your hotel room whenever you go out. The same goes for your car.
If there is one thing that you should worry about, it is Dutch architecture.
You know, fire can easily break in buildings in Amsterdam. And this is something, even as a tourist, that you should look into.
When checking in, make sure that the property has basic fire safety equipment. There should be fire alarms, a fire distinguisher, and the likes.
Getting Around
Safety also involves knowing how to get around the city.
Some of the most common reminders would be about walking alone at night. Never go into dark corners if you can.
If you are traveling solo, be careful with strangers.
Always be sure to remain visible. Take a walk in well-lit streets. And if you can, avoid wearing dark-colored clothing in the dark.
And finally, make sure always to have all your documents ready all the time.
This is applicable not just in Amsterdam but wherever in the world you may be.
With that said, I think you're all set.
Enjoy!
What should I avoid in Amsterdam?
There are many things that you should avoid doing when in Amsterdam. Did you know you should avoid walking on bike lanes? Or how about avoiding cannabis use in public? Aside from these, there are more like taking photos of the red-light district.
Amsterdam welcomes tourists with a smile.
But no matter how welcoming the Dutch are, there would always be things that you should not do when in Amsterdam.
Read on to find out what they are.
Riding the Tram or Train Ticketless
Public transportation in Amsterdam is cheaper compared to its other European counterparts. But this doesn't mean you should take using public transport for granted.
First of all, they validate the chip cards upon entrance. This is a crucial step.
Once they catch you without a validated ticket, you need to pay about 70 Euros or about US$80.69. Sometimes, it can go to as much as US$97.99.
Just follow the steps, and you will not pay that much for a single ride.
Smoking in Trains and Train Stations
At the start of 2021, the city prohibited smoking in trains and train stations. The prohibition also covers waiting areas in all of Amsterdam.
In response, there are smoking areas that smokers can go to. Here, you will find smoking pillars that serve as ashtrays.
Don't make the mistake of smoking in train stations or other public areas.
The fine is US$29. Throwing your cigarette butts in the streets can cost you around US$46.
Cannabis in Public
Speaking of smoking, know that smoking cannabis in public is illegal. It is also unsafe to do this in Amsterdam.
As you already know, smoking in itself is not allowed. You may get a fine. If you're lucky enough, the authorities will just remind you.
In addition, know that when you have already smoked cannabis, stay somewhere else. Don't go wandering the streets. Don't ride your bike. Don't drive your car.
Anyone driving while stoned may result in accidents.
Coffee shops are open for you to smoke your cannabis.
And when leaving the country, don't take them with you.
Walking on Bicycle Lanes
When you are in Amsterdam, you will see that they marked all the bike lanes.
This way, you will not find yourself confused and dare walk in bike lanes.
When exploring Amsterdam, avoid walking in these bike lanes. A bike might bump into you. Don't also stand there and gawk at something. And this doesn't make the Dutch happy.
The Red-Light District and Photos
Visiting the red-light district is an interesting activity when in Amsterdam.
But when in the area, never get carried away.
Some windows in the red-light district have girls occupying them. Do not ever take photos of them. This is a show of respect to the worker of the red-light district.
Keep your cameras where they should be – inside your bag.
Parking Regulations
One of the things you should understand is that parking is quite difficult in Amsterdam. Aside from the difficulty, parking is also pricey.
Clampers work 24/7 in Amsterdam. And if there is one thing to note, the clampers always focus on foreign cars.
Make sure to park in the right places.
If you don't, prepare to pay around US$77 for them to remove the clamper.
And if you don't pay within 24 hours, they will tow your car away.
Don't Talk to Strangers.
We grew up being always told to never talk to strangers.
Anywhere you may go, this reminder always holds. Even in Amsterdam, you should never talk that easily to strangers.
Once in a while, a stranger might approach you to sell you drugs or bikes. Know that this is not allowed.
The strangers are just in it for your money.
If they sell you drugs, most probably the drugs do not work that much. If the stranger is selling you a bike, chances are they stole that bike from somewhere else.
Prepare a large amount for your penalty in case of authorities catch you with a stolen bike.
These are just a few of the things in Amsterdam you should not do. Whatever the case may be, if you don't feel good about it, prepare to walk away.
Always use your common sense.
What is the most dangerous place in Amsterdam?
The most dangerous place in Amsterdam is in the Southeast. Avoid Amsterdam Zuidoost.
The Southeastern part of Amsterdam is famous for being a dangerous area.
This corner of the city is somehow separated from the rest of the city. No matter what, do not go to this part of the city.
Another name for the Southeast is the Bijlmer.
It was an area frequented by immigrants from all parts of the globe. The area was famous in the 1960s.
It was only in the 1980s when this city experienced congestion due to a growing number of immigrants. It was an area of financially challenged immigrants. It was poverty-stricken.
And as expected, there were more crimes here than in any other part of the city.
Bijlmer is safe during the day. At night, it would be best to avoid.
Which is more dangerous: Amsterdam or New York City?
Based on the crime index alone, New York City is more dangerous. It has a crime index of 47.28. The number is quite higher compared to that of Amsterdam that sits comfortably at 33.67.
Looking closely at the numbers between the two cities, Amsterdam is much safer than New York.
This should give you an idea of how safe it is.
When it comes to common crimes, the glaring numbers in Amsterdam are those related to drugs. The other crimes in Amsterdam that sit higher than most are vandalism and theft.
New York City, on the other hand, is showing high numbers in almost all aspects.
Most New Yorkers fear muggings and robberies, a fear that seems unfounded in Amsterdam. There are also worries of attacks and car robberies in New York, something uncommon in Amsterdam.
It is no wonder that the safety index in Amsterdam is higher compared to New York City. Amsterdam's safety scale sits right at 66.33. New York City is at 52.72.
These findings mean that the people of Amsterdam feel safer than those in New York City.
So, going back to the original concern, is it safe for a female to go to Amsterdam?
The numbers will tell you.
Yes, you'll be safe.