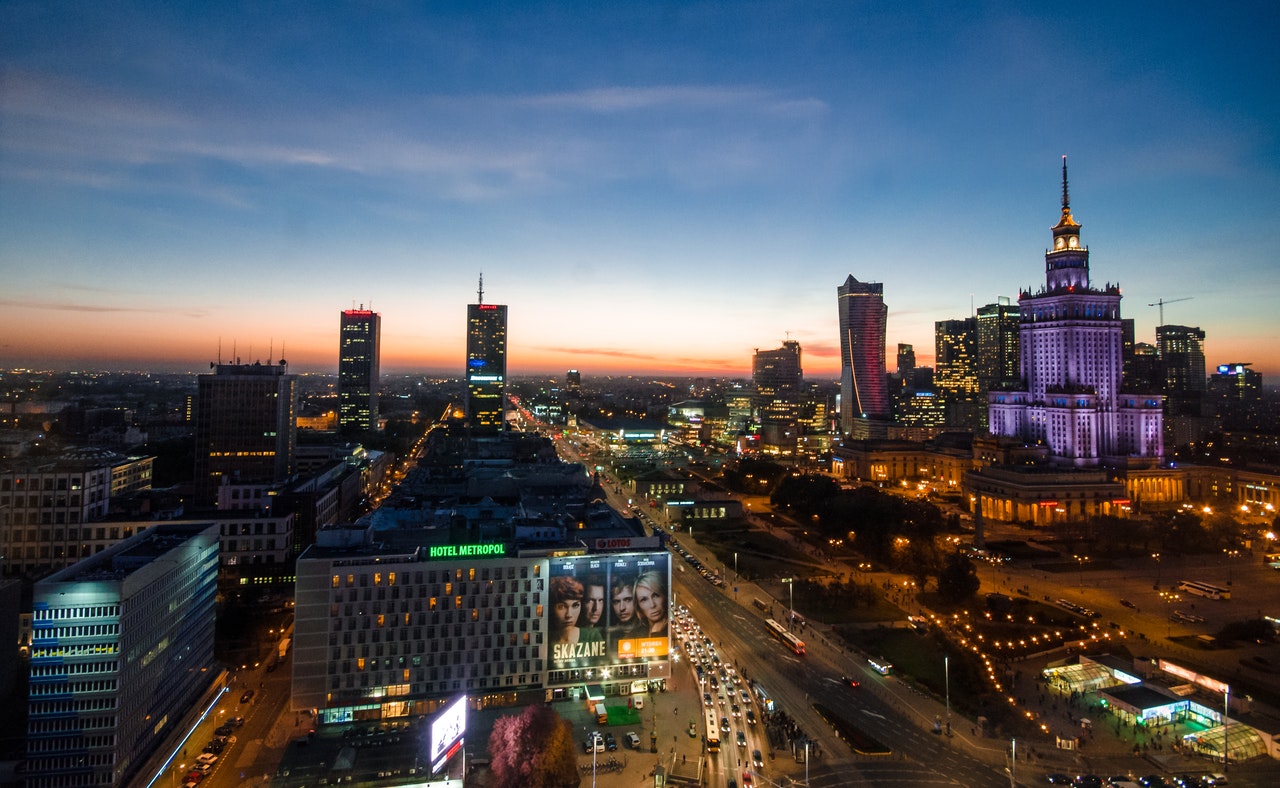 Compared to Warsaw, the city of Krakow is cheaper. Krakow is cheaper when it comes to accommodation. The food here is also more affordable. Overall, you can spend about US$55 per day in Krakow for everything. In Warsaw, it can reach up to US$65 per day.
I should stress that both cities are beautifully amazing.
But when it comes to prices, Krakow is much cheaper.
And I'll discuss more later on.
But first, let me talk a bit about the currency in Poland.
Zloty
The currency in Poland is zloty. A zloty has 100 groszy.
Think about zloty as your dollar. Your groszy are your centavos. That should make it easier to understand.
The coins in Poland range from 1 grosz to 5 zlotys. The bills, on the other hand, range between 10 to 200 zlotys.
One zloty is equivalent to US$0.26. If you look at it the other way, US$1 is equal to 3.93 zlotych.
Now, let's get on with the costs.
Travel Costs: Krakow
How much should you prepare for a trip to Krakow?
When visiting the city, plan to spend around US$55 to US$60 per day. This should cover your food, accommodation, and a few activities. On average, US$55 can mostly get you by comfortably in Krakow.
Adding a few dollars more can pay for your museum passes and other activities.
Accommodation in Krakow
Hotels in Krakow for a one-person room costs US$39 on average. This amount is good enough for a decent room with your toilet.
Cheaper lodgings can go down to as low as US$12 per night. But with this amount, expect to share the room with fellow travelers. Or you can expect to have a shared toilet.
Sometimes, hotel rooms as cheap as US$12 per night can also be far from the city center.
Meals in Krakow
Meal prices in Krakow vary a lot. But on average, you can spend about US$10 per day on meals.
Breakfast is the cheapest meal of all. Also, take note that fast-food meals are more expensive than sit-down restaurants.
When it comes to Krakow dishes, bagels are common. You can see these bagels everywhere. And they provide a great snack.
Milk bars are typical in Krakow. These milk bars are similar to cafeterias and were popular during the Communist period.
They serve Polish food that includes kroketka.
Street food is also popular in Krakow. They're also more affordable. The most famous of all options is zapiekanka. It is a kind of baguette they serve with toppings of cheese, mushrooms, and garlic sauce.
The city is also full of Chinese and Vietnamese restaurants.
These restaurants may not be as authentic as you would like them to be. But they are cheap.
Aside from these cuisines, there are also Italian, Greek, and French restaurants in the city.
Transportation Costs
A taxi ride can cost you as much as US$5 in Krakow.
But then again, the cost depends on how far your destination is. It also depends on how often you take a taxi ride.
One thing to note, however, is that Krakow is a very walkable city.
There are a lot of walking routes. There's the Royal Way. Aside from that, there is also Planty Park just outside the Wawel Castle.
Should you feel like it, the cheaper options are buses and trams. When riding buses or trams, expect to pay anywhere from US$0.71 to as much as US$1.30.
Activities in Krakow
The Old Town in Krakow has a lot of touristy sights. Here, you will find the Florian Gate, Town Hall Tower, and the Wawel Castle. There is also a horde of museums, day tours, and other activities in this part of the city.
On average, you can spend around US$16 to US$20 for entrance passes, day tours, and the likes. This amount will already cover everything that you need for the whole duration of your trip.
Alcoholic Drinks
The more fun you are having in Krakow's nightlife, the more expensive it is for you.
On average, you can spend around US$5 on alcoholic beverages daily. But the cost depends on how much you are drinking, though.
Travel Costs: Warsaw
When traveling to Warsaw, how much would you need?
On average, you can spend around US$65 per day in Warsaw. This would include your meals, accommodation, and activity here and there.
Accommodation in Warsaw
Hotels in Warsaw can be a little bit more expensive compared to Krakow.
Here, a hotel room costs an average of US$45 per night.
Naturally, there are cheaper options. Some cheap lodgings can go for as low as US$17. But these are either not good enough or are far from the city center.
Meals in Warsaw
The costs of meals in Warsaw vary. But on average, tourists spend about US$17 per day when in the city.
Here, breakfast meals are a bit cheaper than other meals. On the other hand, sit-down restaurants are more expensive than fast food and street food.
If you want to save up on meal costs, you can choose kebab shops. There are many of these shops in the city.
Like Krakow, there are also Vietnamese restaurants in the city. And they are also cheaper options in Warsaw.
Another cheap option in Warsaw is going to milk bars. These establishments are those that serve meals centered around milk products. And they're pretty cheap as well.
Finally, fast food restaurants will also help you save up on meal costs.
In Warsaw, you will be able to find Pizza Hut, KFC, and a horde of other international fast-food chains.
Transportation Costs in Warsaw
Taxis are the more expensive means of transportation in Warsaw. It could cost you around US$5. But the costs can increase depending on your destination. The charges also depend on how often you take a cab.
On the other hand, buses and trams are your cheaper options. A single ticket costs around US$1.
Buses go through about 200 routes. There are also at least 30 tram lines in the city.
And so, aside from buses and trams being cheap, they are also more convenient.
Activities: Warsaw
Sightseeing in Warsaw can cost you as much as US$30 for the whole duration of your trip.
There are tickets to museums to pay for. There are also admission passes to attractions and day tours.
In Warsaw, you can find most tourist destinations in the Centrum area. Here, you will find the Royal Road that initially connected the Royal Palace to the Royal Castle.
Aside from this, there are also museums you can visit and walking tours you can join.
Alcoholic Beverages
A night out in Warsaw can be more expensive.
Alcoholic beverages can jump your costs to as much as US$9 for every drink you buy.
Naturally, the more you enjoy, the more you spend on alcohol.
If you want to save up on costs, drink moderately.
What are the cheapest cities in Poland?
The cheapest city in Poland is Krakow. The second cheapest is Szczecin, followed by Warsaw in third place.
Poland has a lot of cheaper cities.
It may not be the most glamorous on the continent. But it has old cities and has a lot of cheap cities perfect for a holiday.
If you are wondering which three cities are the cheapest, here they are.
Krakow
Krakow is one of Poland's most visited by tourists.
It is a city with a long history. It has beautiful old towns. The city is also famous as a tourist destination.
Aside from that, Krakow is the most affordable to visit and live in Poland.
Even long-term vacations are possible in Krakow. A month of lodging in Krakow can cost you about US$300.
The food is cheaper as well.
What makes Krakow amazing to tourists is that it is a walkable city.
Tourists can easily go from one attraction to another without worrying about paying for taxi fares.
Daily, expect to spend about US$55 in Krakow.
Szczecin
This city is also one of the cheapest you can visit in Poland.
The only downfall with Szczecin is that it may not offer much when it comes to attractions.
The city is mostly industrial.
But if there is something you can appreciate in Szczecin, it is its laid-back vibe.
Most locals also speak a certain level of English. As a tourist, you would not worry much about communicating with the locals.
There is not much this city can offer when it comes to nightlife. But if you are seeking a more tranquil destination, this should be your best bet.
There are cafes around. It also ranks higher than most cities when it comes to its internet speed.
The city is about 15km away from the German border.
When visiting, expect to spend about US$60 per day. This should already cover your accommodations, food, and what little option you have in its attractions.
Warsaw
The capital of Poland is one of the largest cities as well.
Warsaw has a bustling business district. It also has historic neighborhoods and beautiful districts.
These days, Warsaw is transitioning into becoming a major cultural hub as well. The transition mixes culture and business in the city.
Warsaw may be more expensive than the other two options. But the city provides good value for your money.
When in Warsaw, expect to spend around US$65 to US$70 per day.
What are the most beautiful places in Poland?
Poland is a beautiful country. But when it comes to its cities and towns, Krakow is the most beautiful. Chocholow and Zakopane are also two of the prettiest places in the country.
From castles, beautiful side streets, and squares, Poland is a country teeming with so much beauty.
Here are three of the most beautiful places in Poland.
Krakow
Krakow is a city rich in history.
Its Old Town is full of amazing tourist destinations. The Old Town part of the city has gothic church spires and a lot of majestic buildings.
Just a little bit off the city is the Vistula River. It passes through some bars and cafes, especially in the Podgorze district. This provides for a nice view while you enjoy your meals.
Aside from these views, the city also has elegant districts.
It has castles and cobblestoned alleys. Krakow has jazz joints and beautiful squares with bustling markets.
It is no wonder why Krakow is getting a lot of visitors every year.
It is Poland's most beautiful.
Chocholow
Along the border between Slovakia and Poland is a charming little corner called Chocholow.
You can easily find the place between the High and Low Tatra mountains.
One of the most popular attractions in Chocholow is its split-timber homes. These homes are all over the town's streets and boast of their rustic woodwork designs.
And just before the town ends, a forest of evergreen pines starts.
Zakopane
Snow-capped mountains and rustic exteriors are this town's selling points.
Zakopane is famous for its ice-caked tops, thanks to the Tatra Mountains.
The town is Poland's winter capital and is a perfect getaway during this season.
Traditional cabins sit beside its roads. Lampposts light the streets. And just imagine how it looks during winter as the lampposts give that glow amidst a flurry of falling snowflakes.
Magical!
Do they speak English in Poland?
More than 1/3 of Poland's population speaks English well. The rest can communicate in the English language with certain levels of fluency. If English is the only language you speak, you can still communicate with the locals when in Poland.
Poland is beautiful. But if you only speak English and nothing else, how can you get by? Do they speak English here?
The English language is common, especially in major cities and tourist destinations.
This means that you can always ask for help or assistance in English. Somebody would always be able to help you.
A little more than 37% of the population speaks English well.
This is because, over the years, Poles learn one additional language in Primary school. When they reach Secondary school, they learn two languages more.
English is always one of these extra languages they learn.
But when you get out of the larger cities, there will be fewer Poles who can speak English well. You can still get by, but expect to use google translate or some basic hand movements.
Communicating as Tourists
You should know that Poles do not expect you to know how to speak their language. Of course, there's the usual hello and thank you that you can learn. But aside from these simple phrases, the Poles expect you to speak in English.
The younger generations seem to be more proficient in the English language than the older ones. So, when asking for help in English, you can talk to the younger ones.
This does not mean that anybody more than 40 years old doesn't speak English. Some also do. But the most common English speakers are young.
The Languages in Poland
When it comes to languages, Poland is pretty diverse.
There are more than 20 languages present in the country. Polish is the most common language, with about 97% of the population using it to communicate.
English is the second most widely spoken language in Poland, with a little over 37%. This percentage grows every year as more and more students learn the language.
Russian is also another familiar language. The rest are German, Ukrainian, and Lithuanian. Once in a while, you will also find people who speak Armenian and Romani.
The Basic Polish Phrases
Looking at Polish words on paper, I admit this may look intimidating.
But remember that the Poles do not expect you to be fluent in their language. English can get you by, especially in large metros.
But it would also help if you know a phrase or two.
Here are the most common phrases you can use in Poland.
| | | |
| --- | --- | --- |
| English | Polish | Pronunciation |
| Hello/Bye | Czesc | Chesht |
| Please | Prosze | Pro.Show |
| Thank you | Dziekuje | Jin.Ku.Yeh |
| Yes | Tak | Tak |
| No | Nie | Nee.Eh |
Learn these phrases by heart, and I'm sure you'll get by just fine.