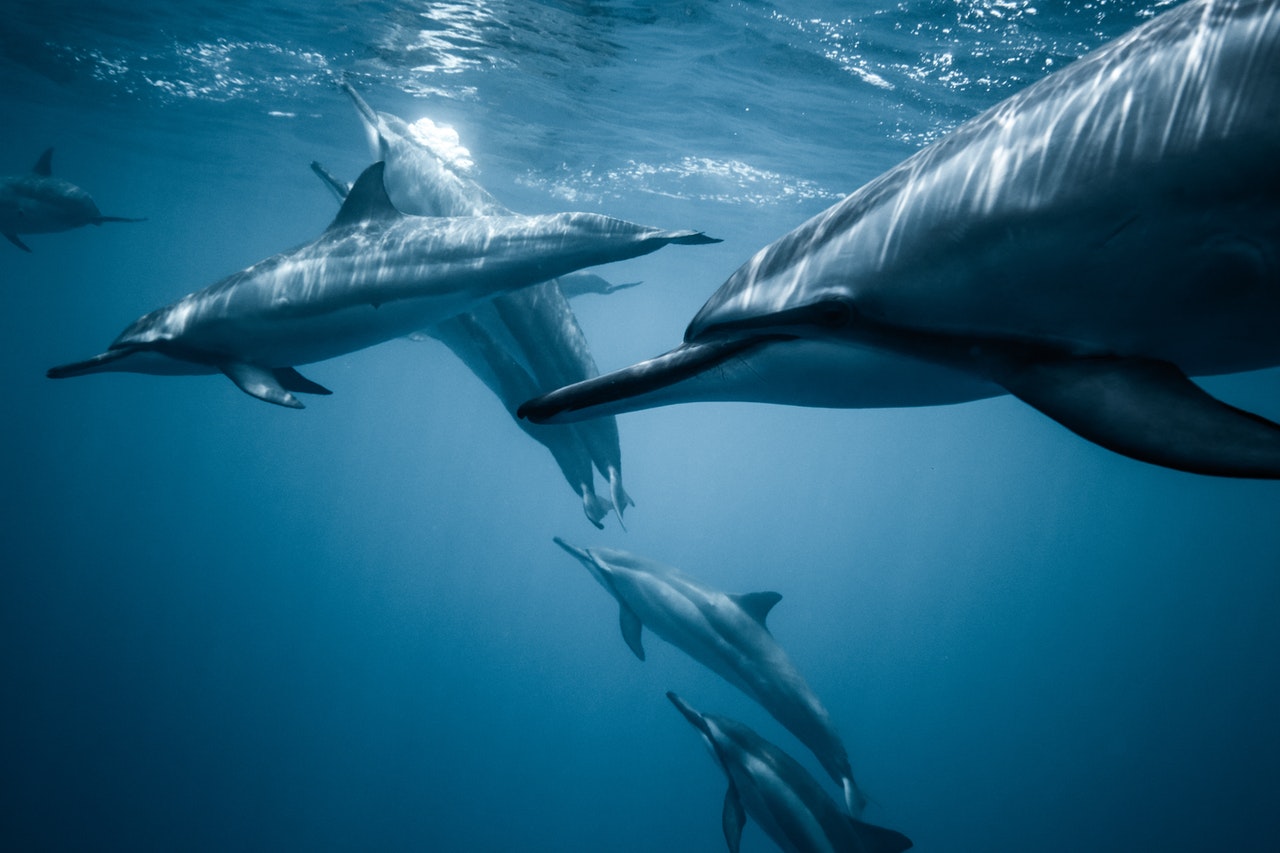 Greece is one of the top traveled destinations in Europe. Almost 31.3 million visitors from across the globe visit the country every year. It makes the tourism industry a vital sector of the Greek economy, contributing 25% to the GDP.
The coastlines, islands, and beaches contribute to the country's tourism sector. As a result, marine tourism in the county also thrives. It offers exciting water activities like cruising, boat chartering, diving, and dolphin watching.
Dolphin watching is a major attraction in the Greek islands. Tourists visit Greece to see and swim with the dolphins. Swimming with the dolphins in Greece may be possible but not highly encouraged.
Marine wildlife is under the protection of wildlife organizations. They limit direct interaction with the dolphins as part of their marine protection drive.
You can go on sailing trips on the islands of Greece where you can have a chance to watch the dolphins. Some organized trips allow you to interact with these creatures. Dolphins can join you during diving, snorkeling, and swimming.
If you get a chance to swim with them, the tourism sector greatly encourages you to interact responsibly with the dolphins. You have to conform to their set policies and guidelines if you get a chance to swim with the dolphins.
Are dolphins common in Greece?
Dolphins in Greece are common. The Greek Sea is home to four species of dolphins. They include the striped dolphins, bottlenose dolphins, Risso's dolphins, and common dolphins.
You can spot some of them in the Corinthian Gulf, Amvrakikos Gulf, or the Ionian Sea.
In case you go on a sailing cruise to one of the islands of Greece, here are some ways you can identify each species:
Striped dolphins

The striped dolphin is the most common species you can see in Greece. They are living in every area of the Greek sea with great depth near the shore. A large number of these dolphins live in the Corinthian Gulf.

The striped dolphin is the smallest dolphin species across the globe. You can instantly identify them since they are smaller compared to other dolphin species. They can only grow as long as 1.65 meters.

They are gray with a black stripe starting from their eyes down to their undersides. Stripe dolphins are great swimmers with a speed of 35km/h. They also love to leap 20 feet above the surface water. These dolphins can leap and rotate their tails while up in the air.

Bottlenose dolphins

The bottlenose dolphins are the second most common species in the Greek waters. They live in every coastal area of the country, particularly in Amvrakikos Gulf. The said species have excellent acrobatic moves that can jump as high as 8 meters.

You can easily identify the bottlenose dolphins because of their size. They can measure as long as 10 feet and weigh up to 1,100 pounds. These dolphins are normally gray. Its upper body can range from light gray to black. Then, light gray to almost white on their belly.

Risso's dolphins

Risso's dolphins are the rarest among the dolphin species residing in the Greek seas. They only live in the northern Sporades islands and southwestern Crete.

You can instantly spot them in the sea because of their robust and large body. Risso's have a length of almost 12.5 feet and are one of the biggest dolphins in Greece. They stand out among other species because they lack snouts, unlike other dolphins.

Risso's dolphins also have scratches covering their bodies which are hard to miss. They are gray, which normally fades as they get older. These dolphins are deep divers that can go as low as 500 meters deep.

Common dolphins

Like the Risso's dolphins, common dolphins are also very rare in the Greek seas. They are near to extinction based on the Red Data Book of Threatened Animals of Greece.

Some call them colorful common dolphins because of the unusual mix of colors on their bodies. Their bodies have a pattern of gray, black, white, and yellow colors. They are medium in size with an average length of 1.80 meters.
Where to see the common dolphin in Greece?
Common dolphins are fascinating species because of their unique colors. Most tourists would love to spot this remarkable creature once in their lifetime. They are of two categories, the short-beaked common dolphin and the long-beaked common dolphin.
These species are abundant in other parts of the world, but they are rare nowadays in Greece. The species reduced its numbers in the past 30-40 years in the Greek waters. The Red Data Book of Threatened Animals of Greece even listed it as threatened to extinction.
A limited number of common dolphins live in some areas of the Greek waters. These dolphins live in places less than 200 meters in depth. You can see them in coastal areas, strait gulfs, and steep coasts in Greece.
The Corinthian Gulf is a part of the Ionian Sea. It is a very important habitat of the different dolphin species. The Gulf is the only place in the world where striped, Risso's, and common dolphins live together.
It is a unique part of the Ionian Sea with the highest concentration of various dolphin species. An estimate of 1,300 striped dolphins lives in the Gulf, while only 22 common dolphins exist.
The Aegean Sea is also home to a good number of common dolphins.
They concentrate in the shallow coastal waters of the Aegean.
You can spot them in Cyclades, Saronikos Gulf, Hydra Island, and the Sporades.
There are also some records of common dolphins living in the Northern Dodecanese. The Southern Samos region has a limited number of the said dolphin species.
These areas are 40-100 meters in depth. It indicates that common dolphins prefer coastal to shallower waters.
Are you allowed to swim with dolphins?
Dolphins are well-protected marine animals. The population of these sea creatures exhibits a significant decline over the years. It is due to human negligence and interference that harm and threaten marine mammals.
You can swim with dolphins if you are part of a legal and licensed tour. It is vital to keep a safe distance of around 30 meters away when swimming with these marine creatures. It can help if you let the dolphins approach you and avoid forcing them to interact with you.
Remember that these animals are under the protection of wildlife organizations. They limit the interaction of humans with marine life due to threats directed to them.
Here are several of the things that may happen if humans continually interact with dolphins:
Encouragement of captive breeding

Dolphins should always live in their natural habitat. It will prolong their life, and keep them safe from human activities. However, some dolphins were in captivity.

It is not right to support swim-with-dolphins programs. You are encouraging the proliferation of captive breeding programs among dolphins. Marine parks like Blutopia only allow tourists to interact with free dolphins in the sea.

Forcing dolphins to live in an artificial habitat

Dolphins in captivity live differently compared to other wild mammals. The artificial habitat restricts their movements. They cannot swim, forage, and dive freely, unlike when in the ocean.

They are not free to live naturally and reproduce in a normal way when under captivity. The food they eat is not the same when they hunt for their food in the wild sea. These dolphins have a life that is less than what they can get when in their natural habitat.

Free dolphins travel long distances to get food. They move deliberately and exercise their body to hunt food. When help captives, they completely lost this major activity.

Water quality

Water quality can affect mammals' health. Dolphins under the swim with dolphins program stay in chlorinated tanks. These tanks expose the animals to harmful and stressful conditions.

The chemicals and substances in tanks can damage the skin and eyes of marine mammals. Most of them suffer eye damage and skin irritation because of the water quality.

Unlike the sea, the tanks or ocean pens are more exposed to noise, pollution, and contaminants. The animals waste from the dolphins can also pose harm to human beings.

Dolphinarium cannot replicate the water quality provided in the ocean. Dolphins need an environment naturally created for them.

Separation of mothers and baby

The calves cannot live the same way as other dolphins when they are in captivity. In a normal process, they would stay with their mothers for three to six years. It will not happen when both mothers and calves live in an artificial environment.

The two will separate, and the calves will instantly start training for entertainment. It is a stressful condition for both the mothers and the calves.

Harmful on reefs and ocean

The waste excretion from dolphins can also harm the ocean. The waste builds up in the tanks and produces viruses, fungi, and bacteria. These organisms can harm the corals within the area.

As a result, there comes reef and ocean degradation. The waste from the dolphins can kill reefs and the ocean, as well.

Negative impact on dolphin's health

There is a direct impact on the overall health of the dolphins. Caretakers heavily medicate them because of diseases and illnesses acquired during their captivity. Some dolphins in captivity exhibit ulcers, stress, sunburns, and even cancer.

The dolphins rarely get the sunlight they need when in a tank. It causes them to develop skin conditions and sunburns. Also, the interaction of humans with dolphins gives stress to the animals.

Forced Training

Humans capture dolphins merely for entertainment. They place these mammals in closed tanks and train them tirelessly. Most of the time, trainers kept dolphins hungry so that they would do the tricks.

People who paid for tickets will touch and feed them, making the animals anxious and stressed. It is an unnatural activity for them, making them sick and unhealthy. The training and attention they receive make them anxious and sometimes agitated.

Unnatural causes of death

The level of stress and other negative health issues can cause death among dolphins. Most of them die due to unnatural causes. Some reported that septic shock, fungal infection, and drowning caused dolphins' death. Other causes are suffocation, trauma, and toxicity.

Greece is one of the places around the world where dolphins love to live. The country's natural habitat invites different species of dolphins to stay. It is a place where you can spot dolphins in their natural environment.

Spotting dolphins in the ocean is one thing, but diving and swimming with them is another. Having direct interaction with dolphins is a unique and memorable experience. It is possible to swim with dolphins in Greece if you are not forcing these creatures to interact with you.

The key is always to be a responsible tourist and respect the marine creatures at all times. So, the moment you visit Greece, make adventures with dolphins part of your itinerary.