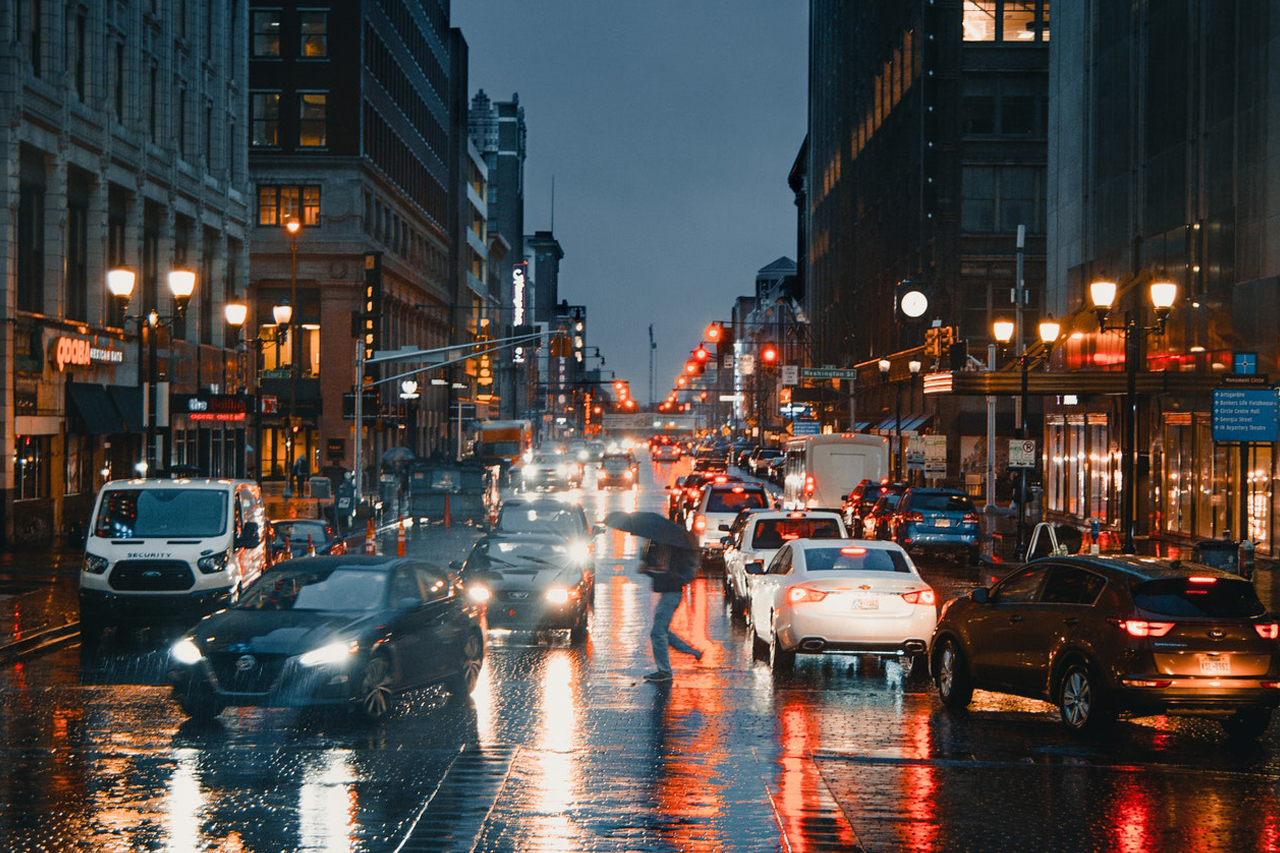 Indianapolis, located in Marion County, is the most populous city in Indiana. It is the 18th largest city by property area in the United States, explaining why it has many local tourist attractions and destinations worth visiting.
It is affectionately known as the "Crossroads of America," interconnecting routes to its accessible hotspots and zones that you should see even if you do not have a car.
Indy has tons of good places to eat, art galleries, urban gardens, and educational structures in its Mile Square and city center zone that you need to visit.
So, if you choose to spend your weekends here, do not worry about finding the best things to do in Indianapolis because we got your back! Here are our most valuable picks for you to try and discover in this lovely neighborhood.
1. NITE Ride
One of the multiple compelling activities in Indianapolis occurs near Mile Square, especially on Market Street, where a large crowd gathers for the event.
I am talking about the NITE Ride, the Navigate Indy This Evening Ride. This one-of-a-kind event is a leisurely ride on an eventful evening in the town square and leads to a specific destination.
The event is a leisurely 20-mile road trip of Indianapolis that will take you past the Indianapolis Children's Museum, Butler University, Hinkle Fieldhouse, Newfields, IUPUI, and Monument Circle.
I attended this spectacular event, and it was well worth my time. Aside from the course around Indy, the best thing about this ride is meeting different people. I would recommend this breathtaking ride to anyone, especially those visiting the place. (Bike rentals are available.)
2. Soldiers and Sailors Monument
One of the most recognizable features of Indianapolis is its recognizable monument in the heart of downtown.
Soldiers and Sailors Monument acknowledged as one of the world's notable landmarks, has come to symbolize both the metropolitan area of Indianapolis and the state of Indiana.
It was the first memorial in the United States devoted solely to Indiana's fallen and ordinary soldiers during the Civil War, Revolutionary War, and other conflicts. This limestone landmark stands 284 feet, six inches tall, and only 15 feet shorter than the Statue of Liberty.
I came to see this phenomenal site in the city center, and it was just as lovely as it appears in the photographs. The Soldiers and Sailors Monument resembles a massive Christmas tree when viewed at night. On its feet is a fountain surrounded by sculptures.
This landmark is a stunning masterpiece, and it makes an excellent backdrop for a photo opportunity. If you are in Indianapolis, do not miss it.
3. Tappers Arcade Bar
In the southeast corner of downtown Indianapolis, Tappers Arcade Bar is a free-play arcade and pinball destination you must see when visiting the lovely neighborhood.
This arcade has over sixty available arcade machines and over 1,000 video games from which to choose. The place is exclusive for adults only. I went over the weekend, and there were considerable people inside. (They check ID at the door)
Apart from the large variety of games I played, such as the classic Pac-Man, Donkey Kong, and Galaga, they got Super Nintendo and Nintendo 64 too. They also serve meticulously crafted beers, with over 2,000 beers on draft.
Tappers Arcade Bar does not serve food, but you are welcome to bring your own or have one delivered. Cocktails include cucumber vodka soda, mango margarita, frozen banana daiquiri, etc.
The free-play games here are entertaining, and if you happen to be in Indy, stop by and enjoy their games.
4. Indianapolis Motor Speedway Museum
The Indianapolis Motor Speedway Museum, located on the historic 2.5-mile outdoor track, is among the most remarkable racing pathways globally and an impressive tourist attraction in Indianapolis.
This fantastic website gained popularity solely dedicated to automobiles and auto racing. The bus tour takes you on a lap around the track while providing history and facts about it and delving deep into racing traditions. I suggest you take the bus tour to make your journey worthwhile.
Indianapolis Motor Speedway Museum features Indy cars from various eras that I adore. After the tour, the bus returns you to the gallery, where you are free to enter whenever you want. There is also a tiny cinema and a gift shop inside the site for souvenirs.
Even if you are not a fan of cars or racing competitions, this is a lovely exhibition. Indeed, a must-see space in America's Crossroads.
5. White River State Park
The Indianapolis downtown area includes White River State Park, a world-class attraction and location that provides unique adventures for every visitor.
Over 250 beautiful acres, green areas, paths, trees, and waterways coexist with cultural, academic, and recreation attractions. The ample spaces are stunning, so I always enjoy coming here when visiting Indy.
I enjoy visiting the Eiteljorg Museum, the NCAA Hall of Champions, the Central Canal, and the Indians baseball game at Victory Field, plus boat rental here is a must-try.
I especially enjoy visiting the Tent, a 43-foot-tall, bright, colorful sculpture with reflective panels sweeping the breeze.
Occasionally, White River State Park hosts events that you should check out. The riverfront promenade on the west bank is an excellent place to stroll. Multiple bridges cross the river, particularly in the center city of the Indianapolis area, allowing you to travel easily.
6. Indianapolis Cultural Trail
The Indianapolis Cultural Trail is an excellent resource for residents on the go, but it also provides a clear path to whatever is remarkable in Indianapolis for visitors.
The space opened in 2011 is an 8-mile world-class urban bicycle and pedestrian path that connects neighborhoods, cultural townships, and entertainment facilities in downtown Indianapolis.
One of the best things to do here is to join the tour. Throughout two and a half hours, you will see public art, six Cultural Districts, and a knowledgeable journey through America's crossroads. Admission to the tour includes a bike and a helmet.
The Indianapolis Cultural Trail is ideal for a stroll where you can end up buying something from one of the center city's coffee houses or maybe one of the fantastic local restaurants and shops. This zone is a must-see when visiting Indy.
7. Circle City Tours
Join the Circle City Tours if you want to do something that will be worth your time in Indianapolis.
This activity is yet another time-saver option for which you do not need a car. The trips include the most popular points of interest, such as White River State Park, the Children's Museum, the Museum of Art, and heritage landmarks that will delve you into the Circle City.
Visit the famous stops for up to 3 hours. The Circle City Tours did not disappoint in showing us around the local restaurants, with Shapiro's Deli being one of their favorites. You can purchase your tickets for this popular tour online.
Aside from the standard tourist attractions, you can ask Carrie, the tour guide, to stop at a particular location. Take the bus for a fantastic tour of Indianapolis' thriving communities.
8. Garfield Park Conservatory and Sunken Gardens
Garfield Park Conservatory and Sunken Gardens is a fantastic local park near the south side of Indianapolis. The 10,000-square-feet space is unquestionably a must-see attraction here.
The space is genuinely accessible, only a couple of miles away from University Heights going south and Fountain Square and Bates Hendricks to the north.
Flowers bloom in the Sunken Garden throughout the year, so each visit is technically unique. The conservatory's eight hundred orchids are also a must-see, especially if you like blooms. It also has tennis and sand volleyball courts, play areas, day shelters, and other amenities.
It is lovely to see activities in the repurposed turf areas during the warmer months, such as outdoor concerts and weddings. There are also carvings throughout the conservatory where volunteers generously donate everything. Garfield's is a true hidden gem in the Greenwood neighborhood.
9. Market Street Catacombs
Indy provides us with tourist attractions that are both worthwhile and eerie. Head to the Market Streets Catacombs if you want to enter a mysterious world beneath Indianapolis' streets.
Indiana Landmarks offers guided tours of this unusual, off-the-beaten-path location. My friends and I discover the Market Street Catacombs, a Roman-looking network of brick arches underneath the City Market's outdoor Whistler Plaza.
The guides will tell the tale of two older landmarks, City Market and Tomlinson Hall, along the way. It was creepy, but it was also educational. A few access points are available, but they are not precisely open and public much of the year.
Secure your tickets online to experience this one-of-a-kind tour. Tours last about 30 minutes and begin on the mezzanine level of the Indianapolis City Market. You can also check the market after the stint if you like.
10. Twisted Room Escapes
After a handful of tours, you might want to go to Mile Square for a unique activity with your family and friends.
I am talking about the Twisted Room Escapes, a real-life adventure game in which players must collaborate to find clues and solve riddles to accomplish the primary mission and eventually win.
The site provides private bookings, and you must reserve your spot by booking online. They also have seven different themed rooms to choose from if you want to exercise your brain.
The motifs and puzzle games were clever and fun to solve together, and the staff was extremely helpful and accommodating. They also provide snacks before you enter the room if you arrive early (at least to prepare you!)
The best part about Twisted Room Escapes is that you can collect trinkets and then redeem them for rewards. This reward adds to the place's uniqueness and fun.
11. Rhythm! Discovery Center
Mile Square is the best place to visit in Indianapolis because of its proximity to many exciting neighborhoods, including Rhythm! The Discovery Center.
The venue, which opened in 2009, is the world's leading interactive drum and percussion museum, providing innovative programs, immersive, benchmark educational exhibits, and artist performances.
The location is down in the basement of the Panera Bread building, so you must first look for it. Aside from the musical instrument exhibition, visitors can play many percussion instruments, and the selection is overwhelming.
Rhythm! The Discovery Center is small, and we completed looking through everything in an hour.
Our tour concludes in the gift shop, which features cute museum-themed souvenirs. This place is fun and can serve as an introduction to a musical instrument or only plain entertainment for percussion enthusiasts. Finding the location is tricky, but it is well worth the effort.
12. Indianapolis Canal Walk
The Indianapolis Canal Walk is on Ohio Street in the heart of the city center. The Downtown Canal Walk's 3-mile circuit stretching north through White River State Park to 11th Street is a popular urban retreat for both fitness enthusiasts and those seeking serenity. Pedal boats and gondolas, bicycles, and surreys on the waterfront.
The loop is not too long if you want to go down past museums, apartment buildings, and courthouses. However, if you prefer a shorter walk, cross-over points and bridges allow you to customize your route.
You can lease paddle boats, gondolas, and other things to travel along or in the water when the weather is better, which I did not miss. It was a fantastic canal tour.
Indianapolis Canal Walk is a lovely place to stroll, especially in the afternoons when people have picnics on the ground for both locals and tourists.
13. Newfields
Newfields, formerly recognized as the Indianapolis Museum of Art, opened its doors in 1883 and is yet another art museum in Indianapolis worth visiting.
There are more than 54,000 works of art housed in the museum. It also has rotating art exhibits that you should look forward to throughout the year, locally and nationally.
The Oldfields, Virginia B. Fairbanks Art and Nature Park, and the Lilly House & Gardens are part of the IMA's campus. People visit the museum and enjoy the blooming garden outside every year.
My personal favorite, and I believe everyone else's, is the Lume exhibit, a digital world of art that runs 60 minutes of digital content that I cannot describe how gorgeous it is.
You can stop by the Café Terrace 1888 for a drink and a snack before returning to the galleries to watch the artwork pirouette around you.
We recommend you check out the perfect standouts if you want to have an enjoyable time exploring Indianapolis without having a car with you. The activities and places are mostly downtown and the famous Mile Square, making it easier to get from one location to the next.
We will be thrilled if you visit these locations as we did and enjoy every memory that you can make. If you would like to convey your thoughts, please leave them in the comments section so that we can interact with you as well.
We will see you on our next city excursion!