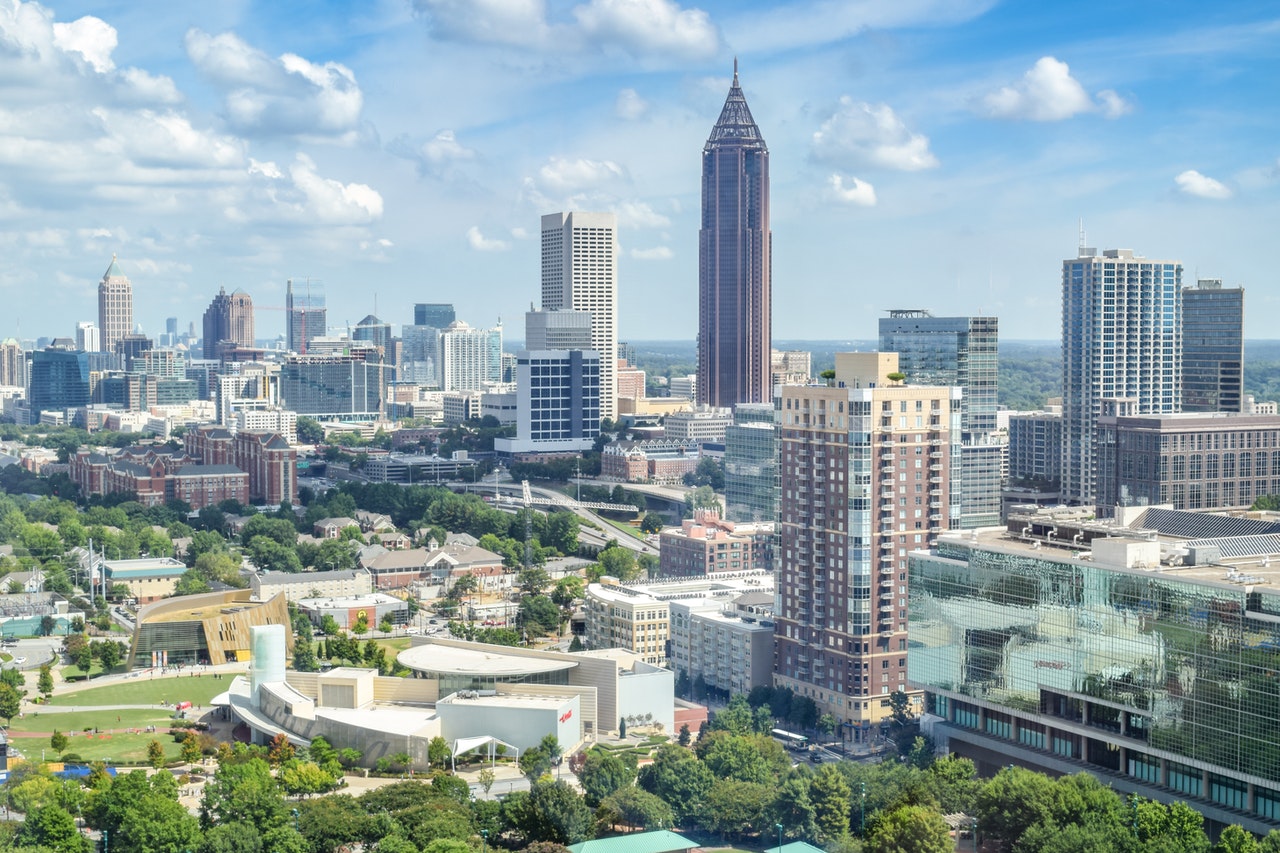 Atlanta vs. Houston comparison does not make much noise like other rival cities. It does not draw massive attention like Houston and Dallas or Atlanta and Charlotte. Still, knowing the peculiarities of each town is a worthy feat.
The city of Houston and Atlanta are two major regional powerhouses. Houston is an important city in Texas, while Atlanta is an economic player in Georgia. They are both significant hubs in their respective states.
Atlanta, a city, founded in 1837, grew to become a city rich in history, culture, and creativity. It has a crucial role in the overall development of the State of Georgia. Atlanta is a fast-growing economy not only in Georgia but in the entire United States.
Houston, on the other side, is a buzzing city in Texas. It has an ethnically diverse community with a competitive job market. Like Atlanta, it is an economic player in the State of Texas, as well.
Both cities have something to offer. You can live comfortably in Houston or even in Atlanta. However, there is one city that will stand out. It will make you decide which city is the better place to live in.
Thus, in this comparison, we will walk you through which city is a better place to live in, Houston or Atlanta. It will help narrow down your decision which city is preferable to you.
Is Houston, TX bigger than Atlanta, GA?
When we compare two unique cities, we often cover how they differ in size or land area. It will help us better understand why a specific town is better than the other.
In this case, between Houston and Atlanta, Houston is the bigger one. Atlanta is smaller. Both are growing and sprawling monsters in their respective states. The city of Atlanta already has 30 counties that almost covered northern Georgia. Houston, even though a bigger city, has only nine counties.
In population size, Houston also has a larger crowd. Houston has 400,000 more residents than Atlanta. You can observe that more people congest in basically nine counties in the city of Houston. While Atlanta, aside from its counties, city also developed mini towns. People in Atlanta are heavily distributed.
Economic growth is faster in Houston than in Atlanta, too. The city of Houston has an economy based on oil, making Houston richer. On the other side, the city of Atlanta is a more diverse economy. The diversity of the economy in Atlanta allows the town to surpass Houston in time.
In this sense, Houston is a bigger city than Atlanta. It is more prominent in size, population, and even economic progress. Yet, we cannot underestimate the enormous potential of growth in Atlanta.
Which city is better to live in, Houston or Atlanta?
When you choose between Houston or Atlanta as a better place to live in, weighing in their pros and cons will give us a broader understanding of what offerings these two cities in store for us.
Thus, in this comparison, we are laying out the pros and cons of living in these two cities. Here are the following:
Living in Houston
Pros
Competitive Job Market

Houston will impress you with how competitive its job market is. It is a significant attraction for people who intend to move from one city to another. The town draws its growth from its oil industry. Apart from it, Houston has an aerospace, healthcare, and manufacturing industry.

Public Transportation

As a growing metropolis in the state of Texas, Houston has top of a line transportation system.
Its METRORail light rail system and Park & Ride Services give easy public access to the city.

With this public transport system, you can have convenience in getting around Houston.

Diversity

Houston is not only a big city; it is ethnically diverse, as well. The town is more inclusive compared to other cities of the United States. You can experience and meet people from different walks of life. It is a melting pot of various races, making the city more accommodating. It even surpassed New York and Los Angeles as an ethnically diverse area in America.
Cons
Sales Taxes

Texas is known for having no state income tax. Yet, to compensate for this, Houston will burden you with staggering sales tax. The city receives higher sales tax reaching almost 8.25% of your purchase. It is one of the cities in the country implementing higher sales tax.

Weather

Houston is a significant adjustment if you are coming from a city with pleasant weather or extreme winter. Heat and humidity in Houston are significantly making it much of an inconvenience. It is also prone to natural disasters like floods and storms.
Living in Atlanta
Pros
Diverse economy

Atlanta may be smaller than Houston in the aspect of the economy, but it is speedily progressing. The city has a booming economy making it more attractive to other city dwellers. Then the diversity of its economy attracts more people looking for a job and a living.

BeltLine Project

Houston has a unique mass public system for easy access. Atlanta, on one side, has a so-called BeltLine Project. It can potentially connect different neighborhoods within the city. The line impressively covers 33 miles of trails and 2,000 public parks in the entire Atlanta city.

Pleasant Weather

Atlanta is not extremely hot and does not exhibit mild winters. You can receive pleasant weather conditions all year long. It is way more tolerable than the intense humidity you may experience in the state of Texas.
Cons
Walkability

You might need a car when you choose to move to Atlanta. The city has a limited public transport system and can only thrive using private vehicles. There are more pedestrian-friendly cities you can consider than Atlanta.

Traffic

As more people own private cars, more vehicles congest in one area. There will always be traffic in Atlanta because of the building up of private cars. During the rush hour, you can experience extreme traffic, which is hard to avoid.
How does Atlanta differ from Houston?
If you want to know how Atlanta and Houston differ from each other, we need to know how Houston and Atlanta stand out and how unique they are. Atlanta and Houston came from different state. It is, of course, a huge difference.
Nevertheless, Houston, or the H-City, is known as a major city located in Texas. It has plenty of cultural offerings that attract a lot of people. The town has no state income making it hugely apart from any other cities in the United States.
Aside from it being a vast city, it has plenty of low-cost housing around. You can get an affordable house in the town and live comfortably. As the most ethnically diverse city in the United States, it has many cuisines to choose from.
You can enjoy an authentic Tex-Mex and bbq in Houston. The food scene in the city is excellent and exciting. More than that, cultural offerings are abundant, too. There are world-class symphony, opera, and art museums in the city. The entertainment industry is growing in Houston, as well.
Atlanta, on the other side, uniquely stands out on its own. For a big city like Atlanta, the city is very affordable. In its 30 counties and numerous neighborhood, you can get affordable housing in the city. You can build a family in Atlanta and get a quality life. The beautiful green city and the upcoming BeltLine show that the city has a lot of potentials.
As a young professional, Atlanta has career opportunities, as well. The diverse economy of Atlanta attracts people to move and live in the city. You have a higher possibility of getting a job in the field of your expertise in this city, as well.
Is it cheaper to live in Atlanta or Houston?
Houston, being a more progressive city, is cheaper than Atlanta. If you compare the cost of living in these two cities, you will discover that Houston is 8% lower than Atlanta. Houston can pay its workers 4% higher than in Atlanta.
To better see how these two differ in terms of cost of living, here is the breakdown per category:
Consumer prices are 21% higher in Atlanta
Rent is 19% higher in Atlanta
Food and restaurant is 3% higher in Atlanta
Groceries are 34% higher in Atlanta.
In this cost of living comparison, we observe that Atlanta is a more expensive city. Thus, we can draw that being a significant and more progressive city does not mean being more expensive.
Houston's living expenses are lower in every category even though it has a better economy. Another plus factor, it can pay more its workers compared to Atlanta. In this sense, you have a better chance to upgrade your lifestyle when you choose to live in Houston.
Is Atlanta a good city to live in?
Atlanta may be more expensive compared to Houston, but it is a good city to live in. It has a lot of offerings that hard to resist. You enjoy a lot of things when you choose to live in this Atlanta.
First, Atlanta has a top-notch restaurant scene that is difficult to ignore. It is a great city that offers several award-winning restaurants. You can find unique restaurants in this city, giving you an authentic Georgian taste.
Second, given that it has 30 counties, the neighborhood in this city is attractive as well. There are small neighborhoods in the city with distinct vibe and personalities. Each community celebrates festivals making your life more colorful.
Third, the natural beauty of Atlanta is majestic. When you see Atlanta from the top, you will be amazed by the long stretch of greenery in the city. You have access to parks and other green spaces where you can appreciate the beauty of nature.
Last, the people of Atlanta are friendly. You can experience southern hospitality in this part of Georgia. People tend to live in the present, unlike those in much busier cities. They have good manners and will treat you openly and decently.
Atlanta, even though it is more expensive, has its charm that attracts people to move to. You cannot underestimate how blessed the city is and how friendly the people can be.
Conclusion
Houston and Atlanta are very different cities. Houston may stand out because of its economic prowess, while Atlanta on its beauty. They cater to other groups of people with varying needs for a city.
Houston may be great for people seeking higher-paid jobs and a low cost of living. Atlanta will charm you with its exciting neighborhoods and green spaces. Yet, whichever city you choose, both have the potential to improve your quality of life. It is up to you which city is the better place to live in from this comparison. The decision heavily depends on you and your needs, as well.