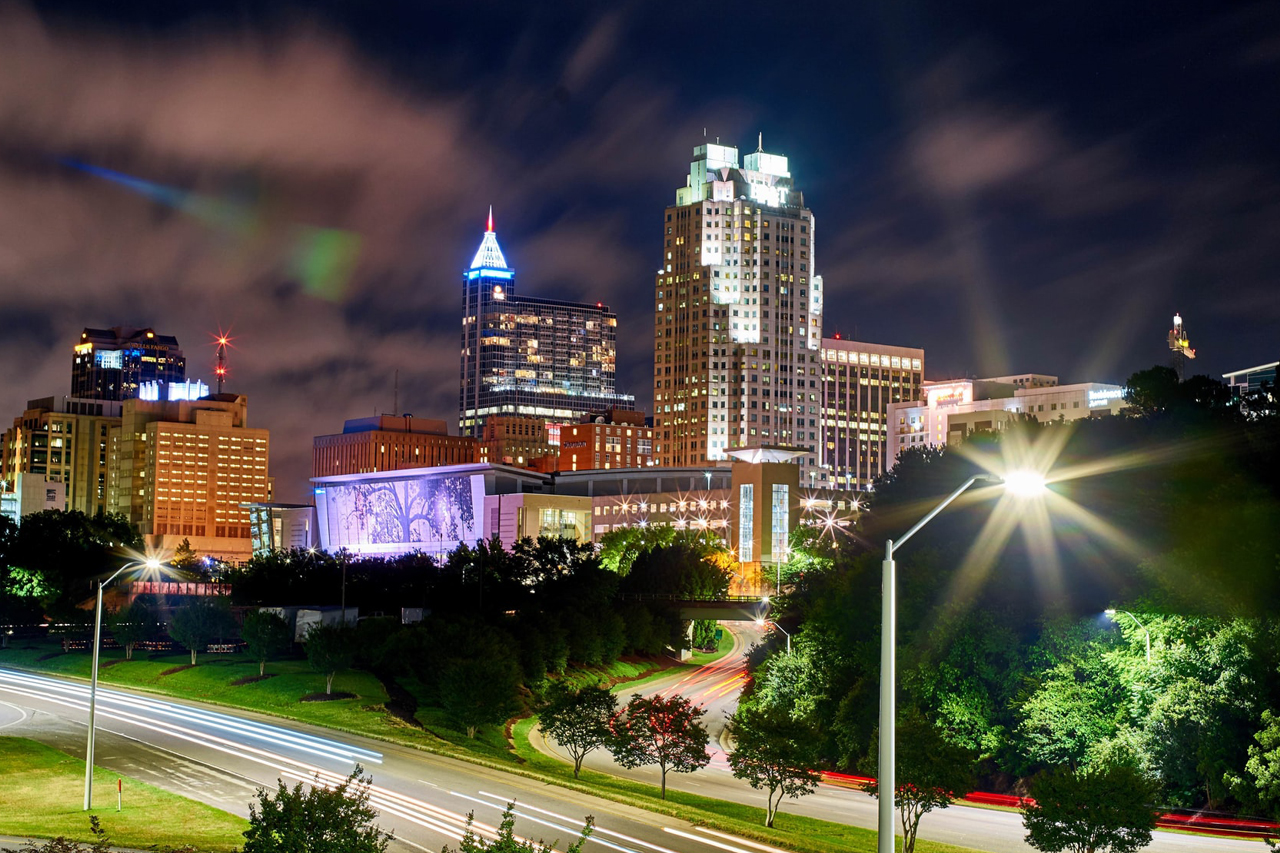 Raleigh, North Carolina, is a thriving metropolis with a large city atmosphere and Southern charm. No matter what route you select on your visit, I'm confident Raleigh's vibrant cultural pulse will stimulate you. It's an intelligent, modern-meets-historical location with a lot to offer.
It is renowned as the "City of Oaks" because of its many trees. Also, It is a popular tourist destination with various entertaining attractions like landmarks, museums, beautiful parks, historic sites, and protected areas that you can explore even without a car.
Here are my top 12 suggestions for car-free activities in Raleigh.
1. North Carolina Executive Mansion
This 37,500-square-foot Victorian mansion, constructed in the late 1800s in the Queen Anne style, is home to the governor and his family of North Carolina.
The North Carolina Executive Mansion is one of the most alluring of these tourist sites in Raleigh.
A North Carolina Executive Mansion tour is one of the most fun things to do in Raleigh if you like extravagant architecture.
Since its establishment, more than two dozen state leaders have called it home.
Living here is a badge of respect, not just because it indicates political influence but also because of the beautiful Victorian architecture.
Touring the Executive Mansion brings you close to decades of brilliance.
President Franklin Delano Roosevelt dubbed the Executive Mansion "the most magnificent governor's home inside in America," and I hope you'll discover why when you visit here.
2. Raleigh Farmers Market
Visit the Raleigh Farmers Market to purchase some products in Raleigh, North Carolina.
The Raleigh Farmers Market is an incredible market that sells fresh seasonal fruit from across the country and meats, crafts, baked goods, cheeses, lotions, candies, picture frames, North Carolina wines, etc.
The market encompasses around 75 acres of land and contains:
Numerous indoor and specialized outdoor shops
A garden center
Upscale restaurants that provide an exceptional eating experience
You can walk around to look for fresh, locally grown fruits and vegetables. They are delicious! I like their freshly baked bread and handmade jams.
Also, I love the third area, which is brimming with antiques and amusing outdoor items. If you want to exercise your legs to look for food or much good stuff, this is your place in Raleigh!
3. Historic Oakwood Cemetery
The 102-acre Oakwood Cemetery sits near downtown Raleigh, North Carolina. As of this writing, 65 percent of Oakwood has been developed, leaving an estimated 37 acres for future development. The establishment of the cemetery in 1869 was made possible by a land donation provided by Henry Mordecai in 1867.
Oakwood is an outgrowth of the 19th-century cemetery, which traditionally consisted of plots arranged in a grid around a church. Oakwood, in comparison, is a vast, verdant garden with trails and rolling hills. The tombstones serve as sculptures in a park for the living and the dead.
It is an easily walkable area with a lot of shade and rolling hills.
I came here for no specific purpose other than to observe the cemetery as a park and visit the graves of prominent North Carolina governors, lawmakers, and judges. There are distinct sections for the Confederate Cemetery and the Hebrew Cemetery on the property. Numerous Confederate commanders scattered throughout, as seen by the 1865 dates.
I recommend you visit here as well. It is worthwhile to come and explore this area!
4. City of Raleigh Museum
The City of Raleigh Museum has become an outstanding institution. This little museum sits in the center of the city. Unlike the other historical museum, this one focuses only on Raleigh. I like that the display is new every couple of years.
The current exhibitions include the 200-year history of Raleigh, Dwane Powell's political cartoons, Women of Change (about the 19th Amendment), Dorothea Dix's account of the hospital's transformation into a park, and a display of Raleigh musicians.
This museum includes a good collection of antiques and memorabilia dating back to the city's origin, its expansion through the Revolutionary War and the Civil War, and its transformation into the contemporary urban center it is today.
Definitely beneficial for children, but even adults may learn something. The majority of the museum's exhibits may be seen in under an hour.
I encourage everyone to see this museum.
5. William B Umstead State Park
William B. Umstead State Park is a fabulous place to spend time outdoors and enjoy walking activities.
It is a 6,000-acre outdoor recreation park located between Raleigh, Durham, Cary, and Durham in North Carolina.
The pathways in this park are well-connected and ideal for hiking, biking, strolling, and equestrian riding. It comprises more than 20 miles of hiking paths, plus separate bicycle and equestrian pathways. The most attractive feature is that there are no entrance costs.
Camping, boat rentals, designated picnic spots, and various educational programs are also available at the park.
We hiked along Sal's Branch route, which we accessed directly behind the visitor center. There are park maps available for pick-up.
There were some inclines and many tree roots to navigate, but it wasn't complicated. Near the trail's end lies Big Lake, which features a boathouse and fishing spots.
This state park provides numerous opportunities for exploration and enjoyment. Excellent spot for hiking and appreciating all that Mother Nature has to offer! I observed people of all ages and innumerable dogs on leashes.
6. Historic Yates Mill Country Park
Visit Yates Mill County Park for outdoor recreation! It is a 574-acre park loaded with activities and a remarkable wildlife preserve.
The park features the namesake Yates Mill, which is estimated to date back to 1756 and is the only historic mill still standing in the area.
This gorgeous area, renovated throughout the years, is well worth exploring while in Raleigh.
In every way, it is a beautiful place to visit. I can see why professional photographers come here to capture their clients. It has a lovely porch with rocking chairs, an information center with clean facilities, a learning place, and a beautiful lake view.
I enjoyed this very informative and engaging tour! I'll revisit this park to discover more about it.
7. Videri Chocolate Factory
You can add this place to your Raleigh trip if you are a chocolate connoisseur.
Within the historic Raleigh Depot building, the Videri Chocolate Factory offers tourists a taste of sweetness.
This factory manufactures some of North Carolina's finest chocolate which three well-known chocolate enthusiasts founded: Sam Ratto, Starr Ratto, and Chris Heavener.
Visit the factory's shop to purchase any available delectable chocolates, like Blueberry and Dark Chocolate, Strawberry Anise Ganache, etc.
The factory purchases sugar and cocoa beans from several Central and South American farms to manufacture delicious, chemical- and additive-free organic chocolate.
The entire crew was extremely courteous and helpful. There is seating indoors and outdoors (a lovely covered outdoor patio). We took a self-guided tour of the facility and then returned to the cafe to order several soft-serve ice cream glasses.
Once you enter, the aroma of chocolate is nearly captivating, enveloping you completely. On the right is a chocolate display with a wide variety of small chocolates. There are also bars, cocoa nibs, and other treats available.
If you continue going, you will see a hot chocolate shop on your left. You can get hot chocolate, frozen hot chocolate, and other items. The chocolate tastes delicious.
Sometimes, if you continue walking to the finish, you can see people preparing chocolate. It is intriguing.
Also, there is additional information regarding how cocoa becomes chocolate. They have very well-organized and enjoyable materials to read!
I highly recommend this site when you're in Raleigh.
8. Raleigh Little Theatre
Raleigh Little Theatre, founded in 1936, is currently one of the nation's longest continually functioning community theaters.
It is one of my favorite secret spots in Raleigh. The Raleigh Rose Garden and Little Theatre is home to some of the city's most exquisite roses, scenic picnic spaces, and sunlight.
The garden is behind Hillsborough Street and Cameron Village, in the heart of a residential neighborhood.
Plays, movies, and musicals are produced throughout the year in indoor theaters and outdoor arenas, so stay updated. The theater has a summer concert/movie series that makes for a terrific romantic night.
The garden is dog-friendly and features many blanket-stretching spots. Or, if you're feeling unmotivated, there are seats scattered around the park where you can rest.
Overall, this is a charming, gorgeous garden tucked away in the heart of Raleigh that is well worth a visit on any peaceful day.
Bring the entire family; I'm sure they will like it.
9. Durant Nature Preserve
The park was designated a Nature Preserve in 2010 to safeguard and preserve the area's substantial natural resources and provide nature-based enjoyment and environmental education opportunities.
Come to Durant Nature Preserve if you seek tranquility away from television, radio, and city sounds! It is the best-kept secret in all of North Raleigh.
Durant Nature Preserve has 237 acres accessible by five-mile-long paths. You can hike alongside a stream, through hardwood and pine forests, past wildflowers and ferns, through wetland areas, and along two lakes.
It is a place with a lake home to turtles, fish, frogs, and the occasional beaver who swims contentedly around the large lake.
Here you can also practice yoga, take a picnic, watch birds, or just rest and daydream while watching the lake.
There is a play area, hygienic rest places, and a running drinking fountain for youngsters.
I highly recommend this site, too!
10. Shelley Lake Park
If you want to take a long walk in the Triangle, Shelly Lake Park is one of my favorite destinations. The lake is located on a city greenway, making it accessible by foot or bicycle from any place in town.
It is around 2.5 miles in circumference, making it a decent workout and a delightful dog walk.
The lake includes a boathouse during the summer months where canoes and paddleboats you can rent and use for a minimal price on the lake. They also sell beverages, ice cream, and snacks while lounging by the lake if you feel hungry.
If you're looking for an ideal picnic location in Raleigh, it is!
11. Juniper Level Botanic Garden
This lovely nature garden has approximately 28 acres of land. It contains more than 27,000 varieties of exotic plants, native perennials, rare pleasures, and strange species of shrubs and trees uncommon in most of the world.
Numerous academics, gardeners, and nature enthusiasts worldwide visit Juniper Level Botanic Garden to learn more about this incredible "Eden of rare flora."
I would say that this garden is one of the most beautiful in the United States and a well-kept secret nature retreat.
It is something I'm thrilled to have discovered! What an extremely breathtaking, tranquil spot to stroll and view beautiful, well-kept flora.
The two waterfalls were breathtaking. It is a location for walking and soul-healing.
In addition, the gardens provide a fantastic representation of how their greenhouse plants will appear once they have matured. What a fabulous location!
12. Artspace
Artspace is genuinely one of my favorite things about Raleigh. It is a cross-section of the unique and attractive characteristics of the South.
It is a non-profit visual arts organization committed to providing high-caliber exhibitions and instructional events in an open studio. It is essentially a working gallery where artists can create and sell art. Imagine browsing for various local crafts in a lively and welcoming environment.
But don't believe that gaining your next masterpiece is the only goal. There are three rotating gallery rooms in addition to works shown throughout the structure. Each time you explore Artspace, you will discover something new.
Creativity emanates from Artspace, which is of its most excellent quality. You can sense the artist's perspiration in each brushstroke. It is gratifying to be surrounded by individuals committed to their profession.
You can converse with artists by asking them about their methods and obtaining the history behind their pieces and skills.
Overall, Artspace is a great place to stop on a downtown Raleigh walk.
This list of activities to do in Raleigh, North Carolina, can help you organize a trip to this hospitable city. Even without a car, there are great spots to discover.
Thanks for reading my list of the best activities in Raleigh without a car. Please leave a comment if you'd like to add anything to this list or tell your unique experience.