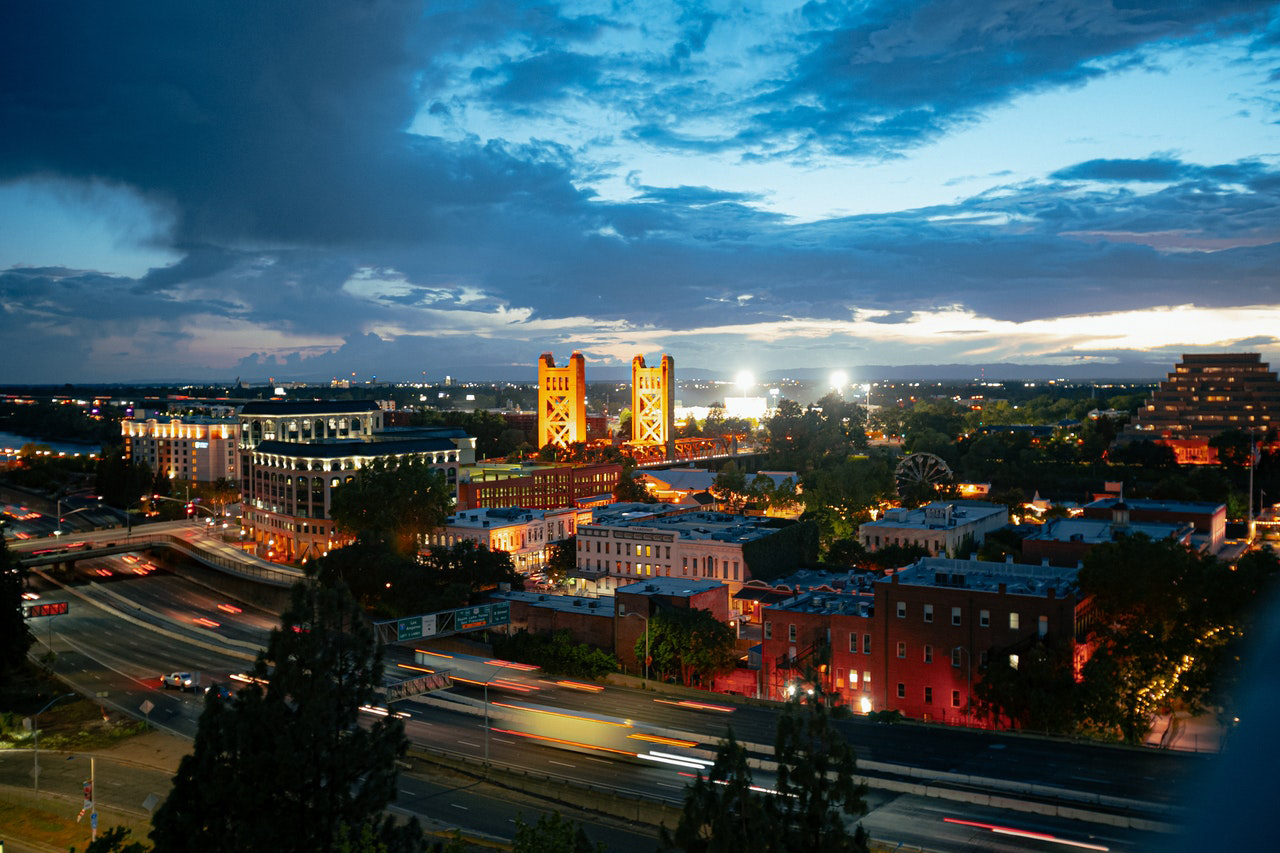 Sacramento City, the capital of California, United States, is located in the state's north-central region. It's 90 miles northeast of San Francisco and 45 miles north of Stockton in the Sacramento Valley.
The city is one of California's oldest incorporated communities, the Farm-to-Fork Capital of the United States, and the only star on the state's map.
Sacramento is a city bustling with things to taste, see, and savor, even without a car. You can choose from their awe-inspiring museums, historical landmarks, relaxing nature parks, or a stroll along the bridge at sunset.
Here's my list of the best things to do in Sacramento without a car.
1. American River Bicycle Trail
The American River Bike Trail in Sacramento is a cyclist's paradise. Recreational cyclists and commuting cyclists favor the 32-mile paved route from Sacramento to Folsom.
The trail is quite extensive, beginning at Discovery Park and extending to Folsom lake. There are several pretty steep hills starting on the Folsom side.
Essentially, the trail becomes easier to ride as you get closer to Old Sacramento. It provides access to countless parks, beaches, and various activities as you traverse it.
As for flora and fauna, everything is present, and early spring is the best time to view most of them.
Depending on the season, you will see an abundance of deer, hawks, owls, eagles, rabbits, snakes, beavers, river otters, and even an occasional bobcat or coyote.
As it ascends the foothills, there are several small, hidden beaches, followed by areas such as the aquatic center and the general vicinity of Natomas.
Of course, it has its issues, it can get busy, and there are several homeless camps as you approach Discovery Park. There are also a few water sources along the trail, so you should bring enough water for the duration of your trip.
2. William Land Park
William Land Park is a Sacramento classic!
This park is an excellent location for a family excursion. It is spacious and well-maintained, and the Sacramento Zoo is nearby. Also, there is a golf course, a theater, a Fairy Tale Town, and Funderland, a children's amusement park with thrilling rides and activities.
Right across the road from this thriving holy grail park is Sacramento City College, the largest, most beautiful, and most diverse community college in the area.
There are a large number of shady picnic tables and barbecue pits.
This place is a must-see for tourists and locals. The park is so tranquil and offers something for everyone. You can also see ducks and turtles in this park!
Overall, whether you go walking, running, jogging, on a picnic, or feed ducks, William Land Park is a fantastic place to visit!
3. Sutter's Fort
The historic Sutter's Fort in Sacramento is a living history museum transporting visitors to the California Gold Rush era. Several operational canons are fired occasionally at notable events from the Fort.
This place is a replica of the original Fort, which once served as a settlement. The Fort spans the years 1839 to 1850. The only remaining original structure is the two-story building. As Sacramento expanded, the old Fort was demolished and used to construct what is now known as Old Town Sacramento.
Even without a car, you can tour the Fort and learn about life in the 1800s. The Fort's rooms surround a large courtyard. A volunteer demonstrates 19th-century blacksmithing techniques in the smithy.
This location is more extensive than it appears from the outside. With motion-activated speakers, the place features a self-guided tour component. Some rooms are view-only, while you can explore the others.
Sutter's Fort is the perfect location for anyone interested in California's history or who enjoys visiting fascinating places.
4. Old Sacramento
Do you desire to experience Sacramento as it existed in the past? Visit Old Sacramento!
Old Sacramento is Sacramento's most valuable asset. In recent years, its beauty and activities have grown steadily. It has become the center of entertainment in the state capital of California.
It is not a standard "tourist trap." Yes, it has stores that sell inexpensive t-shirts and souvenirs, but it is so much more.
Walking through this historic district provides a sense and perspective of the wild west and gold rush era. The meticulously restored buildings make it feel like a Hollywood set. This location's authenticity and attention to detail are beyond reproach.
In addition to gold, historical, ghost, railroad, and river tours, there are also historical tours. If you enjoy theaters, they have them as well!
What would the Wild West be without its saloons? Fanny Ann's Saloon is one of their most popular establishments and is well worth visiting for the atmosphere alone.
Many restaurants serve pizza, burgers, and seafood if you get hungry. The food is simply good. Because of its proximity to the city center, it is possible to visit various locations, even without a car.
If you're a Sacramento visitor or a Sacramento resident who hasn't visited Old Sacramento in the past couple of years, you're missing out!
5. State Indian Museum
Since its opening in 1940, the California State Indian Museum has focused on three primary aspects of Indian life: nature, spirit, and family. Visitors can appreciate the handcrafted baskets, intricate beadwork and other artifacts, centuries-old tools, exhibits, and multimedia presentations.
As the name suggests, this is a museum dedicated to native Americans. They have a map showing the former locations of American tribes. The museum is small but worth visiting.
Inside is a reasonably comprehensive, although compact, space that attempts to describe the native American population. The highlight is a massive ocean-going canoe from just up the coast that visitors can find inside the front entrance.
They have a small shop that sells books, Native American jewelry, and other souvenirs. The museum may be small, but it contains a wealth of historical artifacts.
6. The California Museum
The museum, established in 1998 in collaboration with the California Secretary of State, serves as the public showcase for the California State Archives.
The California Museum engages, educates, and enlightens the public about California's rich history, diverse population, and extraordinary impact on global ideas, innovation, arts, and culture. The California Hall of Fame and State History Museum encourages visitors to make history.
There are two floors of exhibits here. The first floor is of a slightly more permanent nature. It comprises eight to ten subsections on California's route to statehood, incarceration of innocent, law-abiding Americans of Japanese origin in U.S. detention camps during World War II, Native American heritage, and women's contributions.
Important contemporary Californians, such as Dolores Huerta, and special anniversaries, such as the completion of the Transcontinental Railroad, are showcased on the second floor in the form of rotating exhibits or presentations.
Overall, there are more printed displays than notable artifacts (and many of the displayed artifacts are reproductions), but this is an excellent way to learn about the issues and people that have shaped California as we know it today.
7. McKinley Park
Go to McKinley Park and observe the enormous variety of roses blooming in the rose garden to appreciate the beauty of nature!
McKinley is an absolute gem and one of the iconic places that make Sacramento the wonderful city it is, from its expansive grounds to its many offerings within its boundaries.
There is a beautiful public pool in the middle (one of the best in the city), a new playground five times larger than any other I've seen and excellent for children of all ages. There is also a rose garden that is both beautiful and historical and miles of grass for picnicking, playing, or daydreaming.
This park has a library, tennis courts, basketball courts, and senior center, among other amenities.
With a path around, you can walk, jog, or move in any way you choose. Someone is moving, from walkers to joggers to runners and parents with strollers, so be mindful of your surroundings.
McKinley Park is one of the best, in my opinion.
8. California State Railroad Museum
The California State Railroad Museum is one of the most visited museums in Sacramento. Over half a million tourists visit this museum annually to learn about the history of the railroad. The museum's six structures encompass an area of 250,000 square feet.
Several restored locomotives and train carriages were formerly utilized across the state. Here, you will learn how the railroad has influenced California's economy and landscape. A centerpiece of the museum is the Railway Post Office, which visitors can board to experience the past firsthand.
Some adults and children are taught about different train-related topics. It's a fun and educational activity for the whole family. Thomas, the train is practically always entertaining for children of all ages to watch; go down the tracks if nothing else is entertaining.
This location was so entertaining that I could not wait to get back!
9. Folsom Lake
If you are a nature fan like me, Folsom Lake is a perfect place for you! Folsom Lake is an artificial reservoir ideal for picnicking and relaxing in a tranquil setting. This lake is famous for nature lovers, and you can visit this place even without a car.
It is an excellent location for numerous activities. These activities include boating, fishing, lounging at the Bach, and trail exploration. Brown's Ravine, Folsom Point, Beal's Point, Granite Beach, and Rattlesnake Bar are just a few of the many access points to the lake.
Camping is available at Beal's Point for those who wish to spend the night. The campsites are well-maintained, clean, and separated by sufficient distances.
I suggest Granite Beach or Beal's Point for a family-friendly beach day. These have numerous lounging areas and bathrooms. In addition, swimming is simple, and buoys are present in these areas to ensure the safety of children.
The trails offered by Folsom Lake Recreation Park are an additional highlight of the park. Runners, hikers, and mountain bikers can benefit from these. I will recommend Avery's Pond Trail (2.7 miles), which provides relief from traffic and noise.
You should visit Folsom Lake if you want to spend time outdoors or with your family.
10. Tower Bridge
Tower Bridge, one of Sacramento's most recognizable landmarks and another shining New Deal infrastructure legacy, gleams in the sunlight due to its golden paint. However, it wasn't always this way; before 1976, it was silver, resulting in considerable glare.
This historical landmark bridge is what distinguishes Sacramento as a unique city. A small walkway beneath the bridge can take you from the beginning to the end of the bridge; however, you must exercise caution as you will be close to moving vehicles.
This historic vertical lift bridge connects Yolo County to Sacramento County via West Sacramento in Yolo County. The bridge used to be a rusty orange color, but now it looks more like gold. Both sides of the bridge have pedestrian walkways for close-up views.
Evening views of the Sacramento River from the Tower Bridge are breathtaking. The idea of the setting sun cascading across the bridge is truly enchanting and ideal for couples seeking a romantic getaway.
If you are interested in bridge architecture, I strongly suggest you visit this famous bridge.
11. Cathedral of the Blessed Sacrament
Established in 1889, the Cathedral of the Blessed Sacrament is one of Sacramento's three most historically significant buildings. Built when Sacramento was transitioning from a mining town to a capital city, it took the dedication and fortitude of the early California pioneers.
The Cathedral is the cradle of the Catholic religion. It means the church serves nearly one million Catholics and has 99 churches. The Cathedral was built in 1899 and has stood proudly for all these years. Recent renovations have ensured that it continues to serve its people while looking spectacular.
The 34m interior dome is a sight to behold, and the 13ft crucifix and 14ft crown weigh nearly a ton. You can see the front tower from the ground, but not the dome. It's easier to see the Cathedral from a higher building than from the ground.
Seeing the structure from the inside is a sight. The ceilings and walls have intricate designs. Near the altar at the front, there are no plain walls. The suspension of the crucifix of Jesus under the dome is something I've never seen before.
This Cathedral looks well-kept and impressive.
12. Raging Waters Sacramento
On the grounds of the Cal Expo in Sacramento, California is where you'll find the water park known as Raging Waters Sacramento. The park previously went by the names WaterWorld USA and Six Flags Waterworld. Palace Entertainment owns and maintains the park.
It has over 25 water rides, slides, and pools, making it the largest waterpark in Sacramento. When you're in the heart of Sacramento, it is easily accessible even without a car.
The park has something for everyone, regardless of their disposition. The place was nice and clean, and the staff was friendly and polite. The rides were also enjoyable and safe, with lifeguards present.
If you become exhausted from all of the runnings around and having fun, you can eat at the restaurant that welcomes families. Due to the extreme nature of certain rides, there are height and weight restrictions, just like at any other amusement park.
Indeed, Sacramento is a perfect destination to visit even without a car. Its temperate climate allows for various outdoor activities, including hiking, biking, and exploring the city's museums and murals while strolling the streets.
Its beautiful scenery, the presence of history, the art, and the entire city attracts tourists to the location.
If you want to add another nugget to this list or share your story, leave your thoughts in the comments box.