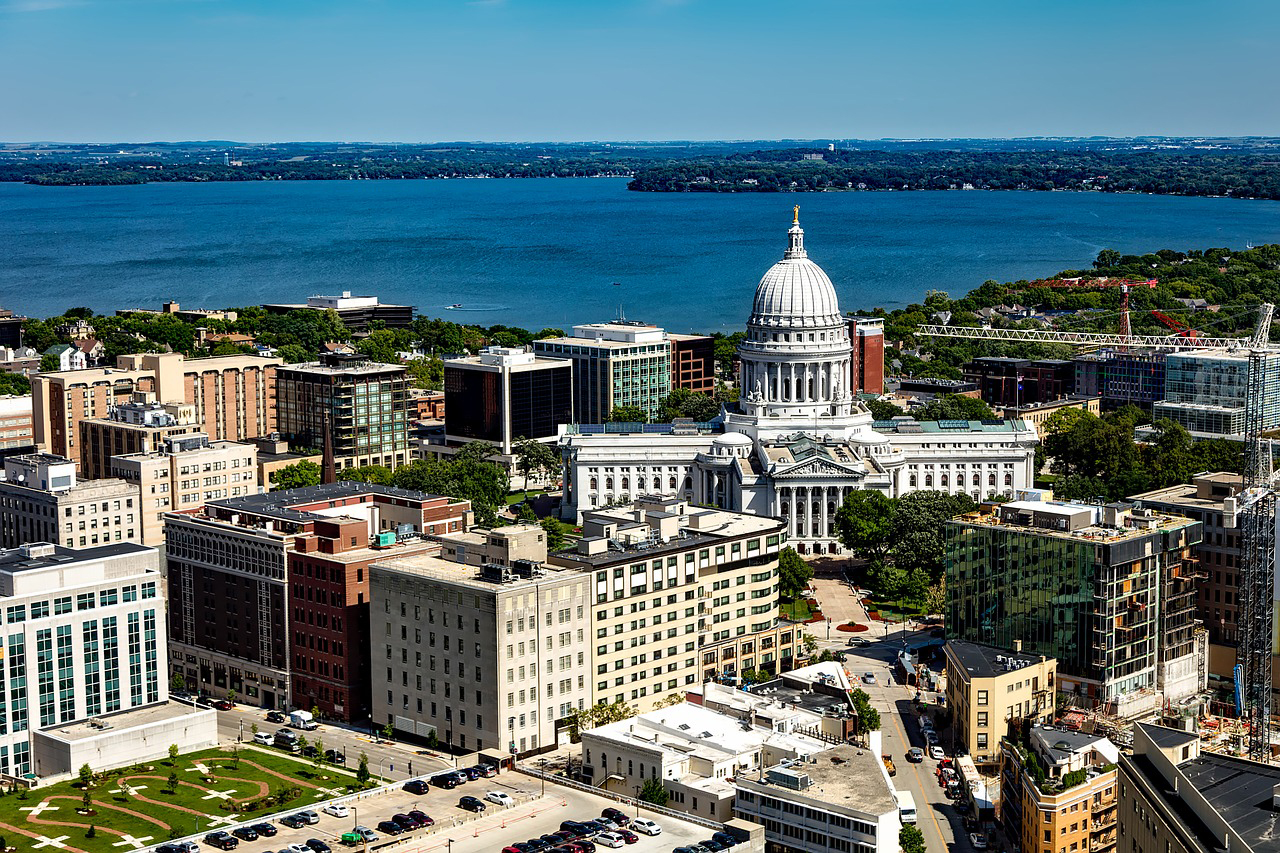 Madison is Wisconsin's capital city and is often regarded as one of the country's most incredible cities.
It will be just what you and your traveling companions need to escape this city's monotony of daily life.
You will enjoy its many historical sites, stunning botanical gardens, lively zoos and museums, attractive parks and spectacular architectural structures, tempting art galleries, and vibrant recreational facilities if you visit the city.
With our list of the top 11 best things to do in Madison if you are under 21, you can discover the most extraordinary sightseeing possibilities to visit in and around the city.
1. Olbrich Botanical Gardens
If you love plants, Olbrich Botanical Gardens is the perfect place! It is a property owned and administered by the City of Madison's Parks Division.
It has 16 acres of outdoor display gardens, all of which are designed in the Midwest prairie style.
Sculptures that are unique to the area add to the landscaping's appeal.
The Sunken Garden, the Eunice Fisher Hosta Garden, the Meadow Garden, the Rock Garden, the Wildflower Garden, the Herb Garden, the Perennial Garden, the Rose Garden, the Atrium Shade Garden, the Serenity Garden, and the Thai Garden are among the specialty gardens.
The Bolz Conservatory, a 50-foot-tall, 10,000-square-foot glass pyramid, is home to a rich tropical collection of ferns, palms, and flowering plants that thrive in their natural habitat. The genuine sense is enhanced with a flowing waterfall, bamboo arbors, and free-flying birds.
The Olbrich's Schumacher Horticultural Library serves as a repository for botanical knowledge. The library's collection comprises gardening books, seed catalogs, horticultural journals, a reference collection, and a children's book corner.
To fully maximize the experience, attend and enjoy the special events they regularly conduct for you!
2. Dane County Farmers' Market
The Dane County Farmers' Market is Madison's Saturday and Wednesday tradition.
The Saturday Dane County Farmers' Market is conveniently situated on the tree-lined grounds around the Wisconsin State Capitol building in downtown Madison, Wisconsin, sometimes known as "the Square."
Another market where you can stroll and enjoy food is the Wednesday Dane County Farmers' Market, situated between the Madison Municipal Building and the City-County Building on the 200 block of Martin Luther King Jr. Blvd.
You'll discover the finest of the season's harvest of vegetables, flowers, meats, cheeses, and specialized goods from roughly 275 sellers throughout the year.
The vendors' production and harvest yields are restricted in a producer-only farmers' market. It implies they could sell out before the market closes. For the most pleasing experience, come to the market early.
Gather your friends, as well as your reusable shopping bags, for a Madison tradition!
3. Escape In Time – Madison
World-class artists, expert prop-makers, and brilliant builders with experience developed and decorated the Escape In Time Escape Rooms. Their Escape Room Sets will blow you away by the design and attention to detail. It is situated in the Market Square Mall in Madison, close to West Towne.
What is an Escape Room, and how do you get one? Real-life escape rooms are a form of a physical adventure game. Participants are "locked" in a room with other players. They must utilize room items to solve a series of puzzles, locate clues, and escape the area within a predetermined time limit.
Their rooms will transport you to another world since their talented professional artists have used décor, props, and faux-finishing to create a different mood. You'll genuinely think you're a smuggler hiding in the baggage area of an airplane.
Make sure not to skip their unique puzzles, which you'll find unbelievably fun to solve.
Put aside any prior knowledge about escape rooms. Their rooms will indeed wow you! Wait no longer and invite your friends to visit and play in its escape room now!
4. Memorial Union
The Memorial Union has been chosen as one of the most incredible spots in Madison to go on a date, people-watch, entertain out-of-town guests, and see folks wearing Birkenstocks,
Memorial Union has been a gathering spot for centuries to mingle, rest, learn, and be fed. It is one of the most well-known and historically significant buildings on the UW-Madison campus. For UW students, teachers, staff, Wisconsin Union Members, and the Madison community, the Memorial Union provides a range of social and educational programs.
Also, it has won several awards for its fantastic terrace.
For years, tourists and residents have enjoyed the Memorial Union Terrace, one of Madison's most famous sites. Memorial Union and its iconic terrace, which sits on the edge of the University of Wisconsin–campus in Madison with one of the most fabulous views of Lake Mendota, have won 58 awards in the yearly poll.
To maximize your trip, go inside the ivy-covered structure with coffee and computers, taking advantage of dedicated study rooms and eateries. Try one of their burgers, sandwiches, pizzas, or ice creams!
5. Concerts on the Square
Pleasant Rowland, a Madison entrepreneur, noticed an opportunity to expand access to the arts while gathering on the magnificent Wisconsin State Capitol grounds in the winter of 1983. The Wisconsin Chamber Orchestra's inaugural season of Concerts on the Square was held in the summer of 1984, and it was a huge success.
After that, it has become a Madison treasure, with over 200,000 people attending the six-concert series each year. The series is accessible to the whole community for free.
Gather your friends and get your blanket and your picnic basket! Be ready and enjoy the live music!
6. Henry Vilas Zoo
The Henry Vilas Zoo in Madison is one of a few community-supported, admission-free zoos in the US. The magnificent zoo, which the Association of Zoos and Aquariums fully recognizes, has exhibits and attractions!
At the Henry Vilas Zoo, visitors can park for free in one of three parking areas. You and your friends or family can generally locate a spot within a block or two of the zoo when the parking lots are full.
There are over 100 animals in the zoo that you can see, such as polar bears, Aldabra tortoises, and African lions. It is fascinating for youngsters and people under 21 to learn more about these creatures.
The Glacier Grille in the zoo offers nutritious, delicious meals in a unique location. It is the only indoor restaurant in the zoo with a view of a polar bear exhibit. You can join the bears for a meal.
Wild clothing is also available for zoo enthusiasts under the age of 21.
You can also find the ideal present for animal lovers or zoo enthusiasts here. Make sure you choose one as a remembrance of your time here! Their inventory includes anything from inexpensive souvenirs, toys, and crafts to beautiful, handmade gifts worldwide.
7. Geology Museum
The University of Wisconsin–Madison Geology Museum (UWGM) is a geology and paleontology museum located in Weeks Hall on the university's southwest campus. Exhibits, public engagement, and research are the museum's core focuses. The Chazen Museum of Art only surpasses it as the most visited museum at the University of Wisconsin–Madison.
You can visit the Geology Museum and learn about Wisconsin's rich past. You can touch volcanic rocks from Wisconsin's history and witness corals, jellyfish, and other marine animals. You can also stand under the tusks of a mastodon while visualizing yourself in the Ice Age during your visit.
Don't miss its glow-in-the-dark rocks and minerals, a model of a Wisconsin cave, dinosaurs, and meteorites on show. You will be educated and inspired by their mineral, rock, and fossil collections.
The museum is suitable for people of all ages. So, invite your friends or family to visit this gorgeous attraction.
8. Vitense Golfland
George Vitense Golfland, conveniently situated between Whitney Way and West Beltline Highway in the center of Madison's west side, was established by George Vitense in 1955. The facility features a Top 100 Rated Golf Range in America open all year. Also, it is only the first lighted golf course in Wisconsin and the only lighted golf course in the area.
It has a 20,000square-foot structure to provide exciting year-round activities for guests. They also have a complete arcade and 18-hole indoor Madison Landmark miniature golf course. On their "Lake Mendota" and "Lake Monona," you can also experience piloting remote-control boats.
Vitense Golfland provides the most exemplary golf range practice and entertainment experience. Take advantage of virtual reality golf courses and continue to improve your swing!
9. State Street
State Street serves as a vital connection between Madison's State Capitol Square and the University of Wisconsin in Madison for many people.
As a "pedestrian mall," State Street has existed since the 1970s. There are generously demarcated bicycle lanes on both sides of the roadway, and the walkways are extensive. Besides being fantastic for people-watching, wide sidewalks are ideal for outdoor dining at restaurants and cafes.
State Street will always remain the center of Downtown Madison, with the stately Wisconsin State Capitol on one end and the core of the University of Wisconsin-Madison campus on the other.
The Overture Center for the Arts, designed by famous architect Cesar Pelli and completed in 2004, has five performance venues for concerts, plays, and other events and a giant honkin' pipe organ.
Although State Street is just a little over half a mile long, it has various stores. Some have been operational for decades, while others have been open for years. If you want to maximize the shopping experience here, don't forget to visit its excellent shops like the Soap Opera, Little Luxuries, and Tellus Mater.
10. Madison Museum of Contemporary Art
The Madison Museum of Contemporary Art is a non-profit organization that shows, acquires, and maintains modern and contemporary art to offer transformational experiences for people of all ages.
Gallery Night is a long-running Madison arts event that celebrates the city's thriving arts scene. It provides art enthusiasts and beginners with access to a diverse range of exhibits, special events, opening receptions, and lectures held at dozens of locations across the city.
If you love watching movie series, take advantage of the Rooftop Cinema and extended Spotlight Cinema at MMoCA. The series will provide rooftop screenings of highly acclaimed and award-winning films from across the globe.
Also, don't miss the Art Fair on the Square. It is one of the Midwest's most popular and highly-rated outdoor arts festivities.
11. Madison Food Explorers
Andrea Hughes founded Madison Food Explorers in 2010, even before the food tour industry exploded. The tour guides here are eager to teach you about the history of Madison's restaurants and the capitol's doors.
Madison's most incredible sites, such as Frank Lloyd Wright's Monona Terrace and State Capitol Building, are included on its Lake Tour. Meal-sized quantities are included in each tour's itinerary. No matter the weather, attendees will go away with a greater understanding of Madison's local culinary culture.
Madison Food Explorers also offers special events that you should not miss apart from the tours. Some of these are University Heights Progressive Dinner, Robinia Three-Fer, Monroe Street Brunch, and Frank Lloyd Wright in Madison. Make a point of visiting one of them or staying informed about upcoming special events to make your visit to this destination a memorable one.
If you're under 21, this list of Madison's best activities can help you plan your trip. It is a great place to start, with enough attractions to keep you busy for a year!
We hope this post piqued your curiosity about visiting Madison and participating in some of the city's top attractions. After reading this article, have you decided to add any new destinations to your itinerary? Please share your thoughts in the comments section.