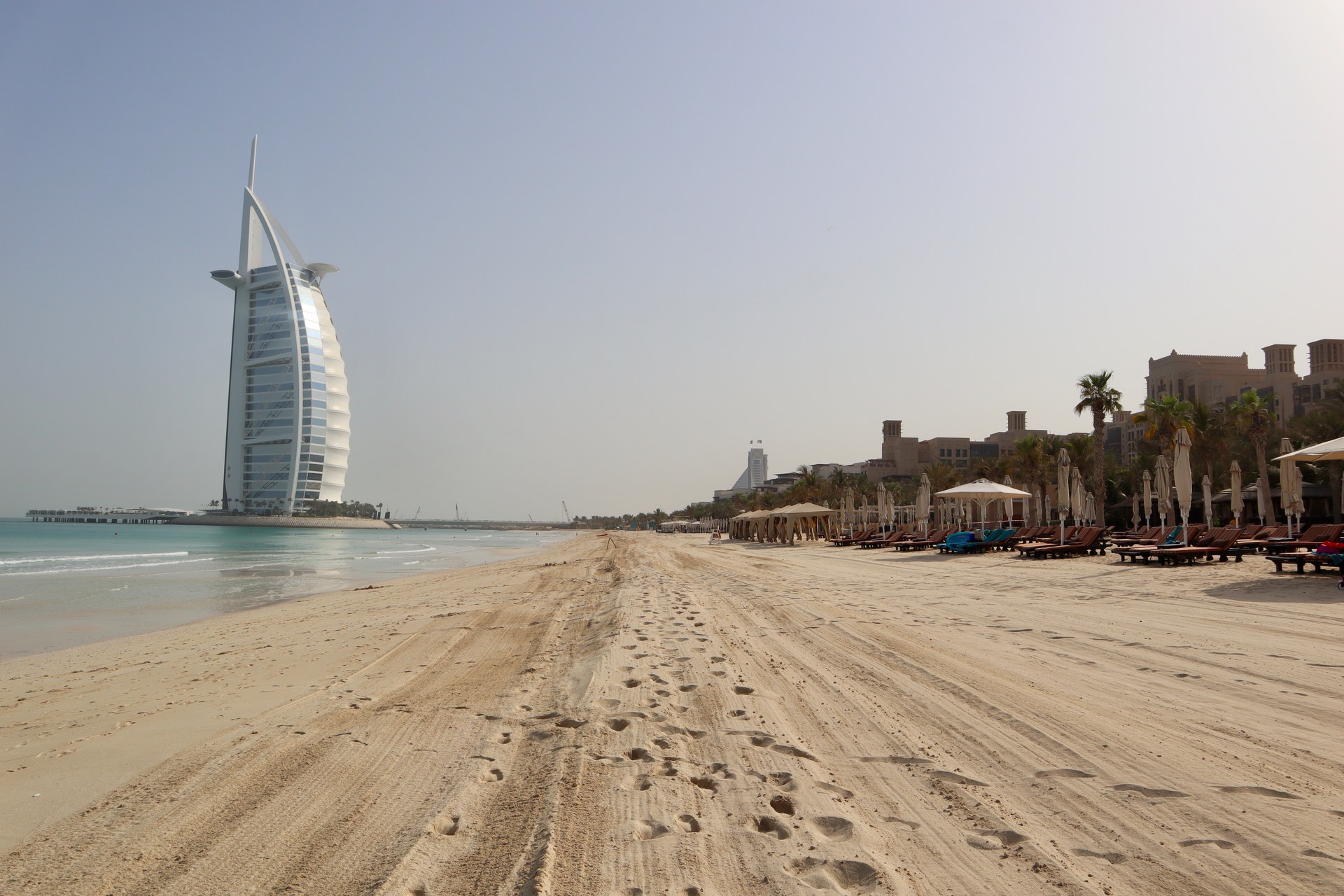 Dubai is one of the richest in the world. Yet, it did not secure the number one spot as the world's wealthiest nation.
When oil was discovered in the 1950s in the Middle East, Dubai developed to be the world's wealthiest. The once fishing village of Dubai transitioned into a rich cosmopolitan in West Asia.
Its structure is a blend of both traditional Islamic architecture and high-end buildings. It is a top tourist destination around the world.
It is now a vibrant emirate full of luxury shopping centers with a lively nightlife scene. They have the towering skyscraper, Burj Khalifa. Of course, it dominates the country's skyline. The human-made island, The Palm, is state of the art.
It demonstrates wealth. It shows a huge potential for being one of the most luxurious nations. Indeed, Dubai is reputed as one of the leading business hubs in the Western Asian region.
Why is Dubai so rich?
Dubai is part of the UAE located in the Arabian Peninsula. The UAE is rich with oil reserves and has drawn an immense amount of wealth through the oil industry.
The discovery of oil in the region has created enormous growth and development in the United Arab Emirates. Plenty of infrastructure projects and shopping centers popped out from this discovery. The oil revenue helped intensify the growth of the UAE.
Dubai, being an emirate, also drew revenue from the oil industry. Yet, its wealth does not entirely source from the said industry. Dubai has never had much amount of oil on its land. Unlike Abu Dhabi, the oil industry only accounts for one percent of its earnings.
So, what seems to be the source of wealth of Dubai?
Dubai is aware that there is little oil reserve in its land, so it invested heavily in infrastructure. In 1960, the ruler of Dubai started investing in infrastructure projects, including ports. Billions of dollars were loaned to build airports and seaports in Dubai. The project paid off as many foreign businesses started to take notice of Dubai.
Dubai diversified its revenue stream by investing in trade, tourism, and aviation. It even includes real estate and financial services. It created an investor-friendly economy by relaxing trade policies. It even had low tax and financial regulation years to attract more investors.
Dubai's relatively lenient trade culture attracted businesses and people to invest there. It's leniency become an advantage. Since most of its neighbors have strict Islamic economic culture, Dubai is more open than them. Dubai is more open to trade and investment than its neighbors.
Aside from it, the world-class infrastructure in Dubai attracted millions of tourists. When you supplement it with low tax and trade, people will get attracted all the more. It creates an impression of a luxurious life with low taxes and a vibrant city lifestyle.
The Dubai government emphasizes corporate-like efficiency in financial and trade services. It sparked capitalism, thus growth and development.
Is everyone rich in Dubai?
Of course, not everyone is rich in Dubai. Even though it is a wealthy nation, it does not necessarily mean that all the people are wealthy.
Dubai's population is so diverse that it can range from the super-rich, middle class, low income, and poor. Most of them are situated in different zones in Dubai. These groups are a mixture of locals and expatriates. Take note that expatriates almost outnumbered the Emiratis in Dubai.
In Dubai, you can see a group of people living a luxurious lifestyle. Most of them own their islands and don the most expensive cars. They wear the fanciest clothing brand and eat in high-end restaurants. The crazy rich people go around and are often the life of the party with tons of cash to spend at an instant.
On the other side, there are workers. They work all day and earn enough amount of wages for a living. Note that Dubai does not offer the best salary wages than New York or other big cities. The working people are crammed in small apartments in big crowds.
The working people in Dubai are mostly from poorer countries who want to earn a decent amount of money. Most of them are from India, Pakistan, and other Southeast Asian countries. You can find them working in the hotel and hospitality industry as aides and cleaners.
Then, some westerners have a lot of money to spend. Most of them bring money to Dubai because they have a conscious to spend their hard-earned money there. Remember, Dubai offers low to zero taxes, making expenses way cheaper. They can buy more in Dubai compared to when they spend it in their home country. Dubai offers lax immigration regulations and low taxes with a luxurious lifestyle.
Again, not everyone is rich in Dubai. The income disparity is very evident where you can easily recognize the rich and the poor. The super-rich will spend a lot of money in a day, while the working class will earn as much money as possible.
Yet, the way Dubai is perceived by the outsiders, people living there is all rich. Remember, the government of Dubai created an economy of spending. The beautiful ports, fancy shopping centers, an endless chain of restaurants encourage spending.
What is the wealthiest part of Dubai?
Yet, where do the richest people in Dubai live?
Even though Dubai is a heavily diverse place, it still has the reputation of being rich and glamorous. It is home to the highest number of high net worth individuals (HNWIs) in West Asia.
So, where do the high net worth individuals live in Dubai? According to the analysis of the US-based Webster Pacific, they live in various areas of Dubai. There is a high concentration of HNWIs in the following areas:
Palm Jumeirah

The Palm Jumeirah offers a more serene lifestyle in Dubai. It is located on the most iconic artificial human-made island, The Palm.

When you reach the area, you will be greeted by fancy villas and high-rise apartment buildings.

The view in this part of Dubai is spectacular. Plenty of garden space, ocean views, and luxurious facilities. Only the super-rich will be able to afford to live in Palm Jumeirah.

Jumeirah Golf Estates

The green scenery and picturesque landscape invite you to Jumeirah Golf Estates. It is undoubtedly an upscale area in Dubai where golf lovers sites to stay. The area has spacious villas with two world-class golf courses as a neighborhood. It is a great place to settle with your family because of its secure surroundings and gated villas.

Al Barari

Al Barari is another expensive place to live in Dubai. It has plenty of things to offer. There is a vast selection of 1,800 different species of plants and trees. Indeed, it is an incredible place to spend. Almost 80% of its area is allocated to green spaces. Al Barari has five residential districts with themed gardens to choose from. It provides you open air, clean living, and sustainable green scenery.

Emirates Hills

If you want to live in Beverly Hills in Los Angeles, Emirates Hills, it is suitable. It is an exclusive neighborhood where the affluent and wealthiest people in Dubai live. Of course, it has the most outstanding security protocols with its gated facilities and top-notch security. The design and concept have a touch of the western way of living.

Dubai Marina

Dubai offers ex-pats the best places to retire with full of beautiful beaches. The Dubai Marina is the biggest artificial marina the world has ever built. Many rich and wealthy chose to reside around the area. Thus, there are plenty of penthouses, state of the art apartment, and fancy neighborhood.

The Views

The Views has a lakeside apartment where rich people chose to live. It is near the Emirates Golf Club and is considered the most expensive place in Dubai. The Views is strategically located near the Dubai Marina and Dubai Media City. You can also access the Dubai Internet City, Knowledge Village through The Views.
Dubai is home to many luxurious and exclusive neighborhoods for the rich and the wealthy by and far. Fancy housing attracts people to invest in real estate.
You can tell by those I mentioned above, living in Dubai will give you the most desirable one could ever imagine. The exclusive golf course neighborhood, a human-made island, beachfront houses attract wealthy people.
How many billionaires live in Dubai?
Dubai is home to an estimated more than 30 billionaires living in the world. They have the most luxurious lifestyle one could ever imagine. Most of their wealth is gained from business and inherited.
So, who are the most famous billionaires living in Dubai?
The top 4 billionaires in Dubai are the following:
Abdulla bin Ahmad Al Ghurair

He has a net worth of $5.9 billion and is considered the 296th richest person globally. It is according to the analysis conducted by Forbes. He is already born rich and affiliated with Mashreqbank. It is the leading bank in the United Arab Emirates. His family also owns various companies in food, retail, and construction.

Majid Al Futtaim

He is the owner of the famous Majid Al Futtaim Holding Group. His net worth is $4.6 billion. The businesses he owns are a chain of shopping malls, retail, entertainment, and lifestyle. Most of the target market of his companies are from the MENA region. It is in the Middle East and North Africa region. As estimated, he owns 12 hotels, 21 malls, among others.

Hussain Sajwani

The net worth is $4.1 billion. Sajwani is considered the third richest billionaire in Dubai. His wealth is coming from real estate, food services, construction.

Abdulla Al Futtaim

Owner of the Al Futtaim Group. He is a driving force of the world's famous brands that operate in Dubai. As the prime distributor of Toyota in the UAE, his wealth continues to increase. He has used the license to use favorite western brands like Ikea, Hertz, and Zara. His company is one of the most successful conglomerates in the Emirates.
Can you be homeless in Dubai?
Dubai is not a perfect place that only the wealthy can afford to live. Of course, there are homeless in Dubai. Despite Dubai's global perception, where only the rich can live, some people live in poverty.
A significant percentage of the population are still living in poverty—It reaches 20%. The percentage is very alarming, mainly when Dubai is marketed as a wealthy nation.
Yet, few homeless people are living in Dubai. The reason is that the government does not permit them to continue living there. They are regarded as non-nationals and are push away from the area.
Remember, there are more immigrants than Emiratis in Dubai. Most of them are applying for visas to stay and continue living. Once the government found out that you are homeless, you will be not be given another chance to renew your permit. In Dubai, being homeless is one of the fastest ways to get rejected.
Thus, you cannot afford to be homeless in Dubai. So, it is up to you to work and earn a living to stay in this fancy place.
Yet, despite this, the government has programs for those living in poverty. They can receive financial aid, given that they were able to comply with the requirements.
Dubai is a paradise. It is a haven for the rich and the wealthy. The government has programmed it this way to be able to attract wealthy retirees. Since the oil reserve is not enough for massive growth, other measures were implemented.
Abu Dhabi is getting more prosperous due to the oil industry. Dubai, on the other side, is gaining economic wealth from trade and tourism. The government's plan to invest in infrastructure and port development paid off.
You can see that Dubai's affluent neighborhood, Abu Dhabi, in particular, spend money in Dubai. It is due to lax government regulation and exclusive shopping centers and destinations.
Dubai may not have enough oil reserves, but its spending economy is truly a great advantage. Its neighbors' wealth is transferred to Dubai because no one wants not to spend in this paradise.