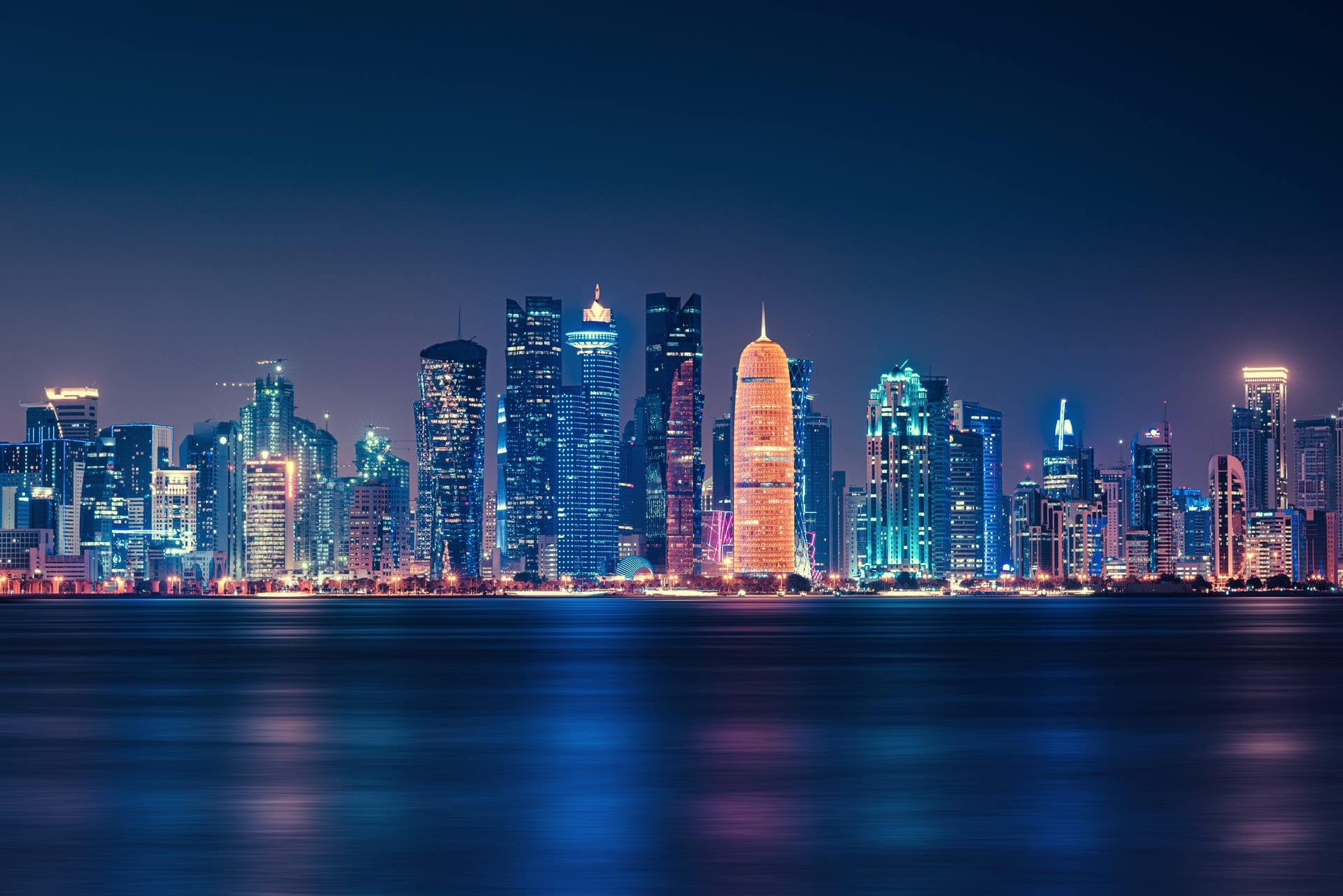 Dunes, forts, and fishing villages were the fading images of the United Arab Emirates. The once traditional Islamic settlement transitioned into a headline-grabbing tourist destination.
The present UAE is bustling with towering buildings, dancing lights, and modern-day architecture. The Middle East now offers an exciting blend of Islam and rampant consumerism.
The UAE presents an array of cities waiting for you to explore. You have many different places to choose from when visiting this part of West Asia.
Yet, two cities in the Arabian Peninsula are filled with adventure and exciting activities. Dubai and Doha are great metropolises that offer layers of both modern and Islamic vibe.
Geographically, these cities are both within kilometers close to one another. Dubai is a flashy neighborhood of Abu Dhabi, the capital city of the United Arab Emirates. Doha, on the other side, is a city of Qatar which is six hours away from the UAE's capital by land.
They are both Muslim nations with varying degrees of tolerance in practicing Islam. Since they are near to each other, the weather is almost the same. They benefited from the discovery of oil in the region. Both are keen to offer a different layer of the modern-day Muslim world.
Yet, what sets them apart from each other? What makes them unique? What are their differences?
Hence, we offer you the seven secrets you must know about Dubai and Doha. A tale of two Emirates, a sophisticated way to understand the Islam world.
1. Quality of Living: Is living in Dubai better than Doha?
No doubt, Dubai has a reputation for being an expensive city. Its state of the art infrastructure and architecture are top-notch, world-class even.
Its exclusive resorts and human-made island, The Palm, is famous among the affluent. Dubai's real estate set the highest standard of luxurious living. They provide vibrancy and energy of the city is an attraction in itself. It offers everything a present-day cosmopolitan in store for visitors.
There are several things to try in Dubai. The social scene is diverse. Plenty of hanging out places, nightlife, and sterling restaurants are yours to grab. The city provides fun things to do. Sometimes, it's too much to take them all in.
Transportation is highly affordable. You can ride on taxis, and need not worry about expensive fare. The government is investing in a transport system as well. It is to cater to the needs of locals and foreigners.
Compared to Doha, Dubai is a very tolerant emirate. Of course, it attracts foreign visitors, and they need to restrict less with their rules. It applies the beliefs of Islam moderately. It is more inclusive and accommodating with other cultures. Expats are allowed to buy alcohol and eat and drink even in Ramadan. Despite lax regulations, crime is very low.
Doha, on the one hand, is more Islamic than Dubai. It is a perfect city where Islam beliefs blended well with modern living. Unlike Dubai, Doha's progress is highly dependent on oil.
Doha is more culturally inclined. Many museums are in Doha. It has excellent potential to be a regional jazz hub where jazz is located at the Lincoln Center. Live music is often typical in Doha.
You can live very peacefully in Doha as Qatar is ranked as the 10th most peaceful country globally. Unlike Dubai, Islamic traditions and customs are more heavily imposed in this emirate.
It is easy to make friends in Doha than in Dubai. Unlike Dubai, where some level of anonymity is observed. The population in Doha is relatively small, and the expats' community is tight.
Yet, Doha has limited activities to choose from. It is up to you to find your interest and find clubs and groups to become a member.
In living in a city filled with activities and adventures, of course, Dubai is better. It has advantages over Doha like good public transport and sterling shopping centers. Include in the list unique places to eat and nightlife in Dubai as well.
2. Cost of Living: Is Dubai more expensive than Doha?
No doubt, it is more expensive to live in Dubai than in Doha. The cost of a monthly rate of accommodation can be as pricey as $13,000 a year for a decent studio apartment. Of course, it is already in a good location, and you are required to pay upfront.
Property owning in Dubai is also costly. You need to pay a top dollar rate for resale property in Dubai. Well, given that The Palm, Dubai Marina, and other exclusive villages are the standard. Rent can be pretty expensive.
Aside from rent, having a decent life in Dubai includes good education and healthcare. Schools tend to have extra fees even if the government restricts the annual rate hike.
Medical insurance will cost you a fortune as well, given that the quality is sterling. Groceries, fuel, and other day-to-day expenses are average and affordable once you have a decent job.
Dubai can be quite expensive. Whereas in Doha, there are affordable apartments available. According to the 2018 Global Mercer Cost of Living Index, living in Doha is lower than in Dubai and Riyadh.
An average single apartment can cost you $900, which is lower than Dubai rent. It can increase as much as $2,000, depending on the lifestyle that you have.
You need not worry about the cost of utilities because the government partially subsidizes it. The average monthly cost can range to only $70.
Healthcare is also provided as they have a public healthcare system in Qatar. General medical insurance can cost around $50 a year. A visit to a doctor is about $6 per consultation.
There is also a public education system in Doha, which is relatively cheaper than in Dubai. The tuition per year is $8000. It is way less expensive than other education systems in Europe, for instance.
3. Transportation: Is flying to Dubai better than Doha?
Emirates, Etihad, and Qatar Airways are competing as the best airlines in the world. They both have world-class facilities and stellar services. It is hard to identify which one is better over the other. It seems that their corresponding airports are competing as well. o
So, let's get straight to the point, which one has the better airport, Dubai or Doha?
Dubai and Doha – The Race to World's Number One Airport
Recently, Dubai Airport surpassed London's Heathrow airport as the world's busiest airport. It goes to show that people choose Dubai as their top destination.
Yet, even if it's the busiest, there are still free quiet spaces where you can relax and chill. The airport is a massive one with several terminals in it. The interior is luxurious with greenery and waters that create a balance nature vibe. People need not worry about chairs filling up because there is enough chair inside.
Since Dubai is a central shopping hub in the Middle East, its airport is packed with tax-free shopping areas. Also, 5-star caliber restaurants are within your reach when you choose to stop at Dubai's.
Doha Airport is hard to miss.
Qatar's Hamad International Airport is young. It only opened in 2014, and you can expect that everything you see is new and well-structured. Empty spaces may not be enough because people are standing waiting to be seated.
Unlike Dubai Airport, noise is not manageable in Qatar. It is a little busy, and the noise is noticeable. What I like about it is their internet stations couple with unlimited free wifi. Famous brands and shopping centers are also present at this airport.
All in all, I prefer Dubai Airport. The interior and large spaces add up to their points to be one of the world's best airports.
Dubai or Doha – Luxury Layover is Quite the Norm
Luxury layovers are often associated with the United Arab Emirates. Flying to these Emirates in style is usually expected.
If you have a layover in Dubai, Emirates offers you to experience Dubai at its finest. If you get a little lucky, you can score a complementary Transit Visa that allows you to go out and see Dubai. An extended layover with many perks like tours, hotels, and cuisine is in store when you book a flight in Emirates.
Of course, Doha will never want to come second in being the best among the rest. Like Dubai, Qatar Airways offers you a free stopover to every traveler. Doha may not be the preferred travel destination compared to Dubai. But Qatar Airways wants to prove otherwise. The airways also offer you free accommodation once you book a flight to Doha.
4. Holiday Destinations: What is better to travel to Dubai or Doha?
Choosing your holiday destinations in the Middle East can be very tricky. Like Dubai and Doha, most of the Emirates offers you a different kind of experience for you and your family.
Yet, of course, they have distinguishable characteristics. Depending on your goals and personality, Dubai and Doha can be the ideal places to spend your holiday. To help you with your travel decisions, here are some notable comparisons between the two:
Hotel and Accommodation – Budget over Luxury Stay
If you want less expensive and want a budget-friendly holiday destination, Doha is preferable. Dubai offers you world-class hotels and 5-caliber accommodation services. Doha has more flexibility.
Plenty of mid-hotels swarm around in Doha that can range from $30-$50 per night. Then again, if you are after the luxurious lifestyle and experience, Dubai is the choice.
Leisure – Modern over Traditional
Well, Dubai is associated with luxury travel. So, leisure activities can be very abundant. It is hard to take them all in, as you are confronted with lines of shopping centers and restaurants. Bars and nightlife give color, noise, and energy during the night time. Most of the time, Dubai lacks the authenticity of Middle Eastern travel as it is now highly modernized. Even the souq became ultra-modern that it lacks the Middle Eastern feel.
Subdued and traditional leisure journey, Doha can give you both. In this part of the United Arab Emirates, luxury is tempered with much cultural awareness. Of course, Qatar is still competing in the luxury arms race and is now keeping up. You always feel the Middle Eastern vibe when you visit souq in Doha. The old market still offers traditional garments, spices, and handicrafts. It transports you back to the Silk Road era. Doha did well in blending the modern while connecting Islamic heritage and culture.
Food – Both reflects the Arabian heritage
Arabian cuisine and Emirati diet are noticeable in both Doha and Dubai food culture. Since both are extraordinary Muslim worlds, pork is not present in dishes. You can observe the delicious blending of seafood, spices, and herbs in both. Beef, lamb, chicken, and rice are their staple food.
Since Dubai is more culturally tolerant, alcohol is served in bars and restaurants. Clubs and golf clubs are allowed to sell liquor to guests and visitors. Even during the observation of Ramadan, many restaurants are open to foreigners.
Dubai and Doha are two incredible Middle Eastern travel destinations. They have identifiable characteristics making them unique and different from each other. Dubai may be more intense when accepting varying cultures compared to Doha. Yet, it makes Dubai stand out among its neighbors in the UAE.
Doha, on the other side, is culturally aware and conscious of keeping its Islamic heritage. Doha is heading towards a more modernized spectrum. Yet, the Muslim vibe of Qatar blending with the modern makes it more charming and exciting.