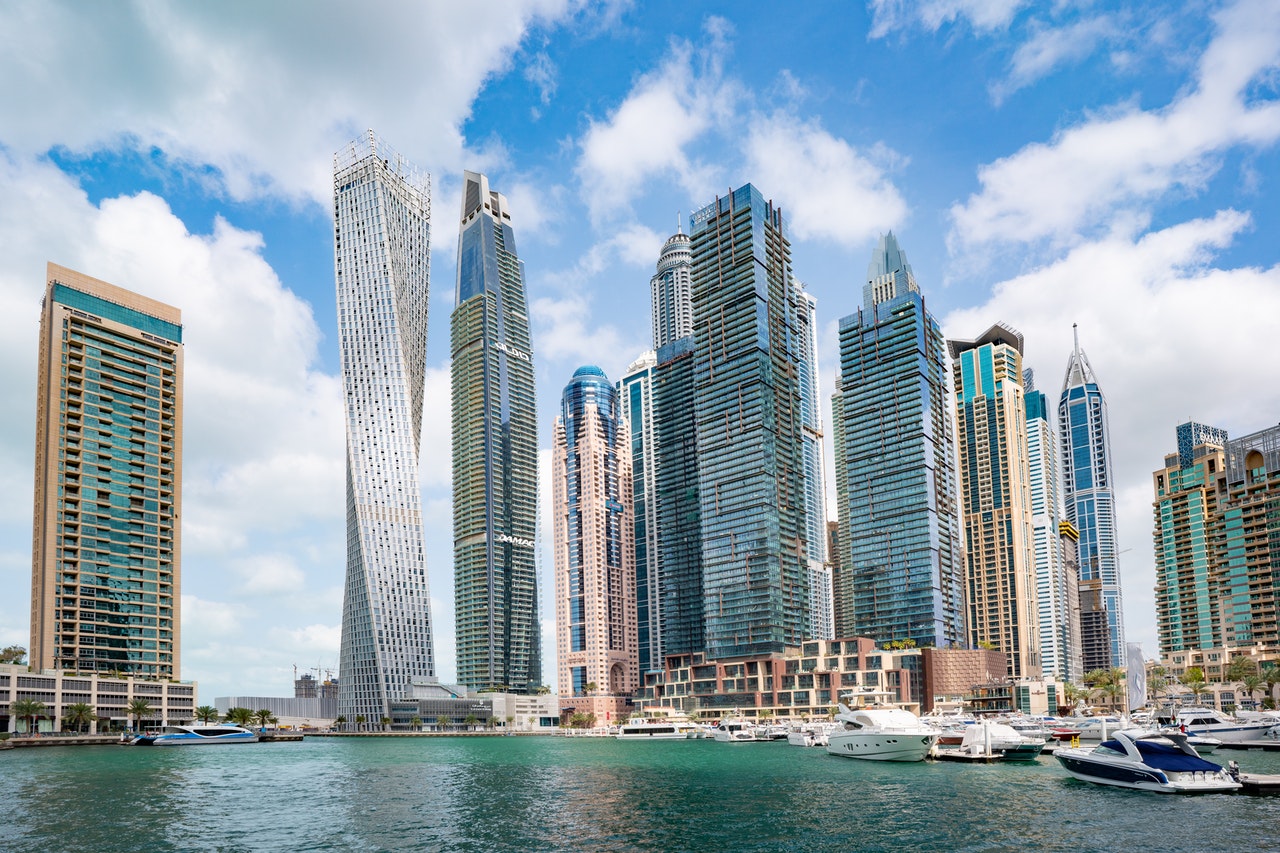 Not everyone in Dubai is rich. Dubai may rank as the 12th most prosperous city in the world. It also has about 250,000 households that earn at least US$250,000 per year. But Dubai has about 20% of its residents live in poverty.
The existence of oil in Dubai made it one of the wealthiest states on the planet today.
Aside from oil, it is also a prosperous trading hub. It deals with industries that pass through the Gulf and Africa.
Dubai is famous for the oil that made it rich. But did you know that Dubai only has little oil? The oil industry partnered with forward-thinking business strategies that made Dubai a prosperous city.
What Made Dubai Rich?
Dubai's diverse economy has a few significant aspects.
It runs around trade, transportation, and technology.
It also involves tourism and finance.
These industries alone make Dubai a city that does not solely depend on oil.
The city may choose to focus on selling oil alone. But they did not. Dubai chose not to be dependent on one industry alone. Because of its diverse economy, Dubai's international passenger traffic grew in multitudes. It is because the city is the gateway to the East.
Over the years, Dubai stopped being a stopover for wealthy travelers. It is now transformed into the destination of the rich, the famous, and everybody else in between. From being a stopover city, it is a destination so admired by the world.
At present, Dubai is a significant business hub. And this is despite the oil industry composing less than 5% of its economy.
And with its becoming a global business hub, Dubai made itself a popular luxury tourist destination. With business aside, you can go to Dubai to shop and live the luxurious holiday of your dreams.
What makes Dubai grand is its ability to flaunt. It is a city that is never afraid to show its riches. It is a city that constantly boasts to the world that they have seven-star hotels. It tells the world that they have the tallest buildings.
Everything is grand in Dubai.
Even their police force operates riches. It is the only city in the world where you will find the police driving a Bugatti or a Ferrari.
Out with the sedans. In with the Lamborghinis!
Dubai and its Riches
To understand how Dubai got so rich, you only have to check out their busy maritime shenanigans. Their ports are some of the most active in the world.
Dubai used to be a fishing town.
It transformed itself into a city with a huge trading port.
It has the ideal location for maritime activities.
It is a magnet for merchants from all parts of the region. And it is a city close to the Persian Gulf and Iran.
The Ports in Dubai
The busiest port in Dubai is Jebel Ali.
It is the country's most important port. You can never tell how much of an asset Jebel Ali is to the United Arab Emirates.
Its secret is its geographical position. The port is inside the Jafza. In popular terms, it is inside the Jebel Ali Free Zone.
The free economic zone is the world's most enormous. It is a port that spans more than 57 square kilometers in size.
In Dubai, there are many industry-specific free zones. These all attract businesses because of a lot of reasons. One of these reasons is its attractive tax benefits for businesses here.
Also, free economic zones have many benefits to custom duty. Unlike trading in other countries, there are no significant restrictions on foreign ownership in Dubai.
As such, free economic zones in the city bring an infrastructure so developed compared to other cities. You will also find that independent port authorities run these infrastructures.
And if there is one significant advantage to this, it is that independent port authorities streamline a lot of bureaucracy.
That should be a win-win situation for the business owners, traders, and the city as a whole.
Dubai and its Rich People
Out of the thousands of cities worldwide, Dubai ranks 12th in wealth. An estimated quarter of a million households earn at least US$250,000 per year.
Note, however, that not all of Dubai's locals are rich.
The Dubai natives compose only about 15% of the total population of Dubai. The remaining 85% are expats that work in Dubai.
Of all the Dubai natives that live in the city, about 20% live in poverty.
In conclusion, not all Dubai residents are wealthy.
How much money do you need to be rich in Dubai?
In Dubai, you have to have at least US$2.6 million for one to consider you rich. This amount equates to about Dh9.5 million.
For one to consider you wealthy, how much money do you need in Dubai?
You can perhaps own a house in a central location. You can have one or two sports cars. You can also have a golf club membership.
Your kids can go to an exclusive school.
All these and more are signs that you are doing well in Dubai.
But how much money do you need to have for you to fall under the classification of "rich"?
Dh9.5 million or US$2.6 million is enough to catapult you into this position in society. With this amount of money, society would consider you rich.
Compared to the US, it is harder to be rich in Dubai.
Americans can consider you as rich with a net worth of US$1.4 to US$1.9 million. It is easier for society to call you wealthy in the US than in Dubai.
Comparing the numbers in Dubai with other countries aside from the US, you will still find it hard to be rich here.
In the UK, society can call you rich with a net worth of US$1.3 million. South Africa's community calls people with a net worth of US$1.2 million rich.
The only country that could be harder than Dubai is Hong Kong.
In Hong Kong, society will only consider you rich with a net worth of US$2.8 million. This amount is slightly higher than the expectations of Dubai's community.
Money and Happiness
I am sure you are familiar with the adage that goes, "Money can't buy you happiness."
This quote may stand true to some, but 86% of its population believes that money can indeed bring happiness.
Such statistics can be overwhelming. It considers how we push for a less focused life on materialism.
However, the surprising number of those that believe in money and happiness is not just in Dubai.
About 89% of Hong Kong residents believe that money can bring them happiness. 78% of the UK and 74% of South Africa agree.
In the US, 83% of the country's population believes in money to bring happiness.
While the numbers may be high, the study points out that wealth is subjective.
How many millionaires are in Dubai?
Dubai now has more than 26,000 millionaires. Out of the thousands of cities globally, Dubai ranks 29th in popularity to high net-worth people.
New data reveals that around 26,000 millionaires live in Dubai.
In the Middle Eastern region, Dubai ranks second with the most millionaires. On top of the list is Istanbul in Turkey.
Dubai has a population of about 2.2 million. This number means that 1 out of 100 people in the city is well off. This one person has a significant amount of disposable money.
Also, this figure did not include the value of the primary residences of these individuals.
If there is one thing about this data, Dubai firmly holds the global economy. Dubai is becoming more important globally. It can attract many high net worth people from all over the world.
Cities and Millionaires
Out of the many cities globally, London has the most millionaires.
The city of London has about 339,000 millionaires. New York comes in second with about 300,000 millionaires in total. Tokyo comes in third place with an estimated 220,000 millionaires.
However, when you consider the number of millionaires per unit of a city's population, Geneva is on the top. Zurich comes in second place while Singapore is in third. In this aspect, Dubai ranks 9th globally.
The rise of Dubai is also attributed to the significant improvement of the real estate market. Before 2020, there were surges in the closure of Dubai property investment deals.
The report further states that one is a millionaire out of every 25 households in Dubai. This number catapulted the city into the ninth position for the highest density of millionaires.
Also, out of about 100,000 households in the United Arab Emirates, three are multi-millionaires. This fact puts the country itself in the top 15 worldwide.
In conclusion, there are a lot of millionaires living in Dubai. Partner it with the lavish lifestyle of its residents and the luxurious vacations the city offers. You get a misconception that everyone in Dubai is rich.
But as mentioned earlier, not everyone in the city is wealthy.
How much money does the richest person in Dubai have?
Majid Al Futtaim is Dubai's richest person. He is so rich that Forbes estimated his net worth to be at US$6.1 billion.
Dubai is a small city. Its population is also tiny, at just way above 2 million.
But despite its small area and population, Dubai has more citizens that earn millions than most cities in the world.
A large number of wealthy people call Dubai their home. And this is not surprising considering that Dubai is the Middle East's second most expensive city. It is also the world's 20th most expensive city.
And this could make you think.
How much is the wealthiest person in Dubai worth?
Here are Dubai's three wealthiest people in reverse order.
Ravi Pillai
In third place is Ravi Pillai, a native of India who went to Dubai after his construction business in India failed.
Pillai used to own a construction business based in Kerala in the south of India. After labor strikes hit the business, Pillai closed the business down.
As soon as he was in the UAE, he started a small trading business with the assistance of a local partner. And within a couple of years, he was able to expand the company into the construction of his new venture.
The new business venture is in Nasser S. Al Hajri Corporation (NSH).
NSH would start a billion-dollar business venture, the RP Group.
Pillai sits comfortably at rank #529 on the list of the world's wealthiest people. He is also the 3rd richest in the city of Dubai.
As of this writing, his net worth is at US$4.2 billion.
Abdulla bin Ahmad Al Ghurair
The great man started his business ventures in 1967.
It was during this year that he founded Mashreqbank.
Over the years, the bank grew into one of the best and most trusted United Arab Emirates.
He gets a salary that he gets as chairman of the bank. Also, his son, Abdul Aziz, is the CEO of the bank.
Abdulla bin Ahmad Al Ghurair's wealth is from his company. It spans different industries – from real estate, construction, and even food.
As per reports, his net worth is at least US$4.9 billion.
Majid Al Futtaim
Forbes estimated his net worth at US$6.1 billion.
With this net worth, Majid Al Futtaim ranks as Dubai's richest person as of this writing.
Majid Al Futtaim is the brain and force behind Majid Al Futtaim Holding (MAF), a conglomerate that spans industries like retail and entertainment. It started in 1992 and is now one of the region's largest to date.
As of this writing, MAF has more than 120 stores all over the Middle East, Central Asia, and North Africa.
Aside from this, he also owns franchises to operate some of the world's biggest brands. These include Abercrombie & Fitch, AllSaints, and Lululemon Athletica. He also holds the franchise to operate Carrefour.
Forbes reported a revenue of about US$8.8 billion in 2017. In the same year, Forbes also reported profits of approximately US$600 million.
With all this amount of money generated, it is no wonder that Majid Al Futtaim catapulted himself into a superpower position. It is no wonder he is Dubai's richest person to date.