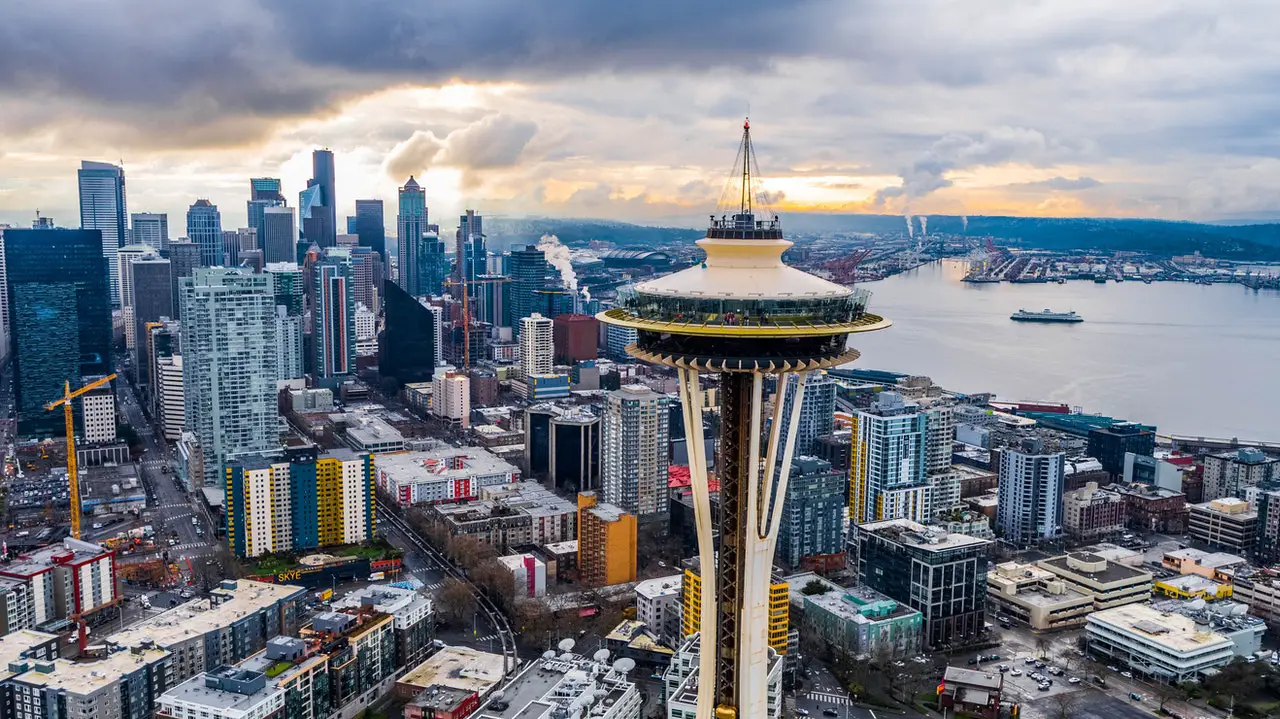 When looking for the best place to live, Seattle and Dallas might be at the top of your list. Both cities offer great city experiences in varying degrees. As the best place to live, Seattle and Dallas will attract you on so many levels.
Dallas would charm you with its world-class art scene.
It includes the Dallas Art District, Perot Museum of Nature, and the iconic Reunion Tower.
It has plenty of outdoor activities, as well. You can canoe at White Rock Lake or even explore the luscious green gardens of Dallas Arboretum.
It has a thriving business center where 24 Fortune 500 companies are headquartered. In Dallas-Fort Worth area, you can see ExxonMobil, AT&T, Fluor, and other giant businesses. So you will not run out of options if you are considering a corporate career.
On the other side, Seattle is also a force to be reckoned with. Known as the Emerald City, it is surrounded by lush evergreen forests where you can stroll during the day. Or you can spend your evening tasting its culinary offerings.
You should never miss out on Seattle's legendary Space Needle, as well. In addition, Seattle has an array of activities both day and night, making your city life attractive.
Dallas and Seattle are great cities to live in. Yet, there are many good reasons to consider when choosing which is the better city. It includes the job market, culture, opportunities, education, and outdoor life.
Thus, read on as we explore each city's attributes, offerings, and life opportunities. In this way, we can finally decide which between Seattle and Dallas is the best place to live.
Is Dallas or Seattle better?
If you choose which city is better between Dallas and Seattle, there are factors consider. You have to weigh in the pros and cons before deciding which between Seattle and Dallas is better.
Thus, here are our detailed comparison between the two cities.
Living in Dallas
Dallas is known for a lot of things. It includes a thriving business center, steak industry, commercial hubs, among others. To get to know the city better, we already laid out its pros and cons.
Pros
Art Scene

Dallas is an artist's haven. It has plenty of attractive cultural offerings that most people are surprised about. The Art District in the northern part of the city has many art museums and galleries.

In addition, you can visit the Dallas Museum of Art, Meyerson Symphony Center, and Nasher Sculpture.

There are also the AT&T Dallas Center and the Winspear Opera House.

Sports

Of course, who would miss Dallas sports enthusiasm with four teams in each major sport? It has the NFL's Dallas Cowboys, NBA's Dallas Mavericks, NHL's Dallas Stars, and Texas Rangers. It is also famous for hosting the country's elite sports events. It includes the Super Bowl, NBA Finals, and the World Series.

Commercial center

More than sports and art, Dallas is also a thriving economy. It has plenty of shopping centers giving you the best retail therapy.

You can visit the North Park Center, Galleria Dallas, and the Highland Park Village.

It is one of the largest shopping hubs and a registered historical landmark. You will never run of shopping centers to go to when you choose the city of Dallas.

Business and job market

Dallas is strategically located in the center of the United States. Moreover, its geographical locations make it the top leading corporate destination in the country. Thus, you will have many opportunities to get a job and be employed. The Dallas Convention Center, for example, is expansive with employment waiting for you.

Food and steak

Of course, everyone would want to try an authentic Texan culinary experience. In this area, Dallas would not disappoint. It proudly offers an exciting food and steak scene. You can try Bob's Steak and Chop House for a traditional and modern steak experience. Aside from that, the original Texan barbeque is just around the street market of Dallas.
Cons
Traffic and transportation

As a significant commercial and economic center, Dallas has its drawbacks. The top on the list is traffic. Most people experience a rough commute when in Dallas. It will drain out your patience when getting from point A to point B.

Another is Dallas' transportation. The city lacks efficient public transport. It would help if you transferred multiple times when riding on a bus. There is no single journey approach, making vehicles convenient for most people.

Housing and real estate

Of course, you should also consider the real estate in the city. Dallas housing prices tend to be at a higher price range. So in addition, if you want to move to the town, you have to expect to shell out money in housing rent. But compared to Seattle, it is way cheaper. So you would still find more affordable houses in Dallas than in Seattle.
Living in Seattle
Yes, we can present to you many great reasons why you should choose to live in Seattle. But to make it more balance, we will also include some drawbacks in living in the city. Thus, here are the pros and cons you should consider:
Pros
Job market

Like Dallas, Seattle has plenty of job opportunities to offer. There are jobs available in several sectors, including health, tech, and engineering. So you will not run out of options where to work when you choose to move to Seattle. There are also big tech giants headquartered in the city. It includes Microsoft, Google, and Amazon.

Pleasant weather

Of course, one of the significant considerations in moving from one city to another is the weather. If you choose the city, you will enjoy its pleasant climate all year round. Winter is not harsh, while summer is the most enjoyable.

Green spaces

One thing the city is always proud of is its surrounding environment. It has considerable greenery, with its Discovery Park catering to more than 500 acres of land. You would love strolling in the park while marveling at the city's Space Needle.

Entertainment

Besides a thriving economy and good weather, entertainment is plenty in Seattle. The city offers art and culture where you can visit theaters and museums to enjoy both arts and music. It also has an abundance of a coffee shop to hand around while killing some time.

Farmer's market

Aside from its 500-acre park, you would experience lots of greenery in the city. Seattle promotes a healthy lifestyle while offering its locals fresh fruits and vegetables. The local market is filled with fresh produce to buy seasonal fruits, wet goods, and more. The fish market is quite impressive, as well.
Cons
Cost of living

One of the significant downsides of moving to Seattle is the high cost of living. House prices and other living operating expenses in the city can be pricey for some. Seattle's cost of living is more than the national average. Expect significant adjustments to your budget, especially when coming from cheaper towns.

Seattle Freeze

In big cities like Seattle, people are busy and tend to be snobs. The city has a reputation of being a snob where they call it the 'Seattle Freeze.' It is way difficult to make friends in this city, compared to other small towns.
Is Dallas cheaper than Seattle?
Yes, the cost of living in Dallas is way cheaper than in Seattle. In comparison, the cost of living is 28% lower than in Seattle, WA.
It is a significant gap in the cost of living and will make you choose which one is preferable.
To break down the expenses, here is a detailed comparison:
Consumer prices – Seattle is 28% higher than Dallas
Consumer prices plus rent – Seattle is 33% higher than Dallas
Rent – Seattle is 33% higher than Dallas
Food and restaurant – Seattle is 21% higher than Dallas
Groceries – Seattle is 33% higher than Dallas
Of course, living expenses are a deal-breaker. However, if you will consider your budget, Dallas would win in affordability.
You can save a considerable amount in Dallas because there is a 30% variance in living costs.
Is Seattle more expensive than Dallas?
Yes, Seattle is more expensive than Dallas. It is around 30% costlier in Seattle than in Dallas. Real estate, food, transportation, and energy make the city more expensive than Dallas.
To get the total cost of living in Seattle, we provided the following for you:
Real Estate

The median home sales can go as much as $490,000. It is higher than other major cities like Portland and Oregon. There is also a long-term appreciation rate that can go as high as 6% annually.

Rent and monthly fees

Of course, you should consider the rent expense when moving to Seattle, as well. For example, the rent for a two-bedroom apartment can cost around $1,600, which is $500 than the national average. It is the same with renting a one-bedroom apartment that is $300 higher than the average.

Food

Food in Seattle may be higher than the national average. However, dining in and eating out in restaurants will already cost you $30 compared to the $25 expenses in some cities.

Grocery prices are pricier, as well. The monthly food spending can cost around $400, which is $75 more than the median average. Yet, you would not miss experiencing the fresh produce of its Farmer's market. Having a healthy lifestyle and the newest products compensate for the price, too.

Transportation

Compared to other cities, a bus ticket can already cost you $2.75 in Seattle. It is way higher than other big cities, which can only cost around $1. If you are a regular commuter, you can opt to use Orca Card for $100. It is already one-month consumption in Seattle's trail system.

Miscellaneous expenses

Of course, you should also consider healthcare, clothing, and other expenses when moving. But, in general, all the necessities and miscellaneous are way higher in Seattle. The prices, most of the time, are more than the national average.
Conclusion:
Seattle and Dallas are great cities. They both offer opportunities for a comfortable life, including employment, experiences, and nature.
They differ in so many ways, making one city better than the other. Yet, each distinct characteristic makes them unique and can be a factor in making a decision.
However, one significant difference and can truly seal the deal is the cost of living. Based on what we have mentioned, Seattle is an expensive city compared to Dallas.
If you are on a budget and planning to save a good amount of money, Seattle is not a good choice. It is better to live in Dallas than Seattle when considering the expenses making it the best place to live.