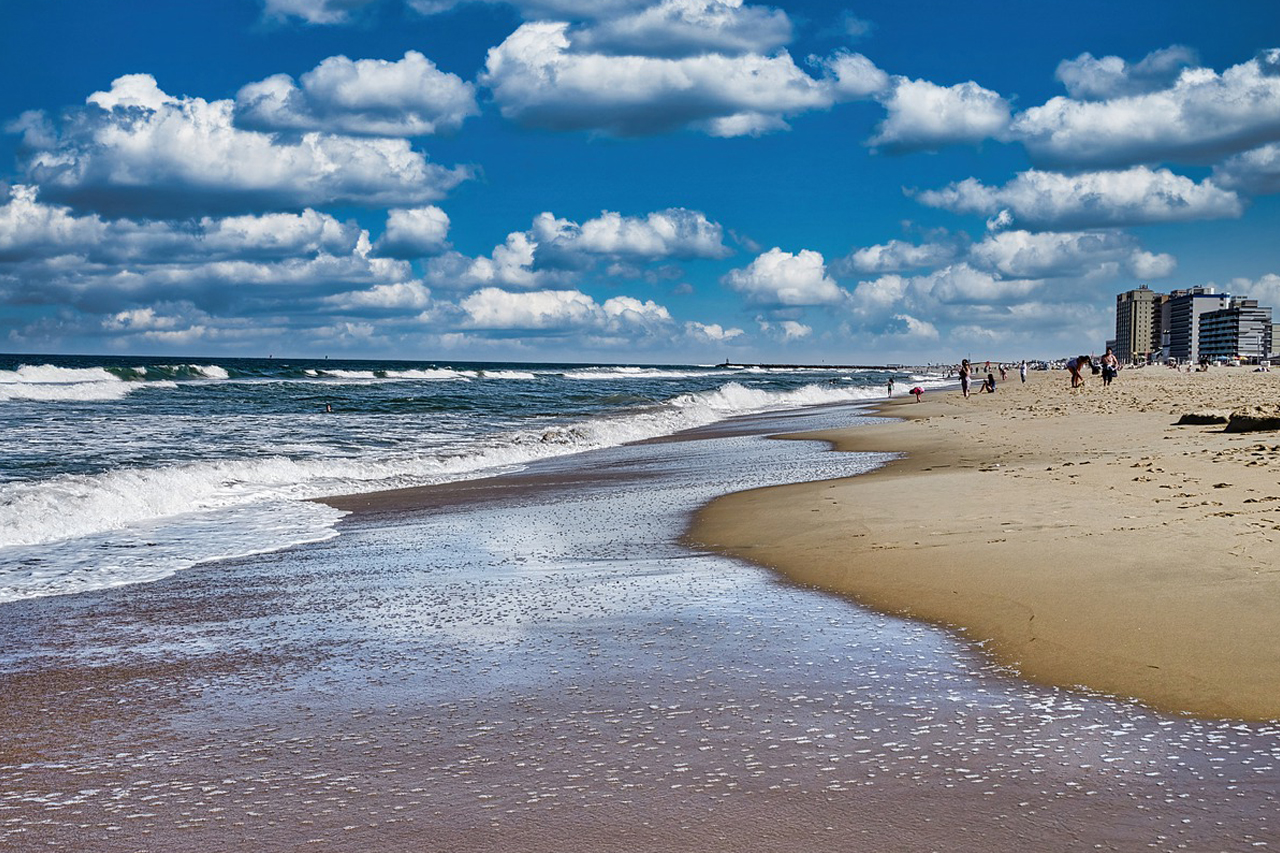 If there is one thing to describe Virginia Beach, it is the word fantastic.
The city is an independent coastal city in the southeastern portion of Virginia.
A quick glimpse and you would see it is a resort town by heart. Well, it can be a suburban area, too. It is because Virginia Beach is also the most populated city in Virginia.
Virginia Beach sits right at the Hampton Roads. Its geographical location provides the city with a view of the Atlantic Ocean.
As per the Guinness Book of World Records, Virginia Beach is the world's longest pleasure beach. There's a reason for that.
There are lots of places that you can visit when in Virginia Beach. There are free things to see like parks and beaches. There are also places where you would likely shell out cash for admissions, like museums, aquariums, tours, and amusement parks.
Each of these places has a charm of its own.
However, one common denominator is the sunny vibrancy of being in a delightful town with easy access to the ocean views.
And so, when in Virginia Beach, where do you go? What places should you visit?
Let me give you an idea.
Below are 12 of my favorite spots in Virginia Beach that you can visit.
And yes, you can visit them without the need to drive.
Shall we start?
1. First Landing State Park
This destination is a mix of nature and history.
The First Landing Park in Virginia Beach got its name because of its historical significance.
It was here that the colonists from England landed on American shores in 1607. And so, whenever you are in Virginia Beach, be sure to drop by.
The First Landing Park is one of the attractions that provides its guests with a lot of historical information about this part of history.
It was in the 1930s when the city had the park constructed. These days, it is one of the most-visited destinations in Virginia Beach.
From this destination, you can proceed with your sightseeing of Chesapeake Bay. Or, if you want, this part of Virginia Beach has 1.5 miles of beach where you can laze your afternoons away.
First Landing Park is a beautiful recreational haven. Aside from the views, the park offers visitors several activities to enjoy.
You can choose to rent a cabin here, learn about history, or even explore an area of dunes, lagoons, swamps, cypress trees, and pine trees.
The destination has several kinds of flora and fauna. And you can stroll around the park while trying to identify them.
This park has an area of about 2,888 acres. You will have a lot of strolling to do if you ask me.
And before I forget, you can rent a water vessel here. You can rent a Jet Ski and spend some time enjoying the waves.
2. Virginia Beach Boardwalk
The Virginia Beach Boardwalk is one of the major attractions in the area.
It provides the city and its guests with a wide range of fun and entertainment.
The boardwalk goes for about three miles, giving visitors a view of the ocean. It has restaurants, shops, a lot of entertainment, and laid-back beach vibes.
The boardwalk also has bike paths. Along these paths, you will find vendors that sell bike and surrey rentals.
All these amenities make the boardwalk an ideal destination not only for strolling but for biking, too.
Aside from these, the boardwalk is a venue for several performing arts. Most of the time, you will find musical acts, summer concerts, and a whole range of sculptures like the statue of King Neptune.
If you are looking for something to do on a weekend afternoon, visit the boardwalk.
3. Sandbridge Beach
Head over to the southern portion of the main beach and the boardwalk. You will find a calmer and quieter destination, Sandbridge Beach.
The beach is the same oceanfront beach. The only difference is that the beach goes farther along. It is also minutes away from hotels and condominiums.
And because of its location, people often find the beach a perfect place for peace and relaxation.
If you want to escape from the energy of the resort area, this is the place to visit.
Here, you can go for a walk. A picnic here is also an excellent idea.
You can even spend a quiet afternoon here catching up on your reading.
What I like about the beach is its location.
It is vast and has soft, powdery sand.
The houses here are also set far enough back from the water. Being here feels like you are miles away from the city.
You are not.
4. Cape Henry Lighthouse
The Cape Henry Lighthouse is one of the cheap things to do when you are in Virginia Beach.
The lighthouse is a significant landmark of the city. It sits right at the mouth of the Chesapeake Bay.
In 1792, George Washington approved the lighthouse to be built. It became the first lighthouse funded by the government.
In addition, the lighthouse is designated as a National Historic Landmark. The First Landing State Park is only a short distance away.
The lighthouse stands about 55 feet in height. It also served a significant purpose during its time, being an essential beacon for the vessels out at sea.
Looking at the lighthouse, you cannot help but notice its simplicity.
The lighthouse is of simple brick. It also stands on the military base of Fort Story. It means that when visiting, you need to show your ID.
Once inside, you can climb the stairs of the lighthouse.
And don't worry. It is an easy climb.
You will get all the stunning coastal views at the top. And while you are up there, you will also find another lighthouse nearby.
5. Grommet Island Park
And yet, when you think you have had enough parks, we have another one worth visiting.
Grommet Island Park in Virginia Beach is a park perfect for visitors of all ages.
The park is the first of its kind in the country. Its unique playground and other amenities have complete access to the oceanfront park.
The park is about 15,000 square feet in land area. It has a playground with a swaying boat, a sensory board for the visually impaired, and raised sand tables perfect for sandcastles.
Aside from these amenities, there are also several features at the park.
One of these that I like is the wheelchair-friendly entrance.
6. Back Bay Wildlife Refuge
Right behind Sandbridge Beach is another destination you can visit.
The Back Bay National Wildlife Refuge has more than 9,000 acres of beach and freshwater marshes. The area is also full of dunes and some forested corners.
The refuge plays a significant role in the ecosystem of birds and other creatures.
It protects the habitat of migratory birds. Aside from this role, the place is a beauty in itself. It provides guests lovely nature trails and other activities like paddleboarding in some of its still waters.
When you visit, you can drop by the visitor center.
Here, you will have a view extending out across the waters. The picture also covers the islands of Back Bay.
The refuge has walking paths that provide guests with access to nature's beautiful wonders. Here, you can have wildlife viewing opportunities.
You can safely observe birds, deer, otters, and bobcats here. You can also check out muskrats and other critters from this vantage point.
7. Virginia Beach Surf & Rescue Museum
The Virginia Beach Surf & Rescue Museum mainly focuses on preserving the city's maritime heritage.
The museum pays homage to the Oceanfront communities. It also honors the Coast Guard.
While in the museum, you will learn more about the interactions between Virginia Beach and the Atlantic Ocean. You will know more about the local communities, too.
The museum has two galleries.
One of these galleries depicts the history of the American Coast Guard Services. The other focuses on the coast guard's predecessors, the Live-Saving Services.
It is also in these galleries that you will find information about shipwrecks.
There are more than a thousand images on display related to shipwrecks. Aside from the photos, there are about 1,800 artifacts exhibited here.
What is most interesting about the museum is its location.
The museum is, in fact, inside a genuine Life-Saving Station. The station dates back to 1903.
If you feel like reading through the area's rich history, there is a library on site. The library is an excellent source for oral histories, books, papers, and several other pieces of information related to the subject.
8. Military Aviation Museum
Located at the Virginia Beach Airport is the Military Aviation Museum.
The museum houses one of the largest World War I and II artifacts collections. Here, you will feast your eyes on military aircraft used during the two world wars.
The museum has four hangars. It also has exclusive space for its non-flying exhibits.
What is interesting about this museum is its beginnings. It started with a passion for World War-era aircraft. Over the years, it grew into what it is now.
The museum has an impressive selection of restored aviation displays.
Some of the most notable displays are the bi- and triplanes used during the First World War. The exhibits include an Albatross DVA and a Bleriot XI.
The World War II exhibits include a Spitfire and a MIG.
9. The Adventure Park
Let me boost your adrenaline for a bit.
Adventure Park is the perfect destination for this.
The park is a large forested area. It has ropes and platforms that dangle from the trees. There are swinging stairs and exciting aerial walks, too.
The park is famous for the adrenaline boost it gives its visitors.
All these amenities I mentioned are all high up in the trees.
Here, you can be safe and secure while you test your skills in the obstacle course.
Of course, while here, you will have the park's friendly staff assist you first. Once done with the instructions, the team will let you go on your own.
Don't worry.
While the staff would let you go on your own, they would still follow you to ensure you are safe.
Aside from the adrenaline boost, the park also provides beautiful views. And because of the trees at the park, the atmosphere here is always pleasantly relaxed.
10. Lynnhaven House
The Lynnhaven House showcases Virginia's exciting trends in architecture over the years.
These days, it is one of the best destinations to visit in Virginia Beach.
The attraction was built in 1725. It transports you to a bygone era in Virginia Beach.
It was a ship carpenter who once built the house. Aside from being a ship carpenter, he was also a plantation owner. He prided himself on his family home, design, details, and glamor.
It comes with a closed-spindle staircase and a teardrop pendant. The house also comes equipped with arches made of brick.
Francis Thelaball used to live here with his wife, sons, and several enslaved people.
Now the fun begins.
You can dress up as somebody from the 18th century when touring the house. The guide will tour you around the house and demonstrate how people lived in the 18th century.
A visit here would be a fascinating experience. It is a tour quite different from the others.
A tour usually lasts for about an hour.
Also, there is a souvenir shop at the end of the tour. Be sure to drop by.
11. Blue Seafood and Spirits
Right smack on Upton Drive in Virginia Beach is a restaurant known for its high-quality fresh seafood.
Blue Seafood & Spirits is famous for its food, ambiance, signature cocktails, wines, and beers.
Chef Charles Thain manages this restaurant that can seat 60 people simultaneously. It is an elegant destination with an ambiance that is like no other.
Try their seafood dishes like the tempura-fried shrimp and crab cakes when dining here.
However, you have to remember that the restaurant does not accept reservations.
Be there early.
12. Boat Tours and Water Adventures
Virginia Beach has a significant advantage in its geographical location.
Its location along the coast makes the city a perfect place where you can enjoy water-based activities. Here, you can go on a whale-watching tour. You can also charter fishing trips or kayak and paddleboard when you want to.
Different operators can help you with these activities.
Dolphin and whale watching tours are available at the Virginia Aquarium and Marine Science Center.
But if you are looking to go on a kayaking tour, try checking out the Sunset Dolphin Kayaking Tour. This tour comes with a two-hour paddling activity with chances of meeting up with bottlenose dolphins.
If you happen to be in the city around January until February, this is the season for whale watching. You can also try that out.
—
Virginia Beach is a city with a medley of activities in store for its guests. Some activities let you in on the sand, surf, and nature.
Some activities let you immerse yourself into the city's rich history, arts, and culture.
If you want, you can also relax in the city's parks. Or you can laze away on one of its beaches somewhere.
It does not matter whether you love food, are a history buff, or are an outdoorsy type of person.
Virginia Beach has everything that you need.
Have you been here before?
Which destination in Virginia Beach would you like to include on our list?
Let me know.