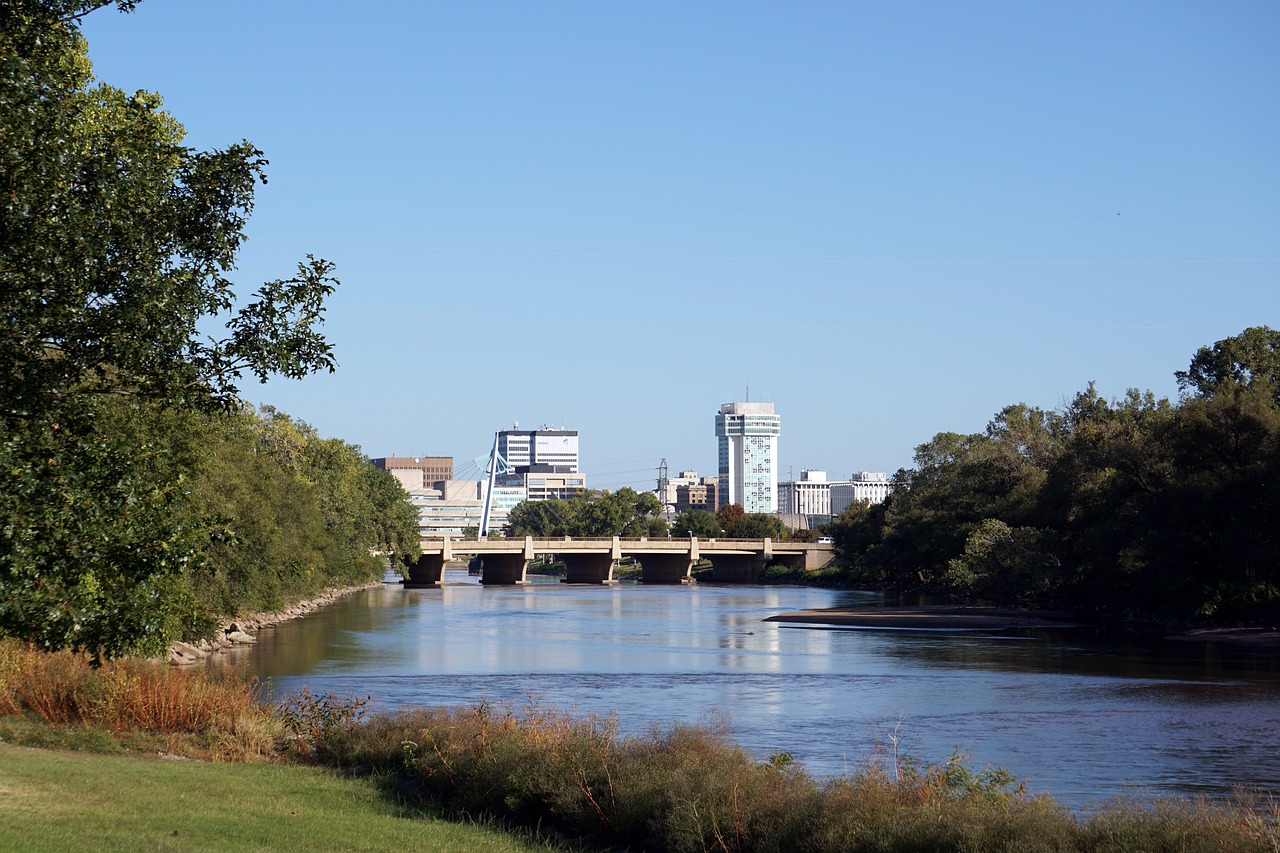 Wichita is the best place to live because it has a favorable low cost of living, a great job market, an outstanding arts and culture, and good quality education. Albuquerque, in contrast, offers the best scenery, but the job possibilities remain below average.
Wichita is widely recognized as the only "Air Capital of the World" because it is home to most aviation communities, including Beech, Stearman, Lear, and Boeing, and supporting parts and engineering companies. Job opportunities are enormous given the multiple big industries like oil and aviation.
On the contrary, Albuquerque is ideal because of its active lifestyle and the perks of having great trails for hiking and cycling. The city also has a great urban community with less commute time because of its trolley system. There are more outdoor events and activities that every family will love. Arts and cultural preservation are also a thing in ABQ.
However, Albuquerque does not offer a large variety of economic progression where its job market is still struggling. Both cities will give you the best options on what you want to prefer, and a good comparison will summarize your curiosity.
What Are the Pros and Cons of Albuquerque Versus Wichita?
Wichita is a beautiful city for families because of its low living expenses, developed job market, and better education system, although rampant crimes. Albuquerque is a good place for great outdoor fun, a beautiful hot air balloon ride, and cultural sites to enjoy your weekends but beware of the scorching sun and limited public transit.
There are significant benefits and loopholes that both cities possess, so we will give you a comprehensive comparison of living in Albuquerque and Wichita.
Living in Albuquerque
Pros
Great Outdoor Fun

Albuquerque is a beautiful place that is huge enough to have beautiful parks, golf courses, and trails to do outdoor activities. Most family weekend getaways happen in Roosevelt Park, the city's most significant open space for people to do biking, walking, and picnics under the tree.

One of the main attractions for sports lovers is ABQ is home to almost 28 golf courses. There are 20 extensive gold courses in the city, while eight are in their municipalities. You will have a great variety to choose where to spend your golf in your free time.

Albuquerque's Hot Air Balloon

Albuquerque is a wonderfully vibrant place because it hosts the international balloon festival in October and is the Hot Air Balloon Capital of the World. However, if you miss the opportunity to see the colorful hot air balloons in the sky, you can still fly with them even after the occasion.

Various metropolitan stores offer rentals at favorable prices, such as the rainbow Ryders Hot Air Balloon Co, APEX Balloon Rides, and Albuquerque Hot Air Balloon Rides. The price is costly but worth it. A single ride costs about $300-375.

ABQ Is Rich in Cultural Places

Albuquerque uplifts the preservation of its historical and cultural claims through different museums, national parks, and art galleries in the metropolitan. If you want to learn in-depth from Native American history up to the Indian Culture, you can freely visit their ABQ Museum or the Indian Pueblo Cultural Center.

The city is also home to 4 famous national parks with different artifacts and preserved polygraphs of ancient people. These are:
Bandelier National Monument
Carlsbad Caverns National Park
Capulin Volcano National Monument
Aztec Ruins National Monument
The ABQ BioPark
If you are someone that wants to have a great outdoor getaway filled with lots of learnings about our ecosystem, then head to Albuquerque. The town has a BioPark where you can significantly spend your free time exploring every part of it.
This sprawling park has four distinct places to visit: an aquarium with a great tank for sharks, a botanic garden, a wildlife park, and Tingley Beach. The park, however, is not free because you must purchase tickets to enter. Adult combo tickets are $22, and kids aged 3 to 12 are $8.
Cons
The Scorching Heat is Tormenting

Living in Albuquerque means you need to endure many hot sunny days all year round. The intermediate temperature during the warm season is almost 100 degrees Fahrenheit. The snow here is mild, which is favorable, but summer days are tormenting.

It is advisable to install the air-conditioning unit to brush off the heat, or an excellent swim to lakes and pools can do the trick. ABQ still records the high temperature from time to time, so if you would like to move here, prepare yourself to get a lot of doses of Mr. Sun.

Public Transit Is Not That Pleasing

Albuquerque's public transportation still struggles to improve. ABQ Bus Ride is the central public transit in the area, and there is no rail system inside the town. The developing roads and downtown also congest the city, especially during peak hours.

It can be a tremendous improvement to provide at least other better options in ABQ's public transportation.
Living In Wichita
Pros
The City Is the Air Capital of The World

Wichita, dubbed as the air capital of the world, is home to different aviation companies, one of which is the famous Textron Aviation, Learjet, Airbus, and Boeing AeroSystems. The town produces aircraft and caters to almost all private and public air transportation communities.

Wichita manufactured one in every eleven United States military planes, absorbing workers from neighboring states and effectively doubling the town's population. This gesture manages to result in one of the world's most extensive engagements of skilled aircraft workers.

Job Employment is Well

Wichita, Kansas, gives an incredible opportunity for everyone to land a job in the city. The presence of the extensive aviation and engineering industry is a perfect place for job hunters to start their careers. Aviation companies such as Spirit AeroSystems, Cessna Aircraft, and Beechcraft are influential employers.

Wichita's unemployment rate is 3.9 %, in line with the national average. Energy, business and technical services, information technology, and entrepreneurship are some other industries that provide excellent job opportunities.

Cost of Living Is Relatively Cheap

When you live in Wichita, the living expenses you will incur are lesser than in other similar cities. Wichita currently ranks 12 out of 228 cities in the United States with the least cost of living. The expense of living in the city is 13.70% lower than average. Relatively low housing costs account for a significant part of the expense.

Most Wichita occupants are property owners because residence prices are low and can go as cheap as $129,000. The average rent is $871, significantly lower than the national average of $1,391. Food products, universal healthcare, and miscellaneous expenses are lower than average; however, utility costs are higher.

Education System in Wichita Is Great

Wichita has a better public education system. Among 91 schools, the student-teacher ratio is 15 to 1. Six Wichita high schools ranked among "Unites States News and World Report's Best High Schools."

Wichita State University is one of the highest bargains for a collegiate education because it offers high-quality education at a low cost. Education in the city is also improving, making it a perfect place to start a family.
Cons
Crime Rate in Wichita Is Tremendous

Wichita is a good neighborhood, but the high crime rate is not appealing. Wichita's overall crime rate is 139 % higher than the national average, and the total year-over-year crime rate has risen by 9 percent in the period.

Murdock is the most dangerous neighborhood in Wichita, with 252 % higher crime rates than the national average. Murdock has a violent crime rate that is higher than the national average. There are 4,021 crimes in every 100,000 people. There is still a good neighborhood in the city where you can move if you want to live in Wichita.

Tornado Season in Spring

Even though Wichita experiences four seasons, one of the main things to watch out for is the Tornado Season in Springtime. There were 96 chronological tornado occurrences with recorded magnitudes of 2 or higher near Wichita, Kansas.

Kansas averages more than 100 twisters per year, more than many other countries. According to the weather network, a deadly tornado struck Wichita and Andover on April 26, 1991, killing seventeen people.
Albuquerque Or Wichita – Which Is Cheaper?
Wichita, Kansas, is 9.9 % less costly than Albuquerque, New Mexico, in which average property expense is the most significant, considering the cost-of-living difference. In Wichita, the median housing cost is 36.5% lower than ABQ.
Wichita has a good standard of living, particularly in terms of homeownership, due to its low housing values.
Comparison Table of Living in Albuquerque, New Mexico vs. Wichita, Kansas
| | | |
| --- | --- | --- |
| Living Expenses | Albuquerque, New Mexico | Wichita, Kansas |
| Housing and Rent | 88% | 55.9% |
| Utilities | 97.2% | 103.5% |
| Food And Groceries | 96% | 95% |
| Transportation | 89.4% | 80.4% |
| Health | 81.1% | 102.1% |
| Miscellaneous | 97.1% | 97.3% |
Based on the Data of which 100 = U.S. National Average
>100 means more expensive
<100 means cheaper than the U.S. average
Housing and Rent Costs
You can purchase a decent home in Wichita as low as $129,300 while it will cost you $203,500 in ABQ. This difference makes Wichita cheaper in median home pricing. No wonder most habitats in the area are homeowners.
Rental fees in Wichita are also $300 lesser than ABQ, where you can lease accommodation for $1,039 compared to ABQ's $1,339.
Utility Costs
Albuquerque has a cheaper fee for utility expenses compared to Wichita. ABQ has an average utility expense of about $232 for basic things such as water, energy, internet, and garbage collection. At the same time, Wichita can cost as much as $260 for the same plan.
Also, Wichita exceeded the national average in percentage as it got 103.5%.
Food and Groceries Costs
Meals and basic groceries in Wichita are 1% lesser than in Albuquerque. The difference is not that big, making the prices of essential commodities in both cities usually the same. One lunch menu in Wichita can cost $12, while you will pay $15 in ABQ for the same meal.
Transportation Costs
Wichita will charge you less when you opt to ride a bus or a taxi service. You will likely pay $11.9 in a free-standing and waiting taxi service in Wichita, and ABQ will charge you at least $24 for the same deal.
Both cities have the exact cost for a community bus ride, which costs $1 per trip. When Wichita's gas service charge is only $0.56 and ABQ's is $2.52, the gas price significantly impacts travel expenses.
Health Care Costs
Health care system cost is cheap in Albuquerque rather than in Wichita. The rate of Wichita is higher than the national average because it provides high-end services to its people. ABQ falls below the national average with a percentage of only 81.1%.
Taxes
The property tax rate in Wichita is 1.317 %, whereas the consolidated sales tax rate is 7.5 %. This rate is 6.5 % Kansas state tax and 1% Sedgwick County sales tax.
On the other hand, Albuquerque has a notional cost of sales tax of 7.88 %. The prevailing sales tax rate in New Mexico is 5.13 %.
Is Albuquerque Safer Than Wichita?
Albuquerque is unsafe when you get into the secluded neighborhood with rampant crimes compared to Wichita. The annual number of crimes recorded in ABQ is as much as 100 in a year.
Both urban areas have a higher crime problem than the national average, but ABQ outperforms Wichita in violent and property crimes. ABQ's crime is troubling, especially in the area of Quigley Park. The crime rate surges to 332% more in town.
Wichita's neighborhood is also not as safe at some point. Murdock is a neighborhood that has almost 252% more crime in the town, while next to it is Matlock Heights with 201%.
Is Albuquerque Bigger Than Wichita?
Albuquerque has a land area of approximately 187.2 square miles, making it larger than Wichita, with a total land area of 161.2 square miles. ABQ has a more significant population than Wichita, with over 562,540 residents.
Albuquerque is more prominent in terms of the size of the land where it sits and the population. Albuquerque, also known as ABQ, is the most populated city in New Mexico. On the other hand, Wichita is the largest city in Kansas and the surrounding counties of Sedgwick County, with over 391,731 people.
Both cities have a high record in population density, but ABQ is slightly larger with 3,004.7.
Is Albuquerque Warmer Than Wichita?
Albuquerque records many temperatures that exceed 100 degrees Fahrenheit, making it warmer than Wichita. ABQ has a sunny sky for 280 days in a year, and its precipitation falls below the national average.
Albuquerque is warmer than Wichita, even though the city's location is high. The rainfall in ABQ is only 11 inches compared to Wichita's 34 inches. Each summer, sections of the valley and West Mesa places in Albuquerque encounter extreme heat above 90 °F (32 °C) and 100 °F (38 °C) as part of regular or weather extremes.
Wichita is a wet city that commonly undergoes severe weather, with thunderstorms expected in the spring and early summer. This season is brutal by many hails and prevalent lightning.
Is Albuquerque Better Than Wichita?
Wichita has a high quality of life and a decent standard of living due to the low living costs and more career opportunities. This city's economic development is accelerating. On the other hand, Albuquerque has a low cost of living, and the employment market is not attractive.
Wichita lives to its name as the air capital of the world, with more business ventures in the aviation industry flourishing. This city is exceptionally livable, where you can have a good quality of life with lower living expenses yet high career prospects.
Families will be glad to relocate to town because of the friendly neighborhood and top-graded schools around the metropolitan. On the other hand, Albuquerque is also a decent city having a low cost of living, but the labor opportunities are still at work.
Both cities have similarities, and percentages in the overall indexes do not go far; however, Wichita knocks off some areas which ABQ is still polishing.
Albuquerque, New Mexico versus Wichita, Kansas – Where do you consider moving? Let me know your thoughts below.