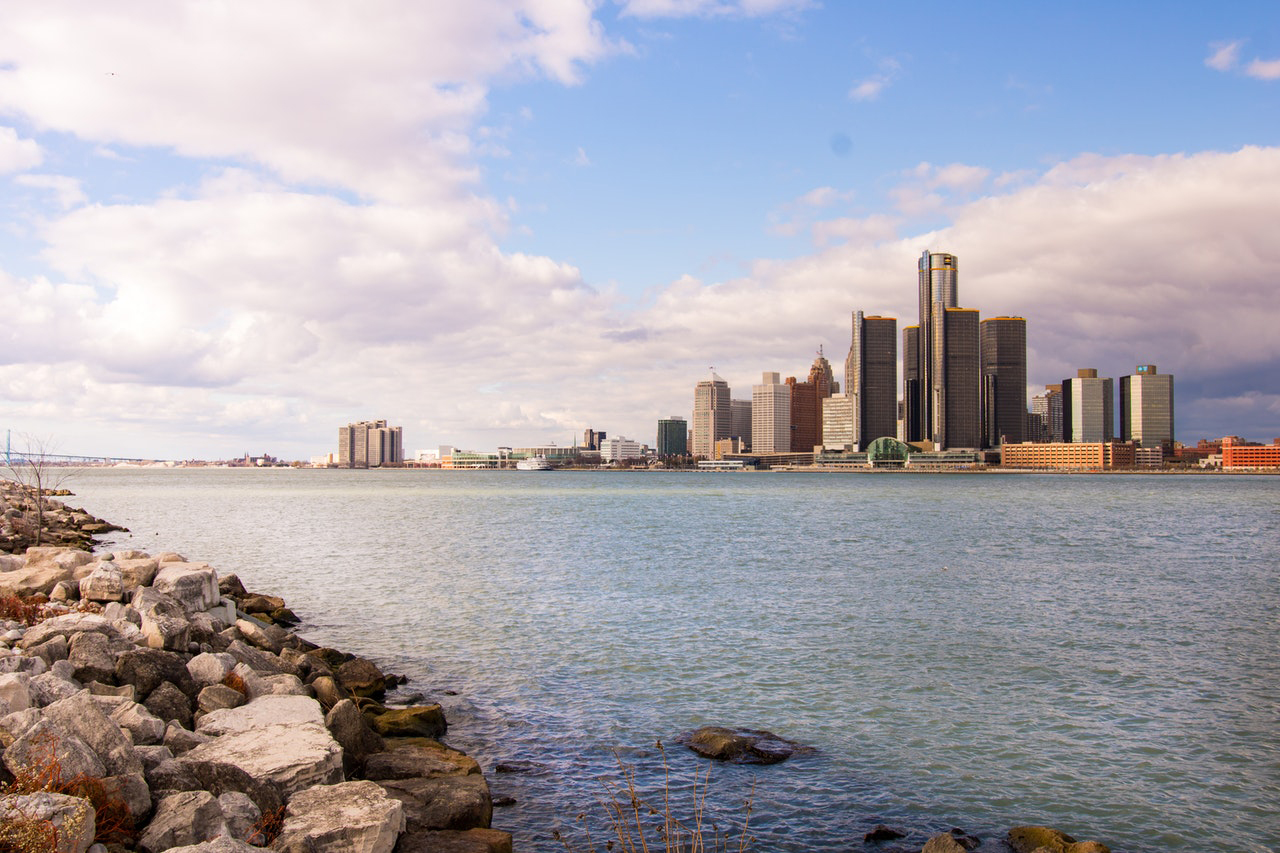 Lying between Lakes Erie and Huron is Michigan's largest city, Detroit. Its downtown sits at the water's edge, lined with numerous shops, neighborhoods, restaurants, and skyscrapers. Nonetheless, fun things to do in this city are not only limited to its downtown area.
Dubbed the Motor City, you may think it will be challenging to go around the metropolis without a car. Fret not; Detroit developed an integrated and improved public transport system. As USA's auto-making hub, mobiles in this city are popularly cheap, you can reasonably expect most residents to ride their cars.
The Motor City is full of fascinating attractions that enabled me to create many unforgettable memories. For tourists, Detroit may be quite spread out, but with the help of its public transport system, you can easily navigate through the different tourist spots. I am happy to share with you the 12 things to do in Detroit without the need for a car.
1. Ford Piquette Avenue Plant
Ford Model T Car's birthplace, Ford Piquette Avenue Plant, is among the crucial automotive heritage sites globally. Constructed in 1904 with a late Victorian architectural style and three stories tall, Ford Piquette Avenue Plant is Ford Motor Company's oldest purpose-built factory.
Vintage Ford car models such as B, C, F, K, N, R, S, and T were all built in this factory. Since Model-T Automotive Heritage Complex purchased the factory in 2000, Ford Piquette Avenue Plant has been operating as a museum. It is open all year to the public and caters to various private events from weddings to car shows.
Touring the historic site took me back in time as I walked through the original wooden floorboards and maintained vintage model cars. The facility's "experimental room" was a sight to see where previously used tools, drafting tables, and rocking chair are still present in the area.
2. Detroit Historical Museum
Built-in 1928, the Detroit Historical Society founded the Detroit Historical Museum to preserve the city's rich history. However, the City of Detroit has owned the museum and its collections since the transfer of ownership in 1945.
In 2006, the Detroit Historical Society reclaimed its role as a day-to-day manager of the Detroit Historical Museum, the 250,000 artifacts, and the Dossin Great Lakes Museum. Various exhibits, including dioramas, old street reconstructions, and model railways, captivated my curiosity during the tour.
It is no wonder that the museum is a must-visit site since it gives an in-depth understanding of Motor City's history and present ventures. As the USA's automotive industry center, it immensely helped the city's bustling economy. Detroit Historical Museum is at 5401 Woodward Avenue, Detroit, Michigan.
3. Pewabic Pottery
Located at 10125 East Jefferson Avenue, Detroit, Michigan, Pewabic Pottery began welcoming its doors to the public in 1903. Founders Mary Stratton and her partner, Horace Caulkins, built the Pewabic Pottery that outlasted all other competitors of their time. The shop is known for its handcrafted pottery and ceramic tiles products.
Currently, Pewabic Pottery operates as a dynamic cultural hotspot, ceramic arts education center, working pottery, and architectural style studio, attracting visitors worldwide, including me. Its museum is full of a beautiful collection of praiseworthy American ceramics. Their Spring 2022 collection is my favorite because of its colorful and blooming designs.
Aside from Pewabic Pottery's exhibits, their Art class is an exciting activity to try. They will teach you the different techniques and basics of creating your craft by doing clay and work. It can get muddy and messy, but it is all worth trying.
4. Belle Isle Park
Belle Isle Park is 982 acres of an island located at 99 Pleasure Drive, Detroit, MI 48207. This enormous tourist spot aims to restore, preserve, enhance, and protect the city's natural environment and historic structures through its unique activities for the enjoyment of all.
By visiting Belle Isle Park, you don't need to travel far to see some of the top tourist attractions in Detroit, such as the Dossin Great Lakes Museum, Belle Isle Nature Zoo, and Belle Isle Aquarium. These tourist attractions are all within the vicinity. You will never run out of things to do in this enormous park.
Some of my favorite activities in Belle Isle Park are relaxing at the Anna Scripps Whitcomb Conservatory and taking a dip at the nearby half-a-mile beach. Another action not to miss in the park is its Belle Island Golf Range, where you can practice chipping, driving, and putting.
5. Detroit Institute of Arts
A 130-year-old museum with over 65,000 artworks situated in the heart of Detroit Midtown is the Detroit Institute of Arts. Founded in 1885, the museum impresses visitors and locals alike since its collection ranks top six in America. It is also known for its diverse art collections spanning African, American, Asian, European, Native American, Oceanic, Islamic, and Ancient.
Detroit Institute of Arts showcases notable masterpieces from famous artists such as Picasso, Rembrandt, Matisse, and Van Gogh (self-portrait). Additionally, there are over 100 diverse galleries showcased in its massive space. A Performing arts collection is also present, like the Paul McPharlin Puppetry Collection.
I enjoyed joining their guided tour and attended some of their workshops during my visit. Moreover, witnessing excellent, accessible, and fun performances on their Friday Night Live event performed by several international and local musicians is a great memory to cherish.
6. Eastern Market
Eastern Market, the most significant historic public market in the United States, is in Detroit. With over 43 acres and operating for more than 150 years, Eastern Market attracts thousands of guests locally and internationally. If you are currently in downtown Detroit, this market is only a few blocks away.
Since its opening in 1891, the Eastern Market has consistently expanded its area and accomodates more than 200 vendors. It has three different market days per week: Tuesdays, Saturdays, and Sundays. Aside from livestock, vegetables, and fruits sold in the market, there are other shops and restaurants you can find.
I was lucky enough to visit Eastern Market one Saturday during my trip to Detroit. Numerous vendors lined up and occupied the vicinity amidst the thousands of visitors that day. I highly suggest starting your journey at the Welcome Center in Shed 3 on Adelaide Street, where available ATMs to withdraw sufficient cash.
7. Fox Theatre
Situated at 2211 Woodward Ave., Detroit, Michigan, Fox Theatre is the city's crown jewel because of its globally recognized music venue and cinema. It initially opened its doors in 1928 and has been the most prominent surviving movie venue.
Fox Theatre boasts a 5,048 seating capacity. It also hosted award-winning broadway musicals, concerts, children's performances, and standup comedies. Furthermore, the theatre ranked sixth in America and seventh worldwide in Pollstar's list of Top 200 Theatres Year-End Rankings in 2019.
The main reason Fox Theatre is worth visiting is its historical standing in the Motor City. It deserves its National Historic Landmark recognition awarded by Detroit's National Park Service. Sadly, I wasn't able to catch a performance during my visit, but I was able to tour the stunning interior of Fox Theatre.
8. Campus Martius Park
Detroit's iconic gathering place, Campus Martius Park is a park famous to tourists and locals alike. It was re-established in 2004 due to a fire incident in 1805. The one-acre park received several recognitions, such as USA Today's Top Public Square for two consecutive years and space design, operations, placemaking, management, and programming-related awards.
Besides being a famous gathering place, Campus Martius Park offers outdoor cafés and bars, food trucks galore, a mini beach, monuments, and green spaces. It is also a venue for weekend festivals and activities. The park is accessible by riding the city's light rail.
During my short trip to Detroit during winter, I never missed the chance to try their skating rink. It gave a modern winter wonderland feel with Detroit's Christmas Tree as the dramatic background. If you ever plan to visit Detroit during the winter season, Campus Martius Park's The Rink should be top of your go-to list.
9. Detroit Riverwalk
One of Motor City's top attractions is its Riverwalk. It is a popular place for a stroll, jog, or any activities perfect for groups or solos. Detroit Riverwalk stretches more than three miles from Rosa Parks Boulevard to Belle Isle Bridge. The city also plans to extend the area for another two miles.
Managed by the Detroit Riverfront Conservancy, Detroit Riverwalk continuously welcomes people from all walks of life to the unique Detroit experience. It is also the ideal place to visit without riding a car. You can see various other attractions by strolling on the Detroit Riverwalk.
During my Motor City getaway, I started my day by strolling along the pathways of the Detroit Riverwalk. GM Renaissance Center, Mt. Elliot Park, and Detroit Institute of Arts are the attractions I visited near the area.
10. Detroit Princess Riverboat
Located at 131 Atwater St, Detroit, MI 48226, Detroit Princess Riverboat will take you on tour beyond the lands of the Motor City. Built-in 1993, with a capacity of 1500 passengers, you can find the enormous Detroit Princess Riverboat in its docking area downriver from Hart Plaza.
If you pass by the Detroit Riverwalk, you'll be able to notice the Detroit Princess Riverboat from afar. This five-story vessel offers sightseeing tours of about two to three hours with large outdoor viewing areas on its fourth and fifth decks. They also cater to private and public events such as New Year's Eve and weddings.
Including the Detroit Princess Riverboat on my bucket list is one of the best tours I have ever had. The ticket I bought included dinner meals while watching the city's picturesque sunset. It was romantic and memorable, making it a highly recommended tour.
11. GM Renaissance Center
GM Renaissance Center is the city's dominating skyscraper located near the Detroit Riverwalk. It welcomes over 14,000 tenants and visitors daily and with 73 stories high. Moreover, it also has 5.5-meter square feet of office, dining, retail, entertainment, residential, and lodging space.
Upon entering the GM Renaissance Center, I was utterly amazed at its sophistication. The building offers a modern Detroit experience by providing numerous activities to try. You can dine, stay, shop, play, and meet in GM Renaissance Center.
The building also showcases 44,000 square feet of space for new and specialty vehicles in its massive GM Showroom. I never missed the chance to go to their observation deck located on the 72nd floor, showing me excellent views of Detroit.
12. Detroit Public Library
On March 25, 1865, Detroit Public Library opened for service, where its first collection, composed of 5,000 books, was stored in one of Capitol High School's rooms situated on Griswold Street. The Detroit Board of Education managed the public library until 1881. However, the Detroit Library Commission took over in the succeeding years.
Detroit Public Library has been at 5201 Woodward Avenue, Detroit, Michigan, since March 21, 1921. Currently, there are 23 branches and ten departments within the main library. Its collection also grew from only 34,000 books to 70,000. Detroit Public Library is on the National Register of Historic Places list and has attracted thousands of visitors yearly.
I had the pleasure of taking a one-hour tour of the public library. After exploring the library's history, art, and architecture, I checked the library's list of new arrivals. Luckily enough, I found my favorite author on their list, Colleen Hoover! Clear enough, the Detroit Public Library is up to date and is a must-visit, especially for bookworms.
Detroit is a vast city and unique for its bustling historical automotive industry. For those who don't have a car or want to go around the city using the public transportation system, the Motor City never goes short of things to do and explore. Several attractions in Denver are only a few meters from each other; hence, there is nothing to worry about the distance.
I hope this list inspires you to take the risk and explore everything Motor City offers without needing a car. If there are any places you look forward to visiting in Detroit, please don't hesitate to share your answers below and engage in conversations with fellow adventurers.