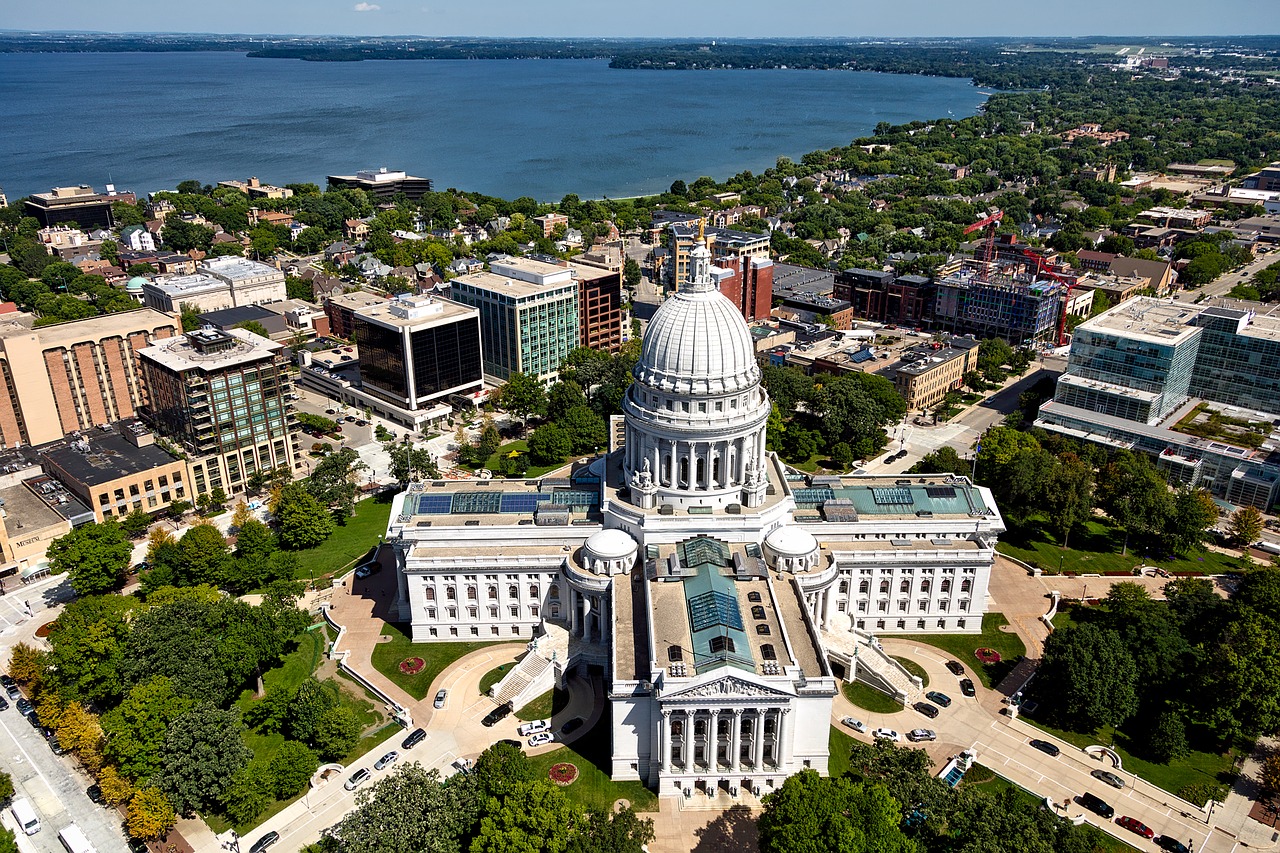 Living in Madison, Wisconsin, is better compared to living in Albuquerque. Madison has a strong job market, great schools, and endless recreational activities. In contrast, Albuquerque has a struggling job market and a higher crime rate.
Of course, Albuquerque (ABQ) may be suitable for some depending on preference and needs. The cost of living is cheaper in ABQ than in Madison. Weather is tolerable in ABQ compared to Madison, where the temp can drop to -7 degrees during the winters.
There are several things to discover about these two cities. They both have strong and weak points and choosing which city is better can also vary. Hence, we compared and contrasted these cities to determine the best place to live.
What are the Pros and Cons of Madison City vs. Albuquerque City?
Living in Albuquerque and Madison has corresponding pros and cons. Madison has a lucrative job market and excellent schools but imposes high state taxes. In comparison, Albuquerque provides affordability, but the crime rate is a major letdown.
Madison Living
Pros
Superior location

One of the top considerations when moving to another city is the location. Madison will not disappoint when it comes to its location. The town is ideal for raising a family because of several outdoor getaways surrounding it.

The city is close to other significant areas, including Green Bay and the Bay Beach Amusement Park. It is also near the Wisconsin Dells, a great vacation spot for families.

You can also easily visit Chicago from Madison, enjoying the Millennium Park and Navy Pier. The place is less than three hours drive from the south of Madison City.

Lucrative job market

When it comes to employment opportunities, the city of Madison has something to boast about. The city made it to the top 20 for the best places to find a job in the United States. It also has a lower unemployment rate of 2.1%.

When you move to the city, you can find a job in different sectors. Careers in tech, insurance, energy, and healthcare are available in Madison. Big names such as Epic Systems, American Life Insurance, and Alliant Energy have stations in the city. With this competitive job market, the city attracts young professionals, too.

Plenty of learning institutions

For those moving with school-age children, Madison City is ideal. The city has plenty of learning institutions to offer, from K-12 to universities. You can choose West High School. Kromrey Middle School and Elm Lawn Elementary. They are state-funded institutions, too.

Excellent colleges and universities are also present in Madison. It is home to the University of Wisconsin-Madison, with 9,000 program offerings. The institution also has 200 undergraduate majors in its belt.

Full of fun and festivals

There are different things to do in Madison City.

It celebrates various festivals all year round.

The city is the perfect place to go out with your family and experience food, festivals, and more.

One of the events you should not miss is the Taste of Madison. The event has free concerts and mouthwatering food like cheese curds and BBQ ribs.

Other food fests you can attend are the Yum Yum Fest, Brat Fest, Monona Community Festival. You will never run out of exciting food activities to look forward to every year when you live in the city.

Madison summer and winter fun

One of the best things to enjoy in the city is the changing season. You will experience varied activities in summer, as well as in winter. Summer in Madison is excellent for visiting parks and zoos. The city has the Henry Vilas Zoo and the Terrace at Memorial Union.

During the winters, you can go ice fishing on Lake Waubesa. Or head to the Devil's Head Resort and Lakeshore Path. The Madison Winter Festival is another fun event you can experience when living in the city.
Cons
High taxes

Even though living in Madison is average, you will see yourself paying higher taxes. It ranked 5th among the different states and cities with higher taxes. Local taxes are 13%, which is only behind Illinois and other Northeast states.

More than that, Wisconsin placed 6th among the states imposing high property taxes. Living in Madison exposes you to paying high taxes under Wisconsin.

Harsh winters

For those who want to escape freezing winters, Madison is not the place to settle in. The city has winters where the temperature never rises above the freezing point and snow does not melt. The city temperature can drop -7 degrees during the winters.
Albuquerque Living
Pros
Affordable housing market

Owning a property in ABQ is easy because of its affordability. There is plenty of properties and real estate in the city with reasonable prices. You can already buy a house if you already have $230,000.

You will only spend $800 a month when you choose to lease a residential property in ABQ. Rent is also cheaper compared to other cities in the United States. The Four Hill, Ladera Western, and Singing Arrow have low rates.

Low cost of living

Another competitive edge of ABQ is its low cost of living. The cost of living in ABQ is way below the national average. You can both save and own a property if you choose to live here. Based on recent data, the family of four in ABQ only requires $73,839 to live comfortably in the city.

Lower tax rates

Compared to Wisconsin, which is known for higher taxes, the taxes in New Mexico are lower. The property tax in ABQ is only 0.96% which is below 1.21% of the national average. The state income tax is also lower, starting from 1.7%, depending on your income bracket.

Transportation

Transportation is very convenient in ABQ. Compared to other big cities, the traffic level is tolerable. You are most likely to encounter a moderate flow of traffic in significant areas of the city. Traffic congestion is minimal, and you can drive to work conveniently in ABQ.

Plenty of outdoor activities

ABQ is a great place if you love spending time outdoors. There are lots of fun and exciting things to do around the city. You can visit the Rio Grande Nature Center State Park, Old Town ABQ, Sandia Peak Tramway, and more.
Cons
High crime rate

The crime rate is a significant letdown in Albuquerque. The city always gets a bad rap for the crime. Drug-related violent crimes are usual in the town. Statistically speaking, the crime rate in the city is 50% more than the national average.

Below average public education

Aside from crime, education is also flawed in ABQ. The city has a below-average public education which requires massive improvement. The public education system in the city caters to 84,000 students across its 143 public schools.
Madison City or Albuquerque – Which is cheaper?
The cost of living in Albuquerque is cheaper than the Madison City. In terms of affordability, Albuquerque is a better place to live. It is 10.5% more affordable to live in ABQ than in Madison, Wisconsin.
| | | |
| --- | --- | --- |
| Living expenses | Madison | Albuquerque |
| Housing | 111.1% | 88% |
| Food & Groceries | 97.9% | 96% |
| Health | 86.3% | 81.1% |
| Utilities | 107.5% | 97.2% |
| Transportation | 85.8% | 89.4% |
Data is based on 100 = US National Average
>100 means more expensive than the national average
<100 means cheaper than the national average
Housing cost

The most significant factor for the price difference between Madison and ABQ is the real estate value. It is 21% cheaper to buy a house in Albuquerque than in Madison City.

The average rent of a 2-bedroom apartment in Madison will already cost you $2,390 compared to ABQ for $800. The median home price is also higher, requiring you to have $370,000 to buy a house.

Utility cost

Utility cost is also more expensive in Madison compared to ABQ. Energy bills can cost you around $176.38 per month and a $188.01 phone bill in Madison. In contrast, $142.85 per month in electricity and $152.27 per month in telephone bills.

Food and groceries

Food and grocery prices are comparable between the two cities. There is only a 1.9% price difference, whereas Madison is more expensive. You will not experience significant price differences in daily food expenses, too.

Transportation cost

It is more affordable to go around Madison City than ABQ. You will pay 4.2% more in ABQ in public commute than when you live in Madison City. Given that the transit system in Madison is more up-to-date, the general fare also tends to be lower.

Health care cost

It is more expensive to receive medical care in Madison compared to ABQ. Visiting a doctor is $108.83 in ABQ, while $135.51 in Madison City. The cost of healthcare in Madison is around 14% more than in the other city.

More than that, healthcare in Madison is 22% higher than the national average.
Is Albuquerque bigger than Madison?
Albuquerque is bigger than Madison City by land. ABQ has a land area of 189.5 square miles, while Madison only has 94.03 square miles. Albuquerque is also the largest city in the State of New Mexico.
Since the land area is twice as large as Madison City, the number of people residing in ABQ is also higher. About 545,852 people live in ABQ while 269,840 in Madison City, based on the United States census of 2010.
However, in the economy, Madison performs better than Albuquerque. The city of Madison offers more job opportunities than ABQ.
Is Madison safer than Albuquerque?
Albuquerque is notoriously known for having a higher crime rate. It is safer to live in Madison than in Albuquerque. The violent crime rate in Albuquerque is 51%, while Madison only has a 16.7% rate.
Madison is a perfect place to settle down if you are looking for one of the safest cities in the US. Based on the US News and World Report, the city is at the 10th spot for the safest places in the county. Green Bay is the safest place in the town, too.
The violent crime in the city is only about two-thirds of the national level. Madison is also the fifth place for the best places to live for quality of life. It came 49th as the best city to retire.
Is Albuquerque warmer than Madison?
Albuquerque is way warmer than the city of Madison. The average recorded high temperature in ABQ is 91.8 degrees, while only 81.9 degrees in Madison City. The temperature in ABQ is even higher than the national average of 85.8 degrees.
Aside from high temperatures, ABQ also experiences a hazy day. During the wildfire season, the smoke and debris from the forested area drift over the city. It obscures the quality of the sky in the town, making it clouded, misty, and vague.
On one side, the weather in Madison can be extremely harsh during cold seasons. Snow never melts, and the temperature barely goes up to above zero degrees.
Is Madison better than Albuquerque?
Madison is better than Albuquerque when it comes to quality of life. The city has a lucrative job market and is safer than ABQ. It is perfect for job seekers, families, young professionals, and even retirees.
More than that, the living cost is just about the same as the national average. You will enjoy plenty of things in the city, without compromising the cost of living.
If you are moving with a family, you will find Madison an ideal city to settle in. Its rapidly growing economy, schools, and location will charm you to move to the city.
Madison versus Albuquerque – Where do you consider moving? Let me know your thoughts below.