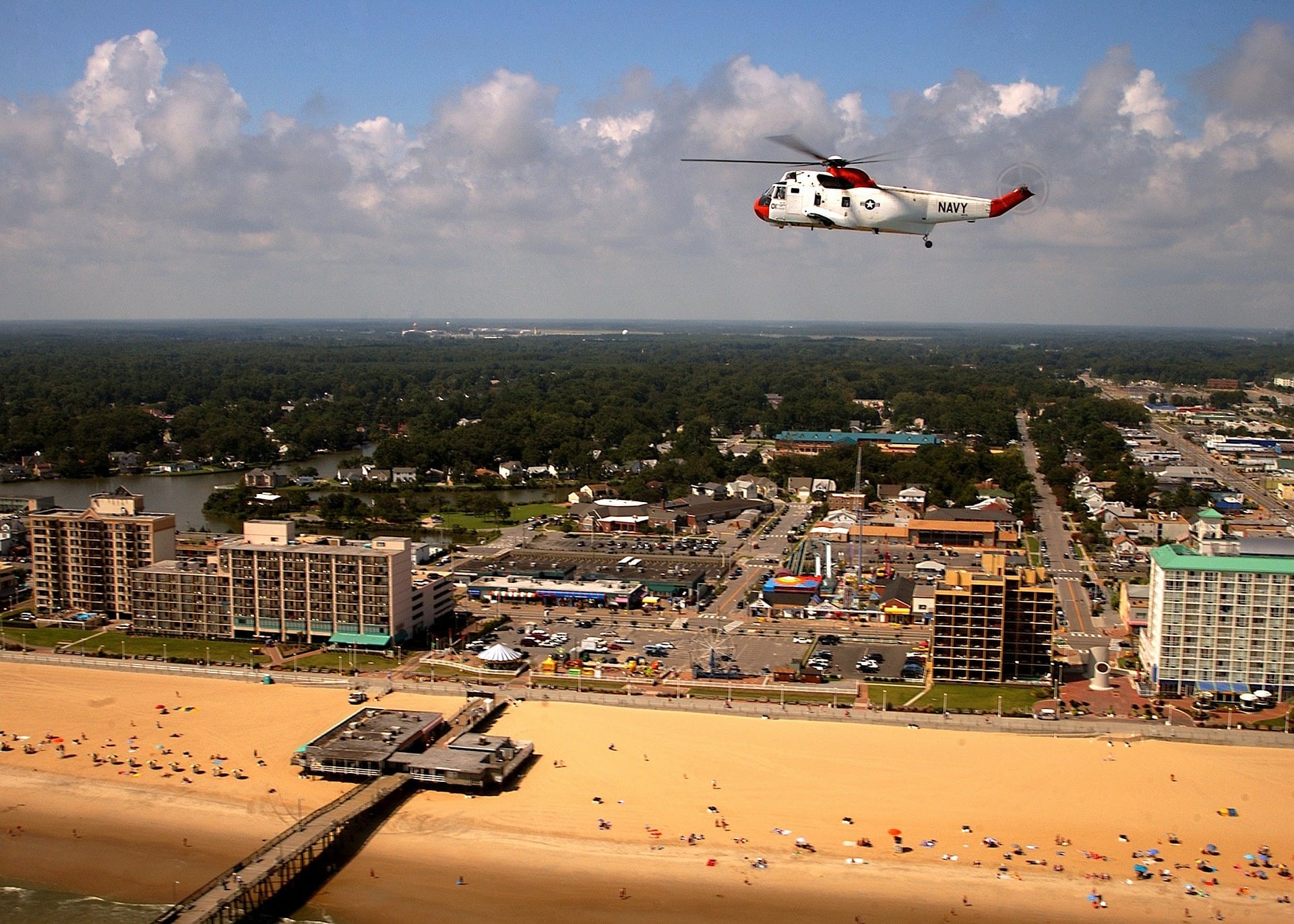 According to USA Today Weekend, it is the best place to live in America today.
Virginia Beach provides for its locals as well as its tourists a vibe that is unlike any other. Its lifestyle is unmatched by other locations.
Out of the many major American cities, Virginia Beach is one of a kind.
Here are the reasons why.
Is Virginia Beach a good place to live in? – The Beach, The Outdoors, and Everything Else in Between
Virginia Beach is one of the best places to live in right now.
It gives its locals a dense suburban vibe. Also, this is one of the few places in the US, where locals own their homes.
The city has a lot of restaurants, parks, as well as coffee shops. Families and yuppies all enjoy living in Virginia Beach.
You want to know the reasons why?
Read on to find out.
The Good Side
You would already know by now that Virginia Beach is a great place to live in.
From the weather to its amazing landscape, the city never disappoints. Here are a few more things I'm sure you'll love when living in Virginia Beach.
As the Name Itself Says… The Beach!
When you hear the name Virginia Beach, what comes to mind? The Beach, I'm sure!
You see, when you live in Virginia Beach, it's a pretty big deal. I mean, you get the Beach a few minutes away from home. Then you hear the waves every day of your life. You hear it every day; you sometimes even forget that it's there!
But if you are a beach lover, picture yourself living a few minutes away from the Beach. And whether you like 'em crowded or not, there will always be something for you.
The North End is a local favorite. And even if it is, you'd find it quieter than other beaches. Sandbridge is another beach in VA Beach. It is secluded if that's what you like the most.
But if you love mingling with the crowds on beaches, go head to Chic's Beach.
Virginia Beach is a beach destination. There are all sorts of beaches. And this is one of the main reasons why people come to visit or move in.
And so, if you can't live without a tan, this is the best place to be in right now.
A Small Town City
That's quite a contrast!
But in a good way, this contrast is what makes Virginia Beach a great place. It has a population of about half a million people. That's quite a lot if you ask me.
But the vibe itself is something else. The downtown area is not as big as you'd expect it. It is not super congested (although I would have to tell you about the traffic later).
Plus, the community is amazing. You get to meet a lot of the locals. There is a small-town vibe in a city setting. Do you get what I mean? I know you do.
The Best Place to Stay Outside
If you like the outdoors, you would love Virginia Beach.
One of the advantages of this city is that it offers a lot of outdoor activities. No matter where your interests lie, there will always be something for you.
First of all, let's talk about parks. There are more than 300 publicly-funded parks in the city. There is the Landing State Park, which is a great place for running and hiking. Then there's the Back Bay Wildlife Refuge. This is a perfect place to canoe, kayak, and fish.
And even if it is named as Dismal Swamp, it never is dismal. It is a beautiful oasis whenever you feel like going to a calmer place. You can also hike around Lake Drummond.
It has hundreds of parks all over the city. If there is something here, it is that the city values your peace. What could be more important than that?
The Educational System
If you have kids, a major consideration would be how good the schools of a certain city are. How does Virginia Beach fare in this aspect?
Virginia Beach has some of the best schools in the state. There's Ocean Lakes, Princess Anne, and Salem. Plus, there are others like First Colonial, Cox, and Kempsville.
Aside from these, Virginia Beach is full of notable educational institutions. When education is a factor that you consider before the transfer, Virginia Beach is the place!
The Bases
If you are working in the military, there is another advantage you should know of.
The state of Virginia has bases everywhere. This includes the Ocean Naval Air Station and other bases.
As for Virginia Beach, there are a lot more bases than you can think of. There is the Little Creek Joint Expeditionary Base. Then, there's the Norfolk Naval Base, which is the largest in the world. There's also the Portsmouth Naval Shipyard.
You are surrounded. And it doesn't sound as great as when you are in Virginia Beach!
The bases in Virginia Beach are of great help to the city's safety. Who would ever try doing something bad when everywhere you go, a military base stands? No one. Absolutely no one.
The Neighborhoods
One of the things I like about Virginia Beach is the houses. As you already know by now, most locals own their houses. But that's a different story altogether.
What you need to know is that there are different neighborhoods. Each of these goes with houses that suit everybody's tastes.
For starters, we have brick houses. You know, the city has a rich history. As such, there are a lot of houses that are built of bricks. These houses were built at a time when houses made of bricks were the IN thing.
Aside from these neighborhoods, some have modern dwellings. Plus, there are communities where you can even hear the whisper of the leaves at night. And I don't mean to say it creepily.
It is just beautiful knowing there will always be something for everyone.
The Bad Side
A lot of us don't want to talk about negative things. But these are things we have to discuss.
Let's put it out there and get it over with.
Here they are.
The Jet
First, let me start with a couple of disclaimers. This undesirable fact is not undesirable for everyone. In fact, some locals don't mind the noise. But there will always be those that will mind.
The second disclaimer is that this problem isn't something you'd find all over town. So, chill. Choose wisely.
You see, the Oceana Naval Air Station has a landing strip on one part of Virginia Beach. This runway creates all the noise. That is if you live near.
There are times that you would find yourself stopping in the middle of a conversation. You just can't continue when all you hear is that noisy jet landing or taking off. You could probably wait about half a minute before continuing on.
But as I've said earlier, this does not bother everyone. So, get used to it and move on with the conversation.
Traffic's Bad… At Least for the Locals
The word "bad" is a subjective word.
Some people can tolerate Virginia Beach's traffic. The locals cannot.
Again, it can be subjective. When in Virginia Beach, a trip that normally takes 5 minutes gets to be around 15. That's not too bad if you're from New York or some other major city. But for the locals, hear them out. It can be frustrating.
The Roads Confuse
OK. So here's another thing you should take note of.
The roads can be confusing. The interstates that run from all directions are mind-boggling. Not only that, but even the major roads can connect at weird angles. It is so common for even locals to get lost while in the city.
And no, it is not just an individual's problem with directions. It is the road itself. It is how they're positioned that makes everything so confusing.
With the number of people that get lost, the Bermuda Triangle must be shaking!
Flooded
Nope, the floods don't happen at the Beach.
One of the things you need to know about Virginia Beach is the flood. It happens once in a while. It's not a regular thing. But when the rains get super, expect the places inland to flood.
So, before moving in, think about this.
What is the cost of living in Virginia Beach? – More Affordable than Most
How much does it cost to live in Virginia Beach?
Is it expensive? Will my salary suffice?
These are some of the most common questions that we ask before we even decide to move. And it's understandable. We don't want to move to a city without knowing how our finances would fare.
Here, we talk about the affordable and the not-so-affordable in Virginia Beach.
Read on.
The Good Side
This is more than just a destination.
Virginia Beach is all for the beauty and the activities. Plus, the cost of living is pretty affordable too.
Here are a few affordable commodities you should know about.
The Cost of Food
Virginia Beach is just fine when it comes to the costs of food. Whether you're eating out or cooking at home, costs are usually at par with the national average. This makes the cost a bit lower than in other major cities in the country.
For example, lunch in the business part of town will cost around $13. If you fancy a three-course meal, it can start at about $40 or more.
Groceries in Virginia Beach are also more affordable. Basic needs like beef cost $6 per pound. Chicken is at $2.60 per pound, while a gallon of milk sets you back at around $1.80.
This is not so bad, after all. At least when you live in Virginia Beach, you can trust to never go hungry at all.
Unless, of course, you don't cook. That's a totally different story.
Healthcare
Maintaining your good health in Virginia Beach will not cost you much. It is higher than the national average, alright. But compared to other major cities, Virginia Beach is cheaper when it comes to healthcare.
A doc's visit can cost you around $110. The national average is at $105. But try checking out other major cities. A doc's visit can cost you more than that $110 I mentioned earlier.
So, yes. It is more expensive than the national average. And another yes, it is cheaper than in most major cities. So, it's an advantage. Isn't it?
Utilities
When it comes to the cost of utilities, there's nothing special about that of Virginia Beach. What I mean is that Virginia Beach's utility costs are consistent with the national average.
For about $170 per month, you get to pay for a lot of things. There's water, heating, garbage, and electricity bills. Also, if you want to add the internet, it would be about $60 per month.
Transportation
The city is cheap when it comes to transportation. This is especially true when you compare it with other metropolitan destinations.
A gallon of gasoline costs an average of $2. This is $0.38 cheaper than the national average. So, you have a car? Gas up! It's more affordable here.
The Bad Side
Not everything in Virginia Beach is affordable. Something is always bound to be more expensive than the others.
And what is this something?
Read on. You won't be surprised.
The Cost of Housing and Rent
This is usually the part of the budget that takes the biggest chunk.
The cost of rent in Virginia Beach is, as you already know, higher than the national average. For example, renting a 1-bedroom apartment right smack at the city center can cost you about $1,130.
If your family is tagging along, a 3-bedroom apartment in the same area is at around $1,764.
If you choose to live outside the city center, it would be a bit cheaper. For example, the same 1-bedroom apartment costs around $870. If it's a three-bedroom apartment, it costs around $1,300.
If you are planning to get your own house and lot, expect to pay higher. The city center lots cost an average of $230 per square foot. Outside the city center, the price goes down to around $130. Mortgage rate averages at 3.92%.
I understand living outside the city center would be more affordable. But take into consideration the cost of gas and transportation as well. Do you drive to work? How far is this "outside city center" place from work?
Mind-boggling, but yes, these are major considerations you have to resolve.
Why get jobs in Virginia Beach? – The Lowest Tax in the Region
When moving to a new place, finances should already be in place.
How is the economic landscape in Virginia Beach? Is it enough to support your finances when you move in? Are there enough jobs to have?
I assure you that one of the best things about this city is its growing economy. It has a low unemployment rate, and its market has been seeing growth in recent years.
Plus, the tax rate is lower than usual.
What more could you ask?
The Good Side
Virginia Beach is something of a haven when it comes to finding jobs. If this is something you are worried about, fret not. There will always be jobs.
Aside from that, what else is there in VA Beach?
Read on to find out.
The Economic Boom
The economy is something you don't have to worry about when in Virginia Beach. The city's tourism industry, as well as its military facility, will take care of everything for you.
For the past year, the city has seen a market value growth of up to 3%. That's more than $60 billion of growth when you translate it to its market value.
The city plays a huge role in Hampton Roads' economy. One dip of the VA Beach's economy would greatly affect that of Hampton Roads.
But this is something you don't have to worry about. From 2018 up until the end of 2019, VA Beach's economy had been nothing but spectacular.
And so when you're planning to move in, this is the perfect time to do so.
Lowest Tax in the Region
One of the things that attract people to move to VA Beach is its tax rate.
Imagine, for the whole Hampton Roads region, VA Beach has the lowest tax rate.
Must I say more?
A Job for Everyone
As earlier mentioned, there is a huge amount of jobs for everyone in Virginia Beach.
The city had been enjoying a low unemployment rate for many years. The latest was 2.9%, which is lower even when you compare it with national standards.
Are you in the military? There will always be a place for you to work in. Are you in accounting, healthcare, or education? You don't have to worry since there will always be jobs for everyone in Virginia Beach… even during the pandemic.
Enough of the worrying. If I were you, I'd pack my bags now.
The Bad Side
No matter how good an economic landscape is, there will always be something to ruin the day. That's an exaggeration, for sure. But if you find out that you don't have as many benefits at work as the others, this is bound to happen.
Here are a few more things you need to know before you find work in Virginia Beach.
Lacking Benefits
When you ask people how it is to work in VA Beach, you'd be told how amazing it is.
And indeed, it is amazing. The pay is good, and the place is a good place to work in.
But what puts a dent in this perfect scenario is the benefits for the part-time workers. Or should I say, the lack of benefits?
Yes, you got it right. Part-time workers do not enjoy as many health benefits as full-time workers. And must I say, these people are the ones who work hard. If only the local government can put so much attention to this aspect, the city would be perfect.
Conclusion
Virginia Beach is one of the perfect places to be in right now.
There may be a few things to take note of here and there. But with the cost of living mostly below the national average, it's a good start.
Virginia Beach also has low crime rates and good (but expensive) housing.
Plus, with the city being ideal for startups and for job-hunting, what else is there to ask for?
Virginia Beach it is, then!