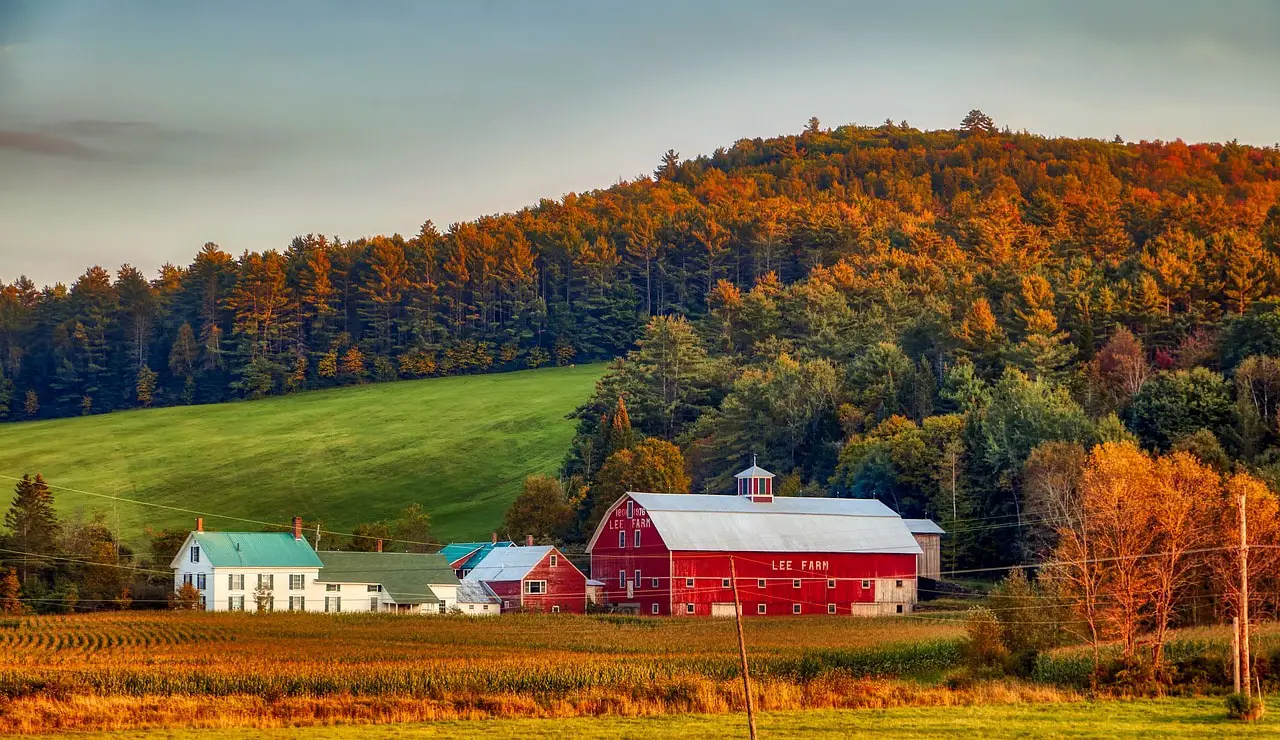 From sea coasts to mountains, to rivers and lakes, this state has it all.
It has old cities and historic towns all for you to explore. You get all four seasons complete. Plus, as an added bonus, you get mud and blackfly seasons too!
Meet the state of New Hampshire. A state of quaint little towns and vast wilderness.
Is this place for you? Let's find out.
What is it like living in New Hampshire? – A State of Quaint Little Towns
According to studies, the state of New Hampshire is the third safest in the US. Believe it or not, but it sure is!
In case you're wondering who made it to the top two, that's Maine and Vermont.
Anyway, New Hampshire has beautiful wilderness. It has a reputation to behold when it comes to education. Plus, as I said earlier, it sure is safer than most states in the country.
And so what is it like living in this state? It's comfortable and cozy, I should tell you.
So, if you're looking for a nice place to retire, you have it here. If you are tired of the hustle and bustle of city life, the quaint towns of New Hampshire welcome you with open arms.
Ready to settle down? Let's see what New Hampshire has in store.
The Good Side
If you are on the lookout for a state with quaint little towns and enough wilderness, this is the place to be.
Aside from these, is there anything else that New Hampshire has to offer?
Let's see.
Beautiful Beyond Imagination
One of the things you will like about New Hampshire is its unique beauty. It is charming, that's one.
Also, you have to know that natural landscapes are amazing and abundant. You get lakes; you get mountains as well as forests that you can always explore.
The coast faces the Atlantic, and the coastline's not much if you ask me. But once you see the view from that limited coastline, you will be in awe. It is gorgeous!
And because of its wilderness and natural beauty, there's so much to do in this state. You can go skiing if that's what you want. Then there's the lake to swim in and the mountains to hike.
The whole state is clean. It is full of colors and a lot more places where you find relaxation and peace of mind.
If you don't like the crowds, living in New Hampshire can be the change you have been craving for.
No Sales Tax Here!
Another advantage of living in New Hampshire is the sales tax… or the lack of it. This is something you don't have to worry about.
In fact, out of the 50 states in the US, New Hampshire is one of the four that does not have sales tax. This is one of the major reasons why people move to the state to settle. It is much cheaper to own a property knowing that sales tax is something you don't have to worry about.
This arrangement also means that your retirement income will not have taxes in it. If you can manage your finances well, this would be a great state to be in right now.
Educational Institutions
I am not sure if you know it. But New Hampshire has two of the most prestigious schools in the US. One is Dartmouth, and the other is Philips Exeter Academy. These two are always at the top when it comes to lists of private schools in the country.
And even if you are looking for public schools, the state excels in them too. You can rest assured that your kids will have the best quality of education you can ever find anywhere.
If you are always worried about your kids' education, worry no more. New Hampshire is the place to be. This somewhat rural state can give your kids the kind of education you are looking for.
Low Crime Rates
One major consideration when choosing a place to move to is its safety. We all want a place that is safe most of the time.
Well, in matters of safety, New Hampshire is in it to win it!
In fact, you should know that New Hampshire has below average numbers when it comes to crime rates. The national average is 4.49 incidents for every 1,000 individuals. In New Hampshire, it's 2.01 for every 1,000 people.
For a city to have less than ten violent incidents per year, this is already amazing! And New Hampshire has a lot of cities that have this number.
Closer to You, Boston!
You may be wondering why its distance to Boston is such an important factor.
One thing you should know is that Boston has higher salaries. There are a lot of jobs available. Plus, it's the closest major city to New Hampshire.
When you live in New Hampshire, it is common to find locals and a lot more commuting to Boston for work. This is why New Hampshire's proximity to Boston is of such importance.
Going back, Boston is near. Anywhere you are in NH, Boston is near. You can commute to Boston every day and go back home in the afternoon without a fuss.
This means that you can take advantage of city life without the exorbitant cost of housing and such. Because at the end of the day, you can always go home to New Hampshire. A place where everything (almost) is cheap.
Isn't it nice?
The Bad Side
When you live in New Hampshire, it will never always be about beautiful landscapes. There's a thing or two that can make you change your mind about moving.
Read on to find out.
Is It Spring Yet?
If you don't like winters that much, better think twice about moving here.
Winters in this state are longer. In some years, they can last for up to four months!
And when you're excited about the summer season, think again. It can get too hot and sticky. In no time at all, you'll see mosquitos and ticks abound. During summer, you can always smell repellants everywhere.
So, back to the winter season. It is longer than usual. If you don't enjoy the cold or don't do well with the cold, this is not the place for you.
Unless, of course, you have the heater on 24/7.
The All-American State
Perhaps it would take you a few months of living in New Hampshire for you to realize this. But look all around you, and you will notice that the state is oh-so-American!
Asian restaurants and Mexican tacos are rare in this part of the world. The same is true for cuisines from other parts of the world as well.
And this is not just with restaurants. This is the same with groceries and other stores as well.
So, if you are craving a plate of pad Thai, you can't even cook it at home. Chances are, you need to drive up to Boston to have that plate of Thai noodles.
But then again, Boston is accessible. So, if you don't mind the drive, forget about what I said just now.
Public Transportation: A Joke
Again, another exaggeration. But just to let you in on a secret, New Hampshire does not have trains.
There's a bus system in Concord and Manchester, but that's all there is to it. The nearest train that can take you to the rest of the nearby states is in Boston.
This means you're more likely to get yourself a car to ensure your travel from Point A to Point B is seamless. Unless, of course, you don't have so much need for it.
The Night Buzz… Or Lack of It
When it comes to nightlife in New Hampshire, you will find that there would be a few to consider. There are pubs, alright, but that's where everything ends.
There are no restaurants with fancy menus. There are no clubs with unique cocktails and heart-pounding music. The people of New Hampshire go to pubs and drink beer after a long day at work. That's it!
Summer Traffic
The next thing I'm going to discuss happens only during the summer months. Well, it happens from late spring to summer, at least.
Because people from nearby states want to escape city life for a bit, they all tend to flock to New Hampshire. This happens from late spring to around summer.
As such, expect the traffic to be bad. But once you get used to it, you'll be fine. Spend a few years in the state, and you will begin to recognize the pattern. Late spring to around summer, stay out of the roads. You'll be fine.
Is New Hampshire expensive to live in? – Affordable Housing is the Key
One of the most amazing things about living in New Hampshire is that housing and rent are affordable. The prices are a far cry from housing costs in other states.
There is that issue with the property tax, though. But when you look at the overall picture, New Hampshire is quite affordable.
Groceries and healthcare costs are on par with the national average. Plus, transportation costs are also not that much.
If you're wondering if New Hampshire is expensive, no, it is not.
The Good Side
Groceries and transportation are consistent with the national average. There are reasons why they're not on this list.
But if there is something I need to highlight when it comes to affordability, it is housing and rent.
I'm serious. Don't you believe me?
Read on.
Affordable Housing. Really?
Believe it or not, but New Hampshire is one of the few places in the States where housing is affordable.
If you are moving to this state with limited finances, don't worry about it much. Berlin is in one corner of the state. It is on top of the list when it comes to the affordability index.
The average mortgage that you have to pay for each year is at $4,200. This is quite affordable compared to other cities around. Plus, if Berlin is not to your liking, there would always be cities and towns up north that are also affordable. There are properties up north that amount to only about $50,000 or even less. How's that for a start?
The Bad Side
To balance off the good side, here's something you need to know.
Property Taxes!
You know the state does not have sales tax. There isn't an income tax either. This means that for the state government to earn an income, your property taxes are going to be a lot.
New Hampshire ranks second when it comes to property taxes. Imagine paying as much as $7,000 per year on property taxes for a three-bedroom home? Imagine no more. New Hampshire's property taxes can show you it's real.
What is it like to work in New Hampshire? – Employers Galore
One of the best things about working in New Hampshire is because of its growing economy.
Aside from that, a few notable companies are in town. So if you don't feel like driving to Boston every day, you can consider these companies to work for.
Is it a good thing? It sure is!
The Good Side
Finding a job in New Hampshire is easy. Well, for a state that enjoys a super-low unemployment rate, it is expected. You can always get a job here, so don't worry.
Why don't we look at the advantages of working in New Hampshire?
Here they are.
The Employers
New Hampshire has a host of employers that plays a major role in the health of the state's economy.
For example, there's Oracle. Then there's Fidelity and even UPS. These are all in the region and are reasons why locals who work here get competitive wages. This, in turn, bars the need for locals to venture to Boston for work.
Aside from these companies, there are a lot of startups in the state. From franchise restaurants to shops, these all provide job opportunities. As such, the unemployment rate in the state is lower compared to other places.
Before moving in, make sure to find a job that suits you. This would make your move seamless.
Don't worry. There are a lot of jobs to be had anyway. This is not going to be a problem at all.
Everybody Gets a Job Here!
Let's talk about jobs in New Hampshire.
First off, let me tell you that the unemployment rate in the state is at 2.6%. This is super duper low if you ask me. Congrats, New Hampshire!
Anyway, the pay is not that bad. It may not be as much as in other cities, but at least in New Hampshire, you get employed.
If you are wondering about which career fields get hired the most, let me give you a snapshot. The jobs that are growing fast in New Hampshire are those of nurses. There is also a great need for physical therapists.
Actually, most of the fast-growing jobs are in the medical field. Anything outside the medical field should include jobs with IT.
But if you're a teacher or an accountant, I'm sure you can always find jobs here. Because again, everybody gets a job in New Hampshire. That's for sure!
The Bad Side
The unemployment rate may be super low. But there's one thing that bothers people looking into moving to New Hampshire.
Let's see what it is.
Prepare to be Underemployed
The unemployment rate in the state is lower than most states in the country. On the other hand, you should know that industries are quite limited.
This alone contributes to locals being underemployed.
It is common to find graduates of marketing working in another industry. Or a teacher working in the office somewhere. Nothing bad about this, to be honest. But if you are one to pursue the degree you finished in college, you may have to think twice about this state.
New Hampshire's unemployment rate is low. But its locals tend to be underemployed. Its locals tend to work in fields that are not aligned with the fields they were trained to do.
Again, this is not that bad. But for some, it could be.
Conclusion
The state of New Hampshire is not for everyone.
You are near the beach or even just an hour away from the mountains. You are also a drive away from Boston. You and your kids would even be spending a lot of time outdoors.
But if you are the kind of person that prefers the city life more than life in a quaint rural town, this is not for you.
The place for me is perfect. But again, everything depends on personal preferences. This is my take on this state.
How about you?
Would you move to New Hampshire?