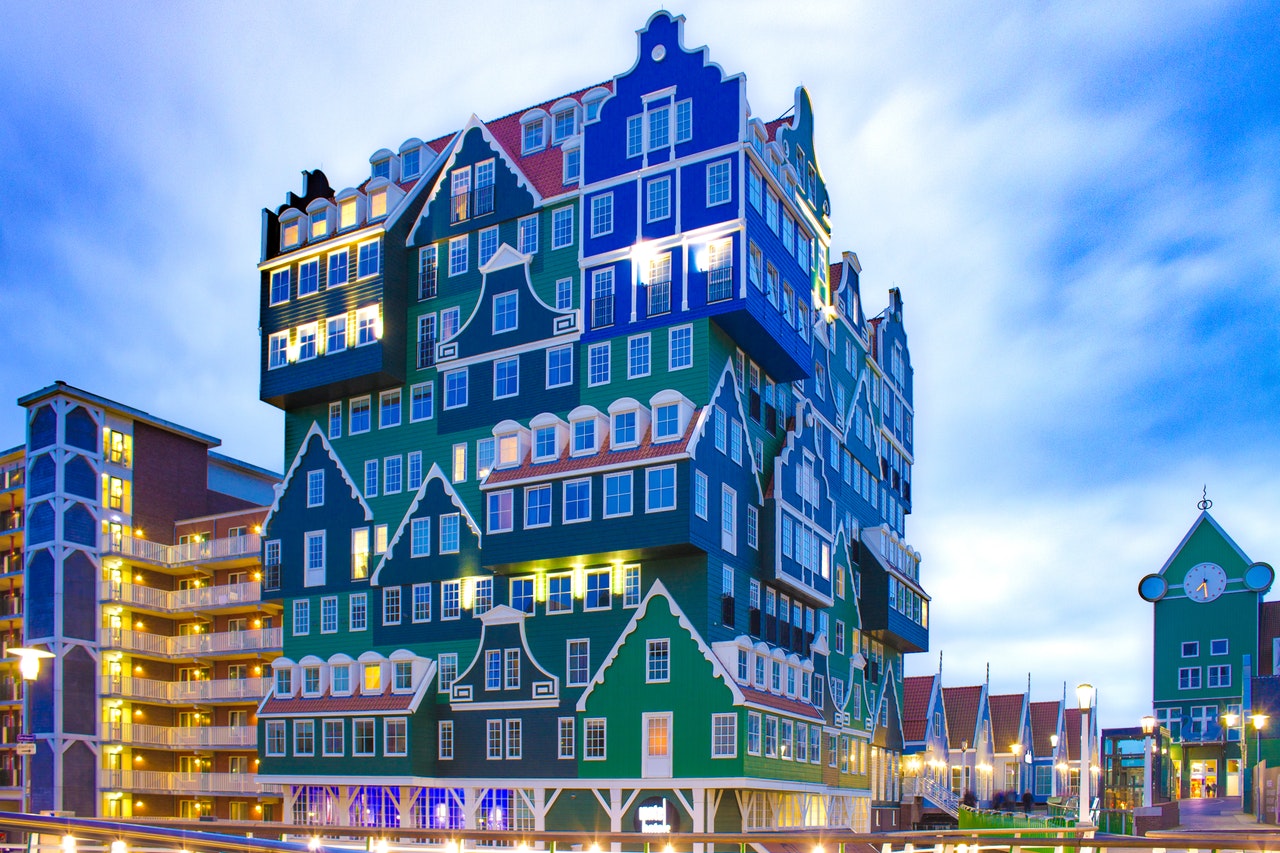 Amsterdam is one of the nicest destinations to visit in Europe. It has a classic 17th-century vibe that people around the globe dare to see and explore. The city is built with intricate canals, stunning architecture, and breathtaking European scenery. Any traveler would not miss visiting this fantastic city.
Even though it is a small town with around 800,000 people, Amsterdam is flocked with tourists all year round. There is no peak or low peak season for tourists when visiting this place. They are after the city's vibrant culture, jaw-dropping sceneries, and mouthwatering food culture. As a result, Amsterdam never runs out of visitors roaming around its must-see places.
In this manner. Hotels in Amsterdam can be so expensive. As small as the city may seem to be, tourists cannot resist its charm and allure. The city is crowded with tourists every day, making hotel rates skyrocketing—the demand for a place to stay resulted in the most expensive hotel rates throughout the year.
When you visit the city any time of the year, you will learn that most hotels are already fully booked. Therefore, you need to find an alternative for a place to stay in. You can resort to Airbnb, hostels, or pension houses when hotels became unavailable.
How expensive is accommodation in Amsterdam?
Hotels are not the only accommodation you can find in Amsterdam. There are plenty of options that are cheaper than hotels if you're patient enough to search. However, do not expect to get reasonable accommodation in Amsterdam, as these options can be pricey.
Accommodation in Amsterdam is ordinarily expensive. The influx of tourists is the reason how accommodations in Amsterdam are expensive.
As I mentioned, Amsterdam is a tourist favorite. Hotel rates are often inflated, especially the established and known names. If you are searching for excellent hotel service in the city center, you should be ready to pay an amount of $180 per night. The rate corresponds to topnotch service, facility, and proximity to the main attractions.
Yet, if you are not ready to shell out this kind of money for accommodation a night, here are your best options:
Airbnb

Airbnb is currently the most popular room, and accommodation finds among budget travelers. However, in Amsterdam, Airbnb tends to be limited. If you are lucky enough, you can only rent an Airbnb for a month in the city.

The government is regulating the proliferation of Airbnb in the area. They also need to control the influx of tourists a year. More Airbnb means plenty of tourists visiting the city. You need to prepare $100 per night if you plan to stay in an Airbnb. It is almost half the price of a luxury hotel in Amsterdam.

Hostels

Other great options are hostels. Of course, it is cheaper than hotels in the city, but it is not as low as you want to expect. If you are in Amsterdam, you should always be prepared by how expensive room rates even in hostels. If you're going to rent a bed space in the city center, you should shell out an amount of $50 per night. It is much cheaper than Airbnb and hotels. However, your comfort and privacy can be compromised.

Bed and breakfast

Bed and breakfast are also available in Amsterdam. However, it is not the usual find in the city. If you get lucky, some private landlords and agencies are renting spaces for B&Bs. Most B&Bs in Amsterdam are also referred to as holiday apartments.

Houseboats

If you want something unique, Amsterdam has plenty of houseboats that you can rent. It is one of the most unconventional accommodations available in the city. Some perfectly maintained houseboats are parked on the canals that you can rent. They are available for a week-long stay, as well.

Camping sites

Other non-traditional stays in Amsterdam are camping sites. Most campgrounds become available during the summers. However, they are not located in the city center but still within reach in the area. If you want to have more fun, renting out campgrounds is also ideal.
Is Amsterdam expensive for tourists?
Yes, Amsterdam is an expensive city for tourists. It is, by far, the most popular city for travel in the Netherlands. Even though it is an expensive city to travel to, many tourists would still spend money on the town.
Here are the key areas you have to know about prices and rates when you travel to Amsterdam. It will provide you plenty of time to plan your trip and allocate a budget for the things you want to prioritize.
Hotels or accommodation

Lodging and accommodation are the main culprits why you will spend a lot when you are in Amsterdam. It is the highest percentage of your budget, so you need to be wiser when choosing accommodation. Although hotel rates in Amsterdam are skyrocketing, you may opt to stay in hostels, B&Bs or Airbnb to save money.

Transportation

There are several modes to get around the city. You can choose trams, buses, subways, and bikes for your mode of commuting. If you want to cut down the cost of transportation, use public transport, as they are way cheaper. If you prefer trams and buses, you should get Iamsterdam Card for around $70. The card will give you an unlimited pass to trams and buses in the city.

Food and drinks

Your trip to Amsterdam is not complete without tasting the city's authentic flavors. For food as well as drinks, you need not worry about the expenses, as they are relatively affordable. Street food will cost you less than five dollars.

If you prefer eating in a restaurant, you have to shell out around $12 per meal. It is the same case if you like spending time in a coffee shop, as well. You can enjoy food and drink in AmsterdamThus, you without worrying about expenses as they are affordable.

Entertainment and activities

There are several museums and galleries to see in Amsterdam. If you have the Iamsterdam card, you need not pay for the entrance, as the card can cover the fees. On the other side, if you lack one, a solo entrance into a museum will cost you $10-$20.

Some of the sought-after museums in Amsterdam are Van Gogh Museum and Anne Frank House. You would not miss visiting these two, as they can be the highlight of your Amsterdam trip.

Nightlife

Of course, your trip will not be complete without experiencing Amsterdam at night. Most people would say that Amsterdam is a paradise for party junkies. It has plenty of bars, clubs, and bistros that keep the city alive during the night. If you want to go clubbing in the city, expect to spend $6 for an entrance fee. Beer and snacks are separate expenses, as well. A night spending on a club in Amsterdam will cost around $50.
Amsterdam is not a cheap travel destination. You need to save and spend more money in Amsterdam compared to other places in Europe. Nevertheless, if you know how to budget your money and prioritize, the city does not have to be super costly.
Where is the best area to stay in Amsterdam?
Your Amsterdam trip need not be the most expensive. If you know where to go, there are the best areas to stay in Amsterdam. You will save a lot of money in these areas in Amsterdam, as well.
The key to finding the best and the most affordable area in the city is research. Thus, we are here to help you look the budget-friendly places in Amsterdam:
Old Center

Suppose you want an affordable place to book a hotel near the main attractions, we recommend the Old Center. The location is just a few minute's walks from Amsterdam's must-see sights. Moreover, you will not get bored around the area, as it is both a shopping and nightlife center.

For reasonable accommodations, you can try booking at Flying Pig Downtown. The place can cater to backpackers and solo travelers, too. If you prefer hotel service, you can also book your stay at Hotel Prisenhof. It is a one-star hotel with 11 spacious and serving travelers since 1813.

Grachtengordel South

If you prefer a place near clubs, bars, and restaurants, the Grachtengordel South is our top choice. The area is on the rise, and plenty of budget accommodations are now popping out. You could stay at Waldorf Astoria if you chose an area of the city.

Westerpark

If you want a place just near the city center, Westerpark is a good choice. It is recommended for first-time travelers to Amsterdam. You can easily access the main spots while still being near the nightlife scene.

In this area, you can also enjoy plenty of shops, restaurants, and the city's main attractions. Some of the places you can visit are the Museum Het Chip, Het Stenen Hoofd, Ton Ton Club, among others.

Oud Zuid (South)

Oud Zuid (South) is the perfect place if you are on a very tight budget. Since there are many affordable places in the South, it is a prominent,r touristy spot. Oud Zuid is a district surrounded by several neighborhoods. This area has internationally acclaimed museums, markets, and even green spaces.

When you choose this spot, you have the chance to visit the Rijksmuseum and Van Gogh Museum. Moreover, you can get the authentic taste of Dutch beers at The Heineken Experience and House of Bols, too!

De Pijp

If you want to experience the ultimate Amsterdam nightlife, De Pijp is the place to be. Aside from Leidseplein, know as the central spot for nightlife, De Pijp is another budding spot. It is becoming one of the best party cities in Europe, as well.
What is the cheapest month to fly to Amsterdam?
Visiting an expensive city on a budget means finding the cheapest month to fly. In this way, you will be able to cut down travel costs significantly.
If you are looking for cheap flights going to Amsterdam, we recommend booking your flight in March. Generally, peak seasons are the months of April and May. Therefore, when looking for affordable tickets, booking flights in March is the best option.
Another way to reduce cost is booking your flights four weeks before your departure day. By doing so, you can get deals way below the average price for flights going to Amsterdam.
If you are avoiding crowds and influx of tourists, you can visit Amsterdam during the winters. The winter in Amsterdam covers the months of December to March. Most people would prefer spending time at home, and hotels may give great deals, too!
Amsterdam is a place to behold. It is irresistible; that's why many people would want to experience its unique charm. As expensive as the city may be, tourists would still flock to the city's attractions and spend money on them.
The city need not be very expensive if you know to plan well, prioritize spending, and find the perfect timing. If you do your research well, you travel to Amsterdam at a very reasonable price.