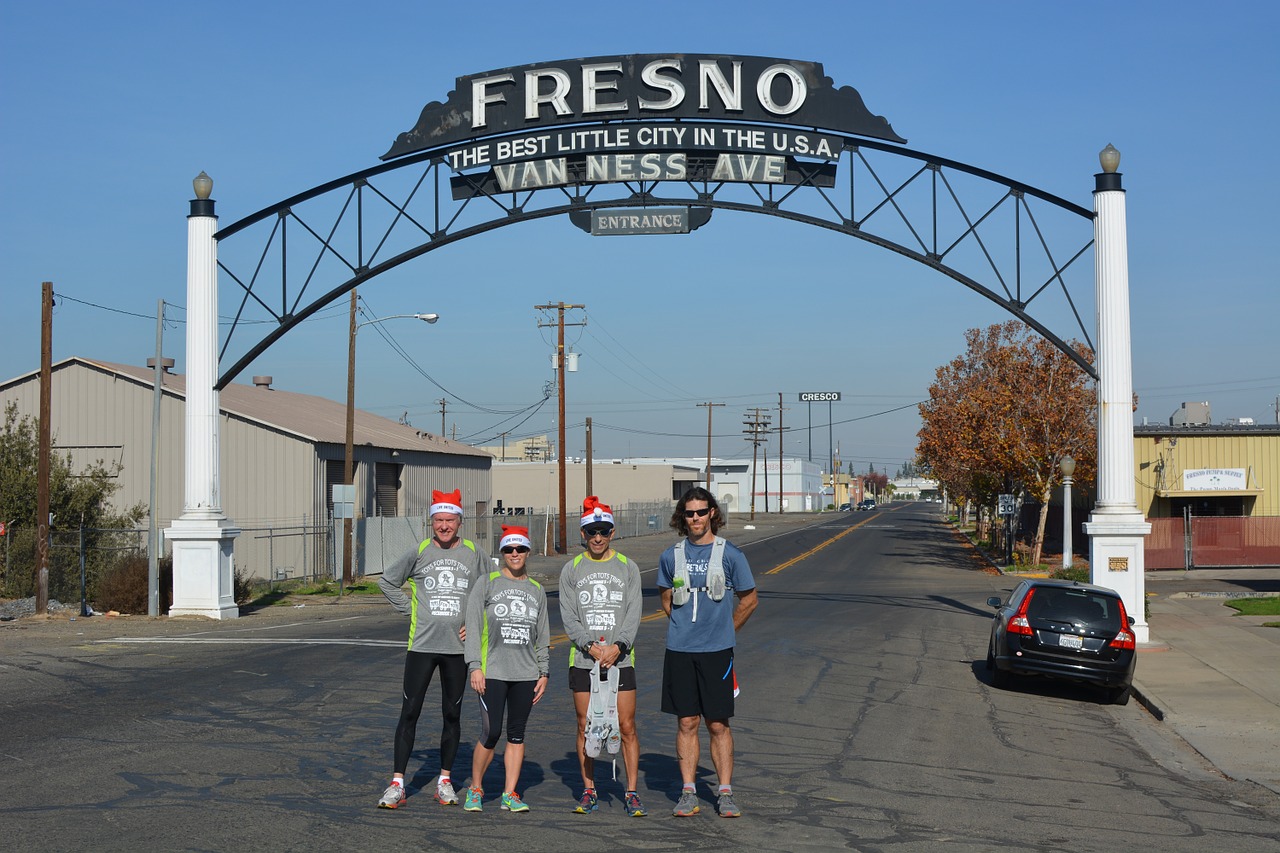 Living in Fresno is better than living in Albuquerque. Fresno is a budding city with a diverse economy, cheap housing, and great agricultural produce. Meanwhile, ABQ is a big city in New Mexico famous for its beauty and cultural attractions.
Fresno is a small city on the Central Pacific Railroad. Aside from its strong agricultural industry, it is known for its culinary scene and cultural attractions. It charms people because of its inexpensive housing market and employment opportunities.
Albuquerque is a stunning city in New Mexico. Its natural beauty is beyond compare. Sandia Mountain, for instance, offers a fantastic mountain view to ABQ residents.
What are the Pros and Cons of Fresno vs. Albuquerque?
Fresno is a city in California with an affordable cost of living, booming businesses, and diverse job opportunities. In comparison, Albuquerque is a city in New Mexico with plenty of cultural and natural attractions to boast about. Both of them suffer a crime rate higher than the national average.
Living in Fresno
Pros
Affordable city

Even if it is part of the expensive Californian state, the city maintains its affordability. The cost of living in Fresno is one of the cheapest in California. The rate is below the state average but slightly higher than the national average.

Its cost of living is only 2.6% above the national average. Compared to other great cities in California, Fresno offers the lowest prices. The cost of food, rent, and transportation is cheaper than the state average.

Good location

Fresno offers a desirable location in California. You can easily access the Bay Area by car and enjoy the fantastic city of San Francisco. Since it lies in the central part of the San Joaquin Valley, it is the gateway to Cali's other major cities and towns.

Booming businesses

Fresno offers a venue for start-ups and newly opened businesses. It provides excellent opportunities for people who want to venture into various industries. Its geographical location has a direct positive impact on the city's businesses.

The city's economy is very diverse, comprising many jobs across industries. It has a reasonable projection of economic growth in the next ten years. Job growth could increase by 12.3%, and 50,000 employment can be available.

Aside from farming, oil, and gas, construction, mining, retail, and manufacturing boost the city's economy. Big names like Amazon also have a station in Fresno.

Friendly locals

Locals are easy to interact with within this city. There are plenty of migrants from different parts of the world that chose to move to Fresno. You will feel more welcome and comfortable because of the level of diversity the city offers.

Food, leisure, and entertainment

There is so much to do in Fresno. The city will keep you entertained from morning until night. Aside from its eclectic cultural art scene, it has events and festivals all year round.

You can attend themed music nights, outdoor concerts, races, and food truck festivals. Also, there are several attractions in Fresno to explore. You can have an exciting life in this small city with these places.

Here are the top Fresno attractions you should not miss:
Forestiere Underground Gardens
Fresno Art Museum
Blossom Trail
Fresno Chaffee Zoo
Island Waterpark Fresno
Food is also a city's pride.
Fresno has a unique culinary scene because of its creative and fresh offerings. It is one of the top food destinations in California.
Here are the must-try restaurants and eateries in Fresno:
Tulare Street Bistro
Pismo's Coastal Grill
The Annex Kitchen
Magic Lamp Mediterranean Grill
Taqueria El Premio Major
Cons
City sprawl

Since many people choose to relocate to Fresno, there is an uncontrolled expansion of the urban areas. You will see excessive growth of population in the city center, too.

Weather

California is a warm state.

You will feel this more intensely in Fresno.

The city can record 100+ degrees during the summer seasons.

Air quality and pollution

The biggest drawback of the city is its pollution. It has poor air quality. As a result, you have a higher chance of getting allergies when you start living in Fresno.

Above average crime rate

The crime rate in Fresno is above the national average. Due to urban sprawl and increased population density, crime became a part of its growth.
Living in Albuquerque
Pros
Red and green chiles

No one loves red and green chiles more than the locals of Albuquerque. Chile is a staple ingredient in New Mexican cuisine.

Most restaurants and eateries around the city offer chile-based dishes on their menu.

It is a staple part of most ABQ recipes.

International Balloon Festival

Albuquerque has the perfect weather condition to fly a hot air balloon. The weather is warm, which is usually accompanied by strong winds.

It is the ideal timing to ride on a hot air balloon. Thus, the city hosts the largest International Hot Air Balloon Festival globally. You will see more than 500 hot air balloons participating in the event every October of a given year.

Beautiful landmarks and attractions

One thing the city always boasts about is how naturally blessed ABQ is. When you visit it, the view of Sandia Mountain will amaze you. The mountain background changes color from blue-purple to orange in a day.

More than that, there are plenty of attractions the city offers. It has historical, cultural, and natural landmarks that you can visit. You can also check out these attractions below:
Sandia Peak Tramway
Albuquerque Museum of Art and History
Albuquerque's Old Town
Indian Pueblo Cultural Center
ABQ BioPark
Proud of its indigenous roots
Albuquerque is home to 5% of the Native American population. When you visit the Indian Pueblo Cultural Center, you will see ABQ's investment in its indigenous roots. The center showcases the old culture and traditions of native people.
The city is home to numerous groups of pueblo people. You will see that their cultures, traditions, and art are well-preserved in the center. It celebrates these special groups that continuously live in the city of ABQ.
Entertainment and casinos
The city has several resorts and casinos where you can get some entertainment. Aside from cultural and historical attractions, there are modern establishments in ABQ. You can visit the Isleta Casino and Sandia Casino, too.
Cons
All-time-high crime rate

Albuquerque is constantly struggling with a higher level of crime rate. If you live here, there is a higher chance of being a victim of crime compared to other cities in the United States. Factors like poverty and unemployment contribute to violent crime in the city.

Poor education profile

The city has a poor record in its education system. There is a lower graduation rate in ABQ. As a result, people would find it more challenging to find a stable and decent job.
Fresno or Albuquerque – Which is cheaper?
The cost of living in ABQ is cheaper than living in Fresno. There is a 12.6% difference between the cities' living expenses. Housing and healthcare costs are way higher in Fresno than in Albuquerque.
| | | |
| --- | --- | --- |
| Living expenses | Fresno | Albuquerque |
| Housing | 107.1% | 88% |
| Food & Groceries | 99.2% | 96% |
| Health | 90.6% | 81.1% |
| Utilities | 112.4% | 97.2% |
| Transportation | 101.7% | 89.4% |
Data is based on 100 = US National Average
> 100 means more expensive than the national average
< 100 means cheaper than the national average
Housing cost
Albuquerque offers a more affordable housing rate than Fresno. The city's real estate prices are below the average, as well. In comparison, Fresno has housing prices slightly above the median housing cost in the US.
If you compare it to other famous cities in California, the Fresno housing market is more reasonable. Also, you can still find a single-bedroom apartment in Fresno below a thousand dollars.
Utility cost
You will pay more for electricity, water, internet, and other bills in Fresno than ABQ. The price difference is around 12% when you own a big apartment, except that the cost of utilities in Fresno can be more than $200.
Food & groceries cost
Food and groceries in both cities are below the national average. Nevertheless, they are slightly more expensive in Fresno than ABQ. If you have a more prominent family, you will be spending more on food when you live in California.
Transportation cost
The cost of transportation is still cheaper in Albuquerque. Even though the city has poor infrastructure developments, you will save some money in ABQ from commuting when you compare it to Fresno.
Since Fresno is a fast-developing economy, the city invested in a public transit system. A one-way ticket can cost $1.25 in Fresno. There are also available Uber or Lyft around the city. Nevertheless, you will still have to pay a significant amount.
Health care cost
Both cities offer affordable health care services. The cost of healthcare in Albuquerque and Fresno is below the US median rate. By comparison, you will still find higher healthcare prices in Fresno than in ABQ.
Is Albuquerque bigger than Fresno?
Albuquerque is bigger than Fresno in terms of land area. ABQ has 187.7 square miles, while Fresno only has 112.3 square miles. By population, ABQ has a more significant number of people than Fresno.
Economically speaking, Fresno has a better economy than ABQ. The city is the center of Metropolitan Fresno, a regional hub for both the San Joaquin Valley and Central Valley. These areas are predominantly thriving agricultural economies.
Meanwhile, Albuquerque is at the heart of the New Mexico Technology Corridor. The said area has a high concentration of high-tech privately-owned companies, too. Aside from that, government-operated agencies are employing ABQ residents.
Is Fresno safer than Albuquerque?
Fresno and Albuquerque have a crime rate index higher than the national average. But if we compare these two, Albuquerque has a higher recorded crime rate. Therefore, Fresno is a safer city compared to Albuquerque.
Based on the FBI data, the crime rate in Fresno is 3,899.8 per 100,000 people. It is 57.46% higher than the median rate of 2,476.7 per 100,000. The increase in crime in Fresno can be attributed to higher population density.
The Albuquerque crime rate is twice higher than the national average. Crime is an ongoing issue in the city, and until now, the rate has remained at an all-time high. Poverty, unemployment, and drug use contribute to the high crime rate in ABQ.
Is Albuquerque warmer than Fresno?
Albuquerque and Fresno exhibit a warmer climate than other US cities. Between the two, Fresno is warmer than Albuquerque. It has a recorded high temperature of 98 degrees, while ABQ has 92 degrees.
Fresno enjoys a Mediterranean climate with mild, wet winters and long summers. Winter is cold, with the temperature dropping to zero degrees. Summer is hot that can go as high as 100 degrees.
Meanwhile, Albuquerque is also a warm city in New Mexico. The summers are long in ABQ, while winters are short with their semi-arid temperature. The cold months rarely enjoy a drop of temperature to zero degrees.
Is Fresno better than Albuquerque?
Fresno is better than Albuquerque. When we speak about economic opportunities, Fresno has a lot to offer. As a regional agricultural hub in California, the city can generate more jobs than ABQ.
Nevertheless, ABQ is still a great city to consider for retirement. You can enjoy the great outdoors and still experience modern entertainment in the city's resorts and casinos. With a very budget-friendly cost of living and beautiful sceneries, you can build a fresher and more fun-filled life in ABQ.
Ready to move to Fresno? Or are you considering Albuquerque? Please share your thoughts below.