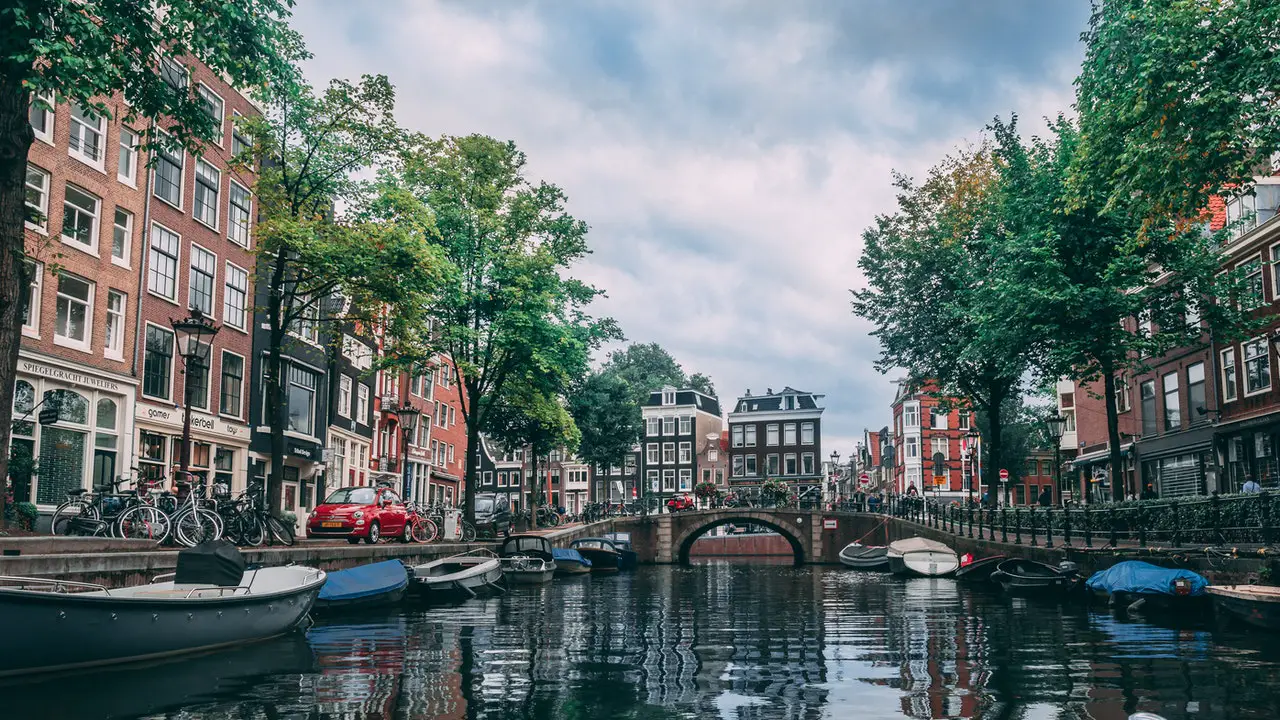 When it comes to costs, Berlin is absolutely the cheaper option. This goes for food and restaurants and even groceries. Over the years, costs of rent in Berlin have been on the rise. But it is still cheaper than Amsterdam. Berlin is losing, however, when it comes to the vibe. But considering all other factors, Berlin is the better city to live in.
Now, both cities are great. But when choosing between the two, it would be wise to check out the specifics at least. And that's what this article is for.
Let's start with Amsterdam.
We all know this is Europe's most liberal city. But over the past few years, the city's trying to rebrand itself. When we all know Amsterdam as liberal, it is becoming a cultural hub, a stylish destination.
Of course, there will always be those who choose the city for its quirky side. But there is so much more to Amsterdam than coffee shops and the red light district.
Within the city are museums and a social nightlife that might shock a newcomer. But if there is one thing about Amsterdam, it is the welcoming vibe. We assure you that.
On the other end of the spectrum is Berlin. It is Germany's largest. And while it brings to mind a dark past, Berlin is now bustling and boisterous.
When one steps back and looks at the bigger picture, one would see the city as a mix of neighborhoods. Each of these neighborhoods presents its unique vibes.
For example, there is the neighborhood of Mitte. The neighborhood alone is full of must-see attractions and sights.
Then, there is the Prenzlauer Berg. The neighborhood is popular for its pavement cafes as well as its jazz bars.
Kreuzberg is a community of art squats and Turkic grills. And finally, there's Rixdorf, a community of rustic lanes and green parks.
And these are just some of the many neighborhoods that dot the city of Berlin.
More on Berlin
Berlin is a huge city. In fact, the city is Germany's biggest, with 3.6 million inhabitants. Aside from that, the city is also large geographically. In fact, it is huge that one would always have something to do or see.
Berlin is great when it comes to coffee. It is also filled with ethnic eateries and churn out wonderful urban vibes.
As mentioned earlier, the city has quirky neighborhoods that are fit for everyone. Some can be hedonistic, while other neighborhoods may be a bit laid back. Some are easygoing. Other neighborhoods are also packed with sights and famous landmarks.
This makes Berlin an easy choice. There is always something for everyone.
Amsterdam
Amsterdam, although smaller than Berlin, also presents numerous opportunities for its inhabitants. And just like Berlin, there is always something to do in the city, no matter how long you have already stayed.
The city attracts hipsters over the years. Aside from the hipsters, there is something else. The city attracts those that are looking for a peaceful and relaxed location.
The city has quieter neighborhoods, and transportation is easy on foot or by bike. There are canals. The navigation of such canals is easier to follow as well.
And what's more important is that Amsterdam is family-friendly as well.
Transportation
Both cities present easier ways when it comes to transportation.
Let's start with Berlin. Berlin has what they call the U-Bahn. Aside from that, the trams and buses also make it easier to go from point A to B.
This means that getting around the city is easier. It is super-efficient.
The city has a well-linked public network of many trams and trains. The city also has underground lines.
Aside from the easy navigation of its transport system, it is also easier to buy tickets.
One can easily head to the S-Bahn or U-Bahn stations to get their tickets. Tickets are available for daily or even weekly passes.
Recently, the city has also invested in a smartphone app where one can purchase tickets. This makes it easier for everyone. If this is not efficient, we don't really know what is.
As we already know by now, Amsterdam's popular mode of transportation is by foot or bike. There are buses and trams alright, but these are quite expensive. We'll talk about this later.
Plus, the network system may not be as far-reaching as Berlin's.
So, anyway, we go back to the bikes. There seems to be something to talk about when it comes to bike safety. Because as you can see, there would always be the existence of nippy scooters. These go about barging through the bike lanes. And it can be dangerous.
And this isn't good. This puts into question bike safety in the city.
One can actually take the bike outside the rush hours. But what if you have to use your bike during this time? One cannot give up or reschedule an appointment because of this.
Is Amsterdam more expensive than Berlin?
When it comes to the cost of living, the difference may not be as significant. But to emphasize, Amsterdam is more expensive than Berlin. Everything in Amsterdam is expensive, even by European standards.
Let's get into something most people usually concern themselves about. Is Amsterdam more expensive than Berlin?
The answer is a big YES. This is even if you factor in the taxes, healthcare, and a lot more. Berlin is really cheaper than Amsterdam.
In fact, Amsterdam is about 29% more expensive than Berlin when it comes to the cost of living.
The most glaring difference lies in accommodations. In Amsterdam, one can go about renting a flat for about 650 to 750 Euros per month. And this is just a small room.
The same amount can get you a room of the same size in the city center in Berlin. The same amount can already cover your rent as well as your utilities. This makes Berlin much cheaper than Amsterdam.
And when talking about accommodations in Amsterdam, one should accept this fact. Out of the three essential factors – layout, price, or location, it is common to always miss out on one or two of these.
Either you have a nice layout for a high rental price. Or you have a cheaper rental cost, but the location is not that great.
Either you get one and miss the other. Either way, you cannot really have it all in Amsterdam. Unless, of course, you are willing to shell out a fortune for rent.
Housing costs in Berlin have been rising in recent years. But there have been talks of introducing a five-year freeze on rental costs. This shows how Berlin locals fight to maintain the spirit of the city.
The city is popular for being home to different artists and creative minds. This is the main reason why rent, over the years, has been lower than that of Amsterdam.
But no matter if the rent in Berlin had been rising, it is still a long way to go to match that of Amsterdam's.
Food
When it comes to the cost of food, Berlin is also much cheaper than Amsterdam.
One such example is a carton of milk. A liter of milk in Berlin is just 0.95 Euros. In Amsterdam, it could even amount to about 1.65 Euros for a liter.
A kilo of beef in Berlin is a little more than 11 Euros. In Amsterdam, it can go up to a little more than 13 Euros per kilo.
The same is true for all other commodities. Amsterdam is expensive by 7% when it comes to the price of rice. Eggs in Amsterdam are also 17.83% more expensive than eggs in Berlin.
Even fruits are more expensive. Bananas are 4% more expensive in Amsterdam. The same is true for cheese and even chicken.
Almost everything else edible is cheaper in Berlin than in Amsterdam. And this is an added advantage to those that are looking into moving to Berlin.
Transportation
Transportation costs in Berlin are also way cheaper than in Amsterdam.
A one-way ticket for local transport is about 10.34% more expensive in Amsterdam. In Berlin, a one-way ticket would only cost about 2.90 Euros. In Amsterdam, it would be around 3.20 Euros.
The same is true when one looks into getting monthly passes. Berlin's monthly pass amounts to about 82 Euros. In Amsterdam, a monthly pass is 97.50 Euros. This is approximately 18.90% more expensive in Amsterdam.
Taxis and even gasoline are more expensive in Amsterdam.
If moving to Amsterdam, it would be essential to look for an apartment near your workplace. This is because transportation is that expensive.
Are you driving to work? Gasoline is expensive. Are you taking the tram? Tickets are not cheap either.
So, when moving to Amsterdam, you only need to consider two things. You can look for accommodations near your workplace. Or you accept the fact that the city is costly.
Salaries
Salaries in Amsterdam tend to be higher than in Berlin. But this is something one can expect. This is due to the city's higher cost of living.
When one works in Amsterdam, the salary me be about 22% higher than that of Berlin. Plus, if there is something about Amsterdam, it is their tax-free ruling.
In the Netherlands, your first 30% of your salary would be tax-free. This goes on for the first five years of your job. Somehow, this compensates for the higher cost of living. Also, this can serve as a sort of incentive for highly-skilled migrants.
This is a huge difference when it comes to your net salary per month. Most of those who move and choose Amsterdam over Berlin decide so because of the 30% ruling.
But when it comes to salaries, how much should one earn to live comfortably in each city?
In Amsterdam, you have to make about 2,950 Euros per month to live well. In Berlin, it is much cheaper at 2,400 Euros per month.
The Job Market
Berlin is larger than Amsterdam. In fact, it is about four times bigger than Amsterdam.
The city has also been seeing a huge number of startups since the year 2017. These startups have provided the Berlin population with the much-needed job. Since then, the city saw about a 32% increase in job offerings.
Berlin also had one of the highest amounts of money that went to investments. This puts more emphasis on the creation and distribution of jobs.
This means that you would most likely get a job in Berlin than in Amsterdam.
Is it safer in Berlin than in Amsterdam?
Both cities are super safe. Amsterdam is at 33.35% when it comes to its crime rates. Berlin also sits around the same percentage. Over the past few years, crime rates have been increasing. But the increase is not very significant; there should be nothing to worry about.
The one thing about these two cities is that both are very safe. Both cities have seen an increase in crime rates over the past few years. But the increase is never that significant to make one worry much.
And like all locations, one should only practice the usual precautions. In Amsterdam, for example, it is not advised for females to visit the red light district alone. The area presents a seedier vibe, and it is not safe to visit alone, especially for a female.
In Berlin, violence is very rare. You can also rely on the authorities doing their jobs. But still, one should take extra precautions. This is true, especially when visiting rougher neighborhoods.
One should also take extra precautions when in nightlife hubs in Berlin.
But if one is to choose between the two regarding safety, it should be Amsterdam. But this is not to say Berlin is dangerous.
As mentioned earlier, both cities are safe.
But in Berlin, there are higher cases of house robberies than in Amsterdam. Also, there is a higher chance of one being verbally insulted than when one is in Amsterdam.
Aside from these, you would be safe in any of these cities. There's nothing to fret about.
—
Both Berlin and Amsterdam are amazing cities. But which one is better for you?
We understand your concern. It would be hard to choose between the two.
But there is always a large number of information about both cities. Despite all this wealth of information, it all goes down to what you want.
We hope that we were able to guide you on that.