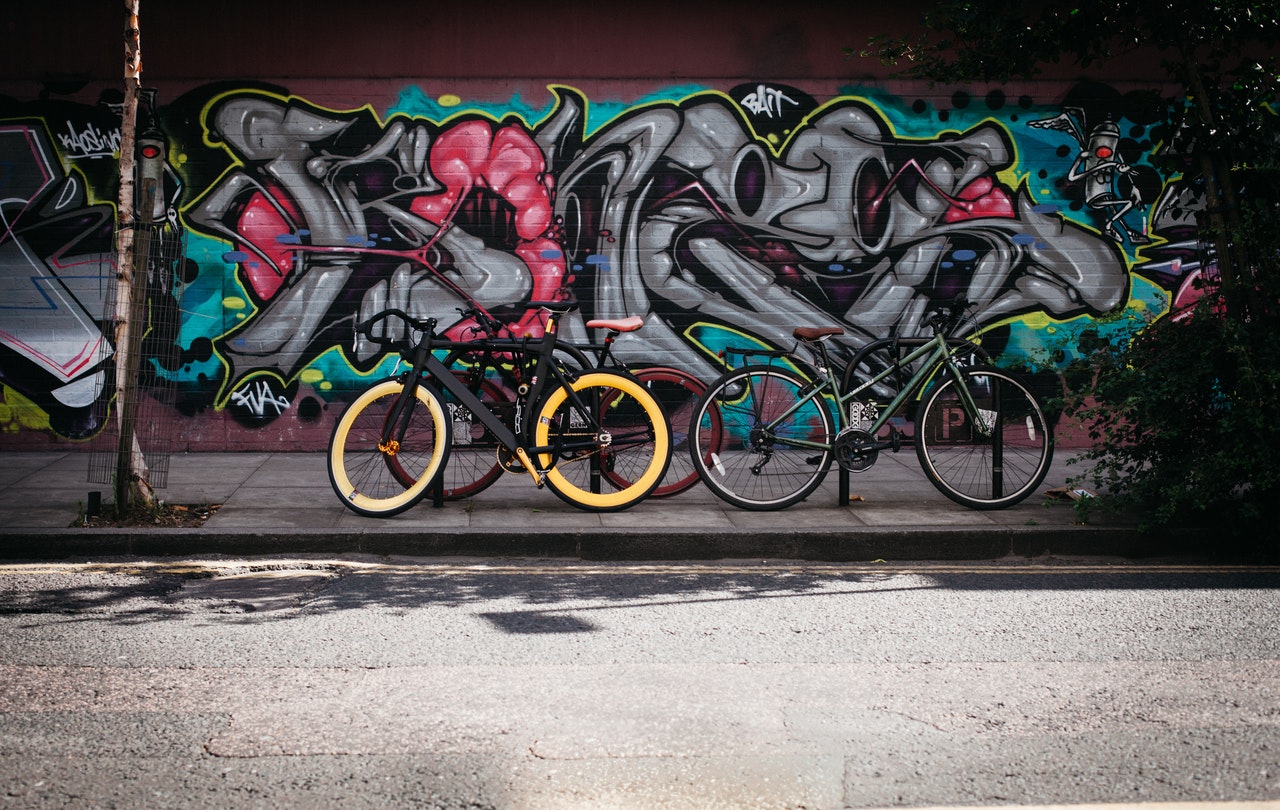 Amsterdam, being a bicycle city, may seem like a haven for your bikes. But bike theft is also common here. Every year, authorities receive anywhere from 50,000 to 80,000 reports of stolen bikes.
In Amsterdam, there are more bikes than locals.
Despite this, some bikes still go missing.
Here, I discuss more on bike theft in Amsterdam and how to avoid being a victim.
I'll also let you know what to do if, in case, somebody steals your bike.
Bike Theft
Bike theft is common in Amsterdam.
As mentioned earlier, the annual numbers go to as many as 80,000 bike theft incidents. And these are just the reported incidents.
Some bike thefts may go unreported.
Ironically, most of these bike thefts happen during the day.
About 58% of the theft incidents happen in front of the owner's house even.
And how do you minimize the chances of somebody getting your bike?
Here are a few suggestions.
Lock
The most obvious way to go is to lock your bike.
Make sure, however, that you are using sturdy locks. Standard locks usually become victims of bike theft.
And it is also important to lock the bike properly. This way, nobody can ever steal even the bike parts. Otherwise, you will find your bike without a wheel if you are not careful.
Personalize
Bike thieves tend to steal standard-looking bikes.
More personalized bikes have smaller chances of attracting bike thieves.
As the owner, you can quickly identify if the bike with the flower design is yours or not.
Compare that with a blue or black bike. Bikes in single colors and are not personalized can easily be targets of thieves.
This is because it would be hard to track down a bike that looks common.
Imagine if somebody steals your bike.
When reporting the incident, you can only describe it as a blue bike.
Compare that with a personalized bike. When a thief gets a hold of your personalized bike, it is easier to track. This is because bikes with a design of moons and owls are unique.
Parking
Always make sure to park in a bright area.
Choose a place near a street light. Don't park in the dark.
I think this is something that comes in obvious. Because doing so has a lot of advantages.
One of these is that you can easily find your bike when you need it later on. Aside from that, you would also be on the lookout for the bike if somebody else touches it.
And finally, when you park in a bright area, you also keep yourself safe.
Whether traveling or at home, always avoid dark alleys and streets without enough lights.
How do I know if my bike was stolen in Amsterdam?
There is a website you can check. Check out the Netherlands Vehicle Authority (RDW) website, where owners report stolen bicycles. Head on to www.rdw.nl to check.
Now, once in a while, somebody would sell you a bike.
It might be from some bike thief, for all you know.
How do you check to make sure the bike was not stolen from somebody else?
Check out the website above.
Here, owners with stolen bikes register such incidents.
The register should come in handy, especially if you are buying second-hand bikes.
Search the Register
Finding out if your bike belonged to somebody else is easier once you can use the register.
The website records all stolen bicycles since January 2008.
Unfortunately, it would be hard to backtrack reported bike theft that goes far back as 2007 or earlier.
How to Check
To check whether the bike was or was not stolen, you need a few details.
First is the combination of the frame number as well as the make of the bicycle.
Your other option is to identify the bicycle chip number. This is also what they call a theft prevention chip or DCP. Sometimes, they call this a protagtor.
These are the details you need for the registry to provide details of whether a bike was or was not stolen.
When You are the Victim
If you got your bike stolen, here's what you should do.
Report the incident. Always.
As mentioned earlier, you can report the theft incident through a website intended for such cases. Also, you can (and should) report the incident to the police.
When you report the incident, you make the bike recognizable as something stolen. Also, about 7% of reported incidents get their bikes back.
This is why you need to know your bike well. Aside from its physical characteristics, you should be able to provide unique identifications of the bike. One example of these unique identifications is the bicycle chip number that I discussed earlier.
When you report the incident, you give the authorities the assistance needed to track and find the bicycle and the thief.
Is it safe to ride a bike in Amsterdam?
Biking in Amsterdam is safe. You can bike almost everywhere. Besides, the city has a well-developed infrastructure that caters to bikers.
Riding a bike in Amsterdam, as I mentioned, is safe.
But no matter how safe it is, there is no reason for you not to know the traffic rules.
First of the many things you should watch out for are tram rails. This is because most biking accidents in Amsterdam involve tram rails.
Another reminder is on using the phone while biking. You probably know this already. But just to reiterate, just don't use it.
Biking and using your phone simultaneously will also lead to the authorities fining you for the offense, aside from being dangerous.
When you need to take a call or when you need to use your phone, stop biking. Go to the side of the street and use your phone.
But never in your life should you use your phone while biking in Amsterdam.
In this section, I will be talking more about the cycling safety rules in the city.
There is not much. Most of these rules are basic. Most of these rules are those that you already know. These rules can also be general and are common not just in Amsterdam but also in other countries.
Here is the list of the things you need to know.
People in Amsterdam bike almost everywhere. They bike to work, to school, etc. Most of the time, they are in a rush. As such, you have to make sure never to block cycling paths.
Amsterdam has many bike paths around. But there are places where you will never find these bike paths. One example is in the city center. You can bike on the streets. But make sure to bike on the right side.
When biking on the streets, you also have to make sure to allow scooters and other cyclists to pass you if they bike faster than you do.
While biking, make sure to follow road rules. When you see a blue sign with a white bike, it means there is a cycling path ahead. This means you need to follow traffic signs and traffic lights.
Never bike when drunk. Also, since marijuana is legal in the Netherlands, never bike when you smoke a lot of weed—biking when stoned or drunk is illegal. There is a monetary fine of US$165.
For Beginners
You can start biking at the park. Here, there are fewer bikers.
Some examples of these parks are Vondelpark, Oosterpark, and Rembrandtpark.
Biking at parks should be a great way to start when in Amsterdam. There are few bikers. This means you will be less likely to meet an accident while getting the hang of traffic rules and biking.
How about when biking on the streets together with the rest of the biking population?
When biking in streets or bike paths, follow a few rules.
One of these rules is to make sure to use your hands to signal other bikers of your intentions. This should happen when you make a turn.
Show the other bikers where you are going. Doing so would ensure that you avoid meeting an accident while biking on the road.
When passing other bikers, make sure to ring your bell to indicate that you are overtaking. This should let the other bikers be aware of somebody else trying to catch up from behind.
In Amsterdam, it is a mandate that bikers turn on their lights when it gets dark. No excuses on this one.
Make sure to check if the lights work when renting a bike. You never know.
Some bikes may have lights on them. But sometimes, these lights don't work.
Finally, know that the rush hours would usually be in the morning. This is around 8 or 9 in the morning. This is when people go to work.
They usually go home from around 5 in the afternoon to around 6 PM.
It is best to avoid biking during these hours. This is especially true if you don't have any important appointments during these times.
When you bike during these hours, expect to have a lot of traffic on the road. The heavy traffic should be on the streets themselves as well as on the bike paths.
To reiterate, if it's not important, ride your bike another time.
Other Important Rules to Note
When parking your bike, always remember the location where you parked.
You can take note of the street name and the number. Or you can even take a photo.
Take note that the streets in Amsterdam look almost the same. It will always be a challenge to find your bike if you are not careful.
Cycling paths in Amsterdam, as you know, are many.
Although I suggest, you use the bike paths when available. You can use them. But you can also use the streets if you feel like it.
When you bike on the streets, ride on the right side of the road. Never use the middle part of the road.
Also, prioritize the pedestrians. Stop when somebody is crossing the street.
And since Amsterdam is a bicycle city, there are a lot of bikers around. Be wary of the bikers to your left or right. You should also be aware of the things that happened behind you.
Why do Dutch bikes have no brakes?
Dutch bikes have brakes. The Dutch don't just use the breaks that much.
If this is your first time biking in Amsterdam, you might find the brakes to be a bit weird.
Most bikes in Amsterdam don't have the usual hand-operated brakes. And this can be quite alarming, especially if you are not so used to these types of bikes.
The Dutch use reverse-pedaling.
The Dutch and their Bikes
The bicycles of the Dutch are cultural icons.
There have been few changes in the Dutch's bikes over the years.
In the Netherlands, there is a women's version of the bikes and a men's version.
The women's version is an Omafiets or a grandma bike. The men's version is Opafiets or the grandpa bike.
Collectively, they call these bikes stadsfietsen or city bikes.
The Brakes
Bikes in other countries have hand-held brakes. But as you already know, most bikes in the Netherlands do not have this feature.
Instead, their bikes have back pedal brakes.
The reason for this is because these back-pedal brakes are cheap. Having them cheap also means that the production costs of these bikes are also cheaper.
They are also reliable.
But while most bikes have back-pedal brakes, there are also other bikes with hand-held brakes. These types of bikes, however, are pretty small in number.
Aside from these types, some bikes are hybrids. These hybrid bikes both have back-pedal brakes as well as hand-held brakes. This is similar to the bikes that they use in Germany.
But no matter what type of brakes you have, the important thing is you follow the traffic rules.
Because if you do, you would most likely never need the breaks anyway.
This should also keep you safe and away from accidents.