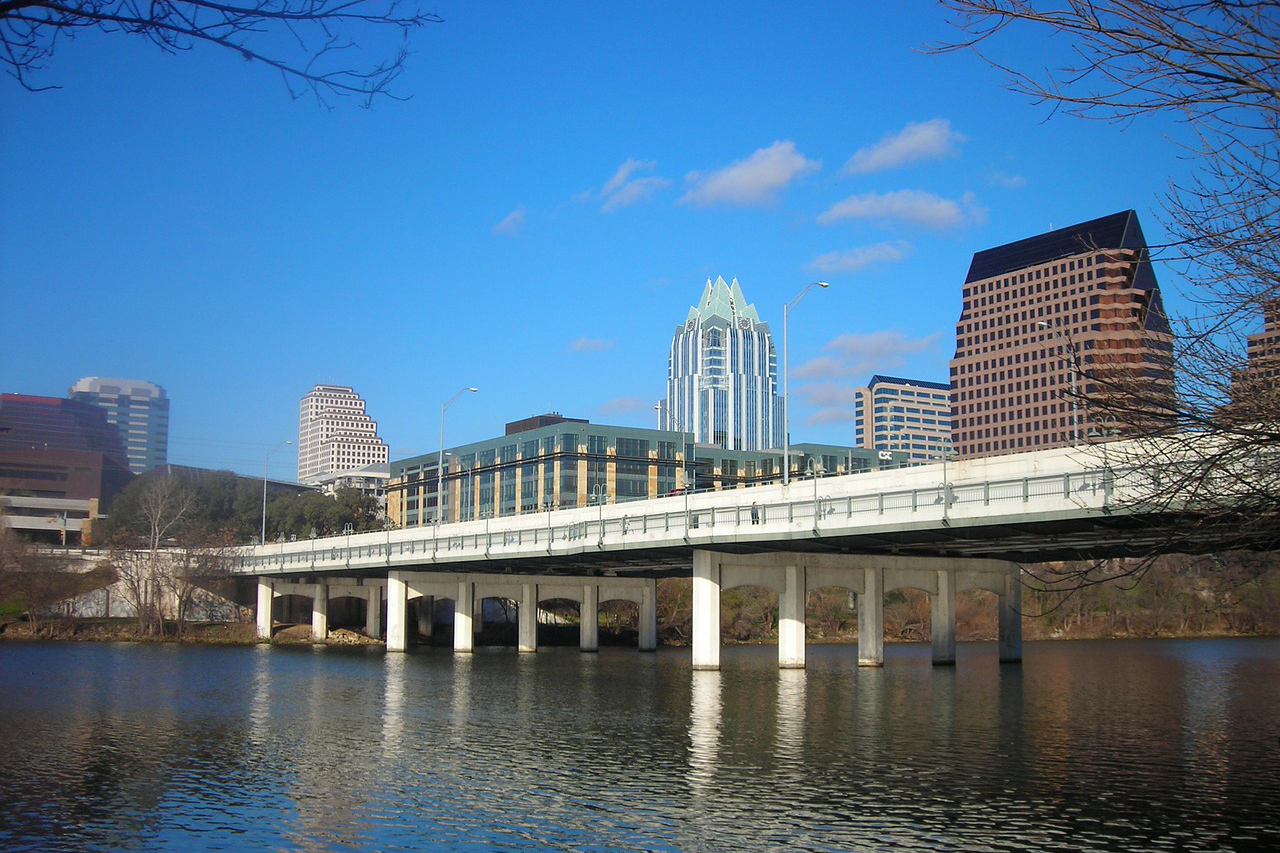 If you are the type, who can eat barbecue forever, listen to live music all night long, and will not mind the hot weather, go to Austin.
Austin might be the perfect location for you.
The city appeals to a mix of personalities and perspectives. It offers its residents a unique experience and way of life.
One of the things that you would first notice is that the vibe here is similar to that of San Francisco or Portland. The only difference is that Austin has a lower living cost than these two cities.
If you live in Austin, you live right at the heart of the state.
And there are advantages to this. You can drive up to Dallas or down to San Antonio or Houston. You can even do this on the weekend without looking haggard and stressed right after.
You can get the freshest fruits along the route in the country, which is only a short drive away.
There are wide and open spaces.
There are always blue skies. And a robust and friendly community of locals is ready to welcome you.
If you plan to move to Austin, you are doing the right thing.
Is Austin, TX, a good place to live in? Weird in a good way
Austin is weird, in an excellent way.
It has a vibrant history and culture, wonderful cuisine, and hospitable residents.
The city boasts of music, art, and a lot more. All of these create an incredible city that is as historic as exciting.
Overall, Austin is an excellent place.
The Good Side
Like each city, there are positive and negative aspects. Naturally, we would have to start with the best.
Here are a few essential things that will make you love Austin.
Fitness First!
A few weeks in Austin would make you realize that the locals love to stay fit.
You'll find that the city's most important elements are its health and wellness.
People here focus on fitness as a priority.
The workout choices here are also better compared to other cities. If you decide to do intervals at a gym, you will find that the membership fee is not that expensive. Jog along the river, and you will see a lot of locals doing the same thing.
Plus, the parks have programs related to health and wellness.
However, when running during summer, make sure to do it in the early morning to avoid the super high temperature.
Food Trucks Everywhere
The city's food truck culture may have developed due to the warm temperatures and little rain.
Or it could be because the people of Austin love to eat.
You will find that Austin is full of food trucks of every size and kind. They all have it here, from hotdogs to empanadas to sushi and some unconventional food. Each food truck sells a wide variety of choices.
There will always be an option available for every taste and preference.
In Austin, many chef-driven restaurants decided to follow this type of culture. In a way, these restaurants promoted their brick-and-mortar businesses fun and innovatively.
You must pick a street if you want tacos, omelets, or barbecue for lunch or dinner. That street will surely be full of food trucks that will cater to your every desire.
Big City-Small Town Vibes
Living in Austin, you will also find that the locals love to dress in casual clothes.
The reason for this is because of the weather. Unless, of course, you need to dress up for special events like weddings. However, on ordinary days, a suit and tie are something you do not have to worry about.
The vibe is also laid back. It is not as rushed as New York. There is a balance between city amenities and small-town vibes here.
And so, if you are moving to Austin, you might want to invest in many pairs of sandals and shorts to stay relaxed and comfortable, especially in summer.
A City of Festivals
Austin holds one of the country's most notable festivals. Each year, Austin is home to the SXSW festival (South by Southwest).
The festival provides its community with a week full of art, music, film, and technology. Additionally, it brings tens of thousands of tourists to the city annually to see the event.
Now, what's in it for the city?
From an economic standpoint, the festival is an advantage. Visitors would flock to hotels, restaurants, and all the other tourist attractions Austin has to offer. Their visit each year is always suitable for the local businesses.
Others would leave the city for a week to avoid the crowds. However, if you love the arts, this festival is something you should experience.
A Multitude of Lakes
Austin has a lot of lakes. And the city has a lot of them.
Unlike other cities in Texas, Austin is not always about buildings and roads that seem to go on for miles.
The city has three lakes. These three will give you access to several activities.
Imagine being in the city and being able to ride a board out on the lake. Let your worries slip away whenever you have a bad day.
Riding a boat on the lake relieves stress.
The temperatures will also be cooler once you are in the water.
The Bad Side
Of course, there will always be things you have to consider before moving here.
Would you like to see the other side of the coin?
Read on.
The Need for an Air Conditioning System
The temperatures in Austin can be so hot in certain months of the year.
Summertime is when the air conditioning system becomes a necessity. These are the months when temperatures even exceed 100 degrees Fahrenheit.
And even if you have a high tolerance for heat, you will want some air conditioning inside your home to survive the heat.
If you do not have an air conditioning system at home, you may want to spend your days in malls or other cooler public places.
You Need A Car
Austin is a car-dependent city.
Well, there are buses and other modes of public transportation around. Some people can get by without having their cars. But the expense is too much for public transport.
There is also no sort of rail system in the city to support the public traveling from one point to another. It is always a challenge to travel in the town.
Whether you are dropping your kids to school or going to work, you need to have a car to travel in comfort. Besides comfort, it would also be more convenient.
If you have a limited budget, you can get a cheaper car. You can drive that car until it gives up. And then repeat.
But if you want to try getting by without a car, you can do so. But don't blame me if you don't like it.
What is the cost of living in Austin, TX? Higher cost of living but cheaper healthcare expenses
Austin is an expensive city compared to most cities in the country. Additionally, compared to the other cities in Texas, the general cost of living is higher here.
With an overall cost of living higher than the national average by 19.3%, living in Austin can take up most of your budget if you are not careful.
The Good Side
There are three commodities in Austin that will not break your bank.
Let us start with the cost of healthcare. We began with healthcare because this is the cheapest among the three.
Austin's healthcare cost is 5.6% lower than the national average. Not only is healthcare cheaper in Austin, but the quality of services they provide is also top-notch.
To support this last statement, let me tell you that four area hospitals in Austin are in the top 100 best hospitals in the United States. These are Scott & White Hospital, Seton Medical Center Austin, South Austin Hospital, and University Medical Center Brackenridge.
The other good news is the cost of food and groceries.
Let me make a few suggestions. Fiesta Mart and Angie's Discount Grocery have cheaper goods than the other supermarkets. Here, this commodity costs 3.3% lower than the national average. You can try doing your groceries there if you are near these two.
Finally, the cost of utilities is also cheaper here. With a difference of 0.9%, your utility consumption will determine the monthly cost you will pay. Although, I should stress that the variance compared to the national average is not much.
The Bad Side
There are two downsides to living in Austin.
One disadvantage is the cost of housing.
Housing costs in Austin are more expensive than the national average by 59.6%. This number puts Austin's median home cost at US$551,200. The amount is higher than the national average of US$291,700.
The cost of transportation is also something to look out for in Austin.
Compared to the national average, it is 9.9% more expensive.
These two commodities can affect how you travel to and from your workplace. Before moving to Austin, find an affordable home close to your workplace.
Why work in Austin, Texas? Booming tech industry
One of the perks of working in Austin (or anywhere in Texas) is the absence of state or municipal income taxes. It is one of the major reasons you should work in Austin.
Also, the tech industry is booming in Austin. So, if I were you, I would look for jobs here.
The Good Side
Now, as is customary, let us discuss the good stuff first.
Here, I will give you a few more reasons why working in Austin is one great decision you must make.
The Technology Industry is Booming
Austin has a nice balance of entertainment options and a booming job market.
The job market that is growing much faster than the others is the technology industry. And so, if you are looking for jobs in the technology sector, you are in the right place.
This sector has grown tremendously during the last few years.
You will discover that several publications already ranked Austin as the go-to city for fresh graduates when looking for jobs. And to top it all off, these jobs pay competitive wages compared to other cities. The salaries are also competitive compared to the cost of living.
Let me excite your interests one level higher.
Did you know that Google and Tesla have bases here?
Yes, they have. If you dream of working in any of these giants, you can come and send in your CVs.
The job market in Austin is sure to grow. The prediction is that it will increase by around 47% in the next decade. It is safe to say that finding a job here will never be a problem.
And the absence of income tax in Texas makes it so much better.
Income Tax No More
And speaking of income taxes, you already know that Texas does not collect income taxes.
If you live in Austin, you will not pay income taxes. As such, you will get more from your monthly paycheck than when you work in another city outside Texas.
The portion of your paycheck that usually goes to income taxes is something you can use for other essentials. You can add it to your savings or even to your groceries.
For sure, you would be able to allocate that extra cash somewhere.
And there is sufficient justification for you to relocate here.
A College Town
When you start exploring the city and call it home, there will be another realization. And this realization is that the city is a college city.
It can be easy to forget at times. The University of Texas, for example, is in Austin. But if you live here, you will stroll down Sixth Street and see all the fraternities there. These and coffee shops full of college students are all reminders that universities are nearby.
Now, what's in it for you?
Universities churn out graduates every year. This group of graduates who finish college yearly makes hiring easier for companies. There will always be a substantial amount of workforce ready to start working.
It is advantageous if you are in the Talent Acquisition Department or starting a startup business.
The Bad Side
Now, what about the disadvantages of working in Austin?
Here are a few things you have to know.
The Traffic is Getting Worse
Austin is a car-dependent city. And so, wherever you go, most people drive their cars.
The city has not been keeping up with its infrastructures. The demands of the growing population are not being met. And this is something you need to consider.
Like when you go to work, will you be commuting?
How early should you leave your place to make it to work on time?
In Austin, you will be dealing with a lot of heavy traffic every day unless you stay in a neighborhood that is a stone's throw away from your office.
—
Moving to Austin requires a lot of research.
In comparison to other Texas cities, this one has reduced housing costs. It may be a bit higher than the national average, but the cost of living is relatively low for a big metro.
The locals are pleasant. To travel about, though, you need a car.
And finally, the jobs are enough to employ almost everyone, especially those from the technology sector.
If you are not from the technology industry, fret not. You will be able to find jobs here anyway.
So, are you moving to Austin anytime soon?
Let me know.