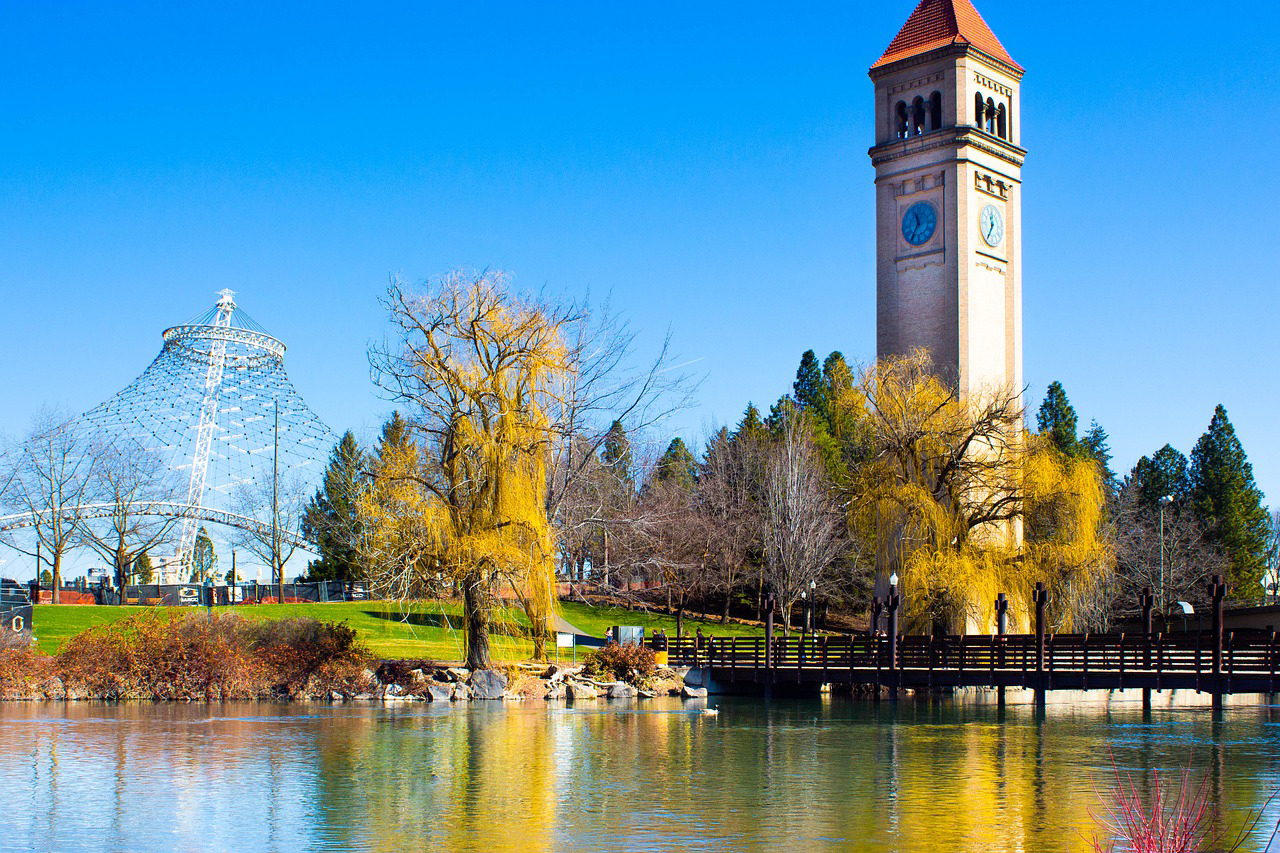 The city of Spokane, Washington, is a beautiful addition to the Pacific Northwest. It has a fantastic landscape and designs perfect for people under 21.
Being in the same city might make you feel like a raw adventurer and a modern hedonist at the same time.
Spokane is an excellent place for under-21s because of its gorgeous parks, waterfalls, museums, and other attractions.
Whether you're on a tight budget or searching for free things to do in Spokane, Washington, you will have a blast!
With this list of the top 11 things to do in Spokane if you're under 21, you'll see why this city has such a magical impact on visitors.
1. ROW Adventure Center
If you are people under 21 who love adventures, you need to explore the activities of ROW Adventure Center.
This adventure center shows you how to have a good time and enjoy the present moment.
These are the kinds of activities that show you why Spokane, Washington, is one of the most beautiful cities in the country.
Fishing, bicycling, kayaking, and whitewater rafting are just some of the activities available. The Spokane River Rafting excursion provided by ROW Adventure Center that you'll enjoy starts downstream from the city.
When rafting or canoeing down a rapid river, don't forget to see the prominent eagles and other stunning birdlife here.
Also, your visit will be surrounded by beautiful scenery on this trip, so don't forget to capture these magnificent views.
2. Riverfront Park
If you wish to have a great time in Spokane, you must spend much of your time in local parks. Riverfront Park is one of the city's most excellent parks that you should not miss when excursion to this city.
The park is a piece of both local and global history. In preparation for the 1974 World's Fair in Spokane, Washington, Riverfront Park was developed.
It spans 100 acres and has an island, the spectacular Spokane Falls and River, the 1902 Clock Tower, the Expo '74 Pavilion, the 1909 Looff Carrousel, etc.
The large red wagon, the Rotary Fountain, and a lengthy stroll through the meadows and natural conservation areas are all available for under-21s to enjoy.
You'll also see gorgeous ospreys, marmots, beaver, ducks, and geese here.
If you don't like walking, don't miss taking the Spokane Falls SkyRide to get a bird's eye view.
3. Hoopfest
Hoopfest is the world's largest 3-on-3 basketball competition, bringing over 250,000 players and viewers from across the globe.
Hoopfest is manned by about 3,000 volunteers responsible for 450 courts across 45 city blocks. It is a significant event that you should not miss if you are a basketball fan! Around 6,200 teams "play 14,000 games across 42 blocks in downtown Spokane" during the final weekend of June.
The fantastic thing about Hoopfest is that everyone can participate, regardless of skill level. Four players make up each team, with three on the floor at any one time. All participants get a Hoopfest Player t-shirt and three games for their team.
The objective score for all games is 20 points, meaning the first team to obtain 20 points within 25 minutes of play is the winner.
Games tend to go rapidly, so arrive early and stay still if you're watching someone play. The Hoopfest FAQ page has more information if you'd want to participate or join a team.
If basketball isn't your thing, Hoopfest also features an outdoor event, including shopping, food, and entertainment.
To get a souvenir for a fun experience here, don't forget to visit the Nike Store, the official Spokane Hoopfest sponsor. It will provide you with special Hoopfest merchandise that you can't find elsewhere.
4. Spokane Falls
The Spokane Falls, located in downtown Spokane's core business area, is a series of waterfalls and dams that contribute to the city's attractiveness and are one of the top Spokane attractions.
It comprises two drops, the lower and higher falls, providing a fast-paced and very audible appeal. While both provide magnificent vistas throughout the year, April is likely the finest season to witness these fast-flowing falls when snowmelt fills the Spokane River's banks.
The higher falls are easily accessible from the Pavilion at Riverfront through a short stroll. Below the falls, a pedestrian bridge spans the river, providing spectacular views of the flowing water. Expect to come across photographers and other curious explorers intent on capturing the beauty.
The more significant lower falls are located on the west side of Riverfront Park and are accessible from various locations. One of the most popular spots to enjoy gravity is Huntington Park, a manicured park located underneath the Washington Water Power building. This park contains numerous stairs and an interpretative trail.
Another viewpoint of the lower falls is available from the pedestrian walkway atop the neighboring Monroe Street Bridge. The recently erected A Place of Truths plaza next to the Monroe Street Bridge offers excellent views.
You should try the Numerica SkyRide in Riverfront Park, which provides gondola-style river cruises for the most fabulous view.
5. Manito Park
Spokane is home to several lovely parks. Manito Park, in the South Hill neighborhood, is included.
Due to the large number of winged swimmers who used to live there, the area was initially known as "Duck Pond."
Every year it attracts a large crowd because of its beautiful landscapes and other remarkable qualities.
Manito Park features more than 70 acres to explore, including five distinct garden zones.
This 90-acre park in Spokane's South Hill area is a lovely spot to come in the spring, summer, and autumn to smell the roses, see the Japanese garden or the dahlia garden, and wander along the concrete pathways, or rest on a seat.
Any time of year, you can see families picnicking, under-21s playing baseball, and bird watchers peeking into the trees of Manito Park.
To maximize your time, don't forget to visit the Gaiser Conservatory, a stunning greenhouse with many beautiful attractions.
6. Blue Zoo Aquarium
At 4750 N Division St Ste 1242, Blue Zoo is an educational and entertaining interactive aquarium.
For starters, touch and feed stingrays, birds, and reptiles view sharks, clownfish, and angelfish, and hold starfish!
Live concerts and interactive play spaces are also available.
In the middle of Blue Zoo Aquarium, there's a free of cost live pirate entertainment featuring sword fighting and a mermaid meet and greet.
The best approach for under-21 students to view its animals is via field excursions. A wide range of animals, intriguing information, entertaining facts, and a close examination of these species are featured by its Animal Care Experts.
Visit the facility and meet its knowledgeable staff to learn about its diverse collection of stingrays and sharks! You will know about scuba diving in the shark tank and speak with the diver!
Discover its reptiles from the skilled staff to complete the wildlife experience! Following a presentation and Q&A session, you'll be able to get up close with some of its more giant reptiles.
7. Queen of Sheba Ethiopian Cuisine
Queen of Sheba Ethiopian Cuisine, located at 621 West Mallon Ave Suite 426, is tiny and well adorned with genuine Ethiopian cultural art. Its kitchen makes it the actual work of beauty!
In comparison to other cuisines, Ethiopian food has been around for a long time.
It offers a piece of injera dipped in Yesiga's thick sauce. Yesiga We't is a beef stew braised with garlic, onions, tomatoes, ginger, and authentic Ethiopian spices.
Injera is a traditional Ethiopian bread and a soft, spongy crepe used to dip into stews like Yesiga We't.
It's served on a substantial communal plate to be shared among family and friends, much as it is in Ethiopia. There are no forks or spoons available, just plenty of injera for a unique and tasteful experience.
Every taste is a new experience; explore their appetizer menu to know its ingredients, spices, and cooking methods.
Its excellent Ethiopian coffee is just as addicting as the delicious, aromatic meals, so don't miss that for a complete dining experience.
8. Wonderland Family Fun Center
Wonderland Family Fun Center is the ideal location for a fun and relaxed day with the whole family. There are almost 5 acres of excitement here. Another good news is that the park is open all year, and admission is free.
When you visit this attraction, you'll enjoy its 18-hole outdoor miniature golf course and 18-hole indoor blacklight miniature golf course. It also has Go-Karts, Bumper Boats, a brand new 2,800 square foot Laser Tag Arena, Batting Cages, an arcade with over 80 videos, and Wonderland Prize Center.
Make sure not to forget your pizza. It is a delicious pizza produced with the highest quality, locally sourced ingredients. Its cuisine was developed by a chef who is in high demand.
Lastly, you can have your birthday parties or invite friends for group activities here.
9. Flying Squirrel Trampoline Park
Located in Spokane Valley, Flying Squirrel Trampoline Park is an indoor trampoline park. Trampoline parks are large indoor playgrounds featuring a variety of trampoline attractions, ranging in size from 1,000 to 8,000 square meters.
All ages are welcome at Flying Squirrel Spokane's spring-loaded attractions!
The Flying Squirrel Trampoline Park has a range of trampolines to keep even the most energetic entertained.
The laws of gravity don't apply at Flying Squirrel, so people under 21 can have the time of their lives on the bouncy urban playground.
It's also a fantastic area to practice your aerial acrobatics and other skills.
To make a memorable experience here, don't forget to slam-dunk like an NBA player when playing dodgeball with your friends on trampolines.
If you don't want to jump, there's no need to worry about it! In the lounge area of the Drey Cafe, you can enjoy free internet and get a cup of coffee.
10. Riverside State Park
Riverside State Park is the state's most significant state park, located nine miles northwest of Spokane at Nine Mile Falls. Bowl and Pitcher, Little Spokane River Natural Area, and Nine Mile Recreation Area, are just some of the park's many sections.
Biking, bird viewing, boating, canoeing, kayaking, camping, fishing, swimming, and picnics are just a few of the activities available to visitors to the park.
Visit the Spokane House Interpretive Center to maximize tour time, educating visitors about Spokane Indians, early pioneers, and fur trappers and merchants.
11. Northwest Museum of Arts & Culture
Those interested in Native American culture will be particularly captivated by the Northwest Museum of Arts and Culture. The Northwest Museum of Arts and Culture is probably one of the top 10 museums in Washington!
The Northwest Museum of Arts & Culture, situated on West First Avenue in the Browne's Addition area of Spokane, is a museum featuring collections of art and artifacts linked to the history of the local region, Native American Indian culture, and other cultures and works of fine art.
There are five underground galleries, an auditorium, an education center, an outdoor theater, and a shop and café at the museum, affectionately known as MAC by the locals.
A neighboring historic 1898 Campbell House is on the National Register of Historic Places and is part of the museum's collection.
The museum also contains the Joel E. Ferris Research Archives, which comprise books, maps, pictures, etc.
So, whether you're interested in arts, culture, or history, don't forget to include this in your Spokane trip.
Spokane, Washington, offers fantastic free activities to do, and ones that cost money are worth every cent. Whether your notion of a great time is rowing down a strong river, playing sports in a perfect location, or simply resting in a pleasant park, this city may seem like heaven.
We hope that you find this post helpful. Is there anything else you'd want to mention? Let us know what exciting you discovered in Spokane by commenting below.