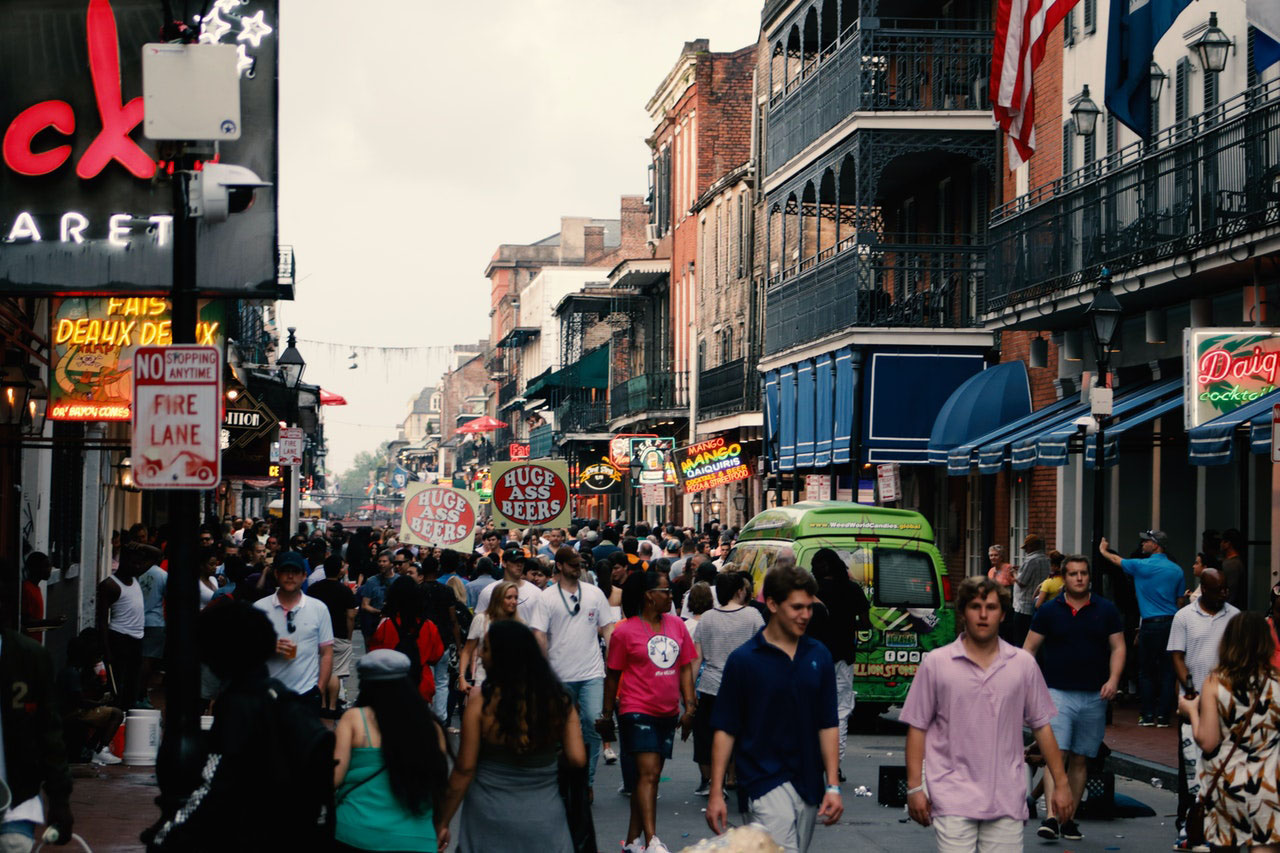 When thinking of New Orleans, there are a lot of fun facts that can come to one's mind. New Orleans goes by many monikers, including "The Crescent City" and "The Big Easy." It is famous for its quarter-moon shape and round-the-clock nightlife, but it is also a melting pot of African, American, and French cultures.
If you ask people about New Orleans, they may answer different descriptions. Yet, it is what makes New Orleans unique. Its distinctive list of attractions, from historical streets down to the world-famous haunted mansion, captured a lot of thrill-seeking and curious individuals. And with its festivities and games that appeal to those under 21, the city never disappoints.
A trip to Louisiana's southern city, New Orleans, awaits tourists who are in for the history, voodoo, hauntings, jazz, and the diverse mix of cultures in one place. Check our curated list of things to do in The Crescent City for those under 21.
1. Preservation Hall
Preservation Hall, New Orleans' oldest jazz club, has been around since the 1950s. The family-owned business thrived during the incredible popularity of bebop and rock n' roll, which pushed jazz to take the back seat. Located at 726 St Peter, New Orleans, LA 70116, the club is a 3-minute walk from the famous St. Louis Cathedral.
Celebrate your vacation nights in the Preservation Hall for a smooth late-night escapade in the center of the French Quarter. Perfect for all ages, New Orlean's Preservation Hall is not only a historical destination but a successful venture that brought back jazz music to the front seat. It caters to private events and has an in-store shop, as well.
Enjoy the night by listening to the Preservation Hall Jazz Band and Preservation Brass. These are the club's very own bands that exclusively play every night to entertain guests and bless their ears with the smoothness of jazz music. It is the perfect historical place for an intimate night presented by a collection of 60 New Orleans jazz masters.
2. Louisiana Children's Museum
Located at 15 Henry Thomas Dr, New Orleans, LA 70124, Louisiana Children's Museum is a 30,000 square feet building with many interactive exhibits. Louisiana Children's Museum, founded in 1986, focuses on showing children that they matter by creating a place where they can play, interact, explore, and converse with people and the world around them.
The 8.5 acres museum currently has two buildings, The Lagoon Building and The Play Building. You can find their waterfront cafe, parent-teacher resource center, and literacy center in the Lagoon Building. Whereas the Play Building features five educational and interactive exhibit galleries such as Play With Me, Follow That Food, Dig Into Nature, Make Your Mark, and Move With The River.
You must not miss their Follow That Food exhibit among its five exhibition galleries. It is one of the Louisiana Children's Museum's most extensive exhibits, which gives an immersive experience that will lead you on a playful journey of the state's food and agriculture.
3. The National WWII Museum
Formerly called The National D-Day Museum, The National WWII Museum is a military history museum highlighting the United States' role in the Allies' victory in World War II. Founded on June 6, 2002, it has been a haven for veterans and history lovers since its recognition as America's official World War II museum designated by the US Congress.
Situated at 945 Magazine St, New Orleans, LA 70130, the museum has welcomed nearly two million visitors since its opening day. There are now five display pavilions at The National WWII Museum, with another one on the way. Some include The Louisiana Memorial Pavilion, US Freedom Pavilion, and The Victory Solomon Theater Pavilion, which are full of artifacts collection and immersive multimedia.
Compared to other museums, the National WWII Museum presents a 4D cinematic experience narrated by executive producer Tom Hawks called Beyond Boundaries. Shown exclusively in the Victory Solomon Theater, the movie features archive footage from World War II battlegrounds that you should not miss.
4. JAMNOLA
JAMNOLA means Joy, Art & Music – New Orleans. It is a 5,400 square feet experiential pop-up establishment located at 2832 Royal St, New Orleans, LA 70117. Additionally, it captures the vibe and personality of the city's numerous cultural treasures.
There are over 20 New Orleans artists and collective collaborators who create a Crescent City-themed cultural event invoking joy via art and music you can enjoy in the establishment. Visit JAMNOLA and celebrate New Orleans' culture, art, and music that welcomes audiences of all ages with its 12 exhibits.
After touring and admiring the iconic New Orleans art, music, and food, don't forget to visit their shop and purchase some of their products. Great finds in JAMNOLA include apparel, accessories, artisan, books/prints, and gifts. You can book a private or semi-private guided storyteller here, too.
5. Escape My Room
Situated at 633 Constance St, New Orleans, LA 70130, Escape My Room started its journey in July 2014 and built its first escape room a year after. DeLaporte Ventures is the producer of Escape My Room, where a team of 18 skilled producers, artists, writers, actors, and designers crafted the area.
Escape My Room is an award-winning interactive entertainment site that has accumulated seven awards since its opening. The game spans from 45 minutes to an hour, depending on the room you choose. Themed escape rooms to play in are Mardi Gras Study, Jazz Parlor, Inventor's Attic, and Smugglers Den.
Since you are in New Orleans, we highly recommend trying Escape My Room's Mardi Gras Study. It tells the tale of the remaining heir to the DeLaporte Fortune needing your help to locate the missing treasures. It is an escape room good to play for 60 minutes for two to eight players with an escape rate of 36%.
6. French Quarter
New Orleans' history heart and Crown Jewel, the French Quarter, is known for its mysterious, jazzy, vintage, and romantic vibe. Also known as Vieux Carré, French Quarter began in 1718 and is a National Historic Landmark founded by Jean-Baptiste Le Moyne de Bienville. Currently, numerous buildings and entertainment scenes surround the district.
Visiting French Quarter is like exploring the rich history, culture, tradition, and modernization of New Orleans all in one district. Bourbon Street, French Market, Jackson Square, and Madame LaLaurie's Mansion are some of the French Quarter's main streets composed of jazz clubs, fortune tellers, street performers, cajun eateries, and ghost tours.
If you enjoy horror films or watch the hit TV series American Horror Story, taking a guided tour inside Madame LaLaurie's Mansion is a must! The mansion is the witness to the many torture chambers located in the attic where Madame LaLaurie imprisoned and chained her servants and did unspeakable horrors.
7. Mardi Gras World – Riverfront
Created in 1984, Mardi Gras World – Riverfront opened its doors to the public and became a tourist attraction. However, it all initially started when Blaine Kern and his father built their first Mardi Gras float, which attracted the attention of a captain. There created Kern Studios in 1947, and the rest is history.
Mardi Gras World – Riverfront provides tourists and locals with a look at their work behind-the-scenes. Blaine Kern, known by locals as "Mr. Mardi Gras," opened Mardi Gras World as a workings studio to the public. It is so successful and popular that it draws hundreds of thousands of visitors annually. You can find its location at 1380 Port of New Orleans Pl, New Orleans, LA 70130.
Besides touring the area, you can try their mask-making activity. Here, guests are free to make their own original Mardi Gras mask. It encourages individuals to let their creative personalities spark and reflect on their mask creations. You can also upgrade by taking a private tour to try on the Mardi Gras costumes.
8. Caesars Superdome
Located at 1500 Sugar Bowl Dr, New Orleans, LA 70112, the construction of the Caesars Superdome started on August 11, 1971. The multi-purpose stadium opened its doors years later, on August 3, 1975. Owned by The Louisiana Stadium and Exposition District and designed by Nathaniel C. Curtis, the stadium reaches a height of 273′.
Caesars Superdome is New Orleans Saints of the National Football League's home stadium. It is one of the most famous recognizable landmarks in the USA and a premier destination for any event. Upcoming events in the stadium are Monster Jam, Essence Festival, and Allstate Louisiana Kickoff – LSU vs. Florida State.
If you want to elevate your experience, Caesars Superdome offers Suites. Their suites provide privileged guests with the finest amenities, sightlines, and comfort. It has the best event viewing in the area and includes interior and bowl seating. Currently, there are 165 suites with exclusive in-suite catering provided by Sodexo Live!
9. The Haunted Mortuary
The Haunted Mortuary is New Orleans' most famous ghost tour in the magnificent, historic 1872 great Victorian home that initially served as a mortuary. First opened in 2007, it has been featured numerous times on various television channels. You can find it at 4800 Canal St, New Orleans, LA 70119.
An unforgettable, adrenaline-pumping, nail-biting haunted attraction awaits guests at this self-guided haunted experience. It has over-the-top special effects, surrounded by actual graveyards, odd themes, movie-quality makeup, and theatrical sets. The Haunted Mortuary is available for private parties, too.
Feel the thrill and fear are you enter into almost complete darkness with only a mini flashlight. It is consistently the most realistic, Hollywood-style haunted attraction every year! Do not miss attending their Halloween special event: Blackout Night – Flashlight Fear Fest.
10. Audubon Zoo
Part of the Audubon Nature Institute family, Audubon Zoo is 58 acres of the park, opened in 1914. Situated at 6500 Magazine St, New Orleans, LA 70118, it consistently ranks as one of the top-rated zoos in America and has been operating for more than a century. The Audubon Zoo also houses over 2,000 animals globally.
In Audubon Zoo, approximately 40 animal species such as Asian elephant, Malayan tiger, African painted dog, cougar, babirusa, red-tailed hawk, bobcat, etc. Moreover, there are about 16 things to explore in the area like a lion exhibit, African savanna, Louisiana swamp, jaguar jungle, flamingo exhibit, monkey hill, and more.
Aside from observing the animals, take a tour of the Louisiana Swamp Exhibit. The zoo's award-winning exhibit has received national acclaim for its creative depiction of the Louisiana culture. Learn about Louisiana's heritage, wildlife, history, and Cajun culture.
11. New Orleans Boulder Lounge
In 2015, New Orleans Boulder Lounge opened its doors as a rock climbing center located on St. Claude Ave. NOBL welcomes climbers of all ages and skill levels. It is also the metropolis' first and only climbing gym in over a decade.
Co-founders Eli and Garret established New Orleans Boulder Lounge with the mission to build a welcoming, empowering, and equitable home for the local climbing community. The rock climbing center offers a climbing workshop, yoga for climbers, coaching, and the Turtles Youth Program.
If you plan to stay longer in New Orleans, NOBL's programs are worth trying! For those under 21, their Turtles Youth Program is not something you would want to miss. Interact and make friends as you continue to learn the various climbing skills that the New Orleans Boulder Lounger offers.
New Orleans proves that it has a dynamic environment filled with activities engaging for individuals under 21. Its list of attractions and activities caters to people of taste and actively searching for diverse entertainment in one city. In New Orleans, you don't have to travel to other nearby towns because "The Crescent City" has it all.
We are excited to read about your plans to visit New Orleans. Were we able to excite you with our list? Do you think New Orleans is worth a visit this year? What else do you want to know about this city? Comment down below and express your ideas.