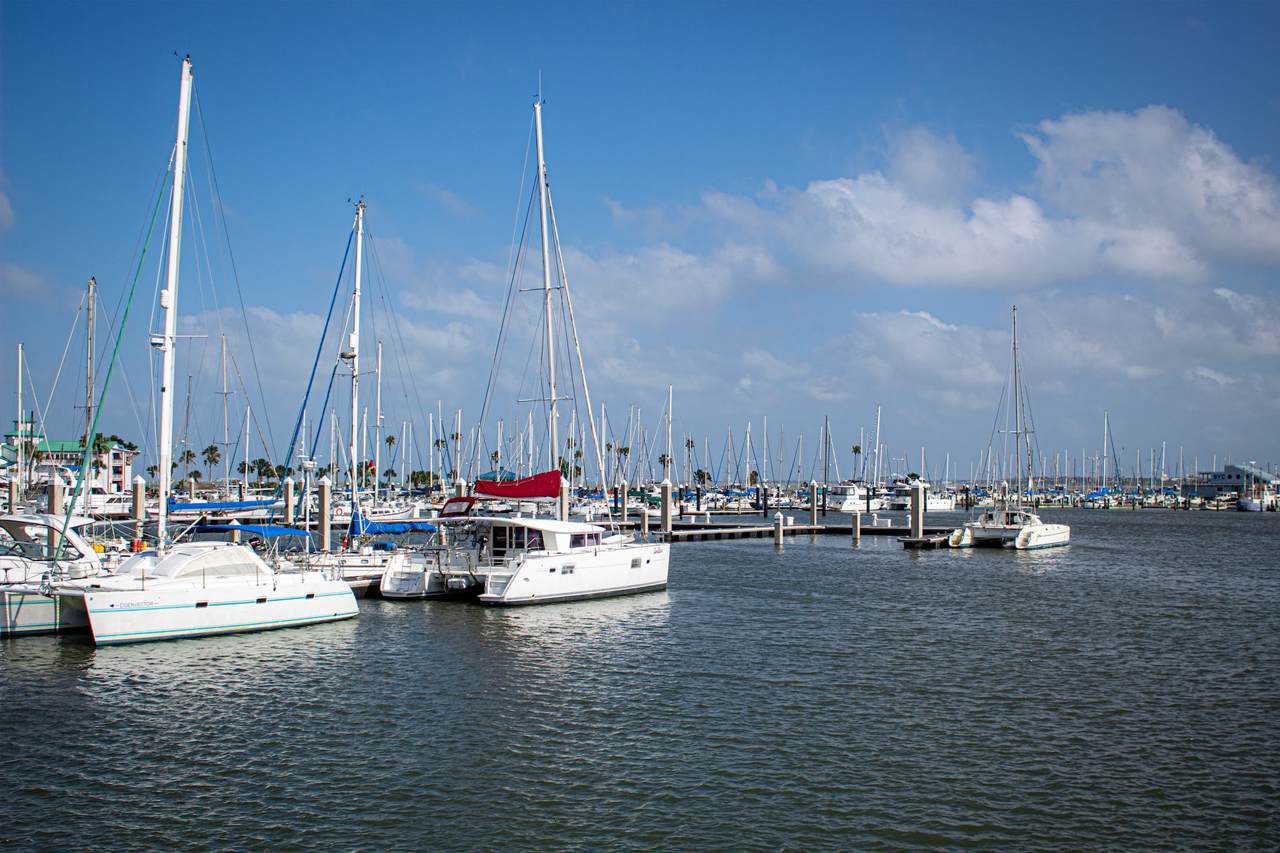 Corpus Christi, the Sparkling City by the Sea, is a beautiful city in Texas packed with nature, beaches, and coastal attractions. It is a tourist destination in Texas where adventure seekers and nature lovers desire to explore.
The city offers excellent places to eat, dine, and have fun. Its long stretch of sandy beaches has an overwhelming opportunity to experience extreme water adventures. Corpus Christi is also rich in flora and fauna, offering you many chances to enjoy the city without a car.
Thus, here are the +12 Things to do in Corpus Christi without a car. I provide you with my list of top favorite destinations in this coastal city of Texas:
1. Bob Hall Pier
When I traveled to Corpus Christi for the first time, the initial thing that went to my mind was exploring Corpus Christi's deep waters and nautical wonders.
So, I stop by the Bob Hall Pier, which extends more than 1,240 feet into the waters of the Gulf of Mexico. It is the perfect place to experience the water, get fresh air, and engage in fishing activities.
The pier is at Pader Island near Pader Balli Park. It is a renowned fishing site where you have a higher chance of catching fish. After paying a small fee to enter the dock, I headed straight to the fishing area to discover new types of fish.
Then, there are the Beach Bum rentals, where you can rent a golf cart while roaming around the vicinity. There are also cabanas, bathhouses, and campsites to stay longer on the pier. It is the ideal type of transit to spot picture-perfect coastline scenery.
2. Mustang Island State Park
Mustang Island State Park is another worthy destination in Corpus Christi. It is 30 miles south of the downtown city and has an 18-mile-long barrier island. The place features stunning dunes, incredible wildlife, and a massive collection of different bird species, sea turtles, fish, and raccoons.
Visiting Mustang Island State Park allows you to swim, sunbathe, and play under the sun. Here you will also have a chance to experience the warm waters of the Gulf of Mexico. You can also engage in kayak paddling and rent kayaks at the south park or near Port Aransas.
You have the chance to extend your stay and experience Mustang Island State Park in the morning. Here you can enjoy the waters of Corpus Christi, especially during summers. There are campsites for rentals and near clean beaches.
3. Corpus Christi Museum of Science and History
If you want a perfect destination to have an educational tour, you should visit the Corpus Christi Museum of Science and History. The museum is near the Corpus Christi Harbor Bridge and the city waterfront. It was founded in 1957 and has been a city landmark since its establishment.
The museum covers almost 100,000 square feet of land and has artifacts collected from the Spanish ship San Estaban wreck. It also holds historical documents, images of North Beach, and locally found gems from the city. It is home to some southern Texas wildlife and boasts its outdoor garden and playground.
There is much to explore inside the museum. You can check out its 5,000-square-foot science center with galleries like the Pre-historic Predators & Prey, Corpus Christi History, Shipwreck, and Cultural Center. It is a destination which you can easily access even without a car.
4. Corpus Christi Harbor Bridge
I recommend you visit the Corpus Christ Harbor Bridge for a picture-perfect view of Corpus Christ at night.
It is a through arch bridge carrying six lanes of US Route 181 and the Texas State Highway 35.
It is a great spot to see the bustling city of Corpus Christi and its thriving commercial scene.
It is considered the tallest point in South Texas, providing a bird's eye view of commercial centers and building in the city. When you get near the bridge, you will be impressed by the engineering and architectural design of the overall structure. It is a hot destination, especially if you want to experience the modern infrastructure in Corpus Christi.
5. The Harbor Playhouse
One of the favorite places in Corpus Christi is the Harbor Playhouse. The Harbor Playhouse is considered the most acceptable community theater in Texas and the preferred theater destination in the city. The Arts District is where theaters and live performances are available.
The Harbor Playhouse offers year-round offerings of both contemporary and classic musical performances. Here you can witness varied performances suitable for adults and kids. The acts and performances highlight the artistic and cultural significance of Coastal Bend for almost nine decades.
The district also considers the playhouse a venue for sports, entertainment, and arts activities. You will have loads of opportunities to enhance your artistic prowess or just observe the community's and local talents' passion and artistry.
6. Blackbeard's on the Beach
In this coastal city, something you should not miss is the famous restaurant named Blackbeard's on the Beach. It is a pirate-themed restaurant located in downtown Corpus Christi. The place opened in 1991 and has been attracting hundreds of food lovers.
Blackbeard's on the Beach offers complete food and entertainment packages. Here you will have delectable servings of seafood and local recipes. You can watch live music acts while enjoying exceptional servings of coastal seafood.
Upon entering the restaurant, you will observe impressive artistry and talent through its walls, ceilings, and art decors. It showcases a rock & roll music ambiance while mixing the pirate-inspired themed restaurant. Do not miss the juicy steaks, Baja tacos, and seared tuna when you visit Blackbeard's.
7. The Republic of Texas Bar & Grill
Another food center I visit in Corpus Christi is The Republic of Texas Bar & Grill. It is a fine dining experience inside the Omni Hotel at 900 N. Shoreline Boulevard, Corpus Christ. The restaurant is on the 20th floor, giving you a majestic view of the Harbor Bridge and Corpus Christi Bay.
Aside from the beautiful panoramic view, you will appreciate the food offerings in the restaurant. It has a wide selection of wines and delicious treats, including seafood, beef, and wild game. The restaurant received the Wine Spectator Award of Excellence because of its impressive selection of wine lists from different parts of the world.
Check out the restaurant at night and see the city's stunning skyline. Order its award-winning food menu, including its prime beef cuts and wild game meat like deer and rabbit. Great food, excellent view and exceptional service are the things you should expect from this resto-bar.
8. K Space Contemporary
K Space Contemporary is a recently opened art gallery in Corpus Christi. It is merely 12 minutes away from the Corpus Christi International Airport. Here you will discover new talents and trends in contemporary art. The place holds around 15 solo and group exhibitions annually.
It is a non-profit organization that generally harnesses the skills of local talents and artists in South Texas. K Space Contemporary regularly holds art expos, live entertainment, and fine art exhibitions.
There are also education art programs and summer Mural Art Programs which you can join. It is a recommended place if you are an art lover or want to enhance your talent and skills in fine arts and painting.
9. Horses on the Beach
For a memorable Corpus Christi experience, you should try the Horses on the Beach. When you reach Padre Island, do not miss this unique horseback riding activity while on the Beach. The movement is open to adults and even kids who want to have fun and wants a different sea experience.
You will fall in love with the waters of Corpus Christi while you traverse its almost 34-mile stretch of sandy beaches riding on a horse. The activity is perfect early morning while the sun rises and you feel the morning breeze.
The beautiful blue water in Padre Island is a sight to behold and a great way to relax. Having a fun ride on the horse and the stunning view of the pristine beaches is an unforgettable experience in Corpus Chisti. Horse on the Beach is open for young and old, from beginner to advanced riders.
10. Whataburger Field
There is an ideal place for you here in Corpus Christi for sports lovers and athletes at heart. You can catch a baseball game or see how the Corpus Christi Hooks play and practice. You should check the Whataburger Field, a baseball stadium founded in 2005.
The Whataburger Field already held sports events, tournaments, and leagues, particularly the Texas League All-Star.
It is a significant event in the city and accommodates thousands of sports watchers.
You will have a great time here, along with your sports buddies, while watching your favorite sports game.
There are several concessions you can try while watching a sports game. Food, fun, and good company can summarize your experience here in Whataburger Field. Since it is near Corpus Christi Bay, it is also an excellent opportunity to watch large oceangoing vessels and tugboat escorts navigating the port's ship channel.
11. Selena Museum
Another destination you can visit even without a car is the Selena Museum. It is a museum that commemorates the life and work of Selena Quintanilla-Perez. She was a best-selling Latina singer and considered the Queen of Tejano music.
The museum is near her resting place in Seaside Memorial Park. It opened in 1998 and showcased this famous singer's stories, life, and music. The area also replicates the recording studio when she was still alive.
If you are a fan of Selena's music and want to get to know her more, the Selena Museum should be part of your itinerary. You can also check the Seaside Memorial Park and see her life-size bronze statue, Mirador de la Flor (Overlook of the Flower).
12. Aransas National Wildlife Refuge
Experience the diverse flora and fauna in Corpus Christ by visiting the 70,000-acre land in Aransas National Wildlife Refuge. It is along the Texas Gulf Coast, 50 miles from northern Corpus Christi.
The wildlife refuge is a winter home for endangered animals, particularly the whopping cranes. It also serves as a shelter for snakes, alligators, and different species of birds. Aside from that, it is a perfect place to visit if you want to stroll and have a short hike.
It offers easy walking trails full of beautiful scenery and views. You can fish from the pier, stroll and check its observation towers, and share a picnic time while appreciating the perspective of San Antonio Bay. It is a perfect way to connect with nature and relieve ourselves from the stresses of life.
Corpus Christi is a stunning city to visit if you seek adventures and sun destinations. With its long miles of coastal waters, you can choose the perfect activity for you. With this list, I hope you will be encouraged to see this beautiful city of Texas.
But if you would like to add some more, or I miss something worth visiting, feel free to comment below. I am happy to hear from you!