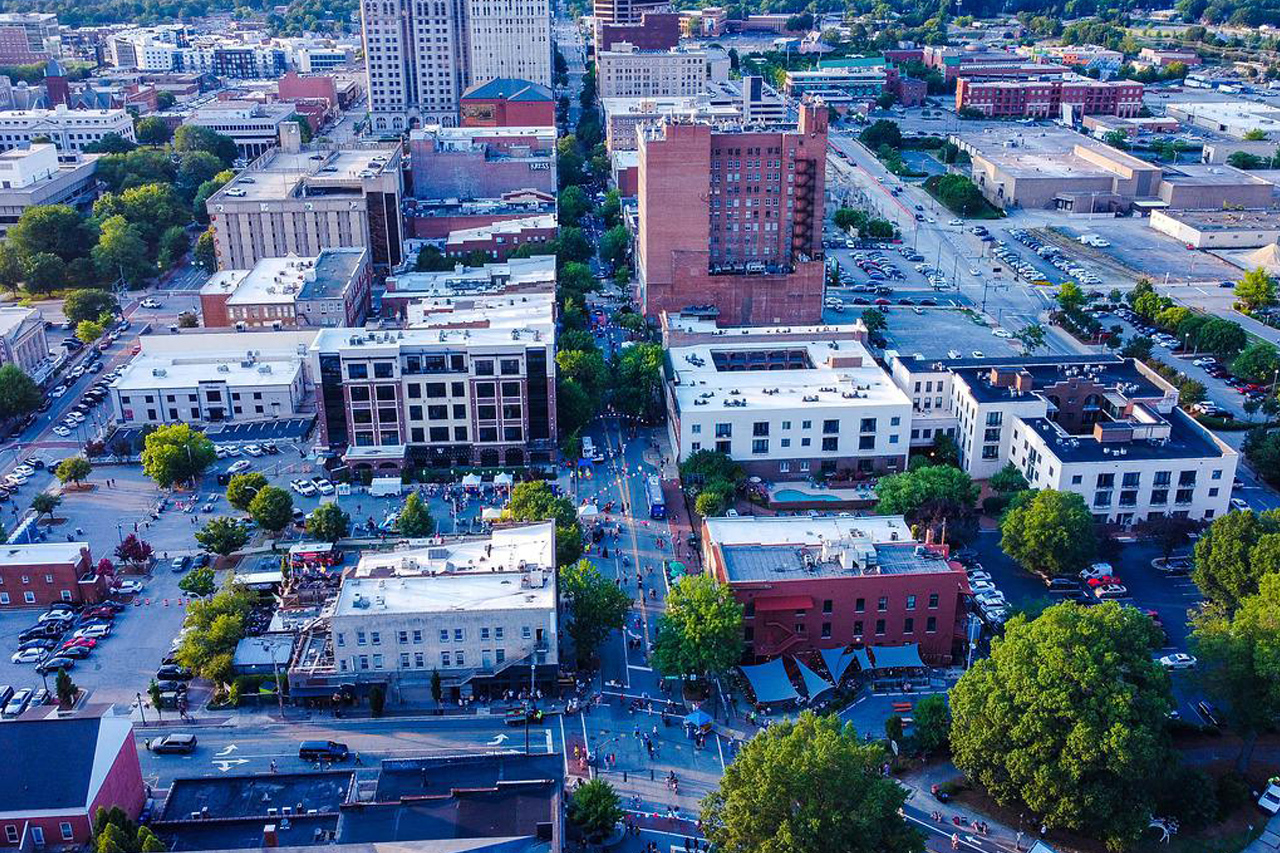 Greensboro is the third-largest city in the State of North Carolina. Given this massive size, you do not doubt that there are plenty of things to do here, even without a car. The town offers a nice mix of cultural, historical, and modern-day attractions, such as the Carolina Theater and the Pig Pounder Brewery.
There are also regular events and festivities where you can celebrate with the locals. You can participate in Eastern Music Festival and Greensboro Food Truck Festivals in August. Truly, Greensboro is a traveler's paradise and a worthy destination.
So, read on and see my most recommended +12 Things to Do in Greensboro without a car:
1. Greensboro Ice House
Greensboro Ice House is available whether you are visiting the city in the summer, winter, spring, or fall. It is a multipurpose organization providing the community a venue for hockey, ice skating, and figure skating. The Greensboro Ice House is a complete skating facility with rental skates, locker rooms, showers, and multipurpose rooms.
The Greensboro Ice House, located at the Landmark Center Boulevard, is every ice skater's favorite destination. It has three party booths, a mezzanine viewing area, and a pro shop to sharpen your skate. It is a substantial event place to celebrate special occasions like birthdays.
Here you can have private lessons or watch competitions with professionals. I recommend visiting the place during summers because it offers several activities for youth and beginner figure skaters.
2. Pig Pounder Brewery
To taste Greensboro's local brewery, you should visit the Pig Pounder Brewery. It is a restaurant chain founded in 1988 and evolved into a famous brewery over the years. The brewery specializes in well-crafted and unique beers such as Saison and Barley Wine.
This brewery has much to explore, including its in-house tasting room. You can attend mini-workshops and lectures and learn more about beer and wineries. Once you enter the interactive tasting room, head straight to the sample lagers and taste its critically acclaimed Boar Brown ale.
The Lipstick on a Pig Hard seltzer is something you should not miss. It is also one of the local's favorites. Wait for other events hosted by Pig Pounder, including trivia night, music bingo, and yoga retreat.
3. Tanger Family Bicentennial Garden
For those who love to spend outdoors and have a respite from the busy city life, you can check the Tanger Family Bicentennial Garden. It has over 7 acres of land filled with colorful and vibrant flowering plants. The garden offers free access to everyone who wants to enjoy the beauty of nature.
The Tanger Family Bicentennial Garden has a meticulous landscape to attract locals and tourists. It comes with a circulating stream and plenty of seasonal blooms. One of the areas you should not miss is the functioning water wheel and a beautiful gazebo for community events.
Check out the different sculptures installed around the area when you enter the garden. It showcases the historical importance of the park in the city and its artistic significance. Then, proceed to the Paver Plaza for more garden attractions.
4. Carolina Theater
The Carolina Theater is my personal favorite when visiting Greensboro. It was founded in 1927 and became a cultural landmark in the city. The theater regularly hosts community performances and showcases indie and classic films.
Visit The Crown is a third-floor loft theater where you can have the most comfortable and sophisticated view while watching. Here you can watch concerts presented by artists from different genres. Dance, community theaters, and cultural performances are also part of the event list in Carolina Theater.
Experience the theater's rich atmosphere while watching great performances from various entertainers and cultural troupes. Enjoy the intimate setting offered by the venue while you witness musical shows, plays, and dances.
5. Boxcar Bar + Arcade
For a complete food, entertainment, and fun package, the Boxcar Bar + Arcade is my top recommendation. It is an arcade bar featuring over 175 console games, cabinets, and pinball machines. The bar also boasts its full bar with around 24 rotating drafts throughout the night.
You will find the bar at 120 W Lewis Street downtown. It has a casual and friendly ambiance to make every guest comfortable inside. The drinks and food are affordable, and you can choose from its extensive menu and wine list.
Enjoy a day of fun activities and great entertainment at BOxbar + Arcade and have unlimited drinking and gaming with the gang. Grab its servings of free popcorn, and get some food from local food trucks just outside the venue. Do not forget to try its wood-fired pizzas and pretzels and snack in between your games.
6. Center City Park and LeBauer Park
When you reach downtown Greensboro, you must visit some places – Center City Park and LeBauer Park. Stunning parks or green spaces are available for everyone who wants an area to relax. There are walking paths, fountains, and a bandshell that can accommodate live and music performances.
The LeBauer Park offers the Peacehaven Sensory Space for those with sensory processing disorders. The place has sculptural designs that appeal to your sensory sensitivities. You can enjoy its playground, interactive fountains, and a one-acre ornamental garden.
On the other hand, Center City Park is the perfect place for a morning stroll. It is in the center of downtown, easily accessible even when you do not have a car. You can sit on the available benches and watch the dancing fountains while you rest.
7. Downtown Trolley Tour
You can try the Downtown Trolley Tour for an iconic and memorable Greensboro experience. You will ride on an airconditioned and cushioned trolley that can accommodate up to five to thirteen people. With this activity, you can tour the city for about two hours.
The Downtown Trolley Tour is a complete guided tour where you can visit the universities, commercial spaces, and Greensboro's public art. The tour also covers several architectural landmarks and historical heritage, allowing you to learn more about the city and its colorful past.
You can check its adult tours that touch Greensboro's comedy and brewpub areas. There is also a special guided tour for kids and adults alike. A hotdog tasting tour is also available for those who want to embark on a food trip activity.
8. Grove Winery
The city is famous for its craft breweries and wineries. So, it is equally important that I include the most visited winery in Greensboro – Grove Winery, in this list. It is 7 miles northeast of Greensboro near Gibsonville, North Carolina.
The Grove Winery only offers a limited production of superior wine every year. The place has been a famous winery area producing European grapes since 1993. They also have a tasting room open for visitors to check the quality of wine and other liquors.
Take advantage of the day with wine and stunning scenery at Grove Winery. Tour its vineyard and head next to the tasting room when you visit the place. Sip its merlot or Sangiovese to maximize the experience. Then, check out its beautiful outdoor patio overlooking Lake Cabernet's view.
9. Eastern Music Festival
One of Greensboro's most highly acclaimed celebrations is the Eastern Music Festival. It is a nationally recognized event that started six decades ago. The event is packed with music performances from different genres and is participated by various artists.
The Eastern Music Festival is a form of celebration for the music and talent of youth and Greensboro residents. The festival encourages more than 265 young musicians to appreciate performing arts and music. It became an opportunity to educate young people about music and artistic performances.
Watch residents and new talents during the Eastern Music Festival. Be inspired by its signature performances and listen to the skills of the EMF Young Artists Orchestras. Have a memorable evening while you discover passion, gift, and love for music from the festival's exceptional performers.
10. Greensboro Food Truck Festivals
Another most anticipated event in Greensboro is the Food Truck Festivals. It is being participated by around 60 food trucks parading in the streets of downtown Greensboro. The festival is a massive celebration with hundreds of people participating.
It is a day of celebration and fun with unlimited food and bottomless drinks. Here you can satisfy all your carvings from a barbeque and burger to gelato. There are endless food choices that can meet every kind of appetite.
Spend the whole day eating and drinking.
Watch live music and participate in street activities like chalk art and street dances.
Discover great food and sip locally crafted beer and wine during this exciting event.
11. Scuppernong Books
There is a unique attraction for you in Greensboro, the Scuppernong Books, for those who love reading books. I frequently visit here because of its vast selections of book titles and comfy and accommodating ambiance. The place opened in 2013 and became a local's favorite.
It is a literary bookstore with a great selection of fiction, poetry, and children's books. There is also a wide range of titles for general interests. The Scuppernong Books also hosts several events every year to hone the skills of writers and even would-be writers.
After reading books or losing yourself in the world of fiction, you can stop by its in-house cafe serving organic coffee and espresso. There are also wines and beer available, locally sourced from local farmers. Then, check out the Jerusalem Market and grab a bite of its specialty sandwiches, salad, and another lunch menu.
12. Tanger Center
One of my sought-after places to explore in Greensboro is the Tanger Center. It is popularly known as the Steven Tanger Center for the Performing Arts, showcasing world-class facilities and establishments. The center can hold a massive crowd of approximately 3,000 people.
The Tanger Center hosts more than 150 events yearly, including theater productions, Broadway, and musical performances. It is also home to the city's theater gems, such as the Guilford College's Bryan Series and Greensboro Symphony Orchestra. There are also comedy shows and family entertainment to watch here.
A center is a go-to place for A-list artists, including Josh Groban, Boyz II Men, and Little Big Town. It also runs the record-breaking Broadway title – Wicked, which attracted thousands of patrons during its run. You can watch children's events and plays like The Lion King here.
Visiting North Carolina means having a glimpse of the beautiful Greensboro. As one of the State's significant and most prominent cities, Greensboro will never fail to amaze you with its impossible beauty and charm.
May you find this list helpful, especially when you decide to book a trip to Greensboro? I kept the list comprehensive and included my most recommended attractions. If you still want to add something, or I missed anything, feel free to share your thoughts below!