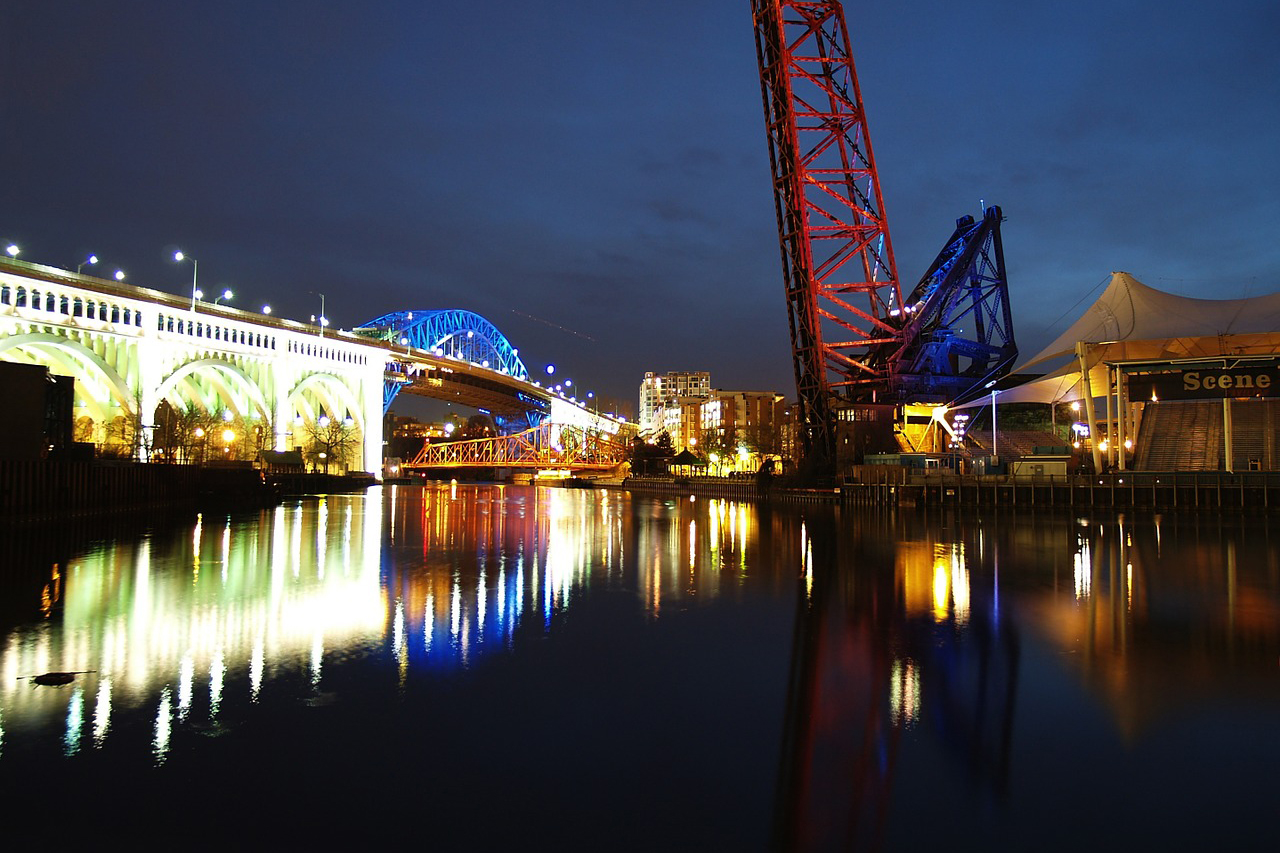 Cleveland, Ohio, recognized as the "Home of Rock and Roll," houses an estimated 1.7 million people in its 82.49 mi² area. Besides hosting the country's first rock concert, the city is also a manufacturing hub and is strategically located between Lake Erie and the river banks. It further grew to be a beautiful major city with a bustling economy in Ohio.
You'll be thrilled to know that Cleveland has a habit of being first at anything. The first indoor shopping mall, rock concert, blood transfusion, and automobile sale happened in this city. For those under 21, you will never run out of options to find the best places to explore in this rock and roll city.
With Cleveland's distinct options of tourist spots to discover, a whole day won't be enough. You might consider booking a few more days to fully explore everything the city offers. Our guide lists the best things to do while in Cleveland for individuals under 21.
1. Cleveland Metroparks Zoo
Cleveland Metroparks Zoo is among the Cleveland Metroparks' 2,700-acre recreational attractions. Located at 3900 Wildlife Way, Cleveland, OH 44109, this 183-acre zoo has protected wildlife worldwide for more than 20 years. The zoo strives to preserve and carries out conservation activities that help educate the community and continue research efforts.
It focuses its efforts on Africa, Asia, and Latin America. The Australian Adventure, Northern Wilderness Trek, The RainForest, The Primate, Cat & Aquatics Building, Waterfowl Lake, African Savanna, and the recently added Asian Highlands are among the zoo's various divisions to explore.
Aside from the zoo, you can also try to visit the other attraction the Cleveland Metroparks has to offer. As you take a stroll, you may want to keep track of the animals and plants you see in the park. They provide a printable checklist you can bring to record your findings and get to know more about the ecosystem around you.
2. Edgewater Park
Like the Cleveland Metroparks Zoo, Edgewater Park is also located in the same area. Situated in the westernmost park in Cleveland Metroparks' Lakefront Reservation, this park spans 147 acres. The Cleveland Metroparks, in general, is known as the oldest park district in the state. In the following years, the park district aims to connect the reservations in the area.
Edgewater Park offers 9000 feet of beachfront, a fishing pier, beaches, picnic spaces, grills, boat ramps, and a rentable pavilion. Additionally, the amenities you can enjoy are fishing pier parking, picnic table rooms, and trail access. Activities to try in the park are boating, sailing, biking, paddlesports, cycling, and picnicking.
While having fun exploring every activity in the area, don't miss out on visiting the nearby attractions such as Edgewater Beach Paddling Access, Edgewater Nature Shop, and Edgewater Beach House. These attractions are only a walking distance and are a great addition to your Edgewater Park vacation list.
3. Progressive Field
A fan-friendly facility located in Ontario St., Cleveland, OH, Progressive Field is an urban ballpark and a famous landmark in the city. The Cleveland Guardians organization and the Gateway Economic Development Corporation created Progressive Field with the fans and Cleveland baseball in mind.
Progressive Field is a world-class facility built with wider aisles and comfortable seats to cater to baseball fans and enthusiasts mainly. Professional baseball has been one of Cleveland's oldest traditions since 1869. If you are a fan of their baseball team or want to explore this essential historical facility, take a tour inside the Progressive Field.
Aside from going around the site, don't forget to visit the Progressive Field Team Store. Various sports merchandise is available here, and fans are given the option to request the items to be shipped or shop in person. Items on sale are headwear, clothing, and novelty items of your favorite sports teams.
4. Punch Bowl Social Cleveland
Situated at 1086 W 11th St, Cleveland, OH 44113, Punch Bowl Social Cleveland was initially launched in 2012. It once opened its doors with new CEOs leading: Robert Cornog, Jr. and Richard Flaherty. Due to the pandemic and its investor pulling out, the restaurant has to close its 19 branches and lay off most of its staff in 2020.
Punch Bowl Social Cleveland is a 27,000 square feet restaurant with the Flats' best rooftop deck. It offers creative drinks, scratch-kitchen cuisine, and activities like billiards, foosball, and karaoke. For those under 21, the restaurant also serves desserts, brunch, and main dishes. Salads, tacos, burgers, sides, and soups are some of the food to expect on their menu.
Punch Bowl Social Cleveland guarantees a relaxing and casual environment for its guests. As you savor their tasty and straightforward cuisine, never miss out on spicing up your experience by playing games. Giant Scrabble, Ping Pong, Billiards, Bonzini, Foosball, board games, card games, and Giant Jenga are available.
5. Greater Cleveland Aquarium
The Greater Cleveland Aquarium is a known tourist spot in the city that re-opened in 2012 after its forced closure in June 1985 due to structural issues. The re-opened aquarium has a massive 70,000 square feet of space located at 2000 Sycamore St, Cleveland, OH 44113, USA. The site is home to the Great Lakes' intriguing aquatic life and marine creatures globally.
The aquarium's main striking feature is its 230,000-gallon tank with an acrylic shark tunnel, making it a magnificent attraction to walk through. It also showcases diverse fish species, eight galleries, a 175-foot sea tube, and an 11,000-gallon touch pool featuring various species of stingrays.
Take the opportunity to stroll along the aquarium's Coastal Boardwalk. Fan-favorite touch exhibits like the 11,000-gallon touch pool are something you should never miss out on during your visit. You may interact with the friendly "smiling" stingrays as they sprint swim past. Cownose, southern and Atlantic stingrays are the stingray species you can expect in the exhibit.
6. A Christmas Story House & Museum
The house in A Christmas Story, the famous and classical 1983 film, is in Cleveland, Ohio. Because of the house's plain vintage, 1940s decor made it an excellent background for many scenes. The owner has since made a profit and continues to open its doors to the public, especially appealing to the tourists who wish to witness and experience the unique attraction.
The house's interior is as it appears in the movie. This authentic experience attracts many people of all ages to go on a short tour or an overnight stay. Guests can visit the museum directly across the street from the house and expect to find costumes, props, and exquisite photos inside. It also has a gift shop, and its proceeds will be used to maintain A Christmas Story House & Museum.
If you wish to experience this one-of-a-kind event longer, try to stay for the night in either of the two houses: A Christmas Story House and the neighboring Bumpus House. Channel your inner Ralphie and Randy geek side as you savor every moment and enjoy the sleeping arrangements provided that are unique only in this tourist spot.
7. Rock & Roll Hall of Fame
Opened in 1995, Cleveland's Rock & Roll Hall of Fame is among the city's most-visited tourist destinations. This iconic site perfectly represents the metropolis' iconic moniker, "Home of Rock and Roll." Its mission is to inspire, engage and teach individuals through the power of rock and roll.
Rock & Roll Hall of Fame welcomes about 9 million tourists yearly, from visitors to celebrities. Their Main Exhibit Hall features the history and evolution of music from the Roots of Rock to the Legends of Rock to today's musicians. It is the ideal location for music lovers, sightseeing tours, or simply admiring the town's distinguished history.
The Hall of Fame floor honors the inductees selected who contributed more than 25 years of musical excellence. Don't miss the chance to trace their signature, listen to their playlist, and relive their Induction Ceremony's most memorable moments in the area's Signature Gallery. These are only exclusive to the Rock & Roll Hall of Fame.
8. The Cleveland Museum of Art
Founded in 1913 and opened to the public in 1916, The Cleveland Museum of Art is one of the highly famous places to visit in Ohio. Situated at 11150 East Boulevard, Cleveland, Ohio 44106, it strives to engage and educate the audience about the great arts in the world. Each year, the museum attracts more than half a million visitors from around the globe.
The Cleveland Museum of Art has a distinguished and classical Gregorian marble structure. The museum boasts a collection of about 45,000 works of art, with some created 6,000 years prior. The museum also hosts annual events, including the Parade the Circle event and the Summer Solstice music festival.
One of the museum's unique interactive exhibits, the Sculpture Lens, is a must-try for first-time visitors. It uses face recognition software that matches your facial expressions with one of 189 artworks in the museum. It will then be displayed in photo-booth strips near the gallery's entry for others to see.
9. Cleveland Museum of National History
Established by Cyrus S. Eaton in 1920 to conduct anthropology, archaeology, astronomy, botany, geology, paleontology, wildlife biology, and zoology research, education, and collection development, the Cleveland Museum of Natural History has been serving this purpose for over a century. Moreover, it's consistently one of the places of interest in downtown Cleveland.
At the Cleveland Museum of National History, you will never run out of things to discover and explore. There are more than 4 million items on display in the museum. On your visit, some of the things to find are the Dinosaur Hall, astronomy programs, outdoor galleries, Ohio Archaeology, the Wade Gallery of Gems & Jewels, and the Human Origins Gallery.
Besides its roster of exhibits, you definitely must not miss the Perkins Wildlife Center. The center features towering walkways, breathtaking wildlife vistas, and immersive activities that bring you closer to Ohio nature. Get ready to also meet the animal ambassadors in the center.
10. The Cleveland Orchestra
The New York Times recognized The Cleveland Orchestra as "America's most brilliant orchestra." It is the most pleasing and most worthwhile ensemble in the USA that captivates locals and tourists alike. Located at 11001 Euclid Ave, Cleveland, OH 44106, it has been directed by Franz Welser-Möst for about 13 years, contributing to the excellence and graciousness.
Witnessing the magical performance of The Cleveland Orchestra should be included in your Cleveland bucket list vacation. Aside from their performance, guests can also take a tour around Severance Hall. It is among the world's best and most gorgeous concert halls. The Cleveland Orchestra performs in the Severance Hall most of the year. Whereas during summer, it performs at its summer home, the Blossom Music Center.
Severance Hall is already a great deal. However, if you plan to visit Cleveland in the summer, you better not miss the Blossom Music Center. It is among the most refined outdoor music venues in America, with available picnic areas where you can bring your meals, baskets, or chairs on the lawn.
11. Rocket Mortgage Fieldhouse
Rocket Mortgage Fieldhouse is the home of NBA's Cleveland Cavaliers and AHL's Cleveland Monsters. The multi-purpose arena first opened its doors in October 1994. There are over 19,432 seats in its basketball configuration and about 18,926 for ice hockey. Rocket Mortgage Fieldhouse's location is only adjacent to Progressive Field.
Cleveland is the hometown of one of the best basketball players in history, Lebron James, who played for the Cleveland Cavaliers for a few years. It caters to local sports events and has also hosted huge tournaments, championships, and most notably, NBA All-Star Games and NBA Finals. Sports fans will find that the city's Rocket Mortgage Fieldhouse is the ideal site to visit.
The multi-purpose arena features an event calendar for people to check the upcoming games of their favorite teams. Before booking a flight, check the forthcoming playoffs of the Cleveland Cavaliers on the website and book your tickets beforehand.
Cleveland's dynamic environment and world-class tourist destinations capture people's hearts from different walks of life, even those under 21. From its historical achievements and well-known establishments, the city strives to continuously evolve through the years and provides a new set of things to discover for anyone.
Do you think Cleveland is worth the discovery? Do you wish to see more about what places the city offers? Comment down your suggestions and let us hear what you have to stay in this rock and roll city.