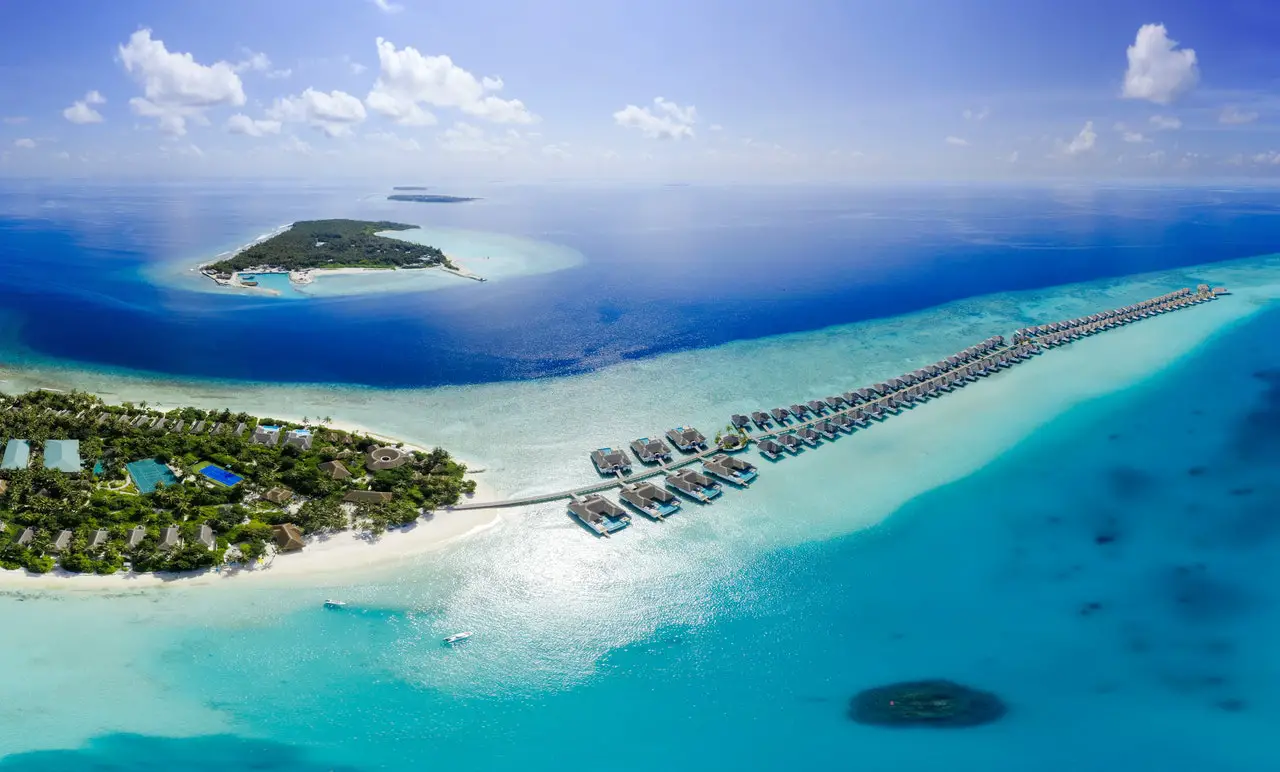 The Maldives is one of those islands popular for honeymooners. But aside from married couples, Maldives is also a popular destination for the unwed. In fact, there are a lot of unwed couples that fly to the Maldives for a vacation. There are also a number of marriage proposals done in this country. So, yes, unwed couples can safely visit the Maldives.
The Maldives is a country that welcomes couples, whether married or unmarried.
There are no laws that prohibit unmarried couples from visiting and share a room. Therefore, being unmarried and sharing a hotel room is something that should not be cause for worry.
Upon arrival at the resort, you will only have to show your passports for check-in. Resorts do not require marriage certificates when checking in. Unless, of course, you booked a honeymoon package. They may ask for a marriage certificate as proof before redeeming such a package.
The Maldives and its Rules
Since you can already visit the country despite the absence of marriage, what are the dos and don'ts in the Maldives?
The country is mostly Islamic. However, it has also remained to be relatively conservative. And as a conservative Islamic country, there are rules and regulations you need to know.
Like any other predominantly Muslim country, not respecting these customs can have repercussions. You may pay for penalties, or you may even go to prison. But, of course, the punishment depends on how severe your actions were.
And so, without further delay, let's talk about the Do's and Don'ts when in the Maldives.
Public Display
The Maldives is a conservative country.
Due to religious considerations, tourists are always advised to tone down on PDA.
Public display of affection like holding hands and kissing may offend the locals. This is especially true when you visit non-resort islands. One such example is the capital, Male.
Same-sex couples and everything LGBTQ is strictly not allowed in non-resort islands. Therefore, one should always remember to be discreet when in the country.
Of course, when you are in resorts, these rules may not apply much. So its application may have to depend on the resort you are in.
But when you visit non-island resorts, it would always be helpful to be discreet.
Alcohol Restrictions
It is important to note that under Islamic Laws in the country, alcohol is not allowed.
Private resorts, however, serve alcoholic drinks. And you need to know that you can only consume these within the resort's premises.
You are not, at any time, allowed to bring and consume alcohol outside the private resort.
Doing so would mean being penalized for breaking the law.
How to Dress Up
It would always be a shame not to wear your favorite bikini on this paradise island.
Of course, you can wear them.
But make sure that the bikinis and sexy swimsuits are only reserved at private resorts.
When visiting other non-resort islands, be cautious. You need to be mindful of the local customs. Also, make sure that you have your shoulders and knees covered all the time.
Why do couples go to the Maldives?
The country is actually famous for its beaches and paradise islands. It has white sand beaches like no other. Its waters are crystal clear. In total, the islands look like slices of heaven on earth. The country is popular for couples, whether on a honeymoon or just a vacation. It is the ideal destination for strolling along the beach, watching the sunset. These and more romantic activities make the Maldives popular to couples.
Yes, you got it right.
The Maldives is more than just the beaches. Of course, the primary reason is the islands. But aside from that, there are a lot more reasons why the Maldives is popular with couples.
Here are a few reasons why.
The Solitude
What is great about the Maldives is that you can always find a place for just the two of you.
This is the perfect time to get away from all the noise of the world around you. The Maldives is the ideal destination for rekindling that fire in you as a couple.
No neighbors are setting their eyes on your activities. There are no work-related problems to deal with.
All you both can do is sit by the beach and stare into the vast ocean.
Beautiful Resorts
Couples always worry about the perfect place to stay in the Maldives.
But fret not. This is not even a problem at all. Because in the Maldives, there are a lot of options to choose from.
There are floating villas. There are also beach stays you can go to. And if you want, you can even go to spa resorts or even guest houses.
There are a lot of options to choose from. And what is amazing is that each one of them is extremely beautiful.
Culinary Adventures
Now that you already have your resort problem solved, your next worry is on food.
What if I, or my partner, won't like it?
Food in the Maldives is amazing.
Aside from the food, restaurants are sure to amaze you and your girlfriend/boyfriend.
There is an undersea restaurant, complete with a view of the sharks swimming around. This is exciting! But don't think much about the sharks. Instead, enjoy that romantic dinner with your loved one.
If you are craving anything else other than local food, there is a lot to choose from.
You can choose anything European, Asian, or whatever food that suits your fancy.
The Maldives has all of them for you.
Refresh
Vacations are always a great opportunity to refresh and recharge.
All that stress at work, you could throw that out the window (or to the seas).
The Maldives is the perfect destination for you and your loved one. This is the perfect destination to recharge and revitalize.
Enjoy a spa at the resort. Or you can go check out a corner of the resort for you to do some yoga stretches and meditate.
Photos!
In previous decades, vacations were just that. You go to your destination. You have fun and go back to work.
But with the advent of social media, you cannot just go to the Maldives without posting your photos!
And the country is just that. It is full of corners and views that could make all your friends back home jealous.
The scenery is always perfect for that romantic getaway. But, you cannot just go home without taking photos.
Beaches and Sunsets
We all know from photos of the country that it is full of amazing beaches and beautiful sunsets.
The Maldives, as previously mentioned, is a slice of heaven on earth. No other destination in the world can match the beauty of the country.
Why don't you and your girlfriend/boyfriend go for a stroll? This should be magical.
Unless, of course, you take that stroll on a non-resort island. Holding hands and PDA is not allowed.
The Culture
Aside from the beaches, Maldives is also a country of rich culture.
Upon visiting its islands, you get a taste of its authentic culture and traditions. This is something that attracts many visitors to visit the country.
Immerse yourselves into the country's rich history and culture.
It is amazing how such a beautiful country can offer more than just its beaches.
The Climate
Because of its location, the country enjoys a tropical climate all year round.
The islands get to have all the warm weather all throughout. Pair it with an amazing landscape, and you got a perfect vacation.
You can always visit the country any time of the year.
But the perfect months should be anywhere from December to April.
Which islands in the Maldives are ideal for unmarried couples?
The Maldives has a lot of islands to choose from. But some islands are more beautiful and picturesque than others. Of course, males and Biyadhoo always top the list when it comes to beautiful islands. But then, there is Fihalhohii Island. You should also never miss Vaadhoo Island. These, and a lot more, are islands ideal for couples vacationing in the country.
You may not know it yet, but the Maldives has over 1,000 coral islands.
The country, in itself, is beautiful and is an ideal honeymoon destination for couples. And that's not just it. Despite being unwed, couples can also visit and enjoy the country in so many ways.
Aside from its coral islands, the country also has many artificial resort islands. All are privately owned. These resorts tick all the marks when it comes to perfection. The resorts also come with activities and amenities, all in the name of a romantic couple getaway.
If you need help choosing the best islands you and your beau can go to, here are a few suggestions.
This is not to say that the other islands are not worth it. But, yes, they all are—every single one of them.
But these five all stand out for a lot of reasons.
Male Island
When it comes to luxuries, Male is the best option you both have.
As you already know, Male is the capital of Maldives. It also houses the country's major international airport. As such, you could expect this island to be where you start and end your holidays.
Most would dismiss this island instead of the others. That is reasonable enough, especially if you are excited for a dip and a swim in the other islands.
But Male is the island where you see most of the culture of the country.
If you are for the culture and the luxurious vacation, this should be a good starting point.
We're not saying that you should stay here the whole time. However, we want you to consider visiting a bit longer than a few hours, a couple of nights perhaps?
In Male, you can dip in their protected ocean pool. They call this the Artificial Beach. You can snorkel and go underwater scooter riding.
You can, of course, go for island-hopping trips as well.
But aside from these, you can visit the Grand Friday Mosque and the Mal Fish Market. There is also a museum on the island as well as a Tsunami Monument.
The best months to visit would be during November or April.
And as mentioned earlier, the airport is on this island. So, whether you like it or not, you will still have a glimpse of Male for when you enter or exit the country.
Biyadhoo Island
This island is actually located in the south.
The island is popular for couples aiming for a romantic getaway.
The island is rife with vegetation. This includes bananas and coconuts. Mangoes also grow in this part of the country. The same is true with cucumbers, cabbages, and tomatoes.
But aside from this vegetation, the island brings with its sparkling waters. It also offers couples a whole range of water sports. These are actually what makes the island so popular with couples.
When on the island, never skip snorkeling. You can also go scuba diving with your girl. Or, if you want a chill water experience, you can go canoe-paddling.
The best time to visit would be around December until April. Then, you can fly to Velena International Airport. From there, you can take a cab to Hulhumale, and then off you go to the island.
Fihalhohi Island
The island is at the Kaafu Atoll in the southern part of the country.
This is perhaps one of the most beautiful islands there is in the country, especially for couples.
In fact, aside from its pristine beaches, the island brings to mind a lot of romance. It is one of the most romantic islands there is.
The island has many overwater bungalows where you can stay.
Imagine yourself waking up in the morning to the sound and sight of the ocean with your love. That is priceless.
Aside from its beauty, you can also pay a visit to overwater resorts.
Plus, the coconut palm trees shade the beaches for a truly romantic getaway.
It is best to go to this island in January.
Going there is easy through ferry transfers.
Vaadhoo Island
This island is, if not beautiful, something you may consider mystical.
The island is an inhabited island at the Raa Atoll. And the offerings can be unique. This is because it is on this island that you get to experience the bioluminescence of the waters.
This should happen at night when you are on the island.
You should stay at least a night here.
The beaches are ideal for relaxation during the day. But these transform into a colorful display at night. You can find the sea of stars on Vaadhoo Island.
The ideal months to visit would be May or November.
The island is about 8km away from Male. And you can reach this destination by road.
Villingili Island Resort
It is one of the best resort islands in the Maldives in Villingili.
Located in the Addu Atoll, this paradise comes with villas and pristine beaches. It also has an infinity pool and a spa.
This is as luxurious as luxury gets.
As a couple, you can try hiking through their tropical forest. Or if you prefer, you can relax on one of their white-sand beaches.
They have various water sports, too!
It only takes about 5 minutes by boat from Gan Airport to this destination. Therefore, the best months to visit would be around November or April.
—
The Maldives is all about the beaches and a lot more.
If your goal is to spend that romantic holiday with the one you love, we suggest you pack your bags this very minute.
The Maldives is waiting.