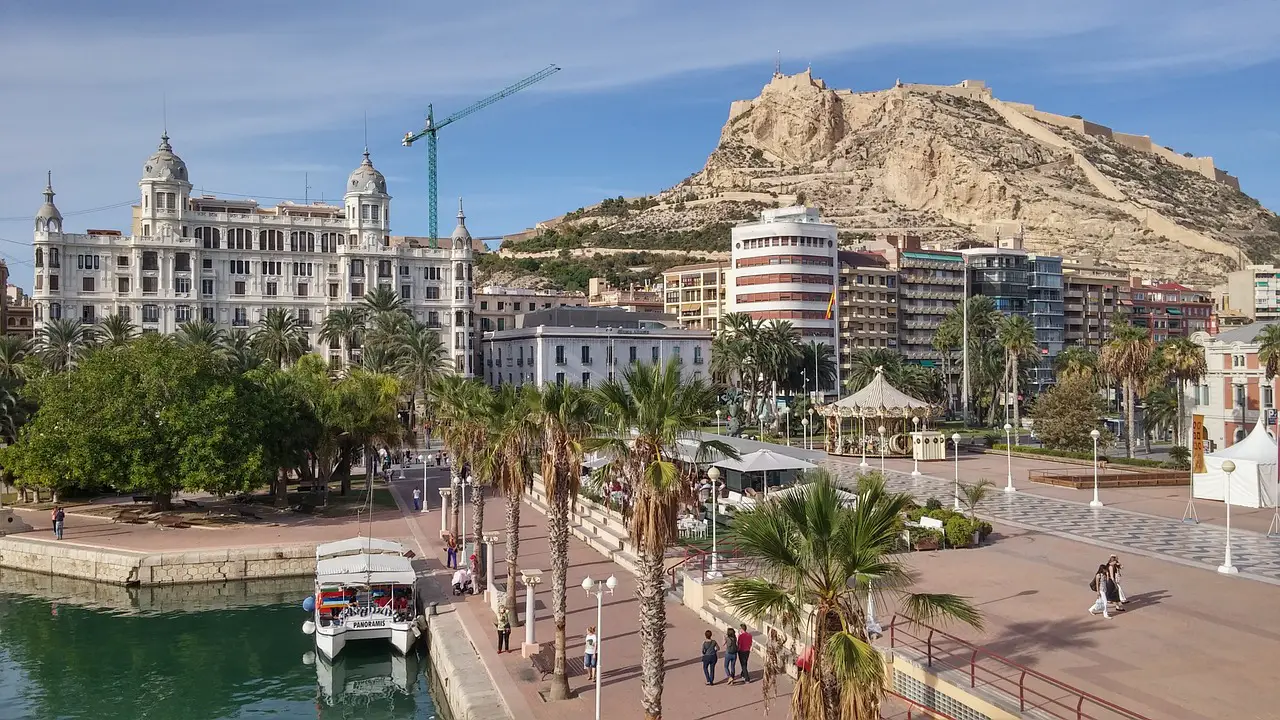 I would always visit Alicante more than Valencia. Both are great destinations. But if pressed for time, Alicante is the way to go. Plus, it also has beaches, which really breaks the deal with me.
Valencia is large and busy. That's something you should know.
Its attractions are far out from each other. And so, to visit for a few days, I would recommend you to see Alicante instead.
Valencia is a nice enough city. But you need more time to explore it fully.
Also, it doesn't have that much beach compared to Alicante.
Alicante is sitting right on the beach itself.
Here, you get to see many multi-million-dollar yachts docked in the city's ports. There are restaurants by the beach.
Plus, driving around the city is better. Compared to Valencia, parking in Alicante is easier, too!
But it's not as if you need a car.
Alicante is an easy city to get around. It is next to the beach. And it has better restaurants.
What more could you ask?
Is Alicante worth visiting?
Alicante is a city undoubtedly worth visiting. It has an offering for everybody. It's also not as expensive as other major cities. Whether it is the Spanish culture you are looking for, a beach, or a relaxing vacation – Alicante is the perfect place for you.
First of all, Alicante's city center is about 15 kilometers away from the airport. This roughly equates to about 20 minutes of a taxi ride.
Aside from cabs, there is also public transportation that is available at the airport. Car rental companies are also based in the airport.
No matter your mode of transportation, going to the city center is easy and fast.
My point here is that, compared to Valencia, you need less time to explore Alicante. This is because the airport, the city center, and all its major tourist attractions are near each other.
Alicante and its Accommodations
The city of Alicante is rife with options when it comes to accommodations.
You will never run out of choices. There is a whole range of accommodation choices for you to choose from. These options will, for sure, suit any budget you prepared for your travel.
All you have to do is to go online and check out your hotel booking apps.
Just select the date of your travel, the number of people traveling, and whatever specifications you may have.
It's that easy!
The Weather
Out of 365 days in a year, Alicante gets sunshine in 330 days.
Pair that with more than 200 kilometers of beautiful coastline, and you get a perfect sunny destination.
Alicante is famous for its beaches.
And because of the sunny days almost all year long, it is always a perfect time to visit.
The Tourist Attractions
When in Spain, there are far more cultural cities to visit.
Alicante is not on top of the list when you want a culture-trip holiday. But Alicante has a unique culture of its own.
For instance, there is the Santa Barbara castle.
The castle is one of the beautifully preserved buildings in the city.
Head over toward sunset. The views are amazing!
Aside from the castle, there is also the Santa Cruz neighborhood. Stroll along its old streets and be in awe of the prettiest and oldest structures in Alicante.
These tourist attractions aside, there are still more to explore.
And what makes it worthwhile is that all these tourist attractions are near each other.
It's Also A City!
Although Alicante is famous for its beaches, it is, at the same time, a city!
And so, when visiting, you get the perks of a big metro plus a beach.
It's also a charming city with a castle, an old quarter, and ports.
Another advantage of being in Alicante is that it is walkable. You can easily walk from one attraction to another without breaking a sweat.
A Food Party
Because Alicante is a port city, you could expect to have seafood fresh from its waters.
The city's cuisine is worth your while.
Aside from the seafood, there is also fresh produce. There's olive oil. There is also rice.
Because of its geographical location, Alicante has Mediterranean influences when it comes to its food.
And so, expect to have a sumptuous feast every time you are in Alicante.
A Bustling Nightlife
All year round, Alicante's nightlife is the one to beat.
It is a major city. And so, when in Alicante, you can see restaurants as well as bars everywhere. There are also pubs to visit and clubs to party in.
Fancy a drink by the beach? You got it in Alicante.
Pristine Coastlines
One of Alicante's selling points is its beaches.
Even for me, I'd choose Alicante for its beaches anytime.
If you are on the lookout for a beach holiday, Alicante will have no shortage of pristine beaches.
The city has more than 200 kilometers of beautiful coastlines.
And with a coastline this long, you will never run out of options. Whether it's a more relaxed setting or a bustling beach party, you'll get it in Alicante.
And what's more, is that you will always find your perfect beach that suits your budget.
It's Cheap
I am not saying that Alicante is the cheapest around.
Other cities are much cheaper than Alicante.
But the city is doable, especially when you have a fixed budget to work with.
When in the city, take advantage of its public transportation.
You can also fill your belly in its local markets. Anyway, whether you dine in the markets or restaurants, the food in the city is not that expensive.
Is Alicante a cheaper option than Valencia?
Compared to Valencia, Alicante is more expensive by a few dollars. On average, you can spend as much as US$115 in Valencia per day. In Alicante, the average daily cost when traveling is around US$120.
Travel cost per person includes accommodation, food, and what you spend on transportation. You also need to throw in whatever entertainment or attraction you visit while in any of these cities.
But looking at the average daily travel cost, Valencia appears to be cheaper than Alicante.
But the difference is not much.
Below is a discussion of what these costs entail. We will discuss three of the significant factors that affect travel costs.
Read on.
Accommodation
This is the only factor where Alicante is cheaper.
A hotel room in Valencia costs around US$100 to US$110. This is already a double occupancy room. The accommodations are modest.
In Alicante, hotel rooms can range anywhere from US$40 to US$80. This depends, of course, on the location and the type of accommodation.
But overall, Alicante is cheaper than Valencia when it comes to accommodations.
Meals
Alicante may be cheaper than Valencia in accommodations. But that is where it all ends.
When it comes to food, Valencia is much cheaper.
On average, a single traveler can spend as much as US$38 per day on meals.
Naturally, the price would vary. This depends on the location, the type of restaurant, and the type of meal you ordered. Another factor that could also affect your cost of food is the amount of food you order.
But typically, US$38 per day is enough in Valencia when it comes to food.
In Alicante, a single traveler can spend around US$68 per day on food.
There are different restaurants all over the city. And these dining places vary depending on the cuisines and the quality of food they serve.
When aiming to save costs on food, go with fast food. These, however, are not healthy.
Another option is to eat at street stalls. These stalls would be your cheapest options when it comes to food.
Attractions
Valencia's costs for attractions, on average, amount to around US$28 per person per day. Similar to food, your costs would vary depending on the type of activities you go for.
Some activities entail entrance passes. Others are free of charge.
In Alicante, the cost could soar up to about US$50 per person per day.
While there is the beach to go to, you can't pass off some museums and tours when in Alicante. And so, you have to spend on these at some point.
What is Alicante famous for?
Alicante is famous for its more than 200 kilometers of beautiful coastlines. It is renowned for its many public beaches. Because of its beaches, Alicante is a popular choice for activities like sailing and dipping into the Mediterranean seas.
Alicante's weather is sunny almost all year round.
But the best time for a visit is during summer. This is the season when you will find a horde of restaurants, bars, and pubs along with the city's ports.
In its Old Town Quarter, you will be able to visit Gothic cathedrals, castles, as well as architecture that goes way back centuries ago.
You don't need to pay for entrance passes for most of these attractions. And once you enter, there are also guided tours available for a few Euros.
So, what are the places to visit in Alicante?
Here they are.
The Alicante Central Market
The market is a famous spot when you want to shop for wines, cheese, and hams.
In Spanish, it is Mercado Central. And this is the city's major marketplace.
Here, you get to find more than 200 stalls and shops. Each shop sells fresh produce, meats, Spanish delicacies, and seafood.
Aside from the food, the Alicante Central Market is a beauty on its own.
The building comes with a semi-spherical cupola. It has a huge stairway with two major sculptures on each side.
When visiting, Friday and Saturday mornings are ideal.
Castillo de Santa Bárbara
This is a castle with an elevator.
Castillo de Santa Barbara is a castle on Mount Benacantil. The castle remains one of the city's most spectacular medieval buildings to this date.
For about US$3, you can ride the elevator to the top of the castle.
Here, you will get to see a view of Alicante and Playa del Postiguet from above.
The entrance to the castle is free.
There are also guided tours from 11 in the morning until 12:30 PM.
Summer is the perfect time to visit. There are concerts at the castle's courtyards during weekends.
Explanada de España
The Explanada de Espana is one of Alicante's busiest nightlife areas.
It is here that you will find cafés that stay open until very late at night.
There are also al fresco restaurants and beach bars here. They call these beach bars chiringuitos and are just a few minutes away from the beach.
The Explanada de Espana also has a lot of tavernas that you can go to.
Trees line the promenade.
There is a shopping mall as well.
Similar to other attractions, summer is a perfect time to visit. During this season, cultural events and open-air concerts happen at the auditorium in Municipal de la Concha.
Playa del Postiguet
Of course, when in Alicante, you will never forget to visit the beach.
Playa del Postiguet is a beach that stretches for about 800 meters. You can easily find this stretch at the foot of the Castillo de Santa Barbara.
The beach is also connected to the Explanada de Espana. And so, when you are in the area, you can easily cross from one attraction to the other by taking the pedestrian bridge.
Here, you will fill yourself to the brim with offerings from beachfront bars and restaurants.
Expect the freshest seafood. And when you tire yourself of eating seafood, why not sample Spanish cuisine? They are available at any of the beachfront restaurants.
Playa del Postiguet is a popular destination for sunbathing and other beach activities. Whether it is swimming or beach volleyball, you will never run out of things to do here.
Some hotels line the beach. If you want to be seconds away from the beach, checking in to these hotels is a must.
If you want a quiet beach, you could visit during weekdays.
The beach sees a lot of sunbathers during weekends.
Plaza de San Cristobal
This is in the city's Old Town Quarters.
The Plaza de San Cristobal houses historical buildings that go way back to the 15th century. There are paintings and exhibits here. There are also archaeological treasures that are worth your while.
One of those you shouldn't miss is the Santa Maria Basilica.
This is a cathedral that sits on top of Alicante's oldest mosque.
And despite the area being historical, it also has a bustling nightlife.
This is just proof that Alicante has the right balance of the past and the present.