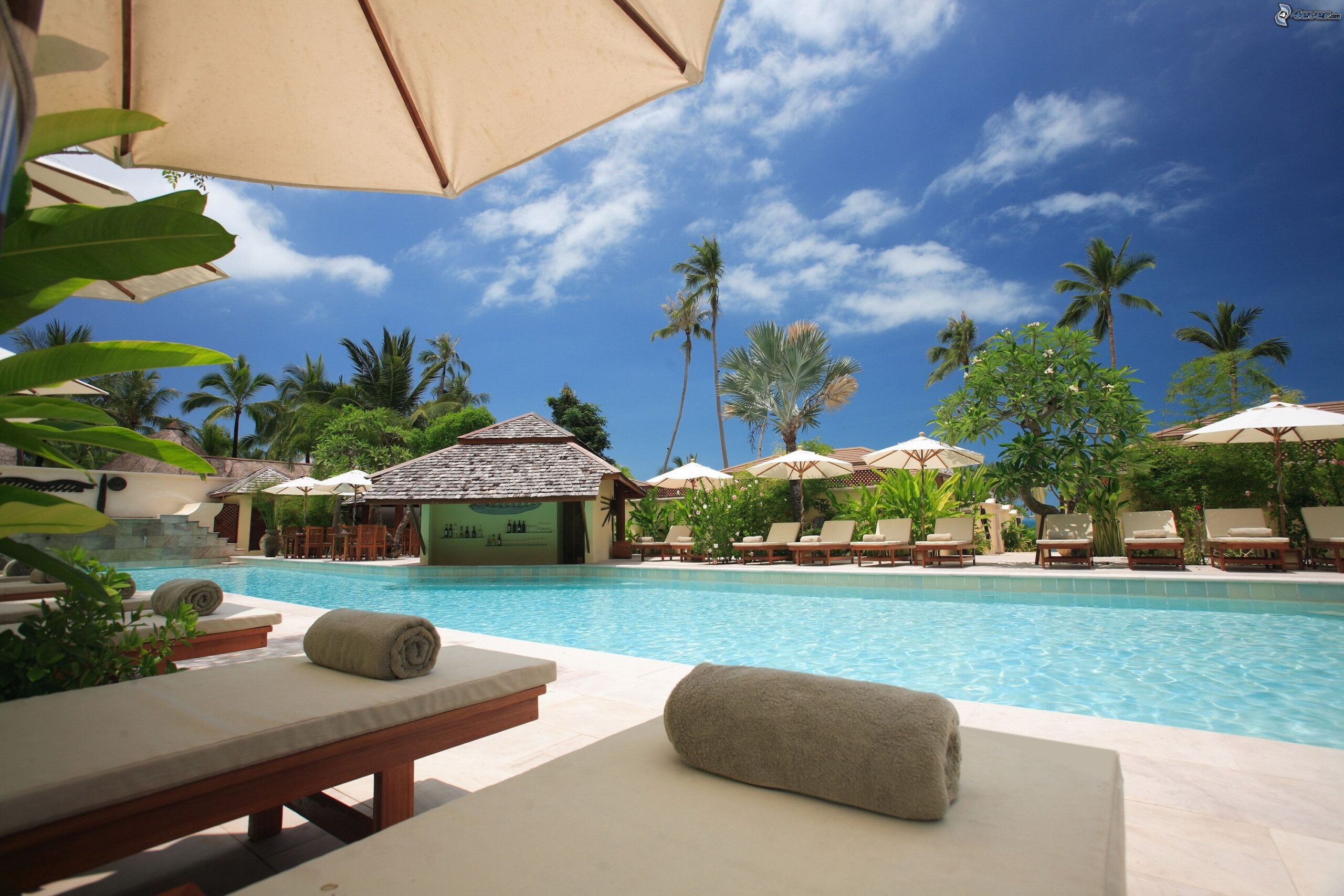 How does a hotel differ from a resort? Hotels are accommodations that may or may not come with other services. Resorts, however, have additional sports and leisure amenities.
You may have qualms about which is which.
The way to differentiate is easy.
Read on to find out.
Hotels
A hotel is an establishment that provides lodgings to its customers. When you are staying in a hotel, the service is mostly limited to accommodations only.
Some hotels may provide their guests with meals. Others may not.
Resorts
Resorts are pretty similar to hotels. This is because resorts also offer accommodations to their guests.
But there is a slight difference.
This is because resorts have amenities all the time. The framing is usually in a natural environment. And the dwellings are not limited to just the room.
This means that when you are staying in a resort, you also get to enjoy the pool, the basketball court, or whatever it is that's in the resort.
More Differences
Aside from these significant differences, there are a few minor ones as well. And so, before deciding on where to stay, you need to figure out which one suits you best.
Are you traveling solo? Are you with your partner or your family? Are you traveling for business or holidays?
Hotels may be ideal for solo travel or even for business trips. But when traveling on holiday with your partner, family, or kids, resorts are perfect destinations.
Resorts always come equipped with different amenities not common in hotels. There are game rooms, lounges, and pools. At times, there is even a theme park for your kids nearby.
Another difference is their location.
Hotels tend to be in urban areas. The location seems to invite its guests to visit the nearby tourist sights.
Resorts, on the other hand, tend to be in a secluded environment. It somehow encourages its guests to explore the beach, the forest, or the hills beyond the establishment.
Villas
Villas are just resorts leveled up. You have separate house-like structures of your own. You get to have your garden and even your pool!
When staying in villas, you have all the peace that you need. It is privacy at its finest.
Which is better: hotel or resort?
For me, resorts are far better than hotels. But then again, whether you choose a hotel or a resort depends on the type of trip you have. Business trips are mostly in hotels. Relaxed getaways, whether with family, a partner or friends, should be in resorts.
Choosing between a hotel and a resort can take a toll on you. To maximize your money's worth, you need to make the right decision.
And as I've earlier said, the choice would depend mainly on one thing: the purpose of your trip.
Mostly, the difference is only in the amenities that the resorts have.
Hotels attend to those who just need a space for the night. Resorts are the destination themselves. They are more spacious and offer more than just a room.
But which is better?
Here's a discussion worth your while.
The Kind of Traveler
Both hotels and resorts target travelers. But which type of travelers do each of them attract?
Hotels mostly target the general traveling population. It can be those who travel for business. Or it can be those that travel for leisure.
But when staying at a hotel, you don't expect to stay at the hotel the whole day.
It is just a place where you can keep your things safe. It is just a room where you can sleep in at night.
Resorts attract more vacationer types of travelers.
When you book a room at a resort, you just don't book the room. You also pay for the pool, lounge, and even the golf course (if there is).
A traveler books a resort to experience the amenities and activities the resort offers.
In this aspect, I always choose a hotel when traveling. This is because I just need a space where I can rest the night after all that exploring.
Amenities
A resort is always a complete package.
Resorts usually come with restaurants, bars, clubs, and even casinos. Some resorts have spas, a boutique, and a lot more.
At times, there are gardens and even a beach.
When it comes to amenities, resorts have a lot more to offer than hotels.
This also makes it more convenient for travelers.
Activities
Because hotels are mostly just dwellings for the night, you cannot expect to have activities here.
Hotels, however, also feature tourist sites nearby. Upon arrival at the lobby, most hotels provide guests with brochures that feature museums, parks, and other activities nearby.
On the other hand, resorts offer their guests convenience when it comes to activities.
Just a few steps away from your room is the pool. There are also a whole lot of water sports available in other resorts.
Some resorts offer a horde of other activities. There is basketball, beach volleyball, and even golf or bowling.
Certainly, guests would appreciate the convenience of having activities right at their doorstep. A resort is winning in this category.
Entertainment
Hotels can have varied entertainment options. This depends on the hotel you are staying in.
Some hotels have exemplary entertainment. Some can be mundane.
Resorts have entertainment as well. And they can be grand in this aspect most of the time.
There will always be something to see when in resorts. You would surely have all the entertainment you need in resorts from talent shows, themed events, and concerts.\
What do resorts include?
Most resorts cover lodging, meals, and drinks. Your payment also covers gratuities as well as other services.
As mentioned earlier, resorts come with many amenities that are inexistent in most hotels.
Here are the most common.
Activities
An excellent place to start is watersports. Some resorts, especially those by the beach, have watersports available. In contrast, this is not available in all resorts, at least a certain activity a resort offers.
Some resorts even have a golf course available.
Or check out other resorts that have a basketball court within their premises.
Resorts by the beach often have beach volleyball and some sort of watersports in their offerings.
Check out with the establishment before booking to see whether the activities suit you and your family.
Meals
Another inclusion in your resort booking is your daily meals.
Most resorts come with restaurants. These restaurants often serve dishes of different cuisines. They serve meals, snacks and usually have a kitchen that stays late at night.
Some resorts even have all-you-can-eat restaurants!
Not all resorts include alcoholic drinks in their package. But others do.
In case alcoholic drinks are not included, resorts mostly have bars around. They open until very late at night.
And so, whether you fancy a whiskey or a beautiful cocktail, you can always find them in resorts.
Most bars in resorts also have an extensive choice of beers. It is in these bars that you would always find beers of international brands featured.
Entertainment
I know you booked the resort for you to relax.
But the good thing about resorts is the possibility of mingling with the crowd. You can go outside your room and start socializing with the other guests, and that's okay.
Or you can dance the night away in some musical performance offered by the resort.
No matter which resort you stay in, there will always be some sort of entertainment available.
Make sure to check out their listings before booking.
Stay Fit… and Relax
Resorts mostly have gyms within their premises.
It's understandable how you wouldn't want to go home from your vacation bloated from all that eating.
Certain resorts have more than just gym equipment available. Some have yoga sessions or even a personal trainer to attend to your needs.
And finally, who wouldn't want a relaxing massage?
Understanding that the goal of your booking a resort is to relax, most establishments have a spa of their own.
These spas cater to the tired and the weary.
This way, there is no need for you to venture outside for a relaxing massage. All you need to do is to call that front desk and book a session.
Or if you choose, you can even have the masseur go to you and have the massage in your room. As soon as the masseur leaves, you can snore the afternoon away!
What are the disadvantages of hotels?
While convenient for some, there are disadvantages to hotels. One is space. The rooms are smaller compared to resorts. Hotels also don't have enough amenities. Which means you may sometimes eat outside. And how about noisy neighbors?
It is always useful to know what activities you would like to cover when planning a dream vacation. This should determine whether you stay in a hotel or a resort.
Finding a good hotel is no easy task. Looking for the perfect establishment can be daunting and exhausting.
There are a lot of options, but it is always hard to tell which ones are good enough. The reviews are no help either.
Often, the photos may look great on their websites or the booking app. But once you see it, you will find the images to be misleading.
This is why I love resorts more than hotels. Unless, of course, I just need a room for a night or two.
But why choose resorts over hotels?
Here are the reasons why.
Hotel Rooms Don't Have Enough Space.
When on a family vacation, it is not advisable to check into a hotel.
Imagine all of you cramped in one or two hotel rooms. The first thing that you should know is that hotels don't have enough space to fit your family.
Sure, you can always get an extra room. But that's expensive. You can always get an extra bed. But that should make the whole room more cramped than it already is.
Sharing a Bed
Some hotel rooms have one big bed available. And you don't have a choice, especially if all the other rooms are unfortunately booked.
Expect a lot of kicking and shoving during the night.
Hotels Don't Have Enough Amenities.
Most hotels don't have as many amenities as resorts.
Hotels cannot assure you of a mini-fridge. Sometimes, there is no iron. And if you need to iron your clothes, you still have to pay extra.
Other times, there is no Wi-Fi available.
You may have finally saved money on that one room. But you will still be spending a lot on the laundry, the snacks, and the meals.
These are travel necessities. And they're available in a resort or a villa.
Meals
Some rooms have a kitchenette of their own. There are also hotel rooms that come with a fridge.
You can cook your meals then.
But many hotels don't have these. And if there's a fridge, it is always a mini-fridge.
This means that whenever your stomach grumbles, you would have to eat out.
Noisy Neighbors
Would you call them neighbors?
But in some hotels, adjacent rooms can be rowdy.
And that can result in a sleepless night.
To summarize, it is the lack of privacy that becomes a concern when staying in hotels.
—
Hotels are convenient.
If you are out for a business trip, hotels provide you with the accommodation you need.
But when traveling with your family, a resort is the better option.
With a resort, you know you have a large enough room. Resorts also have all the amenities that you need. Plus, there is enough privacy for you to be able to relax and enjoy your vacation.
I am not saying hotels are bad choices.
It still depends on 1. Who you are with; and 2. the purpose of your trip.
So, is it a hotel or a resort?
You decide.