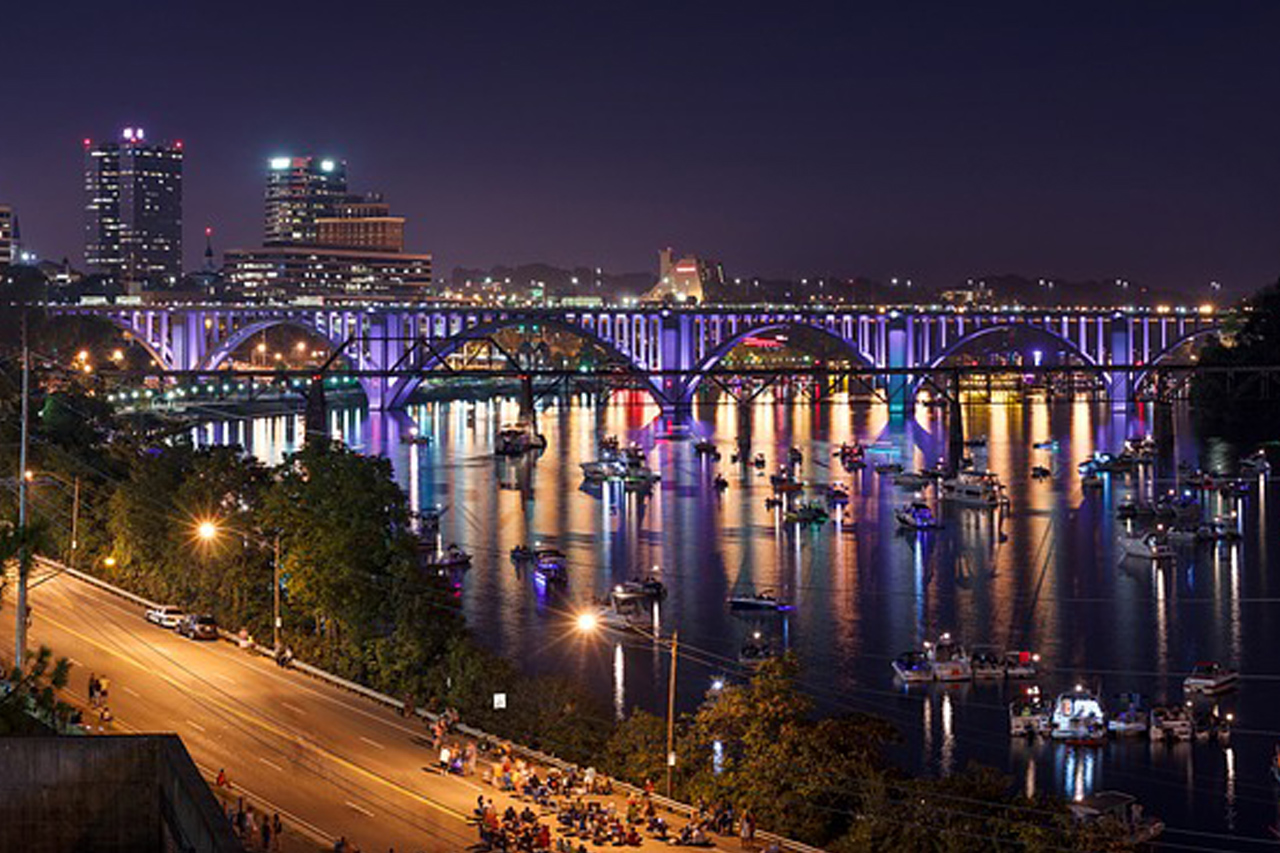 If you plan to relocate to Knoxville and want to know everything, even any potential drawbacks, you are in luck!
Knoxville is the third-largest city in Tennessee and is close to the state's eastern border with North Carolina. It has 190,000 residents and encompasses 104 square miles in the Appalachian Mountains in Tennessee Valley.
The town, known for its southern cuisine, breathtaking scenery, and enthusiastic sports fans, is ideal for those seeking a simpler lifestyle. However, much like every other city, Knoxville has both pros and cons.
Here, we will examine the pros and cons of living in this city to help you decide whether or not you and your family would enjoy living in this area.
Is Knoxville a Good Place To Live In? – A Sweet Spot of Eastern Tennessee
The Good Side
The City Is the Gateway to the Smoky Mountains
Knoxville is known as "The Gateway to the Smoky Mountains" due to its proximity to the national park that protects most of the Smoky Mountains, only 34 miles away. This park attracts nearly 12 million people a year.
Living here allows you to access the 850 miles of hiking trails in the park, including 70 miles of the famous Appalachian Trail.
The town is also near at least five state parks if you are looking for less busy park options. Activities include birdwatching at Seven Islands, fishing and canoeing at Norris Dam, and hiking at Big Ridge, Cherokee, and Cumberland Gap.
Living here, you will access these parks that offer a taste of almost every outdoor activity associated with a forest or body of water.
Knoxville Is a College Town
Living in Knoxville, you'll notice that it has the atmosphere of a large college town. Since it is the home of the University of Tennessee, this city has approximately 30,000 students.
The only school district here is Knox County School District. Over 60,300 pupils are participating in its 50 primary schools, 16 middle schools, and 15 high schools.
There are also 21 different schools and institutions in the surrounding area, so if you or a family member is considering advancing your education, you have options.
The city is not only home to the University of Tennessee, the largest institution in the state. It also provides a range of nearby colleges, such as South College, Fountainhead College of Technology, and Johnson University.
It Is a Sports Town, as well!
Knoxville is not only a college town but also a sports town. Therefore, this city is likely a fantastic fit if you enjoy athletics.
The town was second in the US as the best college sports town. The people who live there are passionate about the athletic teams who compete for the University of Tennessee, particularly football. Because of its women's basketball team, it is also one of the few sports cities passionate about women's collegiate athletics.
Living here, it would be best if you could endure or at least enjoy massive gatherings of neon orange people.
The Place Provides a Welcoming Atmosphere
As with any location, it is essential that you feel accepted and at home within the local society and culture. Knoxville is a multicultural city with roots in southern hospitality and charm, making you feel welcome once you choose to reside here.
You will see that the people are amiable and open and have a unique culture. It is also easy to find local events and activities that suit your interests, whether you want to shop or go out.
If you wish to live close to mountains, take advantage of southern friendliness, and value history, this city is ideal!
The Bad Side
Knoxville Has a Conservative Environment
If you consider yourself more liberal, you might feel like you don't fit in with Knoxville's conservative residents, who make up most of the city's population. People here are highly conservative, which displays itself in several ways.
First, the town is in the heart of the bible belt, surrounded by the states of Alabama, Georgia, North Carolina, and Kentucky. Christianity is prominent in society and politics in this region of the United States.
As a result, those who live there are more likely to adhere to traditional society's standards and attend services at their local churches regularly.
Second, concerning politics, there are pockets of liberal-leaning residents in the urban core. In general, though, the region is governed by Republican voters and political conservatism.
If you are considering moving to Knoxville, you should bear in mind the prevalent attitudes found here.
The City Is a Hotspot for Allergies
Due to its pollen-filled air, Knoxville is a well-known allergy hotspot. It is one of the cities in the United States that is the most difficult to live in if you have seasonal allergies.
The main reason is that the area has had bad air for decades. However, the city has consistently invested in its power plant and industry to increase its quality. The town met federal air quality regulations for the first time in 2017.
Even if human-caused air quality issues are no longer an issue, problems brought on by natural pollen will always exist. If your allergies can't tolerate the environment in this town, moving here might not be the best idea for you.
What Is the Cost of Living in Knoxville? – A State Income Tax-free City
The Good Side
Knoxville Is Free From State Income Tax
People tend to forget about taxes when considering relocating to a different city. However, you will benefit from highly advantageous tax rates if you dwell in Knoxville.
The state of Tennessee provides its citizens with one of the most favorable tax burdens in the country as it does not impose a personal income tax on wages and salaries. However, there is a 6% hall tax on dividends and interest.
If you choose to make this location your home, you will find that the local property taxes are among the lowest you can find anywhere in the United States. The town's average property tax rate is 0.715%, significantly lower than the national average of 1.211%.
Property owners pay the county of Knoxville a total of $4.5738 for $100 of assessed property value. This property tax enables the municipality to finance programs and services like emergency response, parks, and public transportation.
While the city's property tax rates are low, its sales tax rates are high. However, even with a 9.25% sales tax rate, its sales tax rate is lower than more than half of the state's other cities.
If you choose to make this town your home, you can make your money go a little farther here than in other places.
The City Has Minimal Living Expenses
The fact that Knoxville's overall cost of living is 8% lower than the Tennessee average and 18% lower than the national average is one of the city's most attractive features.
Its prices are lower in every significant pricing category. You will spend less money on groceries, utilities, transportation, and healthcare if you choose to live here rather than move elsewhere.
Housing costs have decreased by the most, falling by 30% below the national average.
The average price of $257,300 should fit your budget if you want to buy a home.
If you aren't ready to own a house, the typical cost of renting is $1,151 per month. College Hills, Park City, and South Knoxville are three of the communities in Knoxville that have low housing costs.
This fantastic city is ideal for you if you want to reduce how much you spend on accommodation while still having access to everything it offers.
The Bad Side
Its Real Estate Market Is Competitive
Before moving to Knoxville, one must acquire a deeper understanding of the local housing market.
The city is one of the most easily accessible markets in the state. On top of that, it also offers excellent value for investments. Because of this factor, there is intense competition in the city's housing market.
There are several bidders for some of the homes in this neighborhood. On average, its residences remain on the market for 46 days and sell for 1% less than the asking price. However, the most desirable homes sell for 2% more than the asking price and often go off the market after 32 days.
If you're looking for a house and find something you like, book a tour and make an offer as soon as possible.
Why Work in Knoxville? – A Place Where Business Is Booming
The Good Side
Knoxville's Economy Is Prospering
The city of Knoxville has a very stable economy, which is one of its primary strengths. Compared to the 6.0% national average, the city's unemployment rate is lower at 4.7%.
The town is home to many major corporations, including the headquarters of Pilot Flying J, Regal Entertainment Group, and The H. T. Hackney Company, among others.
The area also has notable companies' headquarters, including Bush Brothers, Sea Ray Boats, Thermocop, Petro's Chili & Chips, Ruby Tuesday's, and many others.
Also, favorable business conditions have led to the establishment of many new companies. The fact that the city's job market increased by 0.9% over the past year demonstrates the significance of this connection.
The area also anticipates a future job growth of 37.5% over the next ten years, which is greater than the average job growth projection for the United States, which is 33.5%.
Therefore, it is safe to conclude that Knoxville is the ideal location, regardless of whether you are an entrepreneur or simply someone looking for work.
Knoxville's Employment Is Broad
If you are considering moving to Knoxville and need a job, we have some good news: this city's employment market is thriving!
The city has a variety of job prospects, and its economy is not dependent on one industry.
The top employment is among state agencies, federal agencies, education, healthcare, technology, banks, aluminum production, defense contractors, retail, and tourism.
If you're considering moving here, you should know that government, health, and education employ the most people, protecting the town from economic fluctuations.
Oak Ridge National Laboratory, which produced the Manhattan Project in the 1940s, is still in the nuclear business and employs about 12,000 individuals. Another major employer in the city is the University of Tennessee, which has a staff of over 9,000 people.
There are many different professions and sectors to pick if you live and work in this city. You should consider it if you're interested in shifting to a growing job market.
It Is Simple To Obtain Blue-collar Employment Here!
With so many work prospects in the city, having a blue-collar career is advantageous if you live in Knoxville.
Most of the area's workforce consists of unskilled or only nominally experienced tradesmen and women, making it relatively simple to get work in blue-collar occupations in this area. The construction, service, and hospitality industries continuously seek individuals to fill open positions.
Living here, you can turn a job into a successful career if you work hard and keep growing as a person.
The Bad Side
Knoxville Wages Are Not Remarkable
The city of Knoxville does not have particularly competitive salary rates on average. The average annual income of the city's residents is $23,177, which is less than the national average of $28,555. The annual household income in the town is $33,494, which is below the national average of $53,484 per year.
Despite the low income in this area, the cost of living here is far lower than in some major cities. As a result, it is easier to get by on a lower wage in this region.
The City's Job Market Is Competitive (Particularly for White-collar Jobs!)
Living in this city will make it challenging for you to work in the white-collar job area, although the employment market in the city is quite broad.
Professionals with the appropriate experience level are in constant demand in this sector. Suppose you have past expertise or professional background in a field such as medical, law, or engineering. In that case, you can have difficulty getting employment as many people are also looking for it.
Before settling on this city as your permanent residence, consider the preceding matter carefully if you work in one of the abovementioned occupations.
Knoxville is a city with a lot of different things going on. While it's a beautiful city with rich culture and heritage, it has troubling disadvantages. Ultimately, choosing whether to relocate is up to you. Whatever decision you make, we wish you luck!
Have you been able to take something away from this article? Please leave a remark in the space below!