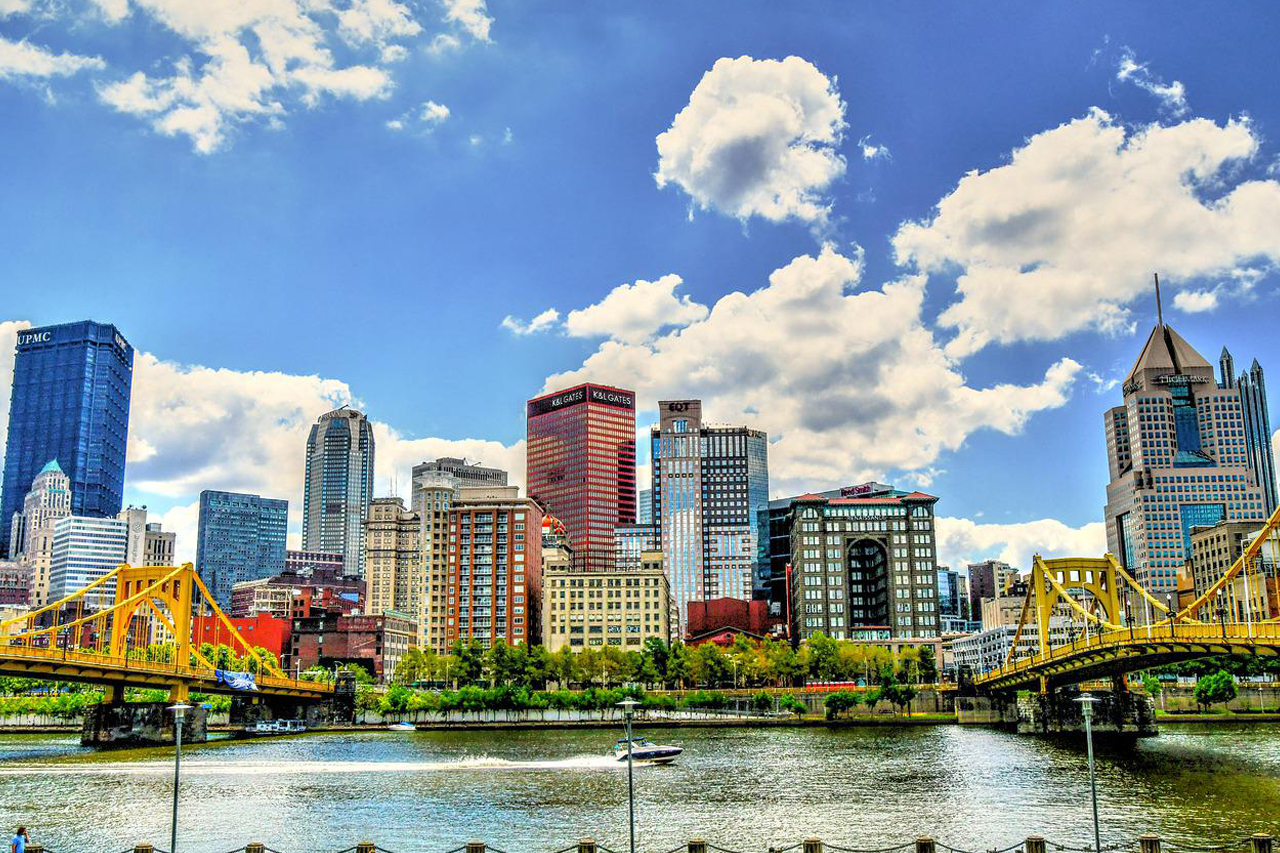 It's not surprising that Pittsburgh, Pennsylvania, earned the title "The City of Bridges" because of its estimated at least 446 bridges across the city. Pittsburgh was once known as a soot-encrusted coal and steel town, yet it improved way better than it did in the past as it shifted more to the advanced manufacturing and technology industry.
Renting a car to go around the city during your vacation can get costly considering the expenses included, like gas and parking fees. Luckily, exploring Pittsburgh does not necessarily require you to add car expenses to your trip due to its accessible destinations and sound transit system.
I've been longing to see what tourist attractions are waiting in Pittsburgh. During my visit to the City of Bridges, it didn't disappoint me with its beauty and fun-filled activities that left a great impression on every visitor. Hence, I'm proud to share my selection of +12 things to do in Pittsburgh without a car.
1. Pittsburgh Zoo & PPG Aquarium
If you are searching for a tourist attraction in Pittsburgh that offers both marine and terrestrial species, Pittsburgh Zoo & PPG Aquarium is the place you must not miss. It opened in June 1898, spanning 77 acres filled with animals of different species, from hippos to sharks. You can find Pittsburgh Zoo & PPG Aquarium at 7370 Baker Street, Pittsburgh, PA.
Over 4,000 animals of over 475 different species live at the Pittsburgh Zoo & PPG Aquarium. You can expect to see these animals at the Pittsburgh Zoo: flamingos, komodo dragons, cheetahs, hippos, meerkats, polar bears, etc. Meanwhile, at the PPG Aquarium, some marine animals you will see are stingrays, sharks, penguins, and piranhas.
Since I am an animal lover, visiting Pittsburgh Zoo & PPG Aquarium felt like I was in paradise. If you love animals like me, this tourist attraction will also teach you how to care for animal habitats better. Moreover, you can borrow electric scooters, strollers, noise-canceling headphones, and others here.
2. Andy Warhol Museum
Since its opening in 1994, Andy Warhol Museum has been the USA's largest museum depicting and preserving the works and legacy of a sole artist. Andy Warhol is an American pop-art founder and, most notably, Pittsburgh's most famous artist.
Located at 117 Sandusky St, Pittsburgh, PA 15212, Andy Warhol Museum boasts five floors of exhibitions related to Andy Warhol's life, artistry, and creativity. This museum has his paintings, video clips, prints, films, multimedia installations, and drawings. Furthermore, they also cater to events and classes open for all.
If you appreciate American pop art, this museum is the place to learn more about the craft. I was able to join one of its guided gallery talks, where I got mesmerized by two of Andy Warhol's famous works: "Campbell's Soup Box" and "The Chelsea Girls."
3. Trundle Manor: House of Oddities
Situated at 7724 Juniata St, Pittsburgh, PA 15218, Trundle Manor: House of Oddities is the city's most unique and spookiest destination you will come across. Founded by Anton and Rachel Miriello, Trundle Manor opened its doors in 2007. The couple's fascination with steampunk, goth, and horror films led to the museum's establishment.
Trundle Manor is not for all, but this museum can be a great place to discover an extensive collection of oddities. Upon entering Trundle Manor, some of the strange things you will find are a collection of taxidermied animals, old meat cleavers, and medical speculums. "MTV's Extreme Cribs" in 2011 even featured Trundle Manor on television.
Trundle Manor's main attraction is its Olivia's Singing Tumor exhibit. I found it creepy when I visited the place, but it was pretty interesting at the same time. If you are looking for spooky delights in Pittsburgh, this museum should top your bucket list.
4. 4121 Main
Founded by Thommy Conroy, 4121 Main is a concept shop that adopted its name from its current address. Nestled in the city's center, 4121 Main is a cozy place to rest in between city sightseeing tours. Its founder, Thommy Conroy, is known for receiving an award from the Pittsburgh Creativity Project for acting as a curator in the artistic interest of the city.
In 4121 Main, expect to see a gallery of flowers, a high-end coffee bar, and fine art. The place is gorgeous and elegant that you will end up staying for an extended amount of time. 4121 main also caters to events, floral arrangements, and weddings.
I love everything about 4121 Main. Its design, ambiance, and coffee are the best making it a lovely place to sit down and take in the serenity brought by the area. I highly recommend trying one of their hot brews coffee and spending the rest of your afternoon before heading for a drink at one of the nearby pubs for the night.
5. Heinz History Center
Heinz History Center is Pennsylvania's biggest museum located inside the 370,000 square feet of space of Senator John Heinz History Center. Some of the other museums you can find inside are Western Pennsylvania Sports Museum, Meadowcroft Rockshelter and Historic Village, and the new Museum Conservation Center.
You may think that the museum is about the Heinz ketchup company. Although that condiment company has an exhibit dedicated to it at the Heinz History Center, it is an educational institution that gives a broad and deeper understanding of the past through exhibits and programs related to the history and heritage of Western Pennsylvania.
Heinz History Center is a must-see attraction for it completes the Pittsburgh getaway experience. There are approximately 14 current exhibits at the Heinz History Center. Don't forget to check out its newest display: Pittsburgh's John Kane: The Life & Art of an American Workman.
6. Center for PostNatural History
Another unusual tourist spot to visit in Pittsburgh is the Center for PostNatural History. Situated at 4913 Penn Ave, Pittsburgh, PA 15224, this attraction aims to interpret, acquire, and provide access to a collection of postnatural origin organisms. Postnatural pertains to any living thing that people have intentionally altered.
At the Center for PostNatural History, you will see genetically modified specimens. If you are interested in biology, this is the place to be. Some of the highly intriguing displays to discover here are "Making Nature: How We See Animals" and "Domestication of the Dinosaur." Currently, there are 15 exhibits in the Center for PostNatural History.
Its PostNatural Nature exhibit caught my eye, where displays of the specimens of the PostNatural World are available here. Center for PostNatural History is an excellent tourist spot in Pittsburgh that attracts people who love biology or want to feed their curiosity.
7. Heinz Hall of Performing Arts
Operated and owned by Pittsburgh Symphony, Inc., Heinz Hall of Performing Arts is the home of the Pittsburgh Symphony Orchestra. Constructed in 1971, Heinz Hall of Performing Arts has been a wonderful establishment providing music of lifetime performances to its patrons.
You can find Heinz Hall of Performing Arts at 600 Penn Ave, Pittsburgh, PA 15222. It has gone through many renovations and welcomes over half a million patrons yearly. Lauryn Hill, Bill Clinton, David McCullough, Rudy Giuliani, Amy Tan, Frankie Valli & The Four Seasons are among the stars and musicians that performed here in the past.
Heinz Hall of Performing Arts is one of the most sought-after destinations in Pittsburgh, especially at night. You can spend a romantic night out with your partner or a random night out with your friends and family to bless your eyes with fabulous music.
8. Penn Brewery
Located at 800 Vinial St, Pittsburgh, PA 15212, you'll find yourself inside Pittsburgh's famous German-style brewery, Penn Brewery. Its craft beer brewing began back in 1986, which makes Penn Brewery among the earliest founders of the American Craft Movement. Its location is also near the river trails adjacent to the pedestrian bridge, making it accessible.
When it comes to Pittsburgh attractions, Penn Brewery quickly takes the lead if you're a fan of German beer. The brewery serves pierogi, wurst, goulash, and schnitzel, alongside local favorites like sandwiches and flatbreads. Penn Brewery also offers tours and regular live music that adds to its charm.
Dining here at night helped me relax after a long day of traversing and visiting different tourist spots in the city. I suggest checking out their specialty beers and ordering their Brewer's Choice beers: Nickalobe Altra and Curl of the Burl.
9. The Weeping Glass
Visit The Weeping Glass, located at 817 E Warrington Ave, Pittsburgh, PA 15210, after exploring Trundle Manor. Among the few shops that sell unique and strange items, The Weeping Glass opened in the second half of 2017.
Although quite unusual and not something you would want to purchase as a gift, The Weeping Glass is a haven for those who don't mind the charm of strange, dark, and possibly wicked items. Here you can shop for odd candles, antiques, skulls, human spine, buffalo teeth, iron coffin nails, Witch's Almanac, etc.
The shop was kind of spooky, but its uniqueness piqued my interest. If you like magic and witches, they sell witchcraft-related items you might want to buy and try. Tarot cards, smoke wand, spell books, and sullen whimsey cauldron are available at The Weeping Glass.
10. Market Square
Market Square is Pittsburgh's historic downtown area, where it was home to the city's first-ever jail, courthouse, and newspaper. Initially constructed in 1764, this historic site is now a spot for tourists and locals to dine, shop, and enjoy themselves.
Numerous shops surround the area that you will have a hard time which one you should visit first. Market Square is the perfect place for an afternoon stroll, breakfast, or a fantastic night out. Various events also happen here, and it has been a great attraction for all ages. Their website provides a map and updated details of the shops located here.
Market Square is one of my favorite places in Pittsburgh, and I ate my lunch at the famous Original Oyster House and explored its Farmers Market. Several live performances add to the area's liveliness. During winter, don't miss out on having fun at the skating rink if you plan to visit.
11. Sienna on the Square
An authentic Italian restaurant located at 22 Market Square, Pittsburgh, PA 15222, Sienna on the Square, opened its doors in 2012. Matthew Porce, the restaurant's Executive Chef, is in charge of leading and supervising the ingredients and creating a simple yet creative Italian menu from scratch.
Sienna on the Square is the perfect restaurant in Pittsburgh if you are looking for authentic Italian dishes. Even their staff are knowledgeable enough to guide you through their extensive wine menu and dishes. If you are traversing the Market Square, drop by and take your lunch here at Sienna on the Square.
Italian dishes included in their menu are Beef Braciole, Rock Shrimp & Crab Risotto, Sienna Chopped, Quattro Formagi, and Mafalda Bolognese. The staff can also help you with which wine to pair with your order for a better experience.
12. Church Brew Works
Nothing is more surprising than there is a church in Pittsburgh that has turned into a brewery. Yes, you read it right. Church Brew Works was once a church until its closure in 1993, and its architectural element is still present. Guests can see stained-glass windows surrounding the building.
You can find Church Brew Works at 3525 Liberty Ave, Pittsburgh, PA 15201. It is among the unique microbreweries in the City of Bridges and is known for being neat. Dining at Church Brew Works felt like you are eating inside a church minus the sermons and choir. It does feel a little unusual, especially for Christians, but it can be a memorable experience.
You can also order entrees, appetizers, sandwiches, and desserts at Church Brew Works. Check out some of their beers, such as the Pipe Organ Pale Ale and Pious Monk Dunkel. Their Chicken Jambalaya and Traditional Pittsburgh-Style Salad are my favorites.
A trip to the City of Bridges is one of the most memorable ones I've ever had. Pittsburgh has many surprising attractions that never fail to intrigue curious minds and entertain people from all walks of life. Pittsburgh has it all, from historical sites to strange museums and shops.
If you consider traveling to Pittsburgh, I hope you find this article helpful and book your flight right away. Exploring Pittsburgh without a car is quite a journey I would gladly repeat in a heartbeat. Feel free to add any additional thoughts about the list I curated above in the comments.