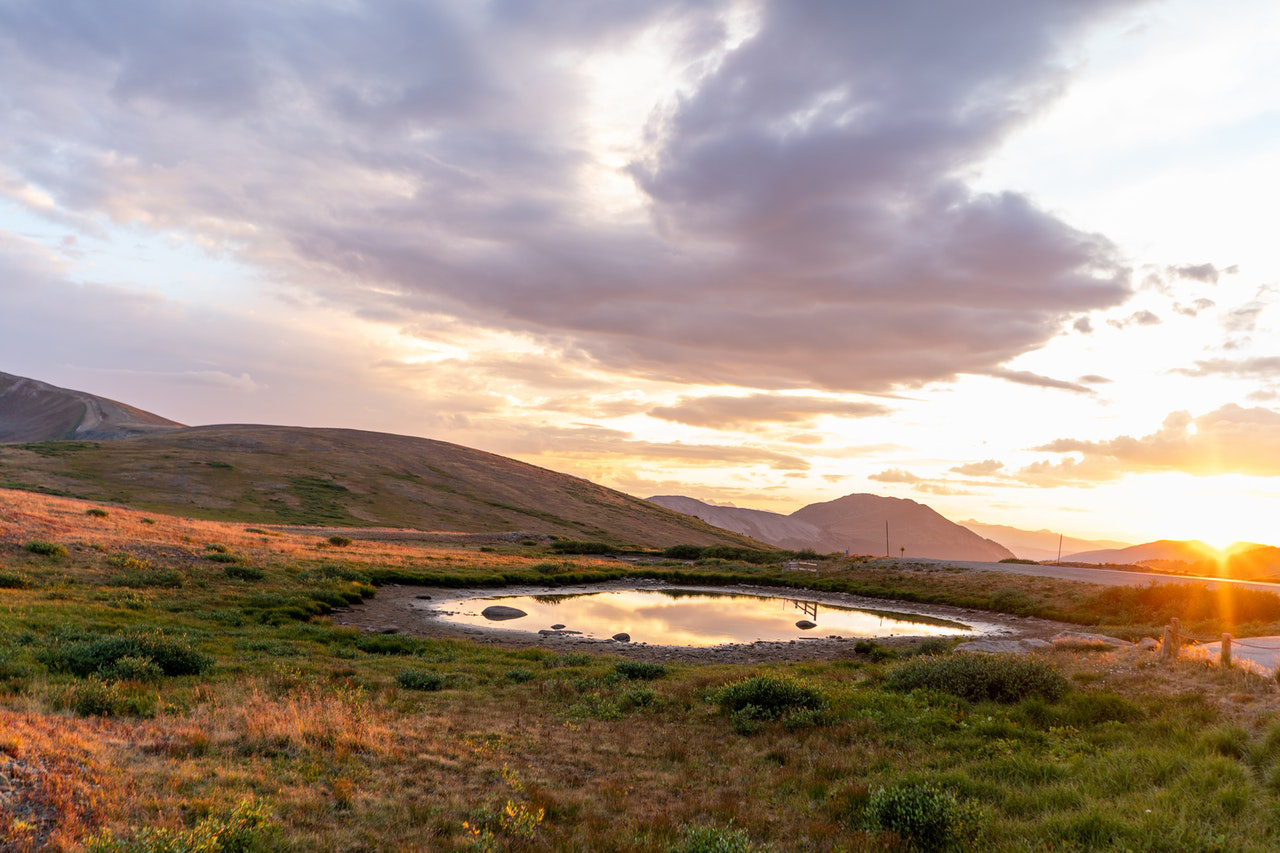 Located south of Denver is a Colorado city perfect for anyone who loves the outdoors. It has a great offering of outdoor activities, delicious food, and rich history. Plus, it also has a hefty dose of the old west.
In Colorado Springs, you will also find places where Olympic athletes train. This city is also where you will find the U.S. Air Force Academy.
And to top it all off, Colorado Springs is one of the country's healthiest cities.
Colorado Springs is home to the Pikes Peak Region of the Colorado Rockies. It is also a city that enjoys more than 300 days of sunshine and mild weather.
While some attractions are on the city's edges, many more are minutes away from the downtown area.
Below are my favorite places to visit in Colorado Springs without a car.
1. Glen Eyrie
If you adore the Tudor-style castles of Europe, you will, for sure, love Glen Eyrie.
Sitting right at the base of a mountain canyon, Glen Eyrie is a huge mansion complete with everything a European estate should have.
It has ballrooms and great halls. It has tea rooms and gigantic bedroom suites.
Let me give you a brief overview of how big the property is.
Glen Eyrie, in total, has 24 fireplaces.
That is how big the property is.
Built by General William Jackson Palmer in the late 1800s, Glen Eyrie was to honor his beloved wife, Mary "Queen" Mellen.
She has always been somebody who wanted to live in a royal castle. In her memory, the General had Glen Eyrie built.
And like all Tudor-style architecture, the property has many tall chimneys and high mullioned windows.
Today, you can enjoy banquets, tea ceremonies, and corporate retreats in this property listed on the National Register of Historic Places.
You can also rent the castle and its grounds for special occasions like weddings.
And if you are on the lookout for something romantic to do in Colorado Springs, you can walk the beautiful castle with your significant other.
2. Disc Golfing
Colorado Springs has excellent weather for more than 300 days a year.
That only means you have enough time to enjoy more outdoor activities.
Try disc golfing.
Like a regular game of golf, the goal of disc golf is to land your disc into the Disc Hole Pole.
The Disc Pole Hole is a pole that extends up from the ground. It has a basket and chains that help in stopping the disc.
The fewer cumulative throws you have from the tee area, the better.
The best place where you can play disc golf is at The Aviary. Cottonwood Creek is famous and is another excellent option.
Either of the two, and you're good.
Enjoy!
3. The United States Air Force Academy
You will find pilots and other hopefuls training for the USAF in the northern part of the city.
The United States Air Force Academy is not open to tourists. But there are several other buildings in the area where you can learn more about the institution. You will also be able to learn about the history of flight as a whole.
When you are at the academy, make sure to drop by the 250-seat theater. It is at the visitor's center, and it shows several films about the academy.
If you wish, you can take a guided tour of the property. The tours swing by places like the "Cadet Chapel" and the "Falcon Athletic Center."
Also, I recently discovered that there are also hiking trails on the property. The trails wind around the base and are an exciting part of the academy.
And the best thing I like here is the mix of the greenery below and the fighter jets above. Visiting here can be one of the best experiences in Colorado Springs.
Remember, there is only one USAF academy in the world. You will never see such an academy anywhere else.
When in Colorado Springs, drop by for fun and a slightly unusual experience.
4. Ghost Town Museum
Did you know there is a Ghost Town Museum in Colorado Springs?
Step inside a legit ghost town, which comes with everything that a ghost town has. It has preserved items from old western cities, which adds more interest to your visit.
It was an old town from the wild west recreated indoors. It is complete with a saloon, a general store, and even a barbershop.
What do I love about this place?
There is a shooting gallery. And yes, you can challenge each other here.
There are also authentic carriages in this attraction and even a pan of gold.
Summer is the best time to visit.
See you!
5. Colorado Springs Fine Arts Center
It was constructed during the Great Depression. The Colorado Springs Fine Arts Center went from one renovation to another.
The building is a great masterpiece that shows the beauty of Spanish colonial architecture.
And it is something you should expect since the designer was from New Mexico.
Today, you will find that the interiors of the building are as impressive as their exteriors.
Inside the building are thousands of artworks. The artworks here range from watercolor portraits to glass chandeliers. There are also metallic art deco installations that are interesting and are great conversation starters.
What I love about the center are its other additional creative spaces. Aside from the artworks, there are also theaters, libraries, and music studios inside.
You can visit all of these for the price of one admission.
And so, if you are looking for a place that is not so expensive, visiting the center is an excellent way for a single day trip.
Add a bit of culture and education to your Colorado Springs visit.
Drop by the center when you can.
6. Phantom Canyon Brewing Company
If you are in Colorado Springs and would like to grab a beer, The Phantom Canyon Brewing Company is the best place to do it.
For starters, it comes with an old-fashioned charm. Is this building that it is more than one hundred years old.
Aside from that, the building dedicates three stories to playing games, socializing, drinking, and eating.
Your visit here will be for drinking and for a lot of other fun activities, too.
The first floor is where you will see how they create handcrafted brews. This floor is where you will also find information about bottling and selling brews.
You will find billiards, jukeboxes, television, and other entertainment options on the second floor.
The kitchen and the bar area are on the third floor.
When visiting, you should be with an appetite.
There are burgers, chili fries, and even beer pretzels. There are also special menu items like lamb belly tacos, and bison patty melts here.
And so, if you are looking for something to warm you up on a cold winter day, this place is perfect.
7.ProRodeo Hall of Fame
Colorado Springs might not be the first place you think when the rodeo comes to mind.
But you should know that the city is also home to a thriving rodeo scene. One of the most prominent tourist attractions is the ProRodeo Hall of Fame.
The attraction focuses on the history of rodeo in all forms. The hall of fame is a mix of a museum and a visitor's center.
Here, you will find several exhibits on famous people and famous livestock. You can also walk through its halls and see displays on horses, cows, bull riders, and rodeo clowns. There are also information and presentations on barrel racers and even steer ropers.
The Professional Rodeo Cowboys Association runs the museum. And so, all of the proceeds go to efforts in preserving and promoting rodeo activities in the country.
You do not have to be a bull wrestler to gain an appreciation of the museum when visiting.
It is pure fun, whichever type of visitor you may be.
8. Play Street Museum
I know I mentioned that Colorado Springs enjoy more than 300 days of sunshine per year.
But on an infrequent occasion when it is raining in the city, you can drop by Play Street Museum.
The museum is open to the public, rain or shine. And so, even if the clouds seem to be getting mad for whatever reason, you can still have fun here.
The museum is unique compared to other museums.
It is more interactive and hands-on. It encourages discovery and creativity, especially in kids.
Bring your kids here for an afternoon of running, digging, climbing, coloring, building, and more.
The museum is not as famous as the other destinations in Colorado Springs. But this is perfect for a rainy afternoon.
Your kids will, for sure, learn a lot in an afternoon of interactive play at the museum.
9. Colorado Springs Pioneers Museum
You cannot miss the Colorado Springs Pioneers Museum when in the city.
It has a blocky and no-nonsense location. The building has a bland look that makes one think of a courthouse. And that thought is for good reason because the building used to be a courthouse.
The tall, European-style clock tower that stands high and might over everything in the area caught my interest the first time I went here.
You will see the tower emitting a golden glow from its lights at night. It is even visible from afar.
As for the things you can do at the museum, you have many fun activities.
When visiting, you should see the substantial Native American collection inside. It has relics that belong to the Arapaho and Ute tribes. There are more than 60,000 displays inside.
There are also libraries and archives inside. The collection of documents is massive and dates back to the 1800s.
You can even read personal papers here of the founder of Colorado Springs, General William Jackson Palmer.
If you are a history buff, the museum is a must-see.
10. Penrose Heritage Museum
Initially, people called the place "Carriage Museum" because of its vast collection of horse-drawn carriages.
These carriages belong to a married couple from the 1940s, the Penrose couple.
The Penrose couple collected fine and extravagant carriages during their time and beyond.
An excellent example of this is a carriage from 1841. The carriage took William Henry Harrison to his inauguration as President of the U.S.
Aside from the carriages, there are also other historical pieces displayed here. Most of these are pieces of transportation.
It means that there are race cars and classic cars aside from carriages. There are also limousines and motorcycles here. I especially enjoyed this part of the museum when I last visited.
The museum also displays artifacts that go back to the 19th century.
And so, if you are interested in history, culture, or transportation, the Penrose Museum is perfect for you.
11. Peterson Air and Space Museum
Another museum you should visit in Colorado Springs is the Peterson Air and Space Museum.
The museum is at the city's first municipal airfield and has displays related to the history of aviation and space.
For example, the museum displays airplanes from World War II. You will see here a wide array of aircraft parked. And hey, they have missiles here, too.
12. Cripple Creek and Victor Narrow Gauge Railroad
The Cripple Creek and Victor Narrow Gauge Railroad is another fun attraction in Colorado Springs.
Well, I know this because I love taking train rides. And train rides in Colorado are always fun mainly because of the beautiful scenery that passes by your window.
The attraction is a steam engine locomotive.
It is a 45-minute trip that will take you to several historic mines.
If you visit in September, it should be lovely. This month, the aspens and other types of trees change their colors. It should be a beautiful experience.
–
Colorado Springs is a city of many attractions.
You will always find something to do here whether you have a car.
There will always be a place to visit in Colorado Springs. It does not matter if you walk from one attraction to the next. It does not matter if you take public transportation.
The city will always be an eternally excellent destination. It will always be waiting for you and the other visitors in delight.
Do you have attractions in mind that you would like included?
Let me know.