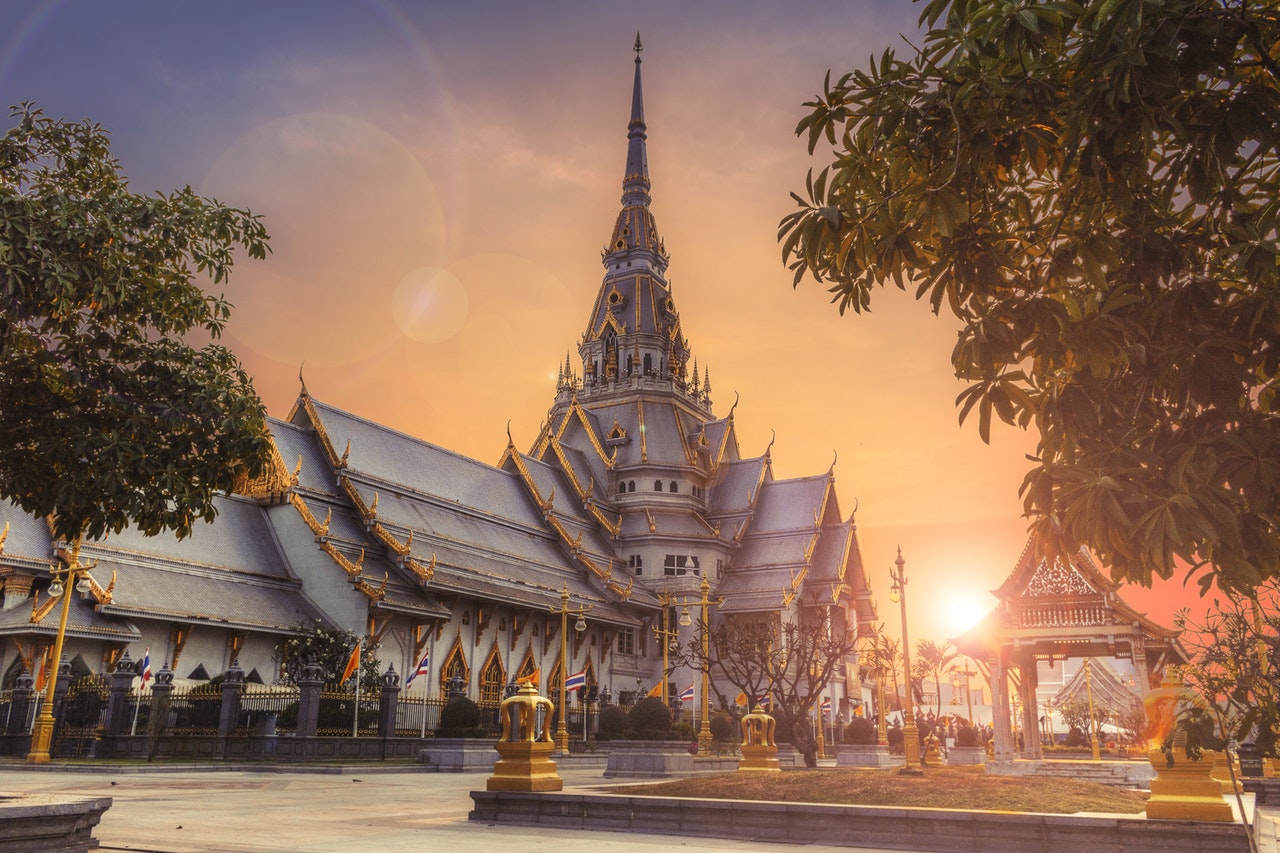 Koh Samui and Phuket top the list when it comes to romantic Thai islands for couples. Aside from these two islands, James Bond Island, Koh Lipe, and Koh Tao are also great options.
Thailand is a country with an extensive coastline.
Each corner offers a wide array of dreamy tropical islands and pristine beaches. No beach is boring.
All of these beaches are fascinating and spotless. They come with glittering waters and exciting offers for couples.
Here, I listed five of the best Thai islands great for couples.
Let's get started.
Phuket

Perhaps one of the most popular islands of Thailand is Phuket.

It comes to you with its stunning beaches and colorful shores.

The island is popular for its chic and luxurious beach resorts. It is also famous for its many activities that couples can enjoy.

When on the island, couples can snorkel and scuba dive. They can also try out a Thai massage. Or couples can visit tourist destinations like Kata Noi Beach, Patong Beach, or Old Phuket Town.

Aside from its beauty and attractions, Phuket is easily accessible.

Some airlines travel from Bangkok and other major cities to Phuket.

Koh Samui

Another popular destination in Thailand is Koh Samui.

Perfect for honeymooners, Koh Samui is an island of pristine beaches and majestic waterfalls.

The island does not run out of beaches. There is Chaweng Beach, Lamai, Bophut, as well as Lipa Noi.

There are also connecting flights from major Thai cities to Koh Samui. Going here will never be a problem.

James Bond Island

First of all, this is a group of limestone towers that rise out of the crystal-clear waters of Phang Nga Bay.

Technically, this is not a single island.

The island got its name from the James Bond movie, The Man with the Golden Gun. The movie featured the islands of Koh Khao Phing Kan and Koh Tapu. Since then, these islets have retained the name of being the James Bond Island.

There are a few fantastic resorts in the area.

The island is also ideal for romantic photos of you and your beau. Experience the sunset while you feel the sea breeze caress your face.

You can reach James Bond Island from Phuket. There are ferries from there that will bring you here.

Koh Lipe

Koh Lipe is an archipelago of 51 islands.

This is also one of Thailand's most popular destinations for couples and honeymooners.

Couples can go ahead and hop from one island to another. Hat Yai, Koh Ngai, Koh Mook, and Koh Phi Phi are the most notable islands here.

Here, the most popular activities include snorkeling and scuba diving. Each of the 51 islands is also great for sunrise and sunset views.

To get here, you can fly from Bangkok to Hat Yai. From Hat Yai, board a bus to Pak Bara Pier. From here, you can take a ferry going to Koh Lipe.

Koh Tao

If snorkeling and scuba diving are your thing, Koh Tao is the perfect destination for you both.

In all of Thailand, Koh Tao is famous for its affordable and exciting scuba diving facilities.

Aside from that, Koh Tao has a bustling nightlife. It is also an island of sandy coves and lantern-lit dining establishments.

Going here is easy.

You can fly from Bangkok to Koh Samui. From there, a ferry will take you to Koh Tao.

There is also a bus from Bangkok to Surat Thani. From Surat Thani, you can take a ferry to Koh Tao.
How do you choose a Thai island?
There are three major considerations when choosing a Thai island. First is the season. Identify which month is summer and which is monsoon. Also, consider the logistics of visiting the island. Finally, will the island suit your and your partner's needs?
Thailand is a country with many islands scattered everywhere.
These islands boast the most stunning and pristine beaches.
Because of the booming tourism industry in the country, these islands remained at the top when it comes to destinations for couples.
But how do you decide which island to visit?
Below are three of the major considerations when choosing a Thai island to see.
The Season

An island vacation is no good when it's raining.

Before booking your plane tickets to Thailand, do a bit of research.

Monsoon differs depending on the country's geographical location. It also varies depending on the region.

Phuket, for example, is rainy from April to November. Koh Samui and Koh Tao get a lot of rain from August until December.

If you are visiting an island in Thailand, you have to know when it is sunny.

Otherwise, you will be spending most of your time indoors sipping on some tom yum soup because of the rain.

The Logistics

Going to some islands can be a tedious process.

Some of these islands may require you to go through bus and ferry rides. For others, it is a combination of air, land, and sea travel. Aside from that, there are also flights to think of.

If you and your partner are on vacation for a shorter period, consider the logistics of going to the island.

You can't afford to waste more time traveling on such a short vacation.

If you have a month of traveling, the travel time won't even be a problem.

Your Vacation Style

Each Thai island has its charm.

There are islands for party-goers. There are islands ideal for families and backpackers. And, of course, there are romantic island getaways.

Identify which of these islands suits your needs. The island should satisfy your preferred style of vacation.
Which is nicer, Phuket or Koh Samui?
For couples looking for quiet and romance, Phuket is better. Koh Samui is as beautiful as Phuket. But it is also popular with youngsters that 'til dawn. If you want a quiet and romantic getaway, choose Phuket.
Phuket and Koh Samui have beautiful beaches.
To choose just one island, you would have to go back to your core. What type of vacation do you intend to have?
Phuket is more touristy and commercialized.
Koh Samui is more relaxed during the day and is a party place during the night.
To make it easier for you to decide, here are a few factors to compare.
Accessibility
One of the most critical factors in choosing your island is its accessibility.
Phuket is easily accessible through air, sea, or land.
You can take a bus or ride a train from the mainland and pass through one of the road bridges.
Phuket also has an airport which makes it more accessible by air.
Many airlines service the Phuket Airport. Most of these flights are from Bangkok or some major city.
Internationally, the airport has access to 49 cities from nearby countries.
From the US, you can fly to Bangkok. Once in Bangkok, you can fly domestic to Phuket.
Koh Samui is accessible by air or by sea only. It flies daily from Bangkok, Kuala Lumpur, and Phuket. The only airline that travels to the island is Bangkok Airways.
When it comes to accessibility, Phuket wins this round.
Beaches
Both islands have amazing beaches.
Phuket's have great views as well as a horde of activities you and your partner can enjoy.
There is a massage by the beach, restaurants, and bars you can visit, and a bustling nightlife.
On the other hand, Koh Samui's beaches are quieter and smaller. These beaches are perfect for those who want to snorkel and relax.
There are tourists in Koh Samui, but they are few compared to Phuket's.
If you and your partner prefer a quiet beach during the day, Koh Samui is the island to go to. If you are looking for beautiful beaches with a plethora of activities, Phuket is perfect.
Activities
Both of these islands have a wide array of offerings when it comes to classic activities.
You can relax, get a massage, or sunbathe on both islands. There are water activities on both islands like kayaking, jet skiing, or parasailing.
There are temples to visit on both islands.
The only difference is that in Phuket, there are more shops. And so, if shopping is part of the itinerary, you should choose Phuket over Koh Samui.
Koh Samui is more laid back. Phuket is the busier choice.
But remember that Koh Samui is also popular for its beach parties and backpackers. As a couple, you have to understand that these parties, especially the full moon parties, can get rowdy at times.
Dining
The food on both islands is excellent.
There are fast-food chains and fine dining restaurants on both islands.
Both islands are also popular for serving the freshest seafood in the country.
But when it comes to cocktails and lounging areas by the pool, Phuket is the clear winner. It has beach clubs and bars that can cater to these needs should you have them.
On both islands, you can party and drink to your delight.
Is Thailand a safe country?
Thailand is safe for tourists. It is one of the least dangerous countries in the Southeast Asian region. There are incidents of unrest once in a while, but these do not harm the tourists.
Once in a while, you may hear of violent conflicts in the country. But the crimes against tourists in the country are rare.
But as always, I remind my readers of taking the usual precautions wherever they may be.
One of the things that you should understand is that Thailand is a developing country.
This does not mean that the country is not safe for tourists. As I mentioned earlier, it is secure. But you have to be careful with your decisions when in the country.
One of the things you should remember is that most Thais are helpful. When in the country, you can ask for help from them, and they would surely be able to assist you in any way possible.
A Thai can help you with directions, restaurants, and even transportation.
However, when in the country, there are a few areas you have to avoid.
These regions are mostly in the southern part of the country.
The region of Yala is one of them. You should also avoid going to Pattani, Narathiwat, and Songkhla.
These provinces I mentioned are in the southernmost parts of the country. They are dangerous because of racial and ethnic conflicts that continuously happen in the area.
When in Thailand, you should stick to the northern provinces and their famous islands.
You should be safe there.
Petty Theft
Petty theft is something that always concerns tourists from anywhere on the globe.
Thailand also has its share of petty theft like pickpocketing. This is especially true when in the urban areas of the country.
As always, make sure to secure all your valuables.
Your passport, wallet, and gadgets should be well-secured, especially when you are out and about the streets of Bangkok or any Thai city.
Go with a money belt instead of a backpack. These money belts can help you secure not just your cash but your phone as well.
Staying Safe at Thai Public Transportation
When in Bangkok, make sure to map your routes.
The mode of transportation in Bangkok is by train, taxis, or tuk-tuk. Some boats travel the city's rivers and canals.
Aside from these, motorbikes can also take you to your destination.
The one thing you should avoid is dealing with drivers that rack up their rates. Make sure to negotiate when riding a motorbike or tuk-tuk.
As for taxis, open your map application on your phone. This is to ensure that the driver is not taking the longer route to your destination.
If you are taking the train, ask a local when confused or lost. They can certainly help.
And while we are on the topic of safety, let me assure you that the country is also safe for solo female travelers.
Here, you can find many solo female travelers who have been in the country for a long time. The city also has all-female hostels that you can check out.
In general, the country is safe.
You just need to prepare and make sure to travel smart.