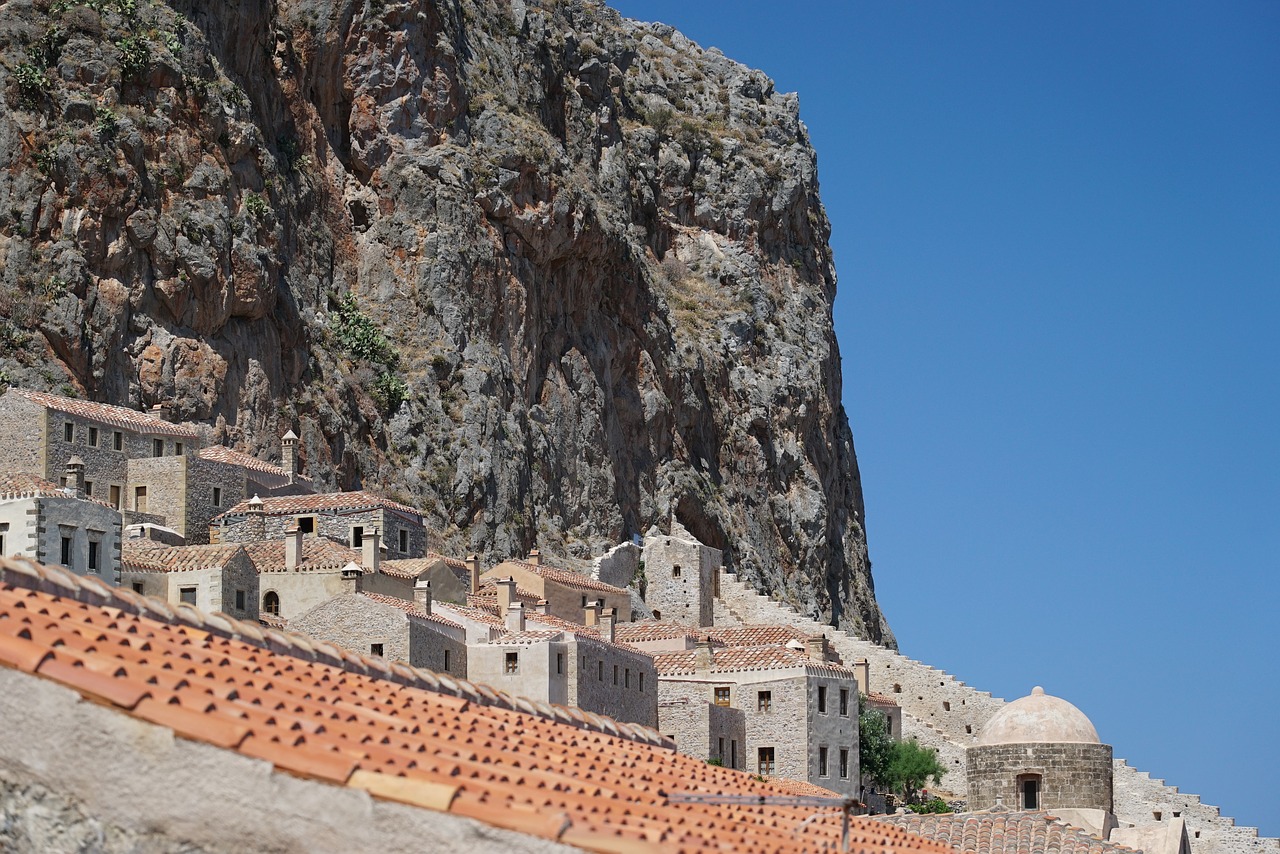 The months of June until August is best to visit Monemvasia. The weather is comfortable. The temperature can go high but not hot. There is also less rain during these months. Tourism is busy. Expect accommodations to shoot up, though.
Throughout the year, you can always visit Monemvasia.
As mentioned earlier, June is the busiest month of the year. This month is then followed by February and July.
During June, the prices of hotels and other accommodation would be higher. The reason for this is because June tends to be the busiest when it comes to tourism on the island. Blame it on the weather. It tends to be perfect during the middle of the year.
If you are planning to visit in June, however, you can still save on hotel costs. To do that, you should be able to book your hotel accommodations in advance.
If you want to avoid the crowds, however, you can visit in November. During this month, the island tends to have fewer tourists. The lodging costs would also be cheaper.
Monemvasia and Tourism All Year Round
The Medieval Island of Monemvasia is a perfect destination all year round. Whether you come to visit in winter or summer, there is always something to look forward to.
I understand each of us has our preferences when it comes to traveling.
And so, just to help you decide on which month you are going to visit, here's a quick look.
Spring in Monemvasia (March to May)
It is during this season that humidity and temperature in Monemvasia mix. This combination results in a season that feels a bit more moderate.
Temperatures during this time go from 14 degrees Celsius to a high of 24 degrees Celsius.
The warm months tend to be in the latter part of the season (May).
During this time, rain is rare. In about a month, you can only see about one to three days when there is rain. Other times, there is even none.
When it comes to tourism, spring is the second busiest, next to summer.
Summer in Monemvasia (June to August)
It is during these months that the weather becomes comfortable. The temperatures tend to be higher compared to any other month of the year. But what is great is that despite the high temperatures, the atmosphere is just warm.
When it comes to rain, there is almost none during these months. Perhaps it can rain for a day. But nothing more than that.
Tourism-wise, this is the busiest season of the year.
As such, expect the cost of lodging and accommodation to be much higher than usual. But like I said earlier, you can save up on these costs when you book early.
So, you need to do just that.
Fall in Monemvasia (September to November)
This season sees a nice combination of humidity and wind in Monemvasia.
During fall, rain and snow start to show up. But it won't be much compared to winter.
By this time, tourism starts to slow down. The dip in tourism in Monemvasia can perhaps be because of the weather.
And because tourism is slow, expect hotel accommodations to be cheaper compared to prices during summer.
Winter in Monemvasia (December to February)
For travelers who love the sun, this season may be too cold to bear.
Temperatures can go to as high as 16 degrees Celsius. It can go as low as 12 degrees Celsius.
When visiting during winter, expect to see rain or even snow.
In Monemvasia, winter is when tourism is at its slowest.
How many days to spend in Monemvasia?
Three days would be enough time to explore Monemvasia. In three days, you would have enough time to visit the Elkomenos Christos as well as the town's other tourist sites. Some other examples of tourist sites are the Church of Agra Sofia and the Pori Beach.
Monemvasia sits comfortably on the southeastern part of Peloponnese. As mentioned earlier, a narrow road connects the town to the mainland.
Seeing Monemvasia from the outside may be disappointing. It looks ordinary. It appears to be bland with nothing much for a tourist to do.
But once inside the town, Monemvasia provides all the Greek flavors and cultures you could ever want. Therefore, visiting this castle town is something you should not miss.
But how long should you stay in Monemvasia?
Before I discuss it further, I should tell you a bit about Monemvasia and its vibe. It is a community so laid back. Charming and relaxed are understatements.
There are no malls here. The gift shops sell different types of souvenirs.
Monemvasia is a different type of tourist destination compared to other Greek cities.
When you visit Monemvasia, it seems like you are traveling back in time. In this little town, you will see a clear picture of how Greece was centuries ago.
As such, when you visit, you cannot just rush around and take photos then leave! You must immerse yourself into the culture. You must be in there and bask into all that history and culture this little piece of rock of a town provides.
To rush your visit to Monemvasia is a mortal sin.
And so, considering all these factors, how many days should you spend here?
The answer is three. Yes, that's three days.
Three days would be enough for you to bask into all this beauty and experience the town and its offerings.
Mind you; there are Byzantine churches and views of the oceans here. The food is yum. The locals are warm.
And finally, how many towns with fortress walls can you name? There aren't many towns like this in the world today.
Monemvasia is a town with a wall that protects it from the bad guys.
Also, there is only one entrance, hence, the name Monemvasia.
The town is perfect for a stroll. It is ideal to discover not just a part of history but yourself as well.
Here are a few tips on which parts of the town you should visit.
First Day
You will be spending half of your first day on a bus (or a car).
Monemvasia is about 156 kilometers away from Athens.
As you know, it takes about 5 hours by bus or roughly 4 hours by car to get here.
Since the town is far, you would need your morning hours for traveling.
When you arrive in Monemvasia, it will already be around lunchtime.
So, upon arrival, you take your lunch. And then, you explore the Monemvasia Archaeological Collection.
From there, you can head on to the Elkomenos Christos.
And after exploring, you can cap off your day with a visit to the Panagia Chrysafitissa.
Second Day
Beach lovers, this is for you.
Monemvasia is a town with notable beaches that would be worth a visit.
You can spend about half of your second day lounging on one of these beaches.
If you need a suggestion, try visiting Ambelakia Beach. This is one of the nicest I can suggest. The other beautiful beach you can visit is Pori Beach.
You can choose to visit one. Or you can see both, depending on how much time you have in town.
In the afternoon, you can head on to Kanoni.
And finally, you can end the day with a sumptuous meal in one of the town's al fresco restaurants.
They serve the freshest seafood here, by the way. Don't miss it.
Third-Day
The third day is the day when you will travel back to Athens.
But not so fast!
Before heading back to Athens, you can drop by the Agia Sofia. And if you have enough time, you can still visit the Castle of Monemvasia.
These are places worth visiting before traveling back.
In the afternoon, you can head back to Athens.
—
The town of Monemvasia is an experience you should not ignore.
It is a walk back in history. Every inch of this town is Greece and all its flavors.
You also don't have to worry much about communicating. Most of the people that work here speak English.
And when it comes to their food, they're the freshest.
Eat fish. Enjoy the seafood.
Reward yourself with the most beautiful view this corner of the world can offer.
Is Monemvasia worth a visit?
The town of Monemvasia is Greece's hidden gem. A medieval town complete with churches and beautiful beaches. The town also has the freshest seafood. And most important of all, Monemvasia has a relaxed vibe. Yes, Monemvasia is worth a visit.
When it comes to tourist attractions, Monemvasia will never run out of them.
From its coastal views and picturesque corners, Monemvasia will never fail you. These, and more, are the reasons why I believe Monemvasia will always be worth a visit when you are in Greece.
It has beautiful beaches. The town has quaint streets as well as medieval castles. Also, Monemvasia has beautiful churches.
Aside from that, the town also serves you all the flavors Greece is famous for.
All these ticks the checklist of a holiday destination worth a visit.
Here are a few tourist destinations in Monemvasia I urge you to see.
The Church of Agia Sofia
Who would ever miss this destination?
When in Monemvasia, this is the church you should not miss. It sits right on the upper part of the town and is one of the oldest Byzantine churches in Greece.
Built around the 12th century, the Church of Agia Sofia is beautiful. It stands majestically on the highest part of town.
And when you trek and reach the church, there is nothing but a jaw-dropping view of the Aegean Sea.
The Pori Beach
Imagine lazing your afternoon away on a beach somewhere.
In one part of town, you get Byzantine churches and century-old architecture. On one side is a peaceful beach where you can laze your afternoons away.
What I like about Pori Beach is that there aren't many visitors that visit.
On some days, you can even have the beach all to yourself!
And to clear this with you, I am not sure why there are not many visitors here. You may think that there aren't as many because the beach may look bad.
Let me tell you. No, it does not look bad. The fact is the beach is beautiful! And it's also clean.
The Castle of Monemvasia
So, now that you're in town, you should know that the town has an upper and lower part.
In the upper part of town, you can visit the Church of Agia Sofia.
What has the lower part of town got to offer?
Well, the lower town has a sea wall. It also has a Turkish mosque. And get this – there's a castle from around here.
That is simply amazing!
The Christ Elkomenos
And before you get carried away, there's another destination in the lower part of town that you should also visit.
The lower part of town has a central street. One of these streets eventually leads to the main square.
In this square, you will never miss a perfect meeting point – a ship's cannon.
Here, you will be able to find the Monemvasia Cathedral. The cathedral is also called the Christ Elkomenos.
When translated to English, it means "The Crucified Christ."
The cathedral was built during the 13th century and remains grand up to this day.
This destination is unique because across the cathedral is the Turkish mosque I mentioned a while back.
And when you think of it, it's amazing how people from two religions were able to live in harmony in the past.
I'm sure we all do until now. But the square sends that powerful message.
With these tourist attractions and all, I'm pretty sure visiting Monemvasia will not reap regrets.
It will be worth your time.
What are the best hotels in Monemvasia?
Monemvasia has a lot of beautiful hotels. Malvasia Hotel tops the list. Stellaki Mansion comes in second with all that grandeur. And for a cheaper (but worthwhile) option, try Aktaion Hotel. These three never disappoint.
Monemvasia has hotels and a lot of accommodation options to suit your needs.
Whatever budget or travel style you may have, I am pretty sure Monemvasia will always have something for you.
If you ask me, I will have to say the traditional guesthouses top the list of a unique lodging experience while in this town. These are those accommodations housed inside stone buildings.
If you are looking for cheaper options, your best bet is also in Gefira.
But when it comes to the best hotels in Monemvasia, what do I have to suggest?
Well, there are quite a few here. And to say that they're beautiful would be an understatement.
Here are a few of them.
Malvasia Hotel

Sitting 300 meters away from the castle's gates is the end of Monemvasia's beautiful cobbled main street. It is here that you will find the Malvasia hotel.

Its rooms and balconies offer guests an unhampered view of the town as well as of the Myrtoan Sea.

The building is stylish. It is also built inside seven connecting stone residential dwellings. These residential homes were restorations of old structures, which adds charm to the hotel.

A night at the Malvasia Hotel costs around US$71. This already includes a breakfast buffet which, for me, is generous enough to fill your stomach to the brim.

Stellaki Mansion

If you like it old and if you like it grand, Stellaki is the answer.

This is perhaps the oldest and the grandest that you could ever find in town.

In the past, the noblest of them all used to live in this mansion. Now, it serves as a guest house to tourists wanting to experience the grandeur of Monemvasia.

The hotel is about 50 meters away from the gates of the castle. It is, in fact, just about beside the castle wall.

The rooms have stone walls. Each room also has wooden ceilings which combine the ancient with the modern.
Despite the old structure, each room also offers amenities that travelers need during their stay.

And just like the Malvasia Hotel, a night in Stellaki Mansion costs around US$71. The room rate also includes breakfast.

Aktaion Hotel

When you want a cheaper room than the first two options, Aktaion Hotel is a great choice.

Rooms start at about US$33 per night. This makes it a great choice for those wanting to pay less for accommodations.

What is commendable about this hotel is its view.

This is because it sits right at the seafront of Gefira.

The property was also recently renovated, providing all the comfort travelers need.

Rooms all have balconies and are all equipped with an air conditioning system. All rooms also have flat-screen TVs as well as toiletries.
Where to Eat
Identifying the right accommodation is important, so is checking out restaurants and other dining establishments.
In Monemvasia, you will get a wide array of amazing Greek and international dining choices. These are all available in town as well as in Gefira.
From Greek classics to Italian or other international cuisines, Monemvasia has them all.
Here they are.
Da Sabatino
If you are craving Italian food, Da Sabatino is the answer to your prayers.
Its chef is from Naples in the Southern parts of Italy. And so, when it comes to authenticity, this is the real deal.
This chef can make them all from cacio e Pepe pasta, a dish popular in Rome, to gnocchi alla Sorrentina.
And oh, don't forget to try their tagliatelle ragu.
The food is delicious. The price is reasonable.
Their ingredients mostly come from Italy.
They also have a wide array of Italian wines available. Don't miss that out.
To Kanoni
Located at the town's central square is the restaurant, To Kanoni.
To Kanoni is one of the most popular in town. It serves some of the most delicious traditional Peloponnesian dishes.
What is best about this restaurant is it also gets its ingredients from local farmers and producers.
Its menu also changes depending on the season. Because the restaurant sources its ingredients locally, some ingredients may come in season.
To ensure they use only the freshest ingredients, they change their menus depending on what is in season.
When you're around, don't forget to get their oven-baked lamb kleftiko. This dish comes with a generous plate of vegetables and graviera cheese.
Also, they have locally sourced smoked sausages that come with orange rind and sage.
Malvasia Café
Located in the far eastern part of town is Malvasia Café.
This quaint coffee shop serves a wide variety of snacks and desserts.
Sit on one of their wicker chairs. Gaze out into the open sea.
This scenery is perfect for a lazy afternoon.
And oh, don't forget their sunset!
They're breathtaking.