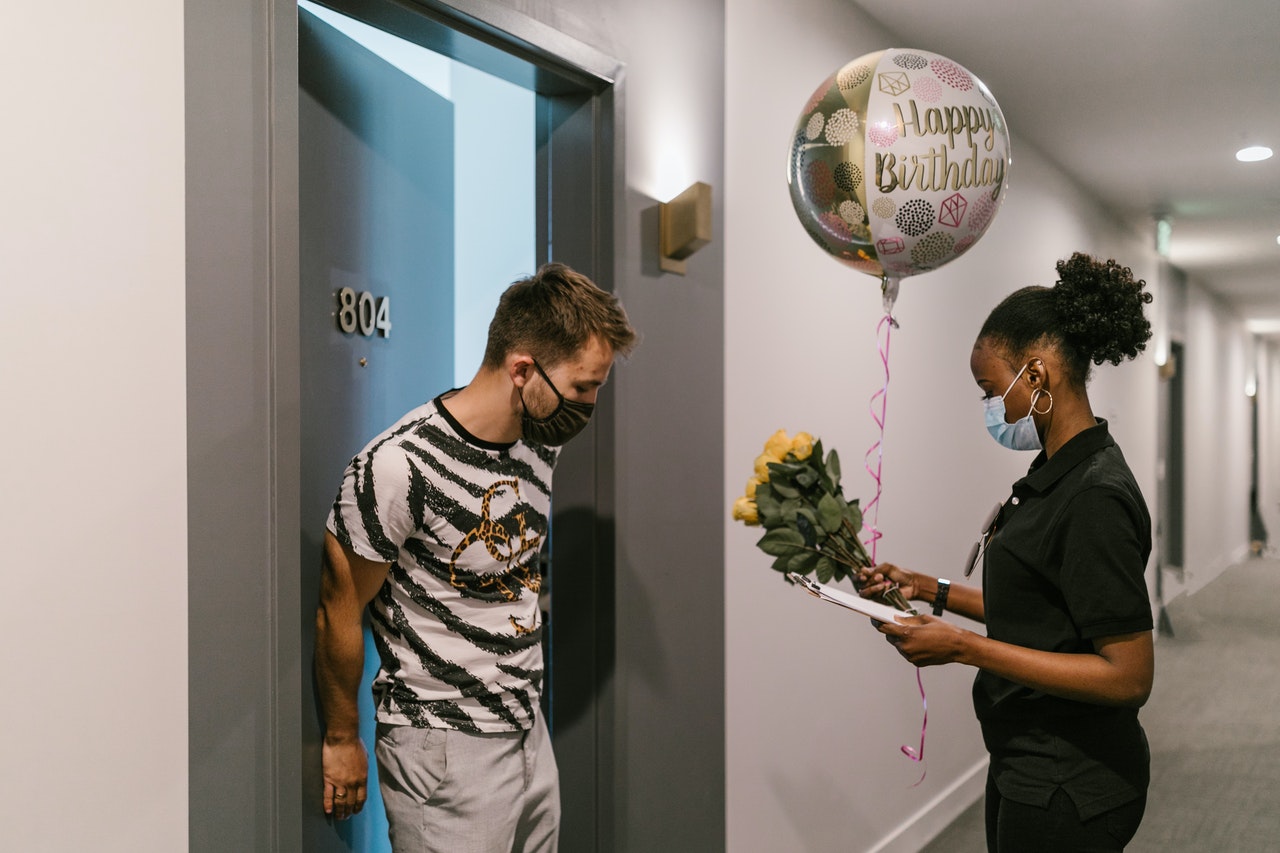 There are different ways to celebrate birthdays. Hotels know that people love to spend birthdays in the most special way possible. They find ways to make guests feel exceptional and showcase their service and brand.
Hotels offer discounts and birthday packages during this special occasion. They would do anything to please you by giving perks and other promotional deals. Hotels will even grant you a free room upgrade when you celebrate your birthday with them.
It is their way of valuing guests and be profitable at the same time. Hotels will take the opportunity to increase sales and customers. They know that birthdays are the perfect event where friends and family gather as a group.
In this way, they have the opportunity to display amenities and showcase services. With a larger group booking for a birthday event, there is a high chance they can attract new customers.
Do hotels do anything special for birthdays?
Booking a hotel is a great way to celebrate your birthday. Hotels can make your experience truly special through exclusive birthday offers. They provide complimentary birthday perks, party packages, and even in-house event planners.
Hotels will ensure that you will receive the best kind of treatment during your special day. They can help you with the birthday preparation and decorate the room for you.
Here are some of the things the hotel would offer to make your day very special:
Special birthday packages

Hotels are aware that throwing a party can be a little taxing. You spend hours for the preparation and make the event enjoyable for guests. Thus, some hotels provide special birthday packages to the celebrant.

They provide party banners, use of hotel cameras, beer setup, and complimentary drinks. A formal banquet or chill poolside barbeque venue is also open for you.

Room with good city view

If you tell the staff that you will be booking a hotel room for your birthday, the staff can give you a room with a great view. The staff will gladly reserve a room for you with the best view to make your day special.

Free hotel upgrades

Another perk you can enjoy is free hotel upgrades. Most hotels have this offering to the birthday celebrant. If you book a hotel on your birthday month, you can easily request an upgrade.

The hotel staff can even give you a Deluxe Room complete with amenities and services. If you have a subscription to their mailing list, they have complimentary breakfast. During the night, evening cocktails and canapes are waiting for you.

Special food service made by the hotel chef

Some hotels will even take it to the next level to make your experience memorable. As part of the birthday package, the hotel chef can curate a delicious meal for the celebrant. You can even score a free-flowing drink, tea, and coffee on your day.

Exclusive in-room birthday packages

If you want your celebration more intimate, some hotels have in-room birthday packages. For a discounted price, you can have a room, breakfast, and room decorations. You can also request cake, flowers, and balloons as add-on services.

Private buffet spread for your guests

Some hotels have an exclusive buffet spread for special occasions. They can reserve a buffet room or function room for your guests. The hotel can even offer you discounted prices for the food and menu.

Alongside freebies, hotels give free one-night stays at one of their deluxe rooms.

Function room decorations

If you invite a larger crowd, you can have special use of the function room at a discounted price. You have the option to add an international buffet or 7-course menu on your day.

Some will also offer free-flowing drinks, balloon decorations, and flower arrangements.

Event planner services

If you do not want to stress out yourself for birthday preparation, you opt to use the services of an event planner. Hotels have their event and party planner, which you can always rely on. With a corresponding service fee, they can help you out in planning your day.
Do hotels give discounts for birthdays?
Hotels offer deals and discounts on birthdays. They give as much as 25% discount and coupons for celebrants. As long as you book your stay on your birthday month, you can avail the hotel offerings.
Here are some hotel chains providing birthday promos and discounts on your day:
Kimpton Hotels

Kimpton Hotel is a US-based company that operates more than 68 hotels across the globe. It has branches in Paris, Barcelona, Rotterdam, Tokyo, and more.

The hotel offers up to 20% discount on hotel room rates during your birthday. You can receive the promo through e-mail. More than that, the hotel also provides special surprises like balloons and desserts.

It would help to inform the property staff that you will celebrate a birthday to avail of the perks.

Marriot

Marriot is another American multinational company based in Maryland.

It is the largest hotel chain in the globe, with 7,642 properties worldwide.

The hotel has branches in almost 131 countries.

You can avail of their birthday packages if you have loyalty status in the hotel. The higher your rank, the better offerings you get. Once you get the lowest Silver status, the hotel will offer you an exclusive promo on your birthday.

Accor Hotels

Accor is a French hotel company operating across the globe.

The company is the largest hotel company in Europe.

It is the sixth-largest hotel company in the world, with branches in more than 110 countries.

On your birthday, Accor will give you 500 Reward points as a special gift. More than that, you can expect a complimentary bottle of bubbly during your stay. Hand-selected birthday cake is also part of their birthday promos.

The hotel also provides free breakfast and charge-free late check-out. It ensures that you will feel very special on your day.

Wyndham Hotels

Wyndham Hotels is a US-based hotel company. It is the biggest hotel franchisor in the globe operating in more than 9,000 territories. Some of its hotel brands are Baymont, Days Inn, Ramada, among others.

The company offers a 20% discount and other perks on your birthday. You can also enjoy free breakfast, late check-out, and a bottle of sparkling wine on that day. With Wyndham, you can experience a memorable birthday celebration.

Disney World Resort

For kids, there is nothing more magical than booking a room at Disney World Resort. You can get loads of discounts and freebies on your birth month. They can give you a free pretzel, Starbucks drink, and Earl of Sandwich as a birthday gift.

You must coordinate your intent of celebrating a birthday upon reservation. You will receive extra-special treatment like confetti, cupcake, and card. You can also expect Mickey Mouse to greet you, as well.

Birthday button – you will get a Birthday Button which you can wear in the vicinity. Cast members will greet you all the time upon seeing your birthday button. Plus, you can get special discounts in restaurants when you have the button.

Birthday dessert – inside the Disneyland Resort Hotels, you can dine in a restaurant. You can receive a free birthday cake, and the staff will sing a birthday song.
What can you request from a hotel for a birthday?
Hotels are very accommodating on birthdays. You can make special requests to make your stay memorable and more comfortable. It includes hotel upgrades, late check-in, room with a great view, among others.
At the time of your reservation, you can call or e-mail the hotel management for a special request. You can tell them that you are celebrating your birthday and would want to make the day memorable.
Here are the things you can request from the hotel during your birthday. As long as your request is within the hotel policy, the management will gladly grant it.
Requesting for a room upgrade

As a birthday celebrant, you can ask whether the hotel can give you a room upgrade. Most hotels offer free room upgrades, as long as there are rooms available upon request. They can give you a free upgrade on your day.

Requesting for a hotel room with a view

When making a room reservation, you can also ask the staff if they have an available room with a good view. You can make this special request specifically on your birthday. Of course, it is the hotel's best interest to keep their guests happy.

Requesting for a late check-out

If you to spend an extended time in the hotel without paying extra fees, you can ask for a late check-out. Some hotels would gladly accommodate your request, especially on your birthday. Some hotels include late check-out as part of their birthday promo packages.

It is important to rely on your request to the hotel staff upon your check-in or reservation. In this way, they can reserve the room for you for a couple of hours without disturbing other guests.

Request extra hotel amenities

Hotels will certainly make things easier for their guests. During your reservation, you can ask for extra hotel amenities you can avail yourself of. Some hotels have their spas, pools, and saunas to make their guest's stay more fulfilling.

Other hotels run their shuttle, coach, and private cars, which you can also use. It will make your stay hassle-free and enjoyable, as well. If you book for your special day, you might find some of these amenities part of the hotel freebies.
How can I make my hotel birthday special?
Your hotel birthday party can be very special if you plan a fun and enjoyable activities. You can have game time fun, a pizza party, or a spa party in your hotel room.
It is vital not to violate the rules and policies of the hotel. You can even ask some hotel staff to help you with the room decorations.
Game time fun

You can reserve a huge hotel room with a large flat-screen TV, mini bar, and exceptional room service. You have the option to decorate the room with door-hanging basketball goals for boys. You can also bring your deck cards for a game night.

Add some fun by tuning in to your favorite sports channel using the large TV screen. Ensure that you bring mixed nuts and cold beverages to spice up the celebration.

Spa room

You can decorate your hotel room into a homemade room spa. Bring plenty of face masks, foot scrubs, and manicure tools for a night with your girls. You can ask the hotel for fluffy robes, comfy slippers, and extra toiletries.

Make sure to bring food and drinks. You can include cold-infused lime water, fruits with chocolate dip, and other sweet treats. It is the perfect way to celebrate your day and get a whole night of relaxation with your pals.

Pizza party

For teenagers, you can book a room with a bed and ultra-sized television. You can watch movies via Netflix and order food from your favorite pizza parlor. It is the ideal way for a movie marathon while enjoying the company of your friends.

Celebrating your birthday can be special and easier if you reserve a hotel room. Hotels can offer you discounts, promos, and packages to make your day a memorable one. It is important to inquire first before finalizing your booking. You can opt for a special request from the hotel and let them help you plan a great day for you.