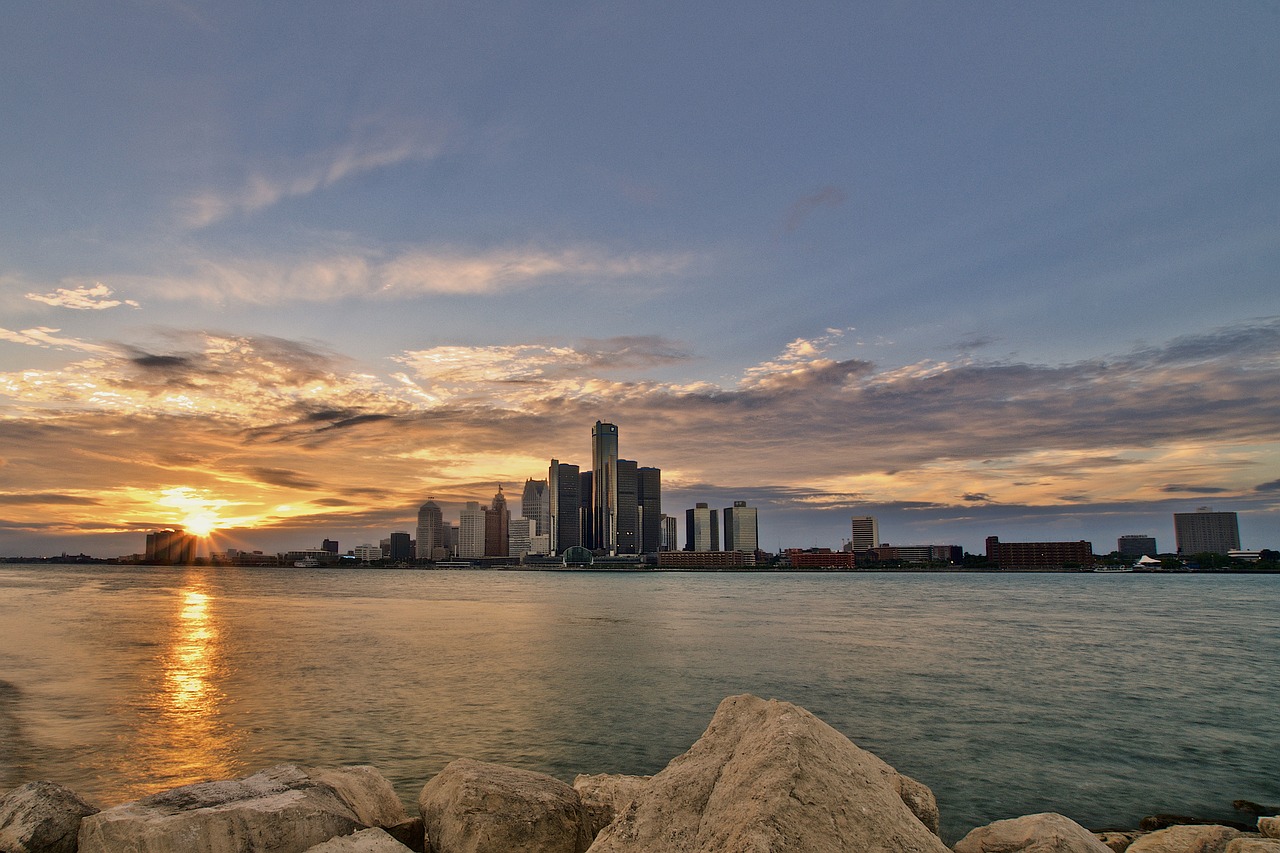 Albuquerque is the best place to live in compared to Detroit since it is cheap and has a lower crime and unemployment rate. On the other hand, Detroit has a higher crime and unemployment rate, masking the city's lower expenses.
Albuquerque is a relaxed, laid-back Southwestern city perfect for anybody who appreciates warm, dry weather, magnificent desert landscape, and fabulous New Mexican cuisine.
Detroit, often known as "The Motor City," has much more to offer than recollections of muscle cars from the past. The city has more to offer than most people realize, from historic neighborhoods to one of the best food scenes in the country.
Albuquerque and Detroit are among the most hazardous cities in America. Both Albuquerque and Detroit have a lot in common. It is better to compare and contrast both towns.
What are the Pros and Cons of Detroit vs. Albuquerque?
Detroit boasts a diverse community, cheaper living expenses, plenty of music festivals but has higher unemployment, poverty, and crime. Albuquerque, in contrast, has lower wages and a high crime rate while having cheap living prices, bearable traffic, and outdoor pleasure.
Living in Detroit
Pros
More affordable cost of living than ABQ

Detroit is among the metropolis with the lowest living costs in the nation. Detroit is less expensive than 84% of other major American cities.

The typical property price in Detroit is 80% cheaper than the national average, and our cost of living is 27% lower. In addition, the state income tax rate is a very reasonable 4.25%, and the sales tax is an affordable 6%.

Music festivals

Although Detroit and Motown made history, they are merely a minor component of its thriving music culture. Detroit also holds two more major music festivals.

The music festivals are simply a tiny sample of what Detroit offers in music and entertainment. Two popular events are the Movement Electronic Festival and the Detroit Jazz Festival. These music genre venues attract visitors from all across the country.

Easy commute

There are almost 2,300 kilometers of protected bike lanes, walkways, and walking trails in the city. An average of 23 minutes commuters spend on traffic in Detroit, nearly 11% less than the national average.

In addition, Detroit comes out on top for the least amount of time commuters spend stuck in traffic.

Diverse community

Detroit has a diverse range of cultures and customs. You'll pass through neighborhoods brimming with vivid life, arts, and history, including Irish, English, Italian, Asian, and African American communities.

Moreover, Detroit's diversity has grown faster than any other American city in the previous two decades.

Automotive innovations

Detroit is well-known for its automotive innovations. Over 70% of the automobile industry's research and development is in Detroit. Technology-based startups account for more than 40% of Detroit's startups.

This rise in the tech-based industry, like the growth in automotive research and development in Detroit, has resulted in more significant employment and career prospects.
Cons
8.40% unemployment rate

The unemployment rate in Detroit remains at 8.40%, which is more than twice the US average of 3.9%. The employment market grew sluggishly by 0.7% last year but will likely rise by about 30% over the following decade.

31.3% poverty rate

The poverty rate in Detroit is more significant than in other cities in the United States, at 31.3 percent of the population. The average poverty percentage in American towns is 10% to 13%.

Hence, the poverty rate in Detroit is about three times the national average.

Higher crime rate than ABQ

If you're considering relocating to Detroit, one of your main worries should be the high crime rate.

The property crime rate index in the city is 66.7, over twice the national average of 35.4. The violent crime rate is alarmingly high, at 94.3%, more than four times higher than the US figure of 22.7%.
Living in Albuquerque
Pros
Variety of cuisines

Albuquerque is the place to go if you want to try a variety of cuisines.

You'll discover a broad array of distinctive alternatives that take you through tribal culture, Spanish influences, Mexican delicacies, and American stapes, thanks to the region's hundreds of nationalities.

Although this advantage may appear exclusive to some, no more extraordinary food in the world speaks of New Mexico than in Albuquerque.

Besides various cuisines, ABQ is known for including Chile as an ingredient. Albuquerque is perfect for people who love Chile.

Outdoor fun

If you enjoy being active outside for most of the year, you will enjoy living in this city. Albuquerque is one of the top hiking and backpacking spots in the Southwest.

Because the Sandias are only a few miles from the city, it doesn't take long to get away from the crowds and enjoy some peace.

There are a few small lakes in each direction where you may discover some fishing chances waiting for you. When you move to Albuquerque, you can go skiing in the winter.

Lower unemployment rate than Detroit

Albuquerque has an unemployment rate of 5.5%. Even though ABQ's unemployment rate is higher than the national average, it is lower than Detroit's.

Detroit has an unemployment rate of 8.40%, which is a lot higher than Albuquerque's 5.5%.

Competitive education cost

Living in New Mexico makes sense if you consider pursuing an undergraduate, graduate, or doctoral degree. With in-state tuition averaging $3,100 a year, you'll be able to get a good education without breaking the bank.

K-12 schools in Albuquerque often perform well, offering you the opportunity to ensure that everyone receives the education they require to pursue the vocation of their choice.

Offers tolerable traffic

The bulk of traffic in Albuquerque isn't too bad. The traffic in Albuquerque is quite tolerable than in most cities in the United States.

If you're used to living in a tiny town where traffic delays are uncommon, Albuquerque will be a rude awakening. On the main arterial pathways through the city, you'll notice some slowness due to the city's general size.

Compared to cities like Dallas, Denver, or Las Vegas, you have little to be concerned about most days. It can become crowded, but it usually flows along nicely in Albuquerque.

Costs are competitive

ABQ ranked 33rd in the country in terms of affordability.

New Mexico now has a population of around 2 million people. Albuquerque is home to roughly a quarter of the city's population. That implies you'll have access to a home market with some activity in a state where demand is low.

The average property sells for around $182,000 on the market. A 900 square foot apartment will cost about $840 per month if you opt to rent.
Cons
Low salaries

New Mexico has the 49th highest number of people living in poverty. Most poor New Mexicans attend failing schools, have few career opportunities, and live in rural areas.

Since 2009, Albuquerque's minimum wage has been $7.50 per hour. If you come into the city to work, you'll find it challenging to make a livelihood.

Among the highest crime rates

When residing in Albuquerque, you should be aware of package thefts, automobile prowling, and occasional break-ins.

Crime rate is a serious concern in the city due to generational economic difficulties, poor incomes, and a general lack of prospects for many families. Most of it is drug-related, which means you'll be dealing with many property crimes.

Furthermore, Detroit ranked 4th among the most dangerous cities in the USA.
Albuquerque or Detroit – Which is cheaper?
The cost of living in Detroit is 3.8% less expensive than in Albuquerque. Food, groceries, housing, and utilities are higher in Albuquerque. Therefore, Detroit is cheaper than Albuquerque.
| | | |
| --- | --- | --- |
| Living expenses | Detroit | Albuquerque |
| Housing | 23.2% | 88.0% |
| Food & Groceries | 89.0% | 96.0% |
| Health | 84.3% | 81.1% |
| Utilities | 89.7% | 97.2% |
| Transportation | 178.3% | 89.4% |
Data is 100 = US National Average
>100 means more expensive than the national average
<100 means cheaper than the national average
Housing Cost
Housing expenses in Detroit are 73.6% less expensive than in ABQ. The median home price in ABQ is $332,426, while Detroit's median home price is $326,527.
Moreover, the median rent in Albuquerque can cost you $1,041, whereas the median rent in Detroit can only cost $1,023.
Food & Groceries
Food and grocery prices in Albuquerque are higher than in Detroit. One example is one hamburger in Detroit, which is only $3.85, compared to $4.03 in ABQ.
Health
Healthcare costs in Detroit are 3.9% higher than in Albuquerque. In Albuquerque, a dentist visit may cost $93.49.
Utilities
Utility expenses are higher in Albuquerque compared to Detroit. Compared to Albuquerque, a monthly internet bill in Detroit can only cost you $76.00. In ABQ, the monthly internet bill can cost $80.46.
Transportation
A gallon of gas in Detroit costs more than in ABQ. In Detroit, a gallon of gas costs $2.82, while in Albuquerque, it is only $2.58.
Is Albuquerque bigger than Detroit?
Albuquerque is more prominent than Detroit regarding the economy and land area. Albuquerque has a lower unemployment rate and a land area of 188.9 mi². However, Detroit has a denser population than Albuquerque.
Albuquerque covers an area of 188.9 mi² and has 942,000 people as of 2022. For instance, Detroit has a smaller size of 142.9 mi² yet 3,521,000 people.
From 2021 to 2022, the population of ABQ increased by 1.4%. In the same period, Detroit has decreased by 0.25%. Additionally, Detroit has been facing a decline in its population since 2018.
Albuquerque also has a slightly better economy than Detroit. Although both cities face a yearly unemployment rate, Detroit has a higher unemployment rate than ABQ.
Detroit has an 8.40% unemployment rate, whereas Albuquerque has 5.5%.
Therefore, Albuquerque is more prominent than Detroit in size and economy.
Is Detroit safer than Albuquerque?
Albuquerque has a safety scale of 29.34, while Detroit only has 25.19. In addition, Detroit has a higher crime index of 74.81 than ABQ's 70.76. For comparison, Albuquerque is slightly safer than Detroit.
Annually, there are 7,552 violent crimes in Albuquerque. Albuquerque is also the 9th most dangerous city in the United States. Furthermore, during the first three quarters of 2021, there were 111 violent crimes per 10,000 people in Albuquerque.
Detroit is Michigan's most dangerous city, with crime rates far higher than the national average. Crimes are more likely to occur in low-income neighborhoods with fewer work prospects.
The violent crime rate in Detroit is about four times that of the United States, which is 22.7%. The chances of becoming a victim in Detroit is 1 in 44. Most notably, Detroit is the fourth most hazardous city in the United States.
Detroit's crime index is 74.81 compared to ABQ's 70.76. Furthermore, Albuquerque has a safety scale of 29.24, whereas Detroit's safety scale is lower, 25.19.
Thus, Albuquerque is slightly safer than Detroit.
Is Detroit hotter than Albuquerque?
Detroit's average annual maximum temperature is 83°F, with just 183 days of sunshine. On the other hand, Albuquerque has a higher yearly average peak temperature of 93°F and 280 sunny days. Hence, Albuquerque is hotter than Detroit.
Summers in Detroit are hot; winters are cold, snowy, and windy; and the weather is partially overcast all year. The temperature ranges typically from 20°F to 83°F throughout the year, with temperatures seldom falling below 6°F or rising over 91°F.
On the other hand, Albuquerque has a year-round temperature range of 27°F to 93°F.
Detroit has an estimated 183 sunny days per year, but ABQ has an average of 280 sunny days per year. Winter in Detroit lasts 3.3 months every year, but winter in ABQ lasts just 2.9 months.
Hence, Albuquerque is hotter than Detroit.
Is Albuquerque better than Detroit?
Albuquerque has cheaper taxes and tolerable traffic. In contrast, Denver offers a cooler climate and an innovative automotive industry. However, Detroit has a higher unemployment and crime rate than ABQ. Thus, Albuquerque is somewhat better than Detroit.
Both cities are pretty similar to each other. Albuquerque and Detroit have a lower than the national average cost of living. Also, both cities are easy to commute to and have many festivals, diverse cuisines, and communities.
Detroit provides a much cheaper cost of living and housing expenses than Albuquerque. The city experiences a cooler climate and has an innovative automotive industry. However, crimes and unemployment rates in Detroit are higher than in ABQ.
In comparison, Albuquerque may not be one of the safest cities in the US, but the city has a slightly lesser crime rate than Detroit.
Therefore, for comparison, Albuquerque is better than Detroit.
Are you considering moving to Detroit or Albuquerque? Let me know your thoughts and concerns below.