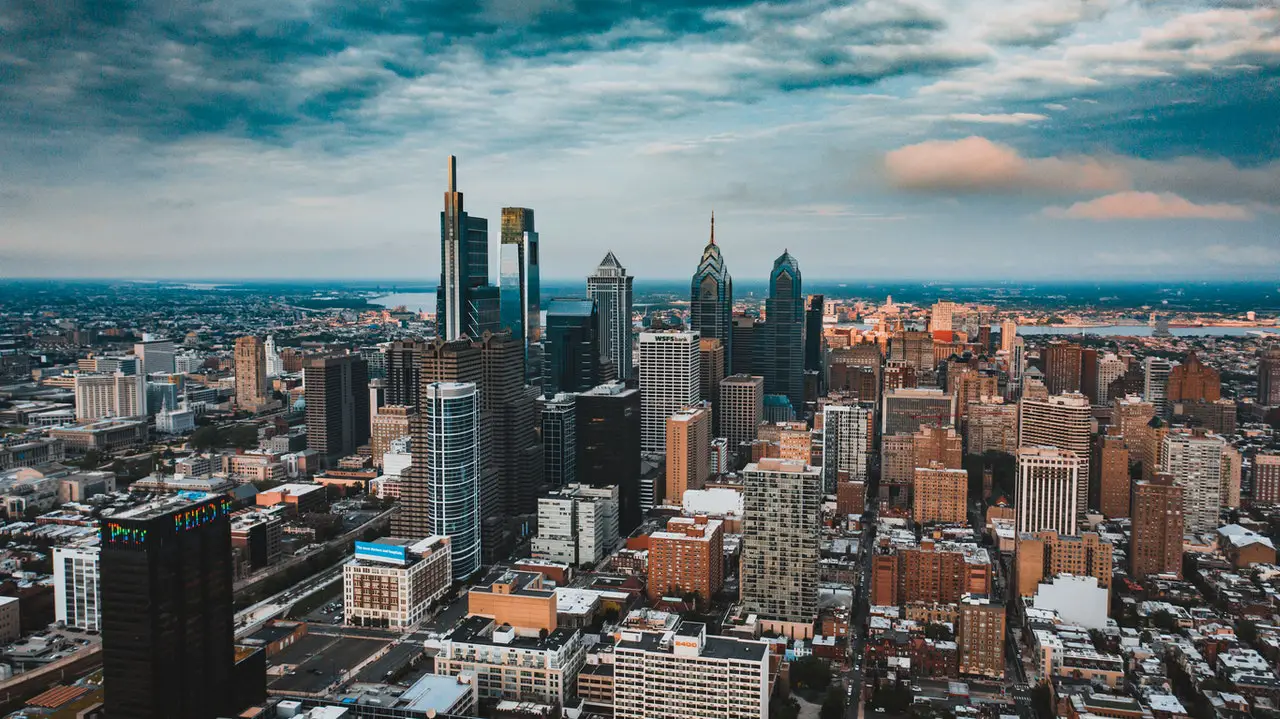 Living in Philadelphia is better because of the bustling economy, reasonable cost of living, and credible education, which offsets the crime rate and parking issues. In contrast, Albuquerque has a higher crime rate, yet the city has lower living expenses and better air quality.
Albuquerque is the real Southwest, with a culture of innovation, openness, and a strong sense of community. If you are going to work remotely temporarily or want to settle down permanently, Albuquerque has a gratifying lifestyle that few other mid-sized towns can match.
The largest city in Pennsylvania is Philadelphia, sometimes known as Philly. The city has a long and illustrious history. Philadelphia is known for its rich history, diverse neighborhoods, and diverse entertainment opportunities.
Philadelphia and Albuquerque almost have similar pros and cons. However, one is slightly better than the other.
What are the Pros and Cons of Albuquerque vs. Philadelphia?
Philadelphia has a developed economy, reputable education, reasonable living expenses, yet it suffers from traffic, crime, and overpopulation. Albuquerque, in comparison, has competitive living costs and superior air quality but has a severe crime rate problem.
Living in Philadelphia
Pros
Proximity to other locations

Like other urban places, Philadelphia has a plethora of things to do. However, it is the city's location that makes it unique.

Philadelphia is close to larger cities like New York, Delaware, and Washington, D.C. It's the ideal location for regular weekend trips.

Quite a reasonable cost of living

Despite its status as a significant metropolitan metropolis, Philadelphia is reasonably priced. It all depends on where you reside in the city.

Philadelphia has a 101.2 cost of living index. Although it is somewhat higher than the national average, the city is undoubtedly among the most budget-friendly metropolis on the East Coast.

Convenient commute

In most big urban regions, commutes are a pain, but that is not the case in Philadelphia. The average one-way commute time is 32 minutes, with public transit used by 21% of people.

SEPTA regional rail, Philadelphia's commuter train service, operates 13 lines to and from all city corners, including the three main Center City hubs: Market East, Logan Square, and University City.

Furthermore, you may discover that walking is faster than driving in some regions. Philadelphia was named the eighth most accessible city for foot commuters, with some workplaces within a 10-minute walk away.

Developed economy

Philadelphia's economy is a developed city in the United States and worldwide. The city's bustling economy provides people with better professional possibilities and helps them succeed in their businesses.

Biotechnology, manufacturing, financial services, and oil refining are Philadelphia's most important economic zones. Anyone with the necessary skills can find work in one of the many established commercial and economic areas.

Reputable education

Philadelphia boasts the fourth-largest university population in the United States, with Temple University, the University of Pennsylvania, and Drexel University among the city's much higher education institutions.

Drexel University has provided $2 million yearly to numerous community groups and raised $95 million in local and varied procurement over the last 25 years, indicating that these institutions have had a significant economic impact.

History

Philly is a history buff's dream come true. So much of the city's history, such as Independence Hall and the Liberty Bell, has been preserved.

If you prefer a more personal experience, go to the National Museum of American Jewish History, the American Revolution Museum, or the African American Museum.
Cons
Crime rate issues

Unfortunately, Philadelphia has some of the country's highest crime rates. Philadelphia has some of the worst crime rates, while neighborhoods like Richboro and Landsdale are safer.

Philadelphia's property crime rating is 46.6%, compared to the national average of 35.4%. Violent crimes are far more prevalent, accounting for 50.8% of all crimes than 22.7% for nonviolent offenses.

Limited parking space

It's challenging to get a nice parking place in Philly, and even if you read the signs carefully, it will cost you a lot of money. The city is still expanding at a rapid pace.

As a result, new apartment buildings are springing up, prompting the Philadelphia Parking Authority to convert several sites where free street parking was formerly available to permit parking. A parking permit in your area may set you back $35.

Overcrowding and pollution

Overcrowding in Philadelphia has resulted in many pollutants and poisonous gases in the environment. More people equals more automobiles, and as the number of vehicles grows, it releases a tremendous amount of carbon dioxide into the atmosphere.
Living in Albuquerque
Pros
Old Town Albuquerque

Many cultural museums and historic sites are in Albuquerque. ABQ's historic district, Old Town Albuquerque, is in the northwest.

Old Town is a famous tourist site with ten blocks of traditional adobe houses, restaurants, and souvenir stores.

In Old Town, you'll find the Albuquerque Museum and the New Mexico Museum of Natural History and Science, as well as the historic San Felipe de Neri Church, which dates back to 1793.

The Old Town Spirits Tour, which includes stops at pubs for alcoholic drinks and eerie tales, is done nightly to terrify and amuse visitors with paranormal stories.

Cultural centers and art galleries

Over 100 art galleries in the city provide real Pueblo art, southwestern jewelry, and ceramics.

Performing arts and cultural facilities, such as the Indian Pueblo Cultural Center, the Hispanic Cultural Center, and the Gathering of Nations Pow Wow incorporate traditional Native American songs.

Dance performances will also offer you a flavor of Albuquerque's rich, varied culture.

Cuisine

Green chilis are as prized in New Mexico as peaches are in Georgia, and pineapples are in Hawaii. In restaurant-heavy cities like Albuquerque, the local component has come to signify the state's cuisine.

The spicy food of Albuquerque is well-known. Chile is always a component of the ingredients of city food.

Albuquerque restaurants offer everything from brick-oven pizzerias to pit-smoked barbecue eateries, Vietnamese cafés, and top steakhouses if you don't want to eat spicy food.

Vegetarian, Mediterranean, Italian, Spanish, Greek, and Chinese cuisines are available.

Competitive living expenses

Albuquerque is ranked 33rd in the United States in terms of affordability.

The total cost of living in ABQ and New Mexico is competitive, with a 4% lower cost of living. The problem at the shop will go unrecognized even if salaries are low.

Superior air quality

Albuquerque's air quality is typically superior to most other cities. In Albuquerque, you don't have to worry about dirty particles or air pollution when you take a deep breath because the city has one of the country's lowest rates of air pollution.
Cons
Troubling crimes

Albuquerque has an average of 7,552 violent crimes each year. Albuquerque is also the 9th most dangerous city in the United States. Furthermore, during the first three quarters of 2021, there were 111 violent crimes per 10,000 people in Albuquerque.

Fewer job opportunities

Even though it lowered by about 6.5 percentage points from its 12.2% unemployment rate peak in July 2020, the city's unemployment rate is still higher than the national average.

It is safe to say that the 12.2% rate must be due to the pandemic. However, ABQ currently has a 5.5% unemployment rate compared to the national unemployment rate of 4.2%.
Albuquerque or Philadelphia – Which is cheaper?
Living in Albuquerque is 10.0% cheaper than in Philadelphia. In Philadelphia, food, groceries, health, utilities, and transportation are more expensive than in Albuquerque.
| | | |
| --- | --- | --- |
| Living expenses | Philadelphia | Albuquerque |
| Housing | 66.3% | 88.0% |
| Food & Groceries | 102.5% | 96.0% |
| Health | 98.4% | 81.1% |
| Utilities | 107.7% | 97.2% |
| Transportation | 141.9% | 89.4% |
Data is 100 = US National Average
>100 means more expensive than the national average
<100 means cheaper than the national average
Housing Cost
The cost of housing in Philadelphia is lesser than in Albuquerque. ABQ only has a median home price range of $332,426 and a monthly median rent of $1,041, higher than Philadelphia by 32.7%.
Food & Groceries
Philly's food and grocery prices are higher than in Albuquerque. One example is the price of a carton of eggs in ABQ, which is only $1.72, compared to $2.10 in Philly.
Health
Healthcare costs are 17.6% cheaper in ABQ than in Philadelphia. In Philly, a doctor's appointment may cost $117.02, while a dental visit can cost $100.53.
Meanwhile, a doctor's appointment in ABQ would set you back at around $108.83, while a dentist visit would only cost $93.49.
Utilities
The utility costs in ABQ are cheaper than in Philly. The monthly energy in Philadelphia costs $208.74 compared to ABQ's $142.85.
Transportation
A standard tariff in riding a taxi in Philadelphia can cost you around $3.15. Meanwhile, it can only cost you $2.50 in ABQ.
Is Albuquerque bigger than Philadelphia?
In terms of geographical area, Albuquerque is slightly bigger than Philadelphia. On the other hand, Philly has a five times denser population and a more robust economy than Albuquerque.
Albuquerque has a geographical area of 188.9 mi² with a population of 942,000 as of 2022. In comparison, Philadelphia has square miles of 141.7 and, as of 2022, has a denser population of 5,756,000.
Philadelphia is five times denser than Albuquerque, even though Philly has a slightly smaller land area. The large population in Philadelphia results in overcrowding, an ongoing problem in the city.
In 2022, ABQ has a 1.4% increase in population from 2021. At the same time, Philly has a 0.38% population increase.
Besides land area and population, Philadelphia has a more advanced economy that helps residents land jobs, unlike Albuquerque.
Is Philadelphia safer than Albuquerque?
Both Philadelphia and Albuquerque are among the most dangerous cities in America. However, for comparison, Philadelphia is slightly safer than ABQ. Philly has a safety scale of 37.62, while Albuquerque only has 29.34, making Philadelphia the safer city.
Albuquerque's crime index is 70.66 compared to Philadelphia's 62.38; living in Albuquerque is less safe than in Philadelphia.
Philadelphia has a safety scale of 37.62, almost twice Albuquerque's safety scale of only 29.34.
Philadelphia is among the most dangerous cities in the United States, with a crime rate of 40 per 1000 residents. This city is ranked 25th in the United States in the most dangerous cities.
Unrestrained drug use and graphic films may be the primary causes of Philadelphia's rising crime rates.
In contrast, Albuquerque ranked higher than Philly among the most dangerous cities in the USA. Albuquerque placed 9th on the list.
Hence, Albuquerque is less safe than Philadelphia.
Is Philadelphia hotter than Albuquerque?
Philadelphia's annual average high temperature is above 87°F. Meanwhile, Albuquerque has a higher average yearly high temperature of 93°F. Albuquerque is, thus, hotter than Philadelphia.
Summers in Philadelphia are hot, humid, and rainy; winters are freezing and snowy, and the weather is partially overcast all year. The temperature ranges typically from 26°F to 87°F throughout the year, with temperatures seldom falling below 13°F or rising over 94°F.
On the other hand, the temperature in ABQ typically ranges from 27°F to 93°F throughout the year. Also, the temperatures seldom fall below 18°F or rise over 99°F.
ABQ has an estimated 280 sunny days per year. Whereas Philly only has an average of 207 sunny days yearly.
Thus, ABQ is hotter than Philadelphia.
Is Albuquerque better than Philadelphia?
Philadelphia is slightly better than Albuquerque. Philadelphia boasts a developed economy, rich history, and reputable education. In contrast, Albuquerque has cheaper living costs and a cleaner environment but is more dangerous than Philadelphia.
Living in Philadelphia is an exciting experience. You must be willing to accept both the good and the terrible to live in Philadelphia.
On one, you have excellent professional options, a solid education, and a lot of green space. Pollution, overpopulation, and traffic bottlenecks, on the other hand, detract from the city's attraction.
In comparison, Albuquerque offers cheaper living costs, less traffic, and low air pollution. Even though Albuquerque seems to have almost the same pros and cons as Philly, Albuquerque's crime rates are higher.
Philadelphia is slightly better than Albuquerque in the economy, crime rates, and quality education.
Philadelphia versus Albuquerque – Where do you consider moving? Let me know your thoughts below.