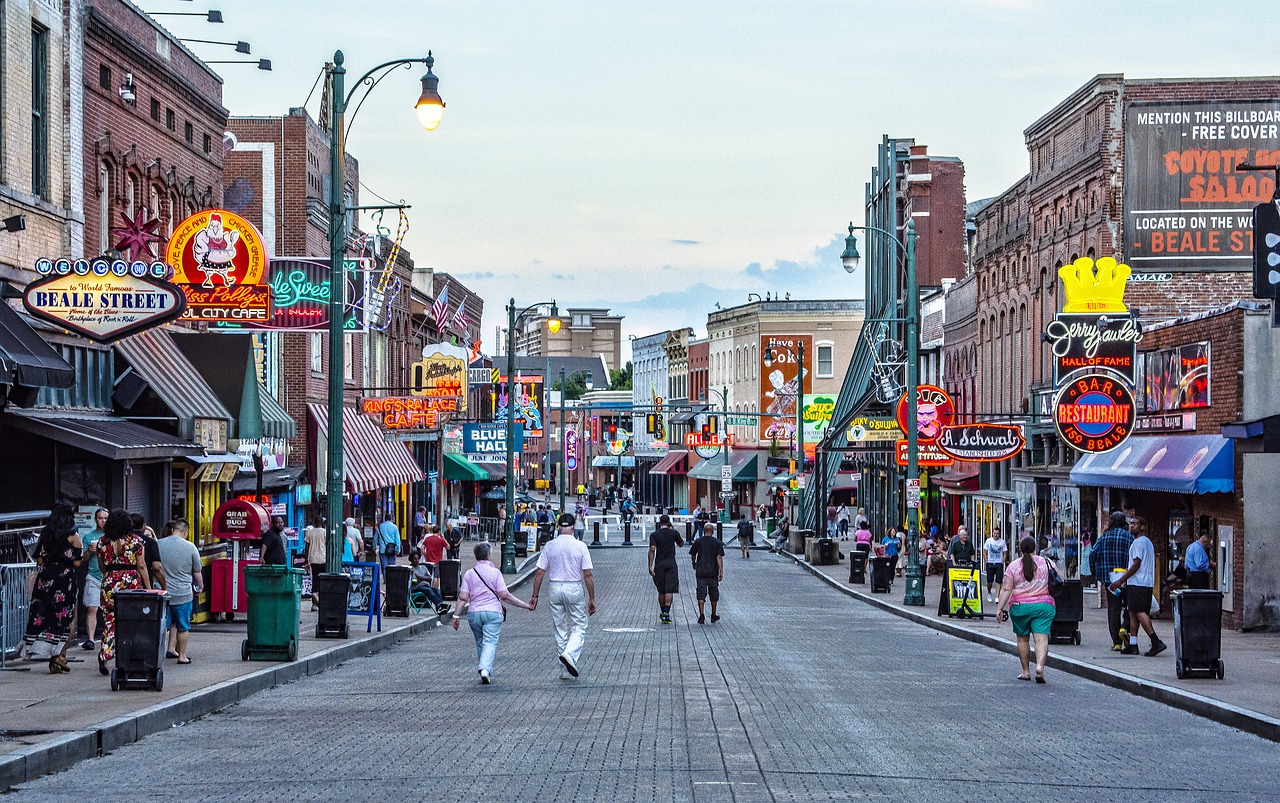 Memphis is the best place to live in because of the availability of many resources, top-quality education, attractive industry variety, and living costs, making it an excellent place to start. In contrast, Albuquerque provides a fantastic city for park lovers and is highly renowned for its cultural preservation, but the high cost of living is not attractive.
Aside from enjoying the basketball fever of the Memphis Grizzlies, you will love to move to this place for various reasons. Memphis has one of the most affordable living expenses in the cities in the United States.
Living in this town will give you the best options for top-notch education, the most pleasing entertainment scene, and the weather is favorable enough. You will not hold any problem locating an affordable place to live in because the prices of their homes are budget-friendly while the neighborhood is also welcoming.
Albuquerque has difficulty having a high cost of living and is still thriving to enhance its educational quality and system. Memphis is already improving its different areas to provide a good place for families to make a good living and life.
Albuquerque and Memphis have a lot in common, but the latter edges on many areas. We will make a better comparison for you to check out.
What Are the Pros and Cons of Albuquerque Versus Memphis?
Albuquerque is a lovely spot for historical teaching, a broad assortment of western cuisine, and a beautiful landscape with many friendly parks, but the job market is never ideal. Memphis offers a wide array of educational opportunities, is an income tax-friendly city, and has a low occupancy expense; however, the crime rate is high.
Here are the major perks and drawbacks of living in Albuquerque versus Memphis
Living in Albuquerque
Pros
The Sandia Mountain

One of the most iconic places in Albuquerque is the Sandia Mountains which hug a good portion of the 11,000 square miles of the area. The spot is an excellent place to see forested ridges and the Sandia tram ride.

This mountain ridge is famous because of its pink color at first glance. The reason locals called it Sandia is because the name comes from the Spanish word for "watermelon." You can have lots of fun outdoor activities when you are in the location.

An exciting 15-minute tram ride will let you see the natural beauty of the mountains. You can also do skiing during the winter season, hiking and camping, then on dry weather.

The place has Overwhelming Historical Sights.

Albuquerque is also home to the famous Old Town and museums. The Old Town is the city's preserved replica of living in Albuquerque during the older days. The historical site has a variety of art galleries and historic homes and buildings.

Old Town is the talk of the visitors and the Petroglyph National Monument, which the city considers a national park and recognized by the US National Park Service. This attraction features the different rock carvings of the Native Americans on volcanic rocks piled in the area.

This historical artwork is one of the most priceless historical art creations in the Northern part of America. In the chain of volcanic rocks, you can find almost 100 petroglyphs at the site of Boca Negra Canyon.

Great Neighborhood in The City

Albuquerque offers a great neighborhood where you can do fun activities all year round.

Nob Hill
Nob Hill has access to various specialty shops and restaurants in the street. This location is on the outskirts of Route 66 and is also home to many houses and other accommodations.

North Valley
North Valley is home to a great neighborhood to find good schools, bigger houses, and even ranches. The place has a good mix of trees and lushes along the way.

Heritage East
Heritage East is the largest neighborhood in Albuquerque. This place is family-friendly considering its large area, as well as the unemployment rate, is lower.

Albuquerque Has Good Foods

Albuquerque is the place to go if you want to savor the mix of western and Mexican cuisine. With lots of ethnicities in the area and various festivals, food is likely a staple on each occasion.

The famous Mexican foods are more than just chilis and spices; they also got a twist of good flavors to their meals. You can savor the taste of every cuisine offered by a mix of people from all around the world.
Cons
Job Market is not Ideal

The job market of Albuquerque might be promising but not as ideal as any county. More men than women are unemployed in this city, making it one of the places where unemployment is high.

There are still lots to improve in their job opportunities, such as attracting potential investors in the area to create more openings for its people. The lack of jobs in the location makes it harder for people to keep up with their living expenses as the costs of each are increasing.

Education is Thriving

The education system in Albuquerque needs a lot of improvement. This low percentage based on the National Statistics has the reason for the high unemployment rate and poverty in the metropolis.

New Mexico's quality ranking on child poverty, including those in Albuquerque, rises to 48th. This increasing rank is because of the poor handling of children's welfare in most public schools.
Living In Memphis
Pros
Low Cost of Living

Memphis is one of the United States cities with a low cost of living. You can have decent accommodation for as low as $700 in the area.

The housing expenses in the city are approximately 34% lower than the national average.

The prices of homes in the city went up to 19% every year. The gradual increase does not hurt people who want to look for a great place to stay in Memphis.

Great Outdoor Fun and Activities

Memphis is home to rock n' roll and a great outdoor experience every day. The county celebrates food and music festivals almost all year round. Some of the most famous events that you will not likely to miss are:
World Championship Barbecue Cooking Contest
Great American River Run
Mid-South Pride Parade & Festival
Mempho Music Festival
Memphis Brewfest & Brunchfest
Memphis Food & Wine Festival
Memphis Fashion Week
There are also multiple fun activities in the city that you and your family will love. Some fun things to do are biking around the parks, visiting Shelby Forest, and going organic shopping at the farmer's market.
The City Does Not Collect Income Tax
It is much more favorable for laborers to be in a place where they can enjoy their hard-earned money because there is no state or city income tax that the government is collecting. Memphis, along with its form, Tennessee, does not levy a state income tax.
Memphis Is a Sports-Inclined City
If you are a sports enthusiast and a big fanatic of Basketball, go head over to Memphis. The city is also home to different small and big-league teams around the United States.
FedExForum is the home of the Memphis Grizzlies, the city's NBA Basketball team, and their college basketball team, the Memphis Tigers. The town also sheltered many pro baseball players throughout the years.
The City Has a Beautiful Weather
Beautiful weather is one of the reasons why moving to Memphis is all worth it. You will experience mild winter, sunny summers, and blooming spring and autumn. The yearly maximum temperature is 72.4 degrees Fahrenheit, with a low temperature of 53.6 degrees Fahrenheit.
People who live in the city can enjoy all four seasons.
Amazing Food Variety
Memphis is famous for its barbeque and many foods variety that you will utterly enjoy. The city is known to have the tastiest menu in town, confirmed by southern people. You can also have the best new coffee roaster only from Memphis.
Memphis is one of the unmatched cities to offer great pizzas. The place also has America's excellent bakeries and one of America's top farmers' markets.
Cons
The Place Has Made Severe Weather Worst to Experience

Surely you will get to enjoy all four beautiful seasons in Memphis but expect tormenting severe weather. The summer season can be too scorching and humid.

Extreme storms occur more frequently than you might assume. There is a high likelihood of natural catastrophes in the area. It could be due to torrential downpours, hail, flooding, or tornado activity.

Limited Public transportation

Memphis has only one public transportation carrier, the Memphis Area Transit Authority (MATA). You can get around the metro using this public transportation.

Routes that MATA does not cover need you to access a private vehicle. As a result, the majority of people will require a car.
Albuquerque or Memphis – Which is More Expensive?
Albuquerque's housing costs are more than 137.2 % higher than the national average. In terms of living expenses, Albuquerque is 19.9 % more expensive than Memphis. You will pay more in ABQ, but their healthcare is slightly less costly.
Comparison Table of Living in Albuquerque, New Mexico vs. Memphis, Tennessee
| | | |
| --- | --- | --- |
| Living Expenses |             Albuquerque, New Mexico |             Memphis, Tennessee |
| Housing and Rent | 88% | 37.1% |
| Utilities | 97.2% | 96.3% |
|  Food And Groceries | 96% | 93.3% |
| Transportation | 89.4% | 94.5% |
| Health | 81.1% | 98.4% |
| Miscellaneous | 97.1% | 88.1% |
Based on the Data of which 100 = US National Average
>100 means more expensive
<100 means cheaper than the US average
Housing and Rent Costs
Housing and rental expenses are way expensive in Albuquerque. Compared to Memphis, you can only have decent accommodation in ABQ if you have $203,500. Memphis can offer you better housing deals for as low as $85,700.
The average rent in both cities goes from $1,339 for ABQ and $ 1034 for Memphis. There is not much difference in renting in these places but purchasing houses speaks a lot.
Utility Costs
Albuquerque does not differ much in the total average when compared to Memphis. ABQ has a 97.2%, while Memphis only got 96%. The full utilities you can pay for in Memphis will have an average of $197.00 for raw energy, water, and garbage collection costs. Their yearly expense would be around $2,359.
While Albuquerque has an average utility expense of $232 per month, the prices do not differ.
Food and Groceries Costs
Albuquerque charges a little higher in their essential foods compared to Memphis. The contrast between the two does not surpass 2.7%. You can get a decent meal with a budget of not more than $40 in both cities for a full day's consumption.
Transportation Costs
Memphis has a higher cost of transit expense when compared to Albuquerque. In ABQ, you can get a free bus ride all year, and the bus fare is as low as one dollar.
What makes Memphis costly in its transit cost is a limited public transportation carrier in the area. However, Memphis lowest bus fare is $2.00 for a daily fast pass. The pass can also cost as much as $3.50 for all-day use.
With this, people need to have a private car which will cost them more from gas to insurance.
Health Care Costs
Health care costs in Memphis are costlier than ABQ because of the top-quality hospital and services in the area.
Memphis's healthcare facilities are continually ranked nationwide by rating agencies and media organizations.
Taxes
Memphis, Tennessee's least consolidated sales tax rate is 9.75 %, while Albuquerque has 7.88%. Tennessee's sales tax rate is currently 7%, of which 2.25% comes from the state tax. Memphis does not collect income taxes either.
The estimated average property tax rate in Albuquerque County is 1.05 %. They also got a 5.125% average percentage on personal income tax.
Is Albuquerque Safer Than Memphis?
In terms of violent crime statistics, Albuquerque is safer than Memphis. Memphis currently has over 310 homicides per year and one of the highest percentage indexes for criminal activity.
There are more crimes committed in Memphis versus in Albuquerque. The crime rate in Memphis got even worst from year to year, and it ranked number one in the United States' most dangerous cities.
The crime rate of Memphis in property-related violations is 57.71% for every 1,000 residents. Murders and aggregated assaults went up for the past years. On the other hand, Albuquerque got at least 51% of the crime index for violent crimes.
Both cities suffer from an increasing crime rate in many categories.
Is Albuquerque Bigger Than Memphis?
Memphis is bigger than Albuquerque in terms of its land area. The county has 317.4 sbquare miles, where 9 square miles is water. Memphis also has a more significant population which runs around 649,705.
Memphis, Tennessee, is more prominent in area and population when compared to Albuquerque. Although the place is relatively big, its population density is not as high as ABQ. The dwelling has significant land and water area.
ABQ's density in population is 3,004.7, whereas Memphis only got 2,047.1 which means that there are 271,552 dwellings at a concentration of 972.2 per square mile in the location. Albuquerque had 239,166 housing units with an average concentration of 1,556.8 per square mile.
Is Albuquerque Warmer Than Memphis?
Albuquerque is a desert city; thus, it is warmer than Memphis. Summer temperatures range from 91 to 110 degrees Fahrenheit on average. The area has more than 280 days of sunshine per year.
Albuquerque has an arid climate to date. The weather in Albuquerque is typically bright and dry, with an average of 3,415 sunny hours per year, which occurs on an average of 278 days per year. The cloudiness that lasts more than three days is unusual.
Summer is long and hot, but most people find it tolerable due to low humidity and temperature movement. The exception is on specific days during the North American Monsoon, when daily moisture remains relatively high, particularly in July and August.
In July, the daily average temperature for Memphis is 82.8 °F with high humidity due to condensation encroaching from the Gulf of Mexico. Warmer months thunderstorms are common in the afternoon and evening, but they are usually brief, lasting no more than an hour.
Is Albuquerque Better Than Memphis?
Memphis is a better place to live than Albuquerque. You will get a better bargain regarding low living costs, a vibrant entertainment scene, higher-quality education, and a pleasant climate. In contrast, Albuquerque has excellent cultural and heritage sites and green parks, but high living expenses are not enticing.
Memphis is best to live in when you want to have a better quality of life, and you consider a tight budget for your startup. The place offers one of America's most affordable housing prices and even the lowest utility expense.
Beautiful weather is not a problem in this county while you enjoy good food in the outskirts of town. The place is good for families to have everything at once, from better quality education to suitable job opportunities. There are also entertainment and fun activities to get by now and then.
Although the place records a high crime rate over time, it does not necessarily mean that it is not safe to live there. There are many police officers on their posts, and you will be secured while roaming around the neighborhood.
Albuquerque is an ideal place to live in, but considering the difference in living expenses you will maintain in the area, it is better to settle in Memphis.
Albuquerque, New Mexico versus Memphis, Tenneessee – Where do you consider moving? Let me know your thoughts below.