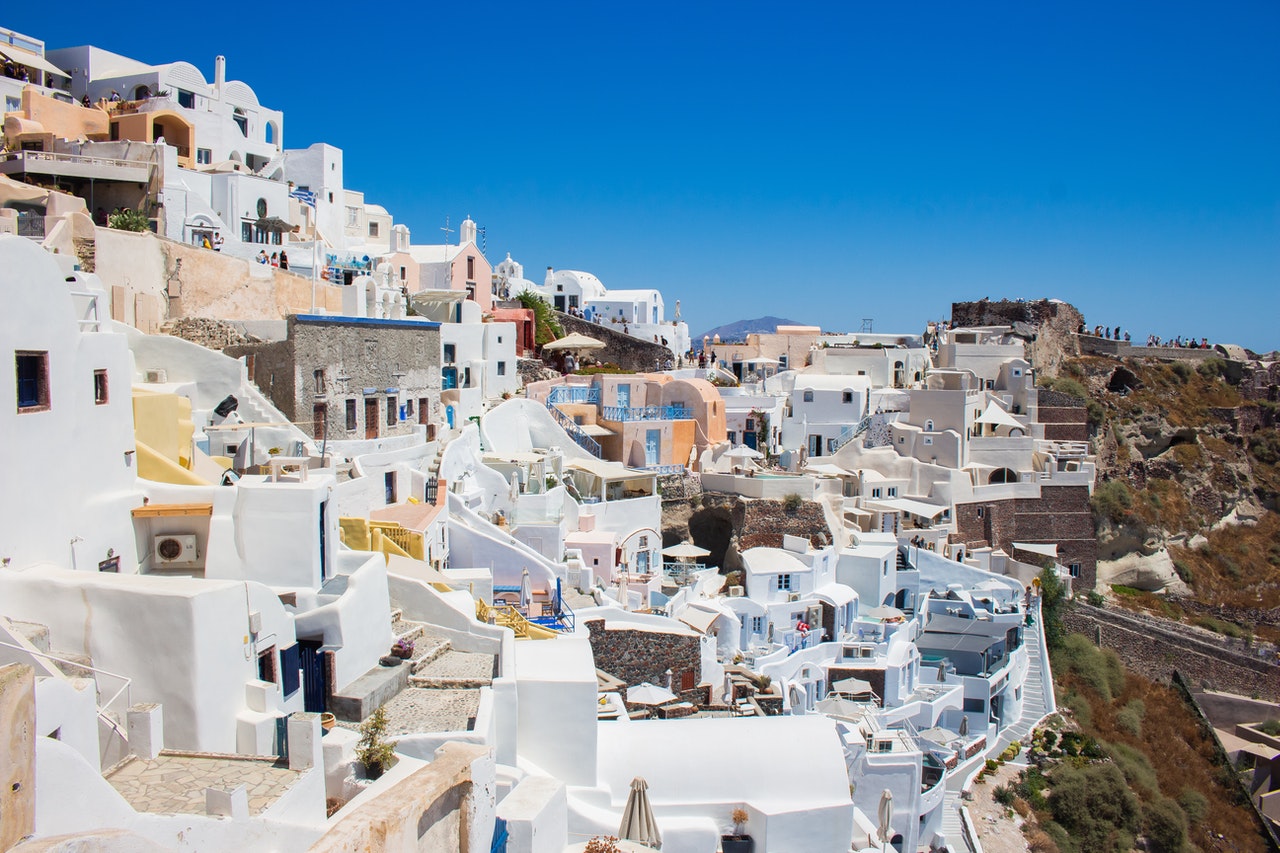 Greece is more than just the Parthenon. It has wonderful islands perfect for couples, too. Corfu, for example, is an excellent choice for couples. Naxos, Kefalonia, and Folegandros may be unpopular but are equally amazing. Of course, there's Mykonos and Santorini as well.
Are you excited to go to Greece with your loved one?
With all the sumptuous food, pristine beaches, and beautiful properties, who wouldn't be?
The Greek Islands are all great destinations. Whether it is for a family getaway, a solo backpacking trip, or a romantic getaway, you can never go wrong with the Greek Islands.
But when it comes to romantic holidays, which of these many islands are the best?
I rounded up 12 of the best islands perfect for couples on the way to their holiday.
Read on and discover.
Corfu Island – A Venetian Island

Corfu is an island with a strong Venetian influence.

When on the island, you and your partner can rent a scooter. Explore the island on your own. Take photos as you please.

There are taverns you can visit. The island's architecture is superb.

The island has beautiful beaches, a rich history, and its share of natural tourist sites. D'amour beach is a must-see.

Popular hotels are Bella Venezia and Cavalieri Hotel.

When visiting, couples can expect to spend around US$380 per day when in Corfu.

Naxos – Less Popular but Just as Beautiful

Naxos is one underrated island.

Imagine being beside famous islands like Mykonos and Santorini.

But Naxos is as stunning as the other two; not as popular, though.

As such, you cannot expect the island to be full of tourists. It is an island that provides its visitors the peace that is uncommon in its popular neighbors. But when it comes to its aesthetics, it is as beautiful as Mykonos.

The island also has a lot of green spaces. Imagine lush fields and mountains. Think of quaint little villages bordered with green farmlands.

There is a ruined temple nearby. The sunset is amazing. Plus, somewhere on the island lies a castle with winding streets.

And yeah, don't forget the fresh seafood that you can find here.

Popular accommodations are Nissaki Beach Hotel, Polis Boutique Hotel, and Naxos Evilion Luxury Apartments.

Couples can expect to spend around US$210 per day here.

Santorini – A Honeymooner's Delight

Santorini is one of the most renowned Greek Islands there is. And this is for a good reason.

Honeymooners adore this island. The reason is that the island is accessible. Aside from its accessibility, the island has an undeniable charm.

Picture in your mind blue domes amidst a sea of whitewashed structures. There are lush villas, scenic views, and romantic dinners.

Katikies Hotel and Grace Santorini are popular choices for accommodations.

When it comes to costs, couples can spend around US$300 per day in Santorini.

Kefalonia – Charming Villages

Because of its proximity to Italy, Kefalonia has Venetian influences as well.

You can see that in its architecture and cuisines.

The island of Kefalonia is large. Exploring it would take days to finish.

There are high-end resorts as well as small villages. The island has romantic rooms by the seas, taverns, and stunning caves.

When looking for hotels, F Zeen is a great option. It is an expensive and beautiful boutique hotel. You can also check out Kefalonia Grand or White Rocks.

On average, couples can spend around US$345 per day here.

Folegandros – A Less-Touristy Beauty

If you don't like the crowds, this is another option you can consider.

When it comes to charm, this island has it. The only difference is that Folegandros is not as popular as Mykonos or Santorini.

Folegandros is close to Ios and Santorini. A visit is usually a part of island-hopping tours available in the islands.

The island has warm locals and beautiful views. Its beaches are dreamy.

When visiting, you can stay at the Blue Sand Boutique Hotel & Suites.

Couples can expect to spend around US$220 per day here.

Crete – The Birthplace of a God

Crete is one of Greece's largest islands.

It is also popular when it comes to tourism and receives thousands of visitors. If you are a fan of organized tours and professional services, this is the island to go to.

Holidaymakers here have everything planned for their comfort and convenience.

Tourism aside, the island has amazing beaches and stunning caves. It also has taverns, beautiful architecture, and a vibe perfect for admiring the stars. And if you want to hear something interesting, Crete is the birthplace of the Greek god Zeus.

It is also on this island that you can find Malia, a destination for partygoers. Here, you will find more than 100 clubs where the best of Europe's performers perform.

Crete has something in store for everyone. Whether you opt to laze at the beach or decide to party at the club, Crete has it for you.

You have an endless option here when it comes to accommodations. Malia has the more expensive dwellings. Plaka is more affordable.

Couples can spend around US$200 per day here.

Kythira – The Island of Love and Romance

Less visited than other Greek Islands, Kythira has some seriously romantic offerings for you.

Did you know that the Greek goddess of love, Aphrodite, calls this island her birthplace? It is thus safe to declare that Kythira already has romance in its veins from the very beginning.

Unlike more islands, there aren't many party places here. You visit the island for a relaxed couple of days. You visit the island to spark that romance.

It is beautiful and laid-back. Visitors and locals here take life at a slower pace.

The island is rife when it comes to local produce. From olive oil to handwoven rugs, from sea salt to architecture, Kythira is in it to win it.

You will also find yourself amidst ruins of castles while on the island. Each of these castles tells the tale of past invasions, difficulties, and victories.

As always, there is a beautiful beach here somewhere.

Castri Village and Astarti are great options when it comes to accommodations. As for the costs, couples can prepare around US$200 per day here.

Milos – A Honeymooner's Choice

If there is one word to describe the island, it would be "idyllic."

It has some of the country's best beaches. Many would comment on how inviting its crystal blue waters are.

Plus, the island of Milos has beautiful villages that you can visit.

A lot of couples choose Milos as a honeymooner's island for its romantic vibes.

Cave Suites Milos and Volcano Luxury Suites Milos are amazing accommodation options. Couples can also expect to spend around US$220 per day here.

Mykonos – The Party Capital

Young couples, pay attention.

Mykonos is famous for being the party capital of the country. Its nightlife is bustling. And if you are a couple that adores a party occasionally, Mykonos is a great bet.

The island has villas, beautiful Greek architecture, and a wide array of hotels. Also, if there is one thing commendable about Mykonos, it is its restaurants.

This island has the best restaurants in the country.

Despite the island being the party capital, couples can also find some quiet spots here. You can relax. You can laze your day away and recharge in any of these quiet corners.

Great options for accommodations are the Mykonos Princess Hotel, the Aeolos Mykonos Hotel, and The Nissaki Boutique Hotel.

Mykonos, however, is a bit expensive. Couples, on average, can spend around US$500 per day here.

Chios – Charming Medieval Villages and a Monastery

If there is something about Chios, the island is not as popular as the others. As such, you can expect the island to have fewer tourists.

You can enjoy the beaches, cafes, and museums all to yourselves without being too crowded. You and your partner can also take the time to visit medieval villages and learn about the island's historical past.

And what makes it even more awesome is that you can stay in these medieval villages. The villages have charming boutique hotels and a whole lot of taverns to eat at.

You can also visit castles, a tower, and a stunning cave. Aside from all these, the island houses a monastery which you can also visit. The monastery may have a dark past, but visiting is worth it.

When on the island, stay at Mastiha Villas in Town. You can also try out Costa Point Chios or Maria Rooms.

Couples can spend around US$350 per day here.

Zakynthos – Islands and Shipwrecks

Who would ever expect shipwrecks to be beautiful?

Zakynthos has the remains of the Navagio shipwreck. And it is one of the most Instagrammable spots in the country.

The vibe on the island is idyllic. It is smaller in size. It is also less touristy compared to the other islands.,

The island has pristine beaches and crystal-clear waters. You can dive. You can hike. You can spend your quality time with your partner just relaxing the day away.

Zante Atlantis Hotel and the Hotel Pallas are amazing options when it comes to accommodations.

When on the island, couples can expect to spend around US$340 per day.

Paros – Quaint Medieval Towns

The island has a horde of sights and activities that you and your partner can take. It has villages where you can sip your sunset cocktails and spend some lazy afternoons in.

Paros is a special place that provides its visitors with many highlights.

Some of these are the market at the fishing village of Naoussa. You can also find here the Church of a Hundred Doors and the quaint medieval town of Lefkas.

It has beaches. It has clubs and is just sail away from Naxos or even Mykonos.

When on the island, stay at the Acros Villas Paros or the Atlantis Hotel.

Also, couples can expect to pay around US$230 per day here.
When is the best time to visit Greece?
Greece is an all-year-round destination. But to maximize its beaches, the months of June to August would be perfect.
The country is home to some of the world's best islands and beaches. Plus, it has romantic sunsets to boot.
It is thus a perfect destination for tourists.
The best time to visit the country is during summer. These should be in the months starting from June until August.
Summer is when you can maximize spending your time at the beaches. You can also head on to visit the country's other tourist destinations.
The last month of the season, August is the country's busiest. It is also the most expensive month to visit the country. This is because it is in August that the country closes its season. Everything in Greece would be at a standstill after August until Easter of the following year.
If you are coming over in spring or autumn, that is acceptable. These seasons are perfect for hiking and doing a lot of exploring.
June and July are the perfect months to visit.
What are the best Greek islands for older couples?
Older couples mostly prefer a different vibe when it comes to island choices. In Greece, there will always be something for everyone. Crete, Corfu, and Skiathos, for example, are popular with older couples.
Being one of the most popular destinations globally, you could expect Greece to receive tourists all year round.
And with different kinds of tourists, Greece is great because it has something for everyone.
For example, when it comes to older couples, which islands do they prefer? Which Greek islands offer older couples the amenities and activities that they desire?
Here are three of these amazing islands.
Corfu – A Look Back at History

One of the amazing things about Corfu is its history.

The island is one of the most popular in the Ionian group of islands. Naturally, we see tourists, young and old, here.

But the island's rich history appeals mostly to older couples. Here, you will see tourist sites of battles and victories of centuries past.

The old town is a UNESCO World Heritage Site. The island also holds many festivals all year round.

The island's beaches are relaxing and less crowded than its neighbors, to top it all off.

Skiathos – Beaches, Beaches, and More Beaches

Skiathos is perfect for beach lovers.

This is because the island alone has more than 60 beautiful beaches. And if you want to explore more of the island, you will find a lot of green hills and a horde of olive trees.

The main town on the island is beautiful. It has magical winding streets. It has shops where you and your partner can drop by to buy those souvenirs.

Finally, its waterfront has bars and restaurants that serve everything delectable.

Crete – A Mythological Island

Out of all the Greek islands, Crete is one of the largest. It is also one of the most populated islands.

Crete has a rich trove of mythological tales. It talks about Greek gods and heroes. It has a wide array of shops to choose from.

In Crete, you can dine, relax, and shop. All these you can do while you bask in all the glory of Greek mythology.
Is it safe to travel to Greece?
Yes, it is safe to travel to Greece. It is natural to be cautious. But when it comes to Greece, the country is safe. The prices are more affordable. The locals are more welcoming.
I would understand if you are a bit hesitant to holiday in Greece right now.
But you must know that the Greek government assures everyone that it is safe to travel to the country. Now is the impeccable time to go there.
When in the country, just make sure to have the usual precautions. Take cash that is just enough for your exploring. Do not be too showy. And always secure your belongings.
The Greeks are welcoming. Tourism is a major contributor to the country's economic standing. And so, when in Greece, there is nothing much to expect but warm and friendly locals.
Greece and Safety
Greece is a safe country. The only crime you find is pickpocketing. And it rarely happens, especially if you display the usual precautions when you are out and about.
The country is also safe for women.
As you can see, Greece is 39th when it comes to the safest countries in the world. And because it is a top tourist destination, it cannot jeopardize those that help boost its economy – the tourists.