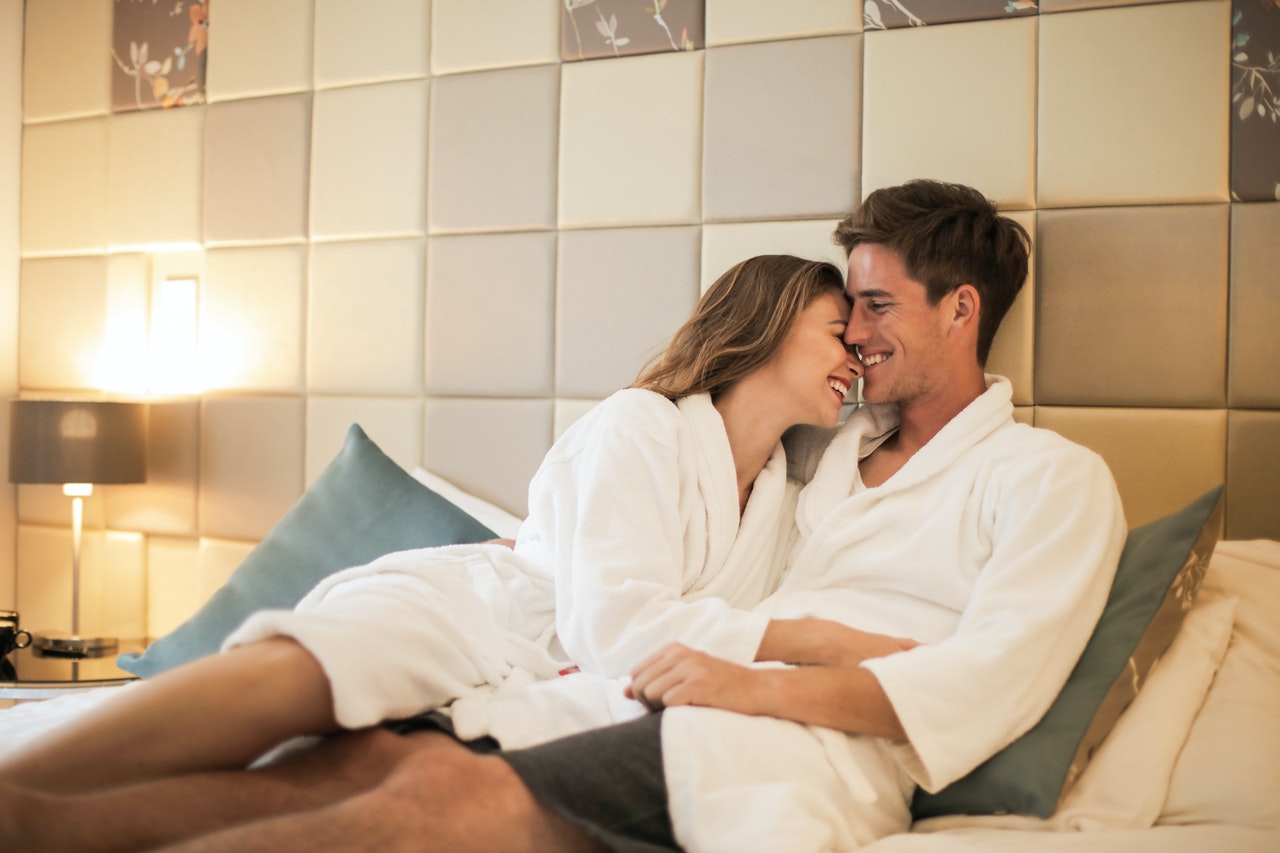 Lanzarote has a lot of amazing adults-only hotels. There are popular choices like Hesperia Lanzarote and Barcelo Teguise Beach. But aside from these, there are also others like la Isla y El Mar and Melia Salinas.
Lanzarote is a beautiful destination with volcanic landscapes and vineyards. It has warm and friendly locals.
Backdropped in the bluest hue of the Atlantic Ocean, Lanzarote provides a great getaway option for couples.
But where do you stay when in Lanzarote?
Here are 12 of your best bets when in town.
La Isla y El Mar Hotel Boutique – Relaxation in a Resort

Imagine a room facing the Atlantic Ocean. Think of the outdoor pools and an awesome poolside bar. And consider that your rooms are just 15 minutes away from the Playa Chica Beach.

How amazing can life be?

The bed is Balinese. Sun loungers are facing the ocean. You get your garden and terrace. And there's a gym as well.

And did I mention that one of the pools has a waterfall?

On top of everything else, the staff is amazing.

Hesperia Lanzarote – The Pride of Puerto Calero

Hesperia Lanzarote is Puerto Calero's pride.

The property is one of Europe's most modern marinas. It also has an architecture that sits well with its surroundings.

This hotel is just a walk away from the Timanfaya National Park. And so, when checked in, you can always have something to do.

The hotel also has a lot of activities in store for you. Their restaurant is superb. Plus, it has swimming pools and other sports facilities for your use.

And who would ever miss out on the massage?

Lani's Suites de Luxe – Plush Amenities and Luxuries

The property is by a famous local architect, Cesar Manrique, and was Constructed in 2015.

Plush amenities, heated pools, and bathrooms with rain showers are just some of the selling points of this hotel.

And when you're up to it, you can visit the hotel's beauty salon that provides you with facials, peels, and a rejuvenating massage.

Dinner will always be yum with the hotel's delicious offerings. Plus, don't forget the seafood.

Once done with your activities for the day, you can relax at the Master Suite.

And you know what it is I love about the Master Suite? It's the jacuzzi on the terrace.

Barcelo Teguise Beach – Tranquility Defined

If there's a word to describe this location, it is idyllic.

Privacy, relaxation, and a lot of tranquility are just some of those you get when checked in.

Barcelo Teguise is perfect for couples or even friends. It has one of the most comfortable accommodations. It has bars, restaurants, and easy access to the beach.

Plus, it has a wellness center that guarantees you exercise and relaxation, whichever you choose.

H10 Timanfaya Palace – Heated Pools and Nudist Corners

Palatial, funky, and contemporary are just some of the words that can best describe this property.

The grounds have all the needed footpaths. There are tropical plants all over the property. And they provide sufficient areas for seclusion when you need to sunbathe.

What I like about this hotel are the lagoon pools. There are a couple of them, and they're perfect for when you need to cool yourself off.

And oh, there's a nudist area if you're up to it.

La Cala Suites – The Sea View Says it All

A total of 42 suites are yours for the taking in this gorgeous boutique hotel.

It has a huge swimming pool and a fitness center as well.

All 42 suites have their terraces. Plus, what makes this perfect is the sea view that comes with each terrace.

Hotelito La Era – Beautiful and Unassuming

Six kilometers away from the Montanas de Fuego Mountains is the Hotelito La Era. It is a B&B property that comes with a restaurant and a bar.

What I like about this B&B is the unassuming vibe. It is beautiful, quirky, and provides everything that you need.

The service is great. And what I love is the patio that comes with your room.

HD Pueblo Marinero – The Atlantic View

In the southern parts of Lanzarote lies HD Pueblo Marinero.

The property is an adults-only property with beautiful views of the Atlantic. It comes equipped with an outdoor pool, a poolside, and a sauna. And hey, should you feel like it, they also have a Turkish bath.

To ensure you stay fit, they have an onsite gym. Don't miss out on games as they have a tennis court and a soccer court within the property as well.

Melia Salinas – A Cultural Gem

Many consider this property as one of Lanzarote's cultural gems.

It is luxurious. It has suites that come with private pools and its very own botanical garden. Each suite also comes with outdoor showers, the material of which came from volcanic rock.

And if you need some pampering, a salon and a massage onsite is possible. They also have a sauna to while your afternoon away.

When it comes to food, the hotel has a restaurant that serves sumptuous Spanish cuisines. And what's great is that the restaurant is just beside the saltwater pool.

Take a swim at the saltwater pool, then have dinner.

What could go wrong?

Hipotels Natura Palace – A Foodie's Paradise

Luxurious and elegant, this adults-only hotel has amazing offerings when it comes to food. It has a swimming pool and a lounge bar as well.

Plus, to keep you fit and busy, the hotel has a lot of sports activities.

You can relax. You can unwind. The hotel's spa can put your mind and body at ease.

Hotel Villa Vik – Intimate is its Name

Just a little bit outside the island's capital is Playa del Cable. It is in this residential neighborhood that you will find Hotel Villa Vik. Such a property used to be a private villa.

Its selling point is its intimate vibe, which makes the hotel perfect for couples.

There are only 14 rooms. Each of these rooms has terraces and a jacuzzi in place.

Club Siroco – Halfboard, Anyone?

Set on the Avenida Islas Canarias, this three-star property gives you two choices. You either get a one or 2-bedroom standard, all for visitors over 18.

They also have Premium apartments that were recently renovated, giving you modern vibes.

What sets this apart is that the property has offerings for disabled guests via their Junior Suites. It only has a room, a bed, and a breakfast.

And oh, they also have a half-board option available if you need to stay half the day.
Is Lanzarote good for young couples?
Lanzarote has all the offerings for younger couples. It has a vibrant nightlife and a horde of activities for those with active lifestyles. To balance it off, Lanzarote also has relaxation in its Name. All these make Lanzarote an ideal destination for young couples.
The first order of the day for Lanzarote-bound tourists is to decide between its two biggest towns. Is it Puerto del Carmen? Or would you rather stay at Costa Teguise?
Mind you; each town is charming in its way.
But you don't have to worry.
I'm here to help you out with that.
I'll let you in on what's fab in each town. This way, you would be able to decide which town suits you and your partner well.
Puerto del Carmen
Let's start with Puerto del Carmen.
The town is just about 20 minutes away from the capital, Arrecife.
In a nutshell, Puerto del Carmen is where you go if you crave the energetic vibe during summer. And during winter, the town is perfect for you to be cozy with your partner.
The temperatures run between 14 to around 20 degrees Celsius. Just perfect sweater weather, eh?
Aside from these, what makes Puerto del Carmen perfect?
Nightlife
Need I say more?
Puerto del Carmen has a more vibrant nightlife compared to that of Costa Teguise. Its clubs are open even until the wee hours of the morning. There are even others that are open until dawn.
Aside from the clubs, there are cafes and a wide variety of restaurants, all for your taking. And yes, most are also open in the late hours of the night.
Water Activities
In Puerto del Carmen, there is a lot of scuba diving, snorkeling, and other water activities.
You can swim, ride the waves on a board, or go kitesurfing. There is traditional surfing and an option to go windsurfing as well.
And if you don't know how to do these things, you don't have to worry. There are professionals around that can teach you the basics.
Costa Teguise
When you want a more relaxed atmosphere compared to Puerto del Carmen, Costa Teguise is the place to go.
It is a much bigger town than Puerto del Carmen and is just about 15 minutes away from the capital.
Culture
Costa Teguise is your best bet when you want to add a pinch more of culture to your travel.
It is here that the island's popular Cesar Manrique lives.
Manrique loves the environment and defends it in any way he can. He is an artist that shows this fight for the environment through his works.
The Beach
Playa Jablillo is one of the most beautiful beaches on the island. It is also one of the best for its calm waters.
The beaches of Costa Teguise are where you go when you aim to sunbathe. It is here when all you want is a nice swim.
When you want to laze your afternoons away, Costa Teguise is the answer.
Generally, couples who like action and adventure go to Puerto del Carmen. Those who crave relaxation and a little bit of culture go to Costa Teguise.
Which one is yours?
Is Lanzarote safe?
Lanzarote has a very low crime rate. As long as you are mindful of your belongings and behave well, Lanzarote is a safe holiday destination.
Anywhere you go, there is always travel advice that you need to follow.
For example, behaving in a destination as you should back home. Be mindful of where you keep your valuables—or not walk alone in a dark alley at night.
These are common precautions wherever you may go.
And it is also the same when you are in Lanzarote.
Lanzarote is safe. As long as you take the usual precautions, nothing bad will happen to you. As long as you are always mindful and vigilant of your surroundings, everything will run smoothly.
Of course, when things go down south, you can always call the police. Just dial 112. Or you can report this to the hotel staff so they can assist you.
But overall, Lanzarote is safe.
If there is anything that should worry you, it is sunburn.
Sunburn
You got it right.
Sunburn is dangerous to your health. And yes, you can always get sunburns when you are in Lanzarote.
You see, the cool breeze by the beach can tell you it's alright to go out without a sun lotion. But no, it is not okay.
Despite the cloudy skies or the breezy afternoon, make sure to add another layer of protection. Use your sunscreen. And make sure to reapply every hour and a half.
And yes, stay hydrated when in Lanzarote.
This should save you from skin damage later on.
Is Lanzarote expensive?
Compared to other destinations in the country, Lanzarote is not as expensive. On average, tourists can expect to spend around US$175 per person per day when in Lanzarote.
Lanzarote is an island that is a part of the Canary archipelago. And like any other island in Spain, it presents you with friendly locals, mild weather, and lower prices.
Here, we talk more about the prices you should expect to pay when in Lanzarote.
Food Prices
Meals in Lanzarote are cheap.
The island has a lot of restaurants where you and your partner can dine. Even with lower prices, you should expect the meals to be still delicious.
In general, meals in Lanzarote can cost around US$39 per person per day.
Transportation Costs
The best way to travel around Lanzarote is by bus. This should be your cheaper option at around US$3 per ride. Other buses can be cheaper depending on the bus line you are taking.
Taxis are the more expensive options. It may be convenient and fast, but it is more expensive.
When taking taxis, expect to spend around US$37 for the day.
Activities
Lanzarote has a lot of activities in store.
Most hotels, in fact, have their activities for you. Examples of these are scuba diving, snorkeling, and the likes.
But if you get out of the hotel and see the rest of the island, costs can run to as much as US$15 per person per attraction.
Some attractions can be free. If you are trying to save on costs, you can take those. Or you can also check out what your hotels have in store for you. They tend to be cheaper.
Alcohol
Do you drink?
If you and your partner plan on going on a night out in the town, costs can be around US$8 per person.
And if you drink more, expect the costs to balloon.
Accommodations
Lanzarote has a lot of options when it comes to accommodations.
Rooms can start for as low as US$88 for a single room. A room suitable for two can cost around US$175 per night.
Of course, there are more luxurious hotels and resorts. They can be more expensive than the average accommodations.
But no matter how much you pay; I can assure you that your vacation in Lanzarote will be memories to last a lifetime.