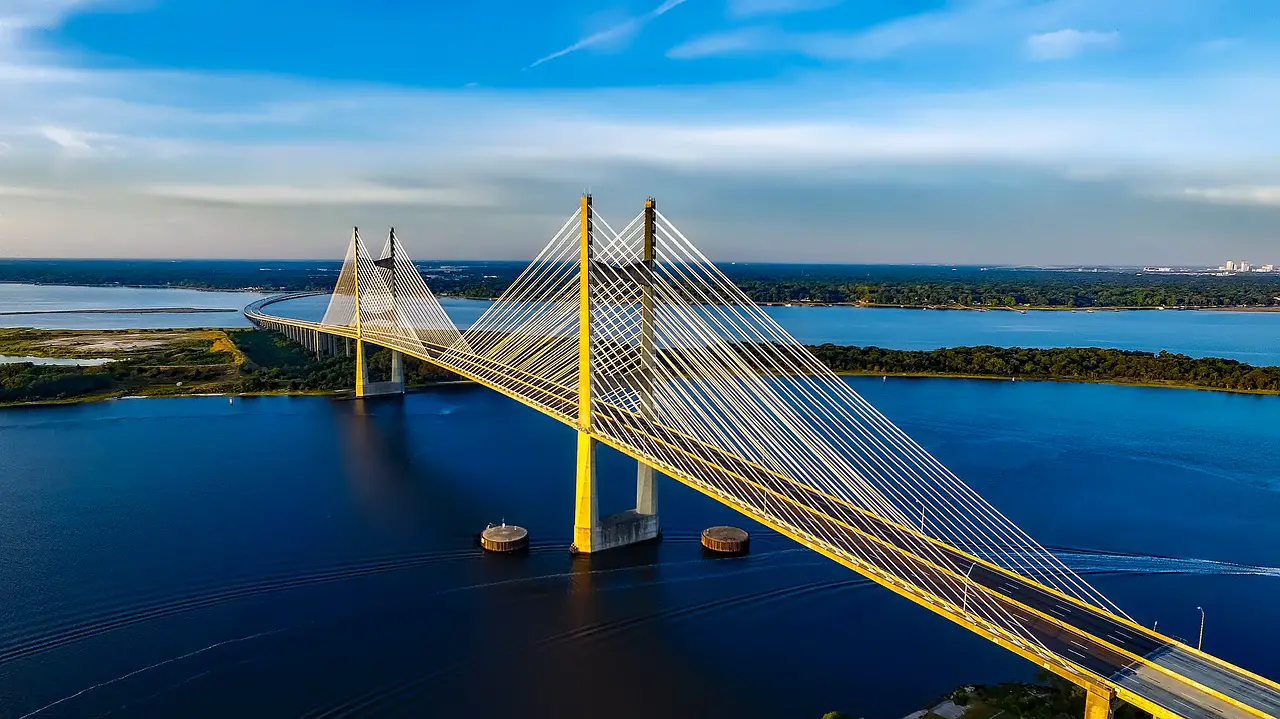 Jacksonville, Florida, known as Jax, has a progressive job market with cheap living costs and a vibrant small-town vibe, where it provides families good quality of life. These advantages make it the best option than Anaheim. Meanwhile, Anaheim, California, has an international amusement theme park, secured neighborhood, and great weather, which lures millions of tourists.
Living in Jacksonville is a smart option for everyone seeking a good work-life balance. This city is far from a big metropolis with a pristine shoreline. The perks of paying less here plus enjoying a vibrant outdoor place are one of the best deals that the city has to offer.
Anaheim in California is best known for its amusement parks and its neighborhood's accessibility to other places. The place lures millions of people in its vicinity, resulting in booming tourism industry.
Anaheim and Jacksonville boast things, but those advantages are not for everyone. Here, we will give you many important solid and weak points of both cities to help you decide which place will suit your lifestyle.
What Are the Pros and Cons of Anaheim Versus Jacksonville?
Anaheim's advantages are more on its internationally acclaimed tourist destination and proximity to large cities; however, relocating here will cost you much on its housing market. Meanwhile, Jacksonville's perks are its promising job market, cheaper living costs, and vibrant town, but its limited transportation is a significant drawback.
Living in Anaheim
Pros
Globally-Recognized Tourist Destination

Anaheim, California's most vital point is its internationally-acclaimed tourist destination: Disneyland Resorts, Disneyland Adventure Park, Skyzone Anaheim Trampoline Park, and Adventure City. The city also boasts its Downtown Disney District, where the lane has many stores and an entertainment scene.

Disneyland Resorts alone contribute billions of income to the economy of Anaheim and even Orange County.

You'll Get to Neighboring Cities in a Day

Anaheim's proximity to its nearby communities is a good advantage if you want to explore other places in a day. Santa Ana, CA, is only 10 kilometers away, while Long Beach is 42 kilometers far. Los Angeles is also a 27-minute drive from this city, where you can get to explore LA's main attractions and even seek better career opportunities.

The accessibility of the place will also give you a day trip to its nearest beaches, such as New Port, Laguna, and Huntington Beach. You get to enjoy sands between your toes and a good ocean breeze without consuming the whole day traveling to this area.

The Brewery Scene

Anaheim's growing brewery reputation is getting known to other places. The city has a vast selection of fine breweries that adults will love. The town has Karl Strauss Brewing Company which crafts beers internationally.

When In Anaheim, do not forget to hop in and take a sip of their prestigious beers in the stores of Ballast Point Brewing, Golden Road Brewing, and La Palma Beer Trails & Craft Brews.

Finest Weather in California

People who appreciate sunny weather and less gloomy days will love to relocate to Anaheim. The city has favorable weather that suits the vast green spaces of the town. The town receives over 200 sunny days and little to no snow. The winter season here is mildly cold but not freezing.
Cons
Slow Career Growth

Anaheim's tourism industry is the most crucial source of revenue for the city and even for Orange County. The town then has many job openings in this category, and if your career path diverges from it, chances are you'll need to find some better enterprises in the nearby Los Angeles area.

The unemployment rate of Anaheim is around 7.5%, and job growth of 0.6%. These numbers still fall behind the national median. While its future job growth has a potential of 32.5%, it's still sluggish in terms of economic growth.

Luxurious Housing Market

Relocating to Anaheim means a preparation of your finances because the prices in this city are pretty high compared to other metro areas. One of the most expensive things in this town is its housing market, where you need to have at least half a million dollars to purchase a home and around $3000 per month if you opt to rent.

Luxury pricing in Anaheim is all because of its growing tourism sector, which is not an advantage to its residents but rather a significant setback. If you like to cultivate your roots here, prepare to break your bank.
Living In Jacksonville
Pros
You Will Pay Less in Jacksonville

Relatively cheap commodity costs are one of Jacksonville's major perks. The most suitable bargains you can have here are housing prices, where the median value is around $180,000. The city has a percentile that is lower than the national average.

When you relocate to Jacksonville, you are unlikely to feel a mounting burden even if the city will have a price increase. You'll still gain from the fair costing, but the charges won't break your wallets.

Promising Job Market

Jacksonville has had a growing job market with almost 2.8% job growth in recent years. Its projected economic progress is 44.4%, which means more labor opportunities will be available anytime soon. The city also has a low unemployment rate of 4.9% below the national median.

JPMorgan Chase, Deutsche Bank, Fidelity National Financial, and Landstar are just a few of the companies that call Jax home. The Naval Air Station Jacksonville and nearby universities employ many citizens as well.

Plentiful Beaches in Town

As you travel south, you'll come across an endless number of incredible delicate sand coastlines. Jacksonville has a pretty shoreline that stretches around 22 miles. Neptune Beach, Atlantic Beach, Ponte Vedra Beach, and Amelia Island all have beautiful beaches for swimming or just relaxing on.

You will always have great accessibility to the beautiful beachfront and experience lots of fun activities there. A relaxing beach near an urban district is a precious thing to have.

Vibrant Small-town Vibes

The city of Jacksonville breathes dynamic historical and cultural happenings. Jax's festivals, gatherings, museums, and live music are there to commemorate the town's history and culture.

You can experience the town's celebrations and cultural gatherings like the Jacksonville Jazz Festival and the Great Atlantic Seafood and Music Festival. Head over to the city's Jacksonville Art Walk and Riverside Art Market to enjoy art, music, and sumptuous foods.
Cons
Weak Public Transportation

Like any other city, Jacksonville's weakest point is its public transportation. It is feasible to utilize mass transit, but the insufficient timetables and common long waits will make it more difficult than essential. Having a car will help fix your problem of getting around the neighborhood for business or pleasure.

Crime Level in Jax is Unappealing

Jacksonville has a similar drawback to most cities in America: its high crime rate and an increasing criminal offense. There are still safe neighborhoods in Jacksonville with a low concentration of criminal records, like in Beach Haven, East Arlington, North Beach, and Sandalwood.
Anaheim Or Jacksonville – Which Is Cheaper?
Jacksonville's favorable cost of living is an excellent point. Jax is almost 38.6% less expensive than Anaheim, where the city is also 69.7% less in its housing market than Anaheim's percentile.
Living in Jacksonville is truly budget-friendly while relocating to Anaheim will make you pay more than what you anticipate.
Comparison Table of Living in Anaheim, California vs. Jacksonville, Florida
| | | |
| --- | --- | --- |
| Living Expenses | Anaheim, California | Jacksonville, Florida |
| Housing and Rent | 257.1% | 78% |
| Utilities | 97.4% | 102.8% |
| Food And Groceries | 102.5% | 99.2% |
| Transportation | 118% | 101.4% |
| Health | 95.9% | 97.1% |
| Miscellaneous | 104.4% | 100.4% |
Based on the Data of which 100 = U.S. National Average
>100 means more expensive
<100 means cheaper than the U.S. average
Housing and Rent Costs
Jacksonville has one of the lowest housing prices in the country, at $180,300, with a monthly rental payment of $1,454. This town's average cost is lower than Anaheim's. Anaheim's real estate market averages $594,400, with a monthly rent of about $2,871.
Utility Costs
Anaheim edges Jacksonville in terms of lower utility costs. The city has an average of 97.4%, which is lower than Jax's 102.8%. Living in Anaheim will make you pay slightly less for your essential utilities here, which is highly favorable for a tourist-centered place.
Food and Groceries Costs
Jacksonville's family-owned farms are one of the reasons why the urban city has cheaper foods and groceries than Anaheim. There are also various farmer's markets to buy cheap goods. Similarly, Anaheim's influence in pricing is all due to the flock of tourists in the area.
Transportation Costs
Relocating to Jacksonville or Anaheim will require you to pay a little higher on your transportation fees than the average median. The two cities do not have excellent mass transit; however, Jacksonville is slightly cheaper than Anaheim. A monthly bus pass in Jax costs $57.00, while the same item in Anaheim costs $69.00.
Health Care Costs
Both Jacksonville and Anaheim have a low healthcare fee, but Jax is slightly cheaper. The two cities provide favorable medical care costs paired with a great health program. Also, Jax and Anaheim have an excellent reputable hospital exclusively for its residents.
Taxes
The sales tax in Anaheim, California, is 7.8%, with a high percentile of income tax of 8%. On the other hand, Jacksonville has a 7% sales tax with no local income tax imposed. Because Jacksonville and Florida State collect fewer taxes, it performs even better than other cities in America.
Is Anaheim Safer Than Jacksonville?
Anaheim's safety index is 14% higher than Jacksonville's 9%. Anaheim is then safer than Jax, where its violent crime rate of 22.3 is also lower than the national average of 22.7.
Anaheim has 10,122 criminal matters per year, which is a fair number given that there are millions of people visiting the place. The property-related cases here are around 8,880. In this city, your chances to become a target of assault are 1 in 279.
On the opposite, Jacksonville has a staggering 33,107 criminal prosecutions per year, with a significant sum of 26,662 real-estate cases with a 52.9 crime index. In this metropolitan area, you need to secure your belongings to avoid being a victim.
Is Anaheim Bigger Than Jacksonville?
Jacksonville is one of the most populated metroplexes in Florida. Jax has over 920,570 residents in its 747.7 land area, which is significantly bigger than Anaheim's small urban area with around 353,676 people residing in its 50.3 square mile landmass.
The ratio of Jax's population to landmass is pretty reasonable, where it has a population density of around 1,231.1 people per square mile. Thanks to the more considerable portion of the water area in this metroplex, the place is not overly dense. The town has over 22 miles of coastline, making Jacksonville larger.
On the other hand, Anaheim has a low population due to its relatively small living space, with a population concentration of approximately 7,028.4 people per square mile. The town is part of the Los Angeles Metropolitan area, which explains the tinier extension encircles 91 Freeway.
Is Anaheim Warmer Than Jacksonville?
Anaheim receives 280 sunny days with only 14 inches of rainfall yearly, making it warmer than Jacksonville. Meanwhile, Jax has around 221 sunny skies, with 50 inches of precipitation all year round. Both cities, though, do not receive any snowfall.
Anaheim is slightly hotter than Jacksonville when we talk about the abundance of sunny skies and the average daily temperature of around 90 degrees Fahrenheit during the summer season. Its hot-semi arid climate justifies its humidity during warm winters and rainless summer.
Meanwhile, Jax has a humid subtropical climate with seasonal rainfall. Its average temperature during the summer season is 80 degrees Fahrenheit. The metroplex has 10 to 15 days of freezing temperature, while Anaheim's no frost town is ideal for other people loving warm times.
Is Anaheim Better Than Jacksonville?
Jax's advantages make it a better place to build your life than Anaheim. Living in Jacksonville will let you experience a comfortable life because of its cheap living expenses, paired with vast job prospects plus fewer taxes to pay. Meanwhile, Anaheim is a great tourist destination with a secured neighborhood.
Jacksonville, Florida, is one of the cheapest places in America. You will get an exceptional value for everything that you pay for here, plus its job market is increasing over time. You will also never run out of things to do, from the art appreciation in its downtown district to its calming and alluring beaches and cost lines.
Anaheim is the best place to explore if you are looking for an all-in-one vacation spot. The city has international amusement attractions and excellent downtown districts too. Living here, though, will make you pay more, and surely expenses can break your bank most of the time.
Both Jacksonville and Anaheim got something to be proud of in their area. Jacksonville's comfortable lifestyle is the best option for everyone. However, Anaheim needs to expand its job market and lower its cost-of-living expenses.
Anaheim, California versus Jacksonville, Florida – Where do you consider moving? Let me know your thoughts below.