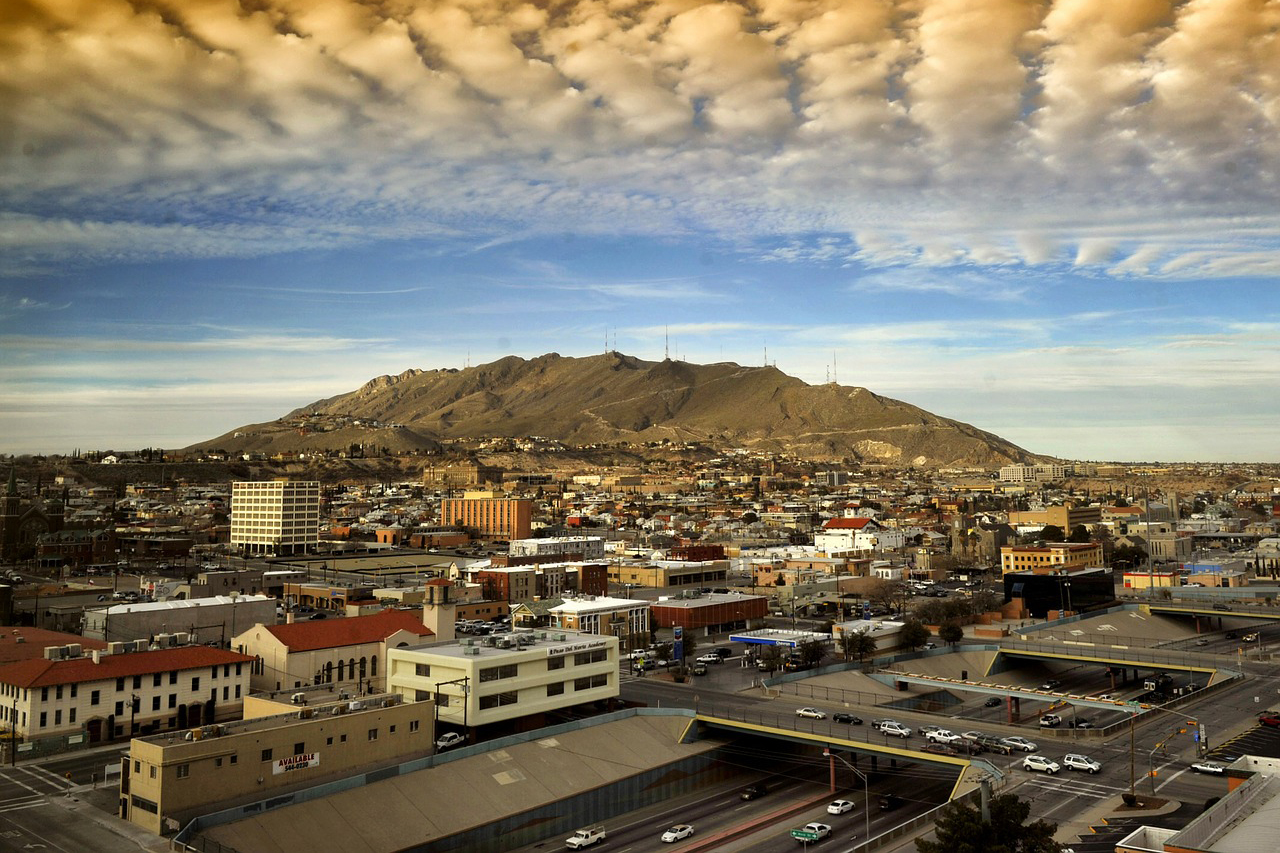 El Paso, Texas, is the border city between America and Mexico. Although not as popular as its co-Texan cities like Phoenix, Austin, and Dallas, El Paso offers a uniquely romantic and magical feel. Its desert landscapes and 18.6% reserves for city parks make it a getaway destination up for more discovery.
With a walkability score of 40, El Paso ranks 33 among the most walkable large metropolis in the United States. To those who do not have a car, you can explore El Paso by riding their first-class Sun Metro public transportation. My getaway vacation in El Paso introduced me to the rich Hispanic culture of the city.
Even though you are not in Mexico, visiting El Paso makes you feel like you are there. It's all due to the area's significant Hispanic population and adopted cultures from the adjacent state. Thus, this article contains my highly recommended 12 things to do in El Paso without a car based on my own experience.
1. El Paso Museum of Art
Founded in 1959 and currently located at 1 Arts Festival Plaza, El Paso, Texas, the El Paso Museum of Art rose to popularity because it is the only museum accredited within 250 miles. The art museum caters to over 100,000 visitors annually.
El Paso Museum of Art regularly showcases notable and unknown artists like Edward Bannister, Gilbert Stuart, Henry O. Tanner, John Marin, Max Weber, and Rembrandt Peale. It also boasts over 7,000 artworks focusing on Mexican, American, and European art starting from the 12th century. You can sign up for workshops or join their storytelling sessions.
As an art enthusiast, witnessing the different exhibitions of various artists at the El Paso Museum of Art makes me feel I am in paradise. Moreover, don't forget to check out the museum's extensive collection of photographs, drawings, posters, prints, and watercolors aside from joining their workshops.
2. Plaza Theatre
When I went to El Paso, I saw the Plaza Theatre, one of the city's best-known landmarks. It all started with the vision of Louis L. Dent, the area's first owner, in 1927. The construction of Plaza Theatre began in 1929, and the restoration happened in 2002 after years of negligence. Currently, the area is famous for romantic dates.
Its Spanish Colonial Revival style architecture mesmerizes every local and tourist. Even I was in awe of the gorgeous, intricately designed auditorium, antique furniture, mosaic-tiled floors, and ornamental metal railings. Aside from its romantic design, Plaza Theatre continuously hosts shows from Broadway performances, country stars, and more.
Another reason not to miss visiting Plaza Theatre is the fun free tours held every Wednesday. Nevertheless, for couples, it is better to buy a ticket and watch shows available during your visit to experience the romantic ambiance of the place.
3. Franklin Mountains State Park
One of America's largest urban parks, Franklin Mountains State Park, boasts a 27,000 acre perfect for outdoor recreations with over 100 miles of trails. You can find the state park at Tom Mays Park Access Rd, El Paso, TX 79930.
The magnificent Franklin Mountains dominate El Paso's skyline view. It is a beautiful outdoor recreation site for tourists and locals with various activities, including geocaching. They also offer ranger programs, and you can look for wildlife to observe and watch from afar.
Since I went to the Franklin Mountains State Park without a car, I opted to try their most-loved tourist attraction – the Wyler Aerial Tramway. I got to have a great aerial view of the park spanning 196 acres. However, if you are the outdoor athletic type, the state park is the perfect area in El Paso to indulge your adventurous spirit.
4. Magoffin Home State Historic Site
Magoffin Home State Historic Site, the home of one of the most prominent families in the city, earned a spot on the National Register of Historic Places. Constructed in 1875, the Magoffin family lived in the house for over a hundred years with active participation during the Civil War, US-Mexico relations, etc.
Upon entering the historical house, thick adobe walls surround the place while original pieces of furniture are on display. It has 19 rooms, three wings, and splendid mid-Victorian decor. While touring the historic house, it appears as if nothing has changed during those decades because of properly maintained belongings.
Besides taking a guided tour inside the house, you can tour around the landscape while waiting for your turn. Sitting under the trees or strolling around the yard are among the many things you can do in the Magoffin Home State Historic Site.
5. Chamizal National Memorial
Situated at 800 S San Marcial St, El Paso, TX 79905, Chamizal National Memorial has 54.90 acres of land built to honor the peaceful settlement of a century of the dispute between the United States and Mexico. It is a historical site and a quiet area to spend your weekends alone or with loved ones.
The urban park's luscious green space makes it an ideal place for children to play all day and engage with fellow kids their age. It is also home to particular flora and animals found only in this area. Aside from boasting green space, you can find a theater, galleries, and cultural center inside the Chamizal National Memorial.
I had a great time at the urban park. Flocks of tourists and locals come here each year to witness various events held by the park. Suppose you plan to visit El Paso during the summer; better not miss the opportunity to attend summer concerts in the Chamizal National Memorial.
6. The Centennial Museum and Chihuahuan Desert Gardens
Established in 1936, The Centennial Museum and Chihuahuan Desert Gardens is the first-ever museum in El Paso. Furthermore, it is a city attraction located inside The University of Texas campus and one of its first structures. The purpose of building it was to commemorate Texas' 100th independence from Mexico.
The Centennial Museum has permanent and changing displays focusing on paleontology, ethnology, geology, and archaeology. Meanwhile, its Chihuahuan Desert Gardens is full of themed gardens with over 800 species of native plants.
Among its roster of exhibits, the Lhakhang Cultural Exhibit piqued my curiosity. If you are interested in Bhutanese culture, murals, and architecture, this exhibit is a must-see. You can also attend their lectures to help you gain in-depth information.
7. Fort Bliss and Old Ironsides Museum
Fort Bliss and Old Ironsides Museum is a 1,700 square miles camp situated at 1735 Marshall Road, Fort Bliss, Texas. During the mid-19th century, this site served its purpose as an Army Post and a base during the Civil War. It is the perfect place to visit for military enthusiasts.
The United States Army Air Defense Center now occupies the historic location. It also houses the Fort Bliss and Ironsides Museum and serves as a combat training area for allied nations. The Fort Bliss and Ironsides Museum aims to preserve the artifacts and vehicles that have been part of its history.
You'll see several helicopters, tanks, weapons, and artillery pieces on display as you tour the museum. One of the displays that left me gawking was the German V-2 rocket. Don't miss the chance to know more about the border city's military and war history by including Fort Bliss and Old Ironsides Museum in your itinerary.
8. The Mission Trail
With a history dating back 400 years ago, The Mission Trail is among the state's essential existing Spanish mission stations. A journey to this site highly introduces Texas' rich multicultural heritage with three adobe churches built in the 1680s. You can find The Mission Trail at 9065 Alameda Avenue, El Paso, TX 79907.
The structures you'll see in the area are Socorro Mission, Ecleario Prisidio Chapel, San Elizario, and Ysleta Mission. Besides these, there are also art galleries, institutions, eateries, and the Tigua Indian Cultural Center you can check during your visit to the area. Enjoying a picnic while surrounded by the stunning desert landscape is another great way to spend time on The Mission Trail.
The oldest structure in the area, Ysleta Mission, is a must-visit. Consecrated in 1682, Ysleta Mission is a historic landmark representing the three centuries of Texan history. When planning a vacation in El Paso, you should include this heritage site on your itinerary.
9. El Paso Municipal Rose Garden
Among the most beautiful places in the United States, El Paso Municipal Rose Garden is a natural haven amidst the city's searing desert heat. The well-known garden opened its doors to the public in 1959 and had grown steadily until 2006, boasting four acres of land. A large fence surrounds the garden to protect it from random passersby.
Fragrances from the roses greeted me during my El Paso Municipal Rose Garden visit. It's impressive that there are over 1,460 varieties of rose bushes and more than 320 mixed aromatic roses. Besides roses, you can also find a waterfall, koi pond, trees, shrubs, raised beds, and wide walkways to help you navigate more thoroughly in the area.
I highly recommend visiting the El Paso Municipal Rose Garden during its peak bloom period, between March and October every year. For those who have kids, the garden also hosts events like Kids and Kows, which teaches kids the basics of agriculture.
10. Downtown Artist and Farmer's Market
Located at 117 Anthony St, El Paso, TX 79901, Downtown Artist and Farmer's Market opened in 2011 and consistently opens every Saturday. Tourists and locals are welcome to visit, shop, eat, and entertain themselves in the market.
Fresh, locally-grown produce by the local farmers is one of the reasons people flock to the Downtown Artist and Farmers Market. Vendors also offer art, crafts, food, health and wellness workshops, live music, and children's activities.
Overall, I am pleased with the Downtown Artist and Farmers Market setup. There were a lot of activities to explore and try, which made it a perfect destination to unwind on a Saturday. I also had my face painted by one of the shops, which left a wide grin because of the extraordinary artistry.
11. El Paso Museum of History
You can find the El Paso Museum of History within the city's downtown area. The museum aims to promote visitors from all walks of life about the global history of the metropolis. Although it is pretty tiny than other museums and heritage sites in the city, the El Paso Museum of History is still a must-visit, especially for tourists.
The museum's exhibits include The Changing Past, For All the World to See, Neighborhoods, Shared Memories, Drawing on the Past, and Sixth Wall of Giants. The displays provide an in-depth look at the city's struggle for Civil Rights and the journey that shaped the region into what it is now.
Aside from traversing the chronologically arranged exhibits, you can also check out the El Paso Museum of History's workshops and classes. If only I had plenty of time, I would have tried all the museum's activities.
12. Museum of Archaeology
The Museum of Archaeology is one of the top cool things to do in El Paso. Situated at 4301 Transmountain Road, El Paso, TX 79924, the museum looks into the 14,000 periods of El Paso and Northern Mexico's prehistory. Located near the Franklin Mountains on the northern side, you won't need a car to take a trip to the Museum of Archaeology.
Upon entering the facility, exhibits spanning from the period of American Indians to the Ice Age Paleo-Indian hunters will welcome you. Visitors will expect to learn about the progress of civilization until the modern ancestors of the city and beyond. Moreover, the museum is home to
I had the pleasure of hiking their trail. I am in awe of the amount of 250 native plant species spread throughout the area. Don't miss their 15 acres of courses if you are the outdoor type. Overall, I can say that the Museum of Archaeology is a one-of-a-kind tourist attraction in El Paso that you should not miss.
A vacation in El Paso feels like stepping into another world, from its historic sites, museums, and landscape to its welcoming residents. Being able to meet a culturally diverse set of people during my visit is an experience I would cherish for years to come.
I am excited to hear what you say about visiting El Paso. I hope this article inspired you to approach your loved ones and spend days discovering one of Texas' hidden gems. I guarantee you that El Paso is a place worth traveling to, even without the luxury of riding a car. Feel free to drop any thoughts or suggestions in the comment section.