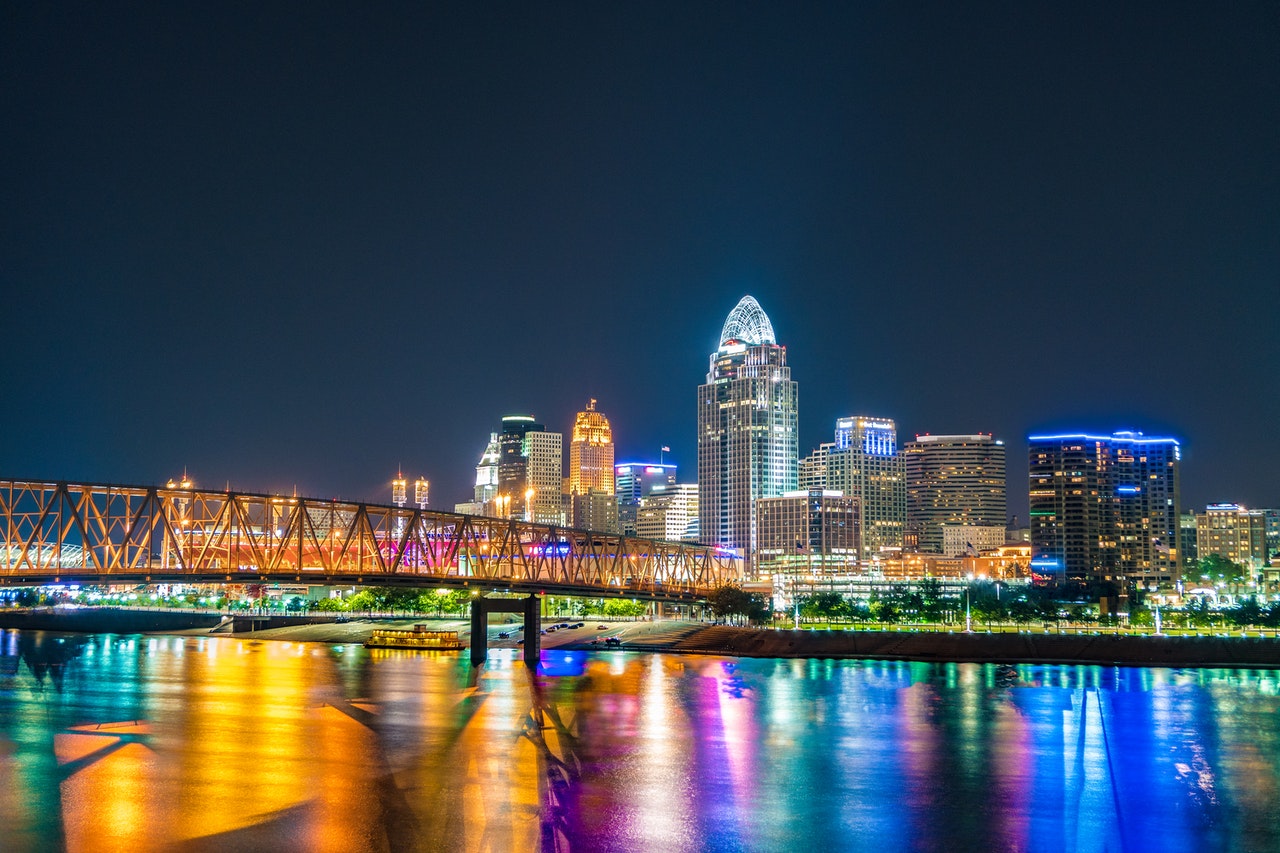 Cincinnati is a better place because the environment is safer, better colleges, lower living expenses, and abundant employment. In comparison, Albuquerque offers a cheap cost of living and less traffic, but the high rate of violent crime is worrisome.
Cincinnati is known for its art scene, sports teams, and chili. You can watch theatre, orchestra, and ballet performances in the city.
On the other hand, Albuquerque's ethnic tapestry is reflected in its architecture, artwork, cultural centers, and food, making it one of the most culturally varied cities in the country.
Both cities offer living and housing expenses lesser than the national average. However, Cincinnati has a lot more to offer than ABQ.
What are the Pros and Cons of Albuquerque vs. Cincinnati?
Both ABQ and Cincinnati have a low cost of living and housing. However, Albuquerque has a higher crime rate and unemployment, but traffic is manageable. Meanwhile, Cincinnati is more polluted yet offers more jobs.
Living in Albuquerque
Pros
Diverse culture

While there are other sunny, clean, healthy towns in the country, Albuquerque stands out for one reason: its culture.

Albuquerque's melting pot brings together Mexican, Hispanic, and Native American traditions to create a colorful kaleidoscope of arts, crafts, music, and, of course, cuisine. New Mexican cuisine is incredible, and it isn't available anywhere else in the country.

Stunning landscape

Beautiful sunsets, spectacular lighting, and attractive landscape are all part of life in this metropolis. The Sandia Crest is the highest mountain peak to the east of town. Grab a bite to eat at the mountain's summit or base while you're there.

Outdoors and architectures

If you enjoy outdoor activities, Albuquerque has a wide range of open areas to choose from, including state parks and natural landmarks, as well as stargazing opportunities.

Because of the state's protected territory, Albuquerque and New Mexico provide excellent stargazing opportunities.

The architecture in this area is distinctively New Mexican, with Adobe and Pueblo-style dwellings aplenty. Adobe is a historic construction material that thrives in the dry environment of New Mexico, which is in both ancient and modern structures.

Modest housing and living expenses

Albuquerque is home to around a quarter of New Mexico's population. That implies you'll have access to a home market with some activity in a state where demand is low.

The city and state rank 33rd in the country in terms of affordability. The average property sells for around $182,000 on the market. A 900 square foot apartment will cost about $840 per month if you opt to rent.

In addition, Albuquerque's cost of living is 5% lower than the national average, allowing residents to enjoy a good standard of living.

27th most walkable city

ABQ has a walk score of 43, ranking it the 27th most walkable city in the US. So, while you'll almost certainly need a car, depending on where you live in Albuquerque, you might be able to walk to nearby services.

Not much traffic

Compared to cities like Dallas, Denver, or Las Vegas, you have little to be concerned about most days. It can become crowded, but it usually flows along nicely.
Cons
High unemployment rate and low wages

If you come to ABQ without a job, you will be disadvantaged. The unemployment rate hovers around 6% most years, and it rises when the national economy suffers a setback for whatever reason.

Albuquerque has a higher unemployment rate of 4.3% than the national average of 3.7%.

Low wage is a problem that is felt all around the state. Since 2009, Albuquerque's minimum wage has been $7.50 per hour. If you come into the city to work, you'll find it challenging to make a livelihood.

High crime rate

The majority of crime is drug-related, which means you'll be dealing with many property crimes.

When residing in Albuquerque, you should be aware of package thefts, automobile prowling, and occasional break-ins. Violent crime is typical for a city with more than 500,000 people.

On a scale of 1 to 100, Albuquerque receives an 85.3 for property crime. For violent crimes, Albuquerque had a score of 51, which is higher than the national average of 22.7.
Living in Cincinnati
Pros
Affordable cost of living and housing costs

Cincinnati is among the top ten percent of the most affordable cities in the United States. Cincinnati's cost of living is 16% cheaper than the national average.

The cost of housing, in particular, is appealing to many potential inhabitants, with the typical house price in Cincinnati of $200K, compared to the national average of $291K.

Chili and Beer

The chili culture is one of the most well-known aspects of Cincinnati.

Chili has been a mainstay of the city's cuisine since 1949. There are already 180 chili eateries in the city, with more on the way. Skyline Chili, a renowned chili restaurant chain, offers a wide range of chili meals, from chili fries to spaghetti.

Cincinnati's beer culture is unrivaled. There are around 40 different breweries across the city, ranging from enormous breweries with rooftop pubs to breweries situated in historic churches to outdoor volleyball fields.

Abundant job opportunities

The rising employment market is one of the most practical reasons to relocate to Cincinnati. UC. Health and Trihealth, two large hospital systems in Cincinnati, offer career opportunities. These two systems employ several people in Queen City.

Cincinnati also features many financial firms that employ residents and visitors alike. Western and Southern Financial Group, Fifth Third Bank, The Kroger Company, Proctor & Gamble, and Macy's are top corporations.

Better colleges than ABQ

Cincinnati, like its housing, is recognized for providing high-quality education at affordable pricing.

Over 20 post-secondary education schools, including public, private, and specialty colleges like the Cincinnati College of Mortuary Science, are in Cincinnati. Overall, the city is among the top ten percent of the best college towns in the country.

Even after graduation, Cincinnati continues to treat kids properly. Based on jobs, affordability, and enjoyment, the city ranks first in the US as the best city for recent college graduates.

Park systems and family-friendly activities

With 14% of the city's territory allocated to parks, Cincinnati's park system is ranked eighth in the country. There are five playgrounds per 10,000 people in the town, and 77% of residents live within a 10-minute walk to a park.

In addition to its abundant parks and playgrounds, Cincinnati offers a range of family-friendly activities. The Cincinnati Zoo & Botanical Garden, the country's second-oldest zoo with over 500 animals, is a fun and instructive stop.

Plenty of recreational activities

There are plenty of recreational activities to do or places to see in Cincinnati.

There is always something to do or a new place to check out around the city, from hidden bars like Oktoberfest Festival, The Mercantile Library, Krohn Conservatory, Findlay Market, and many more.

Also, Fountain Square in Cincinnati has plenty of festivals and activities year-round.

Diversity

One of the pros of moving to a major city is that a varied population will surround you. Cincinnati's racial demographics are 48% White, 42% Black, and 10% Other.

As you walk from one Cincinnati area to the next, you'll notice these cultural variances, and passing into a different neighborhood might introduce you to new foods and cultures.
Cons
Air and water pollution

Like other California towns, Cincinnati is routinely on the country's lowest 10% of cities for air pollution. The 16 coal-burning power plants that provide 80 percent of Ohio's electricity are most likely the source of this air pollution.

Unfortunately, even the water in Cincinnati is contaminated. An estimate of 23 million pounds of chemicals is thrown into its waters each year; the Ohio River is considered the most contaminated body of water in the country.

Not enough public transportation

Cincinnati lacks a specialized subway system. While it does have a Metro system and a streetcar system, both of which concentrate in the downtown area, it's not simple to go about the city quickly and efficiently without relying on a car.

The lack of public transit may be off-putting to inhabitants of larger cities who are accustomed to relying on a subway or other kind of public transportation.

Not much nightlife for singles

Cincinnati is mostly a family-oriented city. There are fewer singles in or near this city than in other cities of similar size.

Except for a few districts in the metropolitan region, there is very little nightlife to go out and meet people. However, Cincinnati has a fantastic restaurant and beverage scene that easily accommodate dating.
Albuquerque or Cincinnati – Which is more expensive?
Albuquerque's overall cost of living is 7.7% more expensive than in Cincinnati. In Cincinnati, food, groceries, health, utilities, and transportation are higher than in Albuquerque. However, housing costs are 41.0% higher in ABQ.
| | | |
| --- | --- | --- |
| Living expenses | Cincinnati | Albuquerque |
| Housing | 62.4% | 88.0% |
| Food & Groceries | 97.6% | 96.0% |
| Health | 85.4% | 81.1% |
| Utilities | 98.0% | 97.2% |
| Transportation | 93.6% | 89.4% |
Data is 100 = US National Average
>100 means more expensive than the national average
<100 means cheaper than the national average
Housing Cost
The cost of housing in Albuquerque is 41.0% more than in Cincinnati. The median monthly rent in ABQ is $1,041, with a median home price of $332,426.
In comparison, Cincinnati only has a median home price range of $264,414 and a monthly median rent of $828.29.
Food & Groceries
Cincinnati's food and grocery prices are slightly higher than in Albuquerque. One example is the price of 1lb of chicken fillets in ABQ, which is only $3.48, compared to $3.78 in Cincinnati.
Health
Healthcare costs are cheaper in ABQ than in Cincinnati. In Cincinnati, a doctor's appointment may cost $108.94, while an optometrist visit can cost $102.08.
Meanwhile, a doctor's appointment in ABQ would set you back at around $108.83, while an optometrist visit would only cost $101.98.
Utilities
The utility costs in Cincinnati are higher than in Albuquerque. The monthly phone bill in Cincinnati costs $170.50 compared to ABQ's $152.27.
Transportation
A gallon of gas costs $2.58 in ABQ and $2.63 in Cincinnati. Moreover, a one-way ticket (local transport) is cheaper in ABQ at $1.00 than Cincinnati's $2.00.
Is Albuquerque bigger than Cincinnati?
Albuquerque is more than twice as big as Cincinnati in the geographical area. On the other hand, Cincinnati has a larger population and a more robust economy than Albuquerque.
Albuquerque has a geographical area of 188.9 square miles with a population of 942,000 as of 2022. Meanwhile, Cincinnati has square miles of 79.56 and, as of 2022, has a denser population of 1,764,000.
In 2022, ABQ has a 1.4% increase in population from 2021. At the same time, Cincinnati has a 0.57% population increase. Therefore, Albuquerque has a higher increase in population compared to Cincinnati.
Thus, ABQ's land area is more than twice bigger than Cincinnati's. However, Cincinnati is denser and provides more work opportunities to its residents.
Is Cincinnati safer than Albuquerque?
Cincinnati has a safety scale of 50.79, while Albuquerque only has 29.34. In addition, Albuquerque has a higher crime index than Cincinnati, making Cincinnati safer than Albuquerque.
Albuquerque's crime index is 70.66 compared to Cincinnati's 49.21; living in Albuquerque is less safe than in Cincinnati.
Cincinnati has a safety scale of 50.79, almost twice Albuquerque's safety scale of only 29.34. Cincinnati's higher safety scale makes it safe for people to walk alone, whether at night or day.
ABQ placed #9 on the most dangerous cities list in 2020, barely ahead of Stockton, Memphis, St. Louis, and Detroit. Meanwhile, Cincinnati has the 14th highest murder rate in the country, at 29.7 per 100,000 inhabitants.
Although neither city is among the safest in the USA, it is safe to say that Cincinnati is safer than Albuquerque.
Is Cincinnati hotter than Albuquerque?
Albuquerque has a hot and dry climate with an average yearly high temperature of 93°F. In contrast, Cincinnati has an annual average high temperature of 86°F with higher rainfall of 2.92 inches. Albuquerque is, therefore, hotter than Cincinnati.
Albuquerque has an average of 280 sunny days each year. On the other hand, Cincinnati has an average of just 176 sunny days each year.
Summers in Cincinnati are hot and humid, winters are freezing and snowy, and the weather is partially overcast all year. The temperature ranges typically from 24°F to 86°F throughout the year, with temperatures seldom falling below 8°F or rising over 93°F.
Whereas Albuquerque's summers are hot and dry, the winters are short, extremely cold, and snowy, and the weather is usually clear all year. Throughout the year, temperatures typically vary from 27°F to 93°F, with temperatures seldom dropping below 18°F or going over 99°F.
The average rainfall in Cincinnati is 2.92 inches, whereas ABQ is only 1.85 inches. As a result, Albuquerque is hotter than Cincinnati. As a result, Albuquerque is hotter than Cincinnati.
Is Albuquerque better than Cincinnati?
Albuquerque is for folks looking for an old town vibe with budget-friendly living and housing expenses. However, Cincinnati is way better than ABQ. Cincinnati offers lower living expenses, more work opportunities, and a family-friendly environment.
Albuquerque and Cincinnati offer lower than national average living and housing costs. Albuquerque provides an old town vibe and lesser pollution to its residents.
However, safety and job opportunities are significant concerns that are hard to ignore.
In addition, Cincinnati outperforms Albuquerque when comparing the economic status, employment rate, and recreational activities.
Albuquerque versus Cincinnati – Where do you consider moving? Let me know your thoughts below.