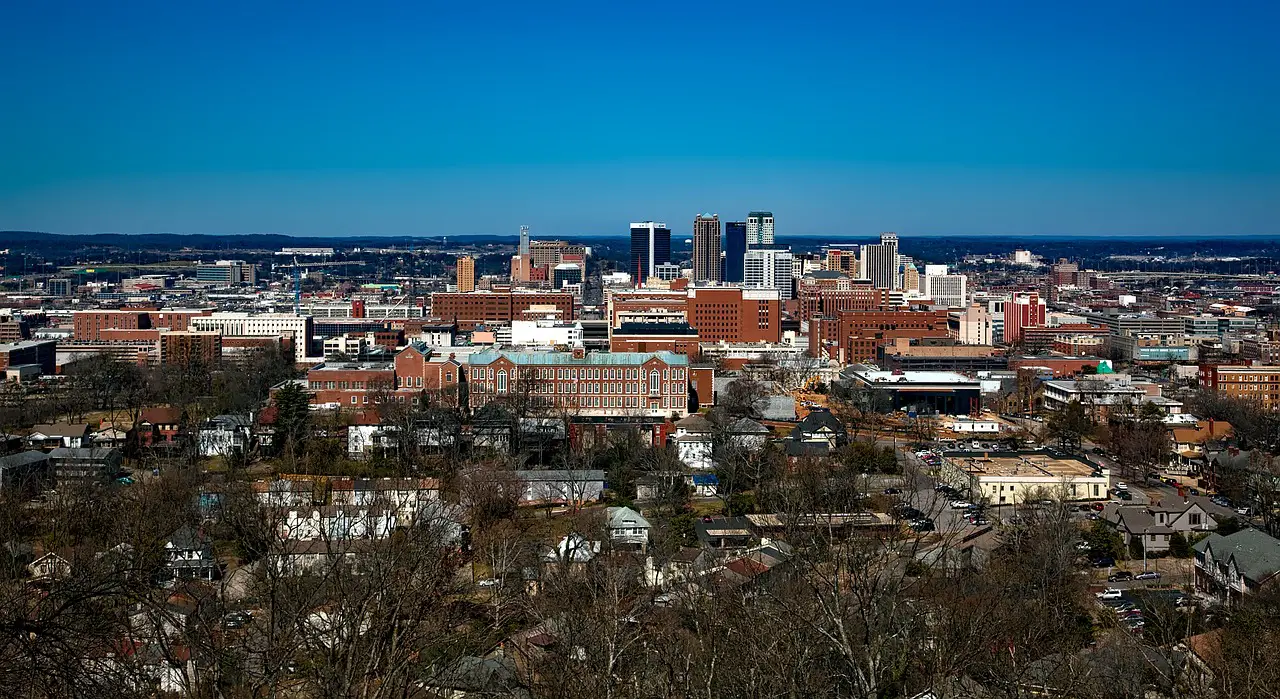 Living in Birmingham, Alabama, is better than living in Albuquerque. The city has a unique allure of urban life with career opportunities and a low cost of living. Albuquerque, on one side, can boast about its affordability and natural beauty.
Birmingham may be famous for its role in the civil rights movement, but it transitioned into a cultural epicenter of Alabama over the years. The city is home to renowned art museums, theaters, and concert venues. Art and culture greatly flourish in this part of the Southeast.
In comparison, Albuquerque is proud of its indigenous heritage. It is highly manifested in its festivals, even in the local cuisines. More than that, ABQ offers you the best place to enjoy life outdoors.
There are tons of things to discuss in these two amazing cities. So, let's explore more about them in this city comparison.
What are the Pros and Cons of Birmingham vs. Albuquerque?
ABQ is famous for its cultural attractions and high regard for its indigenous roots. Birmingham has an excellent education system, gives the best culinary scene in the south, and has a robust economy. Both of them suffer from high crime rates and poverty.
Birmingham Living
Pros
Excellent educational opportunities

Birmingham has impressive college campuses under its belt. The city has the best engineering, business, science, and humanities programs. You can take advantage of the city's higher education offerings.

You can choose from its three private colleges like Samford, Birmingham-Southern, or Miles. They are the Cumberland School of Law, Miles Law School, and Birmingham School of Law. Graduate and doctoral programs are also available in the city.

Best southern culinary experience

The city has the top dining and local drink offerings in Alabama. You will experience exquisite culinary heaven when you taste the city's local cuisine. There are different dishes you can try in Birmingham.

You can also check out the Automatic Seafood, Chez Fonfon, and Johnny's Restaurant. You can choose from the fresh seafood options up to the mouthwatering rack of ribs. More than that, you can partner it with a locally crafted beer from Birmingham's top breweries.

Limitless entertainment options

You'll never run out of exciting and fun stuff to do when you move to this part of Alabama. Entertainment activities are almost everywhere. You can find unique museums, sports, arts, and music spots.

There is a perfect place in Birmingham for any personality. The Sloss Furnace, Birmingham Museum of Art, and Alabama Theater are some of the top choices. Iron City Bham, Saturn, and Birmingham Civil Rights Institute are also worth visiting.

Jobs in a diversified economy

Birmingham is a steel city with a large industrial area around the northeast. Despite this, the town has exhibited a diversified economy in the past years. Most jobs are coming from the industrial sector.

There are job creations in the healthcare, manufacturing, and finance sector. Insurance and telecom companies are establishing stations in the city, too.

Beautiful nature and the great outdoor

More than the entertainment edge, Birmingham has stunning places to offer, as well. There are plenty of great sites and landscapes you can enjoy within the city. They are the ideal places to hike, trail, fish, and swim during the weekends.

On the one hand, Oak Mountain is a great spot for canoeing, swimming, and hiking trials. The Ruffner Mountain or the Red Mountain Park is the perfect place for a lovely sunrise or sunset view. Whatever adventure you choose, Birmingham has the right place for you.
Cons
Unpredictable weather conditions

One of the worst things about Birmingham is that the weather can take a severe turn. You will not appreciate the weather's unpredictability.

Hurricanes and tornadoes are some of the worst things that can happen in the city. Having an emergency plan is vital when living here.

Poverty rate

The city is also suffering from a poverty rate. The poverty rate of 22.3% is higher than the national average of 13%. The rate is twice the average, too.

Crime rate

Crime rate is also a significant consideration when moving to the city. It is higher than the state average and the national average. So, it is essential to pick the safest neighborhoods when relocating to Birmingham.
Albuquerque Living
Pros
Festivals and cultural events

People of Albuquerque love to celebrate festivals and cultural events.

You will experience different festivities rooted in the city's heritage and historical past.

The San Felipe Fiesta, for instance, honors the establishment of the San Felipe Church in the town.

The New Mexico State Fair is also a vibrant and colorful activity with many people attending. It showcases concerts, carnival rides, rodeos, and more. Plus, the globally acclaimed ABQ's Balloon Fiesta with more than 500 hot air balloons to see.

Unique New Mexican cuisine

The food scene in ABQ is one of the best in the southwestern states. It has a delectable blend of Hispanic, Mexican, and Native American dishes. Mexican spice and chile flavors are also evident in some of its words.

The Frontier Restaurant, Monroe's, 66 Diner are some of the incredible food places in the city. Plus, it never fully grasp the New Mexican cuisine attend the National Fiery Food and Barbecue Show.

Open spaces and the great outdoor

ABQ has a lot to offer when discussing beautiful landscapes and grand spaces. The city is leading among other cities in the United States with higher coverage of parks and areas.

Almost 25% of the land area is open spaces and parks. The Petroglyph National Monument Park, for instance, runs 17 miles alongside the city.

Native American influences are very evident

If one city in the United States values its indigenous heritage, it's ABQ. It is a great place to learn more about Native Americans and their unique culture.

The city is home to 22 Native American tribes living in different pueblos. The pueblos are reservations that cater to these groups of people.

Unbeatable location

New Mexico has the best advantage when it comes to location. It offers a direct route to most parts of the United States, Mexico, and Canada. The binational Borderplex region also gives Mexico and international companies easy access.
Cons
Crime rate is at an all-time high

The city has suffered from a higher crime rate for so many years. Since there are ongoing poverty issues and low graduation rates, crimes proliferate. Most of the crimes recorded are drug-related. Some people abuse the use of drugs and resort to committing crimes.

Too much sunshine may be a downside for some

Living in ABQ means experiencing sunny days in most parts of the year. Compared to other cities, ABQ receives a lot of sunshine, approximately 320 days a year. It can be an issue for some, particularly those from colder cities.
Birmingham or Albuquerque- Which is cheaper?
Living in Birmingham is cheaper than living in Albuquerque. ABQ is 19.9% more expensive than Birmingham. The most significant factor is the 225% rate difference in the median home cost.
| | | |
| --- | --- | --- |
| Living expenses | Birmingham | Albuquerque |
| Housing | 28.3% | 88% |
| Food & Groceries | 93.3% | 96% |
| Health | 101.1% | 81.1% |
| Utilities | 101% | 97.2% |
| Transportation | 88.4% | 89.4% |
Data is based on 100 = US National Average
>100 means more expensive than the national average
<100 means cheaper than the national average
Housing Cost

Housing cost in Birmingham is very affordable. You will only need $79,000 to buy a single-family home. In comparison, when you live in ABQ, you need $257,400 to purchase a property. The price difference is very significant.

Utility Cost

On one side, Birmingham's utilities' cost is slightly more expensive than ABQ. You need to pay $169 for electricity every month and $180 for phone bills in Alabama. You need to pay 3.8% more in utilities when choosing Birmingham over Albuquerque.

Food & Groceries cost

In terms of food and groceries, the prices are almost comparable. The cost of basic food like milk, eggs, and meat has little difference, with ABQ being 2.9% more expensive. The difference will be highly noticeable if you have more people in the family.

Transportation Cost

Transporting and commuting in Birmingham are cheaper than in Albuquerque. Given that the city has a decent transit system, people use public commute. In contrast, you will need a car in ABQ, which will prompt you to spend more on gas.

Health care Cost

Health care services are way cheaper in Albuquerque compared to Birmingham. The rate of services in the city is below the national average.

Comparatively, medical services in Birmingham are above the national average. You will spend 22% more on health care in Birmingham than in other cities in the United States.
Is Birmingham bigger than Albuquerque?
Albuquerque is bigger than Birmingham by 37.6 square miles in land area. In terms of population, ABQ has more people with 545,852, while Birmingham with only 200,733 residents.
Given that both cities almost have the same size and land area, the population density in ABQ is much higher. More residents share limited space in Albuquerque compared to Birmingham. As a result, more people compete on food, water, electricity, and even jobs.
Economically, Birmingham has more potential to be a bigger city than ABQ. Since its economy is more diversified, more companies are attracted to invest in the town. Sectors like manufacturing, banking, health, and steel thrive in the city.
Is Birmingham safer than Albuquerque?
Birmingham and Albuquerque have crimes rates above the national average. The crime index in Birmingham is 75.2%, while 51% in ABQ. Statistically, ABQ is safer since more violent crimes are recorded in Birmingham.
Nevertheless, there are several safe neighborhoods in Birmingham which you can choose from. These areas have had an enormous police presence and have had lower crime occurrences in the past years.
Highland Park
Forest Park
Vestavia Hills
Southside
Greystone
Meanwhile, the safest neighborhoods in Albuquerque are the following:
Valley Gardens
Desert Spring Flower
North Albuquerque Acres
Volcano Cliffs
North Valley
Is Albuquerque warmer than Birmingham?
Albuquerque is warmer than Birmingham. The climate in ABQ is a cold semi-arid climate, while Birmingham has a humid subtropical. Both cities experience a high temperature during the summer of around 90 degrees.
However, summers in Birmingham can still be unpleasant due to humidity. Similar to other cities in the South, Birmingham experiences hot and humid summers. It can be much of an
inconvenience without the use of an air conditioner.
Comparatively, ABQ has warm weather coupled with strong wind conditions. The place became very conducive to flying a hot air balloon with this weather condition. The climate of ABQ is also an advantage to the city.
Is Birmingham better than Albuquerque?
Birmingham is better than Albuquerque. Given a higher population density in ABQ, job opportunities tend to be limited. On one side, Birmingham has a diversified economy, thus, more job options for the people.
These cities have several similarities. They both suffer in poverty and a high crime rate. They also have the same size in the aspect of land area. But given the economic potential of Birmingham, more opportunities for the locals.
Thus, in city comparison, Birmingham still wins. The Alabama city has beautiful sceneries, is culturally and artistically inclined, and many things. You will be able to build a quality and affordable life in Birmingham.
Are you considering moving to Birmingham or Albuquerque? Let me know your thoughts and concerns below.