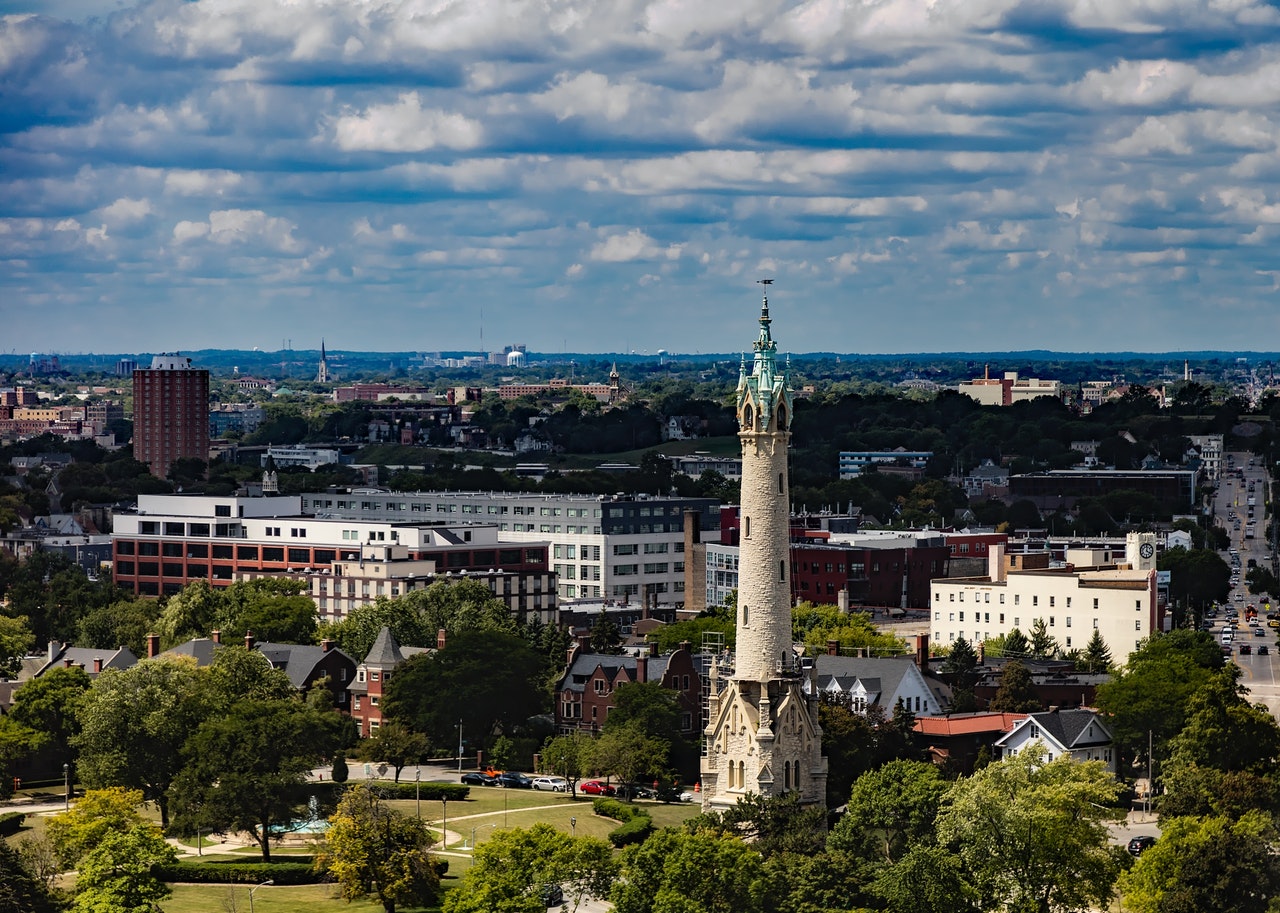 Compared to Albuquerque, Milwaukee is a better place to live. It has an above-average livability score and has several economic opportunities. On the one hand, ABQ prides itself on its inviting and relaxed atmosphere and access to several cultural attractions.
Milwaukee attracts young professionals because of exciting developments happening in the city. Milwaukee, the Coolest City in the Midwest, is famous for basketball, baseball, and beer. It has been exhibiting extensive technological innovations for the past years.
In comparison, Albuquerque is the cultural center of the American Southwest. The city will charm you with its natural beauty and fascinating geography. It is also home to exciting places like Rio Grande Valley and the Sandia Mountains.
Both cities have unique offerings, so we weigh in their strong and weak points in this comparison:
What are the Pros and Cons of Albuquerque vs. Milwaukee?
Milwaukee can boast about its above-average livability and walkability score. On the other hand, Albuquerque has strong points in terms of beauty and cultural attractions. Both cities score poorly in crime rates.
Milwaukee Living
Pros
Above average livability score

The overall livability score of Milwaukee is above average. It shows that the city can offer you a quality living at an affordable rate. The score already includes education, crime, affordability, and residents' happiness.

Opportunities and a fair economy

Milwaukee is a thriving city in the Midwest. It is becoming an industrial hub focusing on electronics, manufacturing, IT, and medicine. Sectors like insurance, banking, food, and energy are critical players in economic growth.

Jobs have been generated over the past years resulting in a reduced unemployment rate. Big names like Kohl's, ManpowerGroup, SC Johnson, and more have stations in the city.

Going around the city is easy

Milwaukee has a unique transportation system that can take you to places.

The city has the Milwaukee County Transit that operates the HOP.

It is a streetcar and bus system covering several routes around the area.

It has the Lake Express Ferry transporting locals from the city up to Chicago or Minneapolis.

The town has a bike-share program called Bublr Bike.

It has 100 stations downtown and servicing plenty of residents. You will not run out of transport options in Milwaukee from one place to another.

High walkability score

Besides varied transit options, the city also has an excellent walkability score. More than 40 neighborhoods around the area are walkable with not less than 70/100 walk score. It placed 15th as the most walkable city in the US.

Plenty of options for quality education

Looking for excellent schools in the city is also easy. There are public and private schools that cater to different age school children. Universities and colleges are also available.

The city's education system receives a good ranking at national and state levels.

The rank factored in graduation rates, enrollment rate, and teacher-to-student ratios.

It also included both the student and parent reviews.

Lots of family-friendly attractions

The city has downtown areas great for families. You can visit the Milwaukee Public Museum or the Betty Brinn Children's Museum. They offer kid-friendly activities that you can enjoy during the weekends.

You can also spend quality time with your family in green spaces and parks. Lake Park, West Milwaukee Park, and Lakeshore State Park. These are great outdoor spaces for your family.
Cons
Harsh winters

Winters in Milwaukee can be brutal. The temperature during this season drops way below zero degrees. Along with freezing temperatures is the abundance of snowfall. Daylight hours during the winter season are also short.

Property taxes

Milwaukee is second to the highest in Wisconsin that imposes high property taxes. The median tax rate is 2.53%.

Crime rate

The city is suffering from a high crime rate. The crime rates are higher than in other urban cities in Wisconsin and the country. You should look for safer neighborhoods with a 24/7 patrol system if you consider moving here.
Albuquerque Living
Pros
Stunning landscapes and beautiful view

One of the best things about ABQ is the city's natural beauty. The Sandia Mountains surround you, while the Rio Grande flows on the other. Living in ABQ means incredible sunsets, lights, and scenic landscaping.

You can also visit the Sandia Crest, the highest point of the mountains in ABQ. Here you will witness a panoramic view of the Sandia. Natural landmarks and impressive geography are the
most vital issues of the city.

Yearly festivals and cultural events

There are several occasions to look forward to when you live in ABQ. The city has several celebrations throughout the year. The International Balloon Fiesta in October is one of the most highly anticipated. It is the most anticipated hot air balloon festival across the globe.

Cultural events like the New Mexico State Fair and San Felipe Fiesta are worth attending. They will help you appreciate the locals and the city's cultural heritage.

Affordable neighborhoods

The real estate rates in the city are below the national average. There are several neighborhoods you can choose depending on your family's needs.

North Valley, on one side, has excellent schools, lower crime levels, and ranches. You can check out some houses in Nob Hill that give you access to the University of New Mexico. Tanoan has a smaller population but is more expensive compared to the two.

Commuter city with less traffic congestion

The city has public transportation available for every commuter.

The commuter train is the fastest, while the bus system is the most affordable.

You can take the public bus, a rail runner, or cycle around the area.

Cuisine and city food culture

ABQ offers the best New Mexican cuisine in the state. The cuisine is a mixture of Native American, classic Hispanic, and Mexican tastes. Mexican flavors like red and green chile peppers identify ABQ from other cuisines. Other influences are the Mediterranean and Portugal.
Cons
Summers can be scorching hot

If you are coming from a colder city, ABQ can be a bit of a struggle. You will experience more sunny days than cold days when you move to the city. Summers can be unbearable without an air conditioner from June up to December.

Infrastructure system needs significant improvement

Some of the roads and other infrastructure needs a major revamp. Rural roads are in poor condition and may pose safety and traffic risk. Bridges and flyovers also have to undergo intensive improvement.
Milwaukee or Albuquerque – Which is cheaper?
Albuquerque and Milwaukee are both affordable cities in the United States. But in comparison, Milwaukee is cheaper than Albuquerque. The cost of living is 6.7% more affordable in Milwaukee than in ABQ.
| | | |
| --- | --- | --- |
| Living expenses | Milwaukee | Albuquerque |
| Housing | 53.2% | 88% |
| Food & Groceries | 92.9% | 96% |
| Health | 103.8% | 81.1% |
| Utilities | 101.2% | 97.2% |
| Transportation | 102.1% | 89.4% |
Based on 100 = US National Average
>100 means more expensive than the national average
<100 means cheaper than the national average
Housing cost

Housing prices in Milwaukee are meager. $162,600 can already buy a single-family house in the city, while you need $257,400 in ABQ.

Milwaukee's affordability is one of its most vital points. It makes the cost of living 13% below the national average. It is even the most affordable metro city for first-time homebuyers.

Utility cost

The electricity, phone bills, and water prices are 4% higher than ABQ. However, utility cost in Milwaukee is slightly higher than in Albuquerque. The price can vary depending on the house area and the size of the family.

Food & groceries cost

The rate of food and groceries is cheaper in Milwaukee than in ABQ.

The 3.2% price difference may directly impact more prominent families.

You can buy essential food items like meat, milk, eggs, and cheese at lower prices.

Transportation cost

Even if transit options are plenty in Milwaukee, the cost is higher than ABQ or the national average. You will spend more on public commute and gas when you are in the Brew City.

However, you also need to consider ABQ's poor road and infrastructure system. Thus, affordability is easier to justify.

Health care cost

Getting health and dental services is costlier in Milwaukee than in ABQ. It would help if you spent 16% more when visiting a doctor and dentist in Milwaukee City. The cost of medicines is slightly higher in Milwaukee than in ABQ.
Is Milwaukee bigger than Albuquerque?
Albuquerque is almost twice the size of Milwaukee. ABQ is more extensive by land area, with 189.5 square miles, while only 96.80 square miles for Milwaukee. However, population sizes are comparable with several people of more than 500,000.
Even though Milwaukee is a smaller city, there is a high diversity of neighborhoods. The people of Wisconsin widely celebrate cultures and ethnicity. The city is ethnically diverse with African American, Hispanic, Latin, Asian, and mixed.
ABQ has a racial makeup of Native American, African American, Hawaiin, Pacific Islander, and more. The cities exhibit cultural diversity making them more attractive in food, religion, and lifestyle.
Is Albuquerque safer than Milwaukee?
Albuquerque and Milwaukee have a reputation for having high crime rates. In terms of violent crime recorded, ABQ is safer than the latter. Violent crime is 73.1% in Milwaukee while 51% in ABQ.
The reason behind this is the higher population density of Milwaukee. Given that it is a smaller city, the population is almost the same, with ABQ having more extensive land.
More people are competing for space, employment, and opportunities in Milwaukee. It can result in criminal and other violent activities. It would help to consider that the city also suffers from poverty.
On the other side, Albuquerque has drug-related violent crime recorded. Since more people in the city did not graduate high school, youth is prone to drug use.
Is Milwaukee colder than Albuquerque?
Milwaukee is colder than Albuquerque. The temperature can drop to -18 °C in winters. Milwaukee placed 4th among the US cities with recorded most freezing temperatures.
Winter in Milwaukee can be highly harsh where snowfalls and freezing temperatures. With this kind of temperature, some areas have snow that barely melts. Frostbite can occur if you do not wear protective layering.
On one side, ABQ exhibits a lot of sunshine throughout the year. With its semi-arid climate, there are more warm days than cold ones. The Sandia Crest is the only city that experiences snowfall every year.
Is Milwaukee better than Albuquerque?
Milwaukee is better than Albuquerque. It has excellent potential for economic growth, plenty of attractions, and exciting activities. You will have more opportunities to live and raise a family in Milwaukee than at ABQ.
Based on this city comparison, there are several similarities between the cities. They have a high crime rate, suffer in poverty, and offer affordability.
When choosing a better city, growth and economic opportunities are considerations. The city of Milwaukee exhibits these areas given its economic growth rate in the past year. More than that, the city's high walkability and livability scores are not to be ignored.
Are you considering moving to Milwaukee or Albuquerque? Let me know your thoughts and concerns below.